ShortList is supported by you, our amazing readers. When you click through the links on our site and make a purchase we may earn a commission.
Learn more
Dyson V15 Detect review: an absolute dust devil
The Dyson V15 Detect is a laser-guided dust detector that will dirt-shame your house.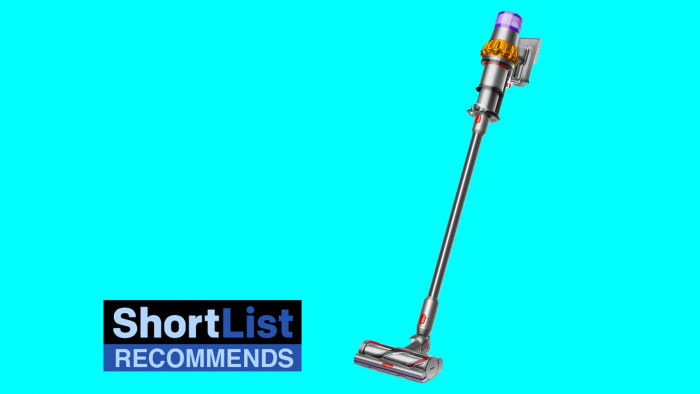 Your house is dirty. Seriously, it is. You may not think it, with the amount of cleaning that you do but with the right technology, appearances can indeed be deceiving.
We found this out the hard way with our time with the Dyson V15 Detect. This is Dyson's latest cordless vacuum from Dyson that uses a whole bunch of cutting-edge technology to point out the pesky particles in your house that cause dust.
From its laser detection to its power adaption, depending on how bad the mess is, this is one seriously tech-laden vacuum.
We've been cleaning with the Dyson V15 Detect for weeks now and here are 5 things you need to know…
1. It's like an Avenger when assembled There is no mistaking that the Dyson V15 Detect is a Dyson. Its purple, grey and gold colour scheme is now iconic and looks fantastic on this vacuum. But what really makes the Dyson V15 Detect work is how easy it is to assemble and just how many different components you get in the box. There's the High Torque Cleaner Head, the Laser Slim Fluffy cleaner head, a hair screw tool and a number of small add-ons for getting cobwebs off of ceilings and the like. All of these click effortlessly in and out of place, with the feeling that you are putting together some sort of super weapon. But it's the Laser Slim Fluffy cleaner head that really is standout...
2. It uses frickin' laser beams Yep, real lasers. A green one to be precise, mapping your home like the ships in Terminator looking for humans. It really does feel like you are in the future when you use the Dyson V15 Detect. The Laser Slim Fluffy cleaner is built for hard floors and use it for such and you will really spot the dust (and its particles). It's a definite USP for this vacuum, literally showing you the dust and crap you didn't see before and then getting rid of it pretty much instantly. And all that is thanks to the suction...
3. There's power in its suction My god the suction works. This is a cordless vacuum so there's always questions about how much it will suck but the Dyson V15 Detect has power with aplomb. Now for the science: there is 240AW of suction power. According to Dyson, its Hyperdymium motor spins up to 125,000rpm. Well, we didn't count - apologies for that - but blimey it's a powerful vacuum sucking up the dirt on our floor and then some. The suction is adaptable as well. We fonud this worked best when we used on carpet. There were occasions when it would increase the suction and make sure the dirt disappeared. And, with all Dysons, you can see all the dirt, fluff and the rest in the middle of the device. To get rid of this, it's simple and hands-free - so no touching the filth your house is covered in.
4. The battery is good enough There is a lot going on with the Dyson V15 Detect. It's a powerful machine and knowing it isn't connected to a power point does mean that you will have to charge the thing at some point. The good news is that we were never left wanting for power. Charging doesn't take long and our three-bed semi never took longer than 30 minutes to hoover. We got two cleans of the house before we had to charge again. The good news is that you know exactly the percentage of the battery while charging, thanks to the decent LCD screen on the hilt of the Dyson. Here it will tell you a lot more about the dust you are getting rid of which brings us on to...
5. It's packed with gadgetry It really is. The frickin' laser is at the top of this list but the LCD will tell you the actual size of the dust it is sucking up and, if you really need to know, what that dust is actually housing. For instance, it'll suck up house dust then go for things bigger than this such as, eww, skin flakes. It might even, after this, suck up dust mites and fleas then get the really chunky stuff such as sugar. It will let you know the type of dirt it's picked up with an actual bar chart. It's geeky, it's fun, it will make you into the ultimate clean freak.
Dyson V15 Detect: Final Verdict Thanks to a laser, we now know our house isn't clean. Thanks to a laser, we now know our house is clean. This is the beauty of the Dyson V15 Detect, without a doubt one of the most advanced vacuums around, it's a joy to use and the first time we've really liked getting geeky about the crap we've been sucking up in our house. Couple this with hardware that's brilliant to use and fantastic to look at and what you have is a cordless vacuum that's a must have.
Related Reviews and Shortlists