ShortList is supported by you, our amazing readers. When you click through the links on our site and make a purchase we may earn a commission.
Learn more
Best new TVs: 8 to get excited about in 2020
Meet the TVs of the future: bezel free and packed with smarts.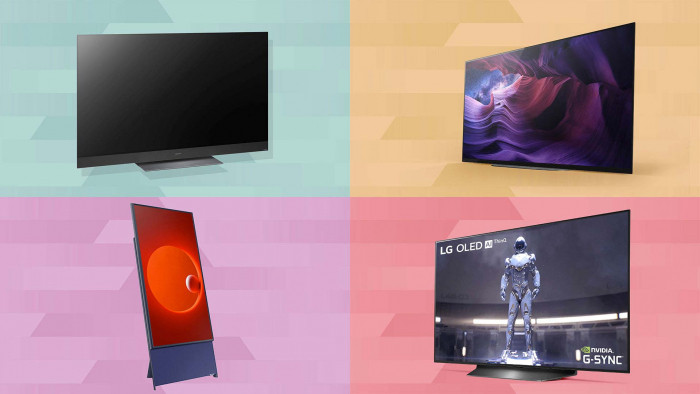 Looking to see what the best new TVs will be this year? Well, we just found out about almost every single important TV coming in 2020.
No hacking or insider sources were needed. CES 2020 just happened, and it is where companies like Sony, Samsung, LG and Panasonic show off their new tech and screens each year.
What's the big news? You'll finally be able to get hold of a cinema-squashing OLED TV smaller than 55 inches. 48-inch OLEDs are coming, and we'll soon be knee-deep in them.
A whole wave of new 8K TVs are coming too, although it may be a while before most of us can afford them. And Hisense has come up with an intriguing TV that disappears when you don't want to watch. It is not quite a TV in the traditional sense either.
Want to know more? Here are the 8 TVs you need to know about coming in 2020.
1. Panasonic HZ2000: Beast of an OLED The brightest, most colour-soaked TVs snag a lot of attention, but we have a giant soft spot for OLEDs made for the real snobs. Y'know, the people who like to say their TV looks better than the local cinema, and actually aren't talking nonsense.
The Panasonic HZ2000 is one of these TVs. It's an OLED, which you want for the richest-looking blacks even in a dark room. Big claims for this set include a 20 percent brightness boost over last year's standard-setting GZ2000, and Dolby Vision IQ.
Think of this as hyper-intelligent HDR, as it provides the usual clarity and vividness bump of HDR, but with extra optimisation for your room. The picture will change based on the light level.
You'll be able to get the HZ2000 in 55-inch and 65-inch versions and it has seven speakers for surround-like performance. How much will it cost? We don't know yet, but the last model started at £3300 and we expect to see something similar this time.

2. Sony KD-75ZH8 : 8K that's not just for the elite

OK, so 2020 probably isn't the year most of us will upgrade to 8K TVs, but Sony may make the first 8K set we buy. The Sony KD-75ZH8 is its 8K star for this year.
It's a 75-inch 8K TV with a display that can update its picture 120 times a second. That's dreamy for gamers and those who actually like high frame rate movies.
We don't know the crucial bit of info yet, the price. But our big hope is Sony has managed to cut down the cost since last year's 8K whoppers. The 2019 Sony 8K family, the ZG8, starts at $13000. And while we're down for having more pixels than sense, most of us just can't afford that kind of spend.
3. Sony KD-48AH9: an OLED TV for British living rooms

OLED TVs, which have lit pixels for mind-blowing contrast, are way more accessible than they used to be. But there's always one sticking point we hear about: size.
The average OLED set starts at 55 inches, no friend to the living room of your average city home. Sony just fixed that with the 48-inch KD-48AH9.
You get all the goodies of the 55-inch and 65-inch versions, including Dolby Vision, Sony's fancy X-Motion Clarity motion processing and a pretty much bezel-free look. But convincing those you live with a TV upgrade is needed just got a lot easier. We hope for lower cost too, but Sony has not let those details out just yet.
The Sony KD-48AH9 almost certainly uses the 48-inch LG panels the tech world has anticipated for the last six months, so we're likely to see several more 48-inch OLEDs soon too. All OLED TVs use LG panels, you see.

4. LG ZX: OLED in 8K
LG is the king of OLEDs. It makes some of the most affordable OLED TVs, some of the best, and it produces every screen panel used by all the other OLED TV makers too.
The LG ZX is its luxury model for 2020, an 8K follow-up to 2019's LG 88Z9, which was the world's first 8K OLED. But as only a few ultra-rich folk in South Korea seem to have bought one of those, you might as well consider the LG ZX the first.
It will be made in 77-inch and 88-inch sizes, both likely to land at as-yet-unannounced dizzying prices. But these are TVs of home cinema fantasies.
LG also has a full-range of more accessible TVs on the way, including a 48-inch OLED. The battle for the best ever 48-inch TV is on.

5. Samsung Sero: The TikTok TV Samsung is easily the biggest maker of TVs worldwide. It will update countless models in 2020. Expect more incredible QLED sets, loads of affordable wonders. And its Samsung Q950TS might have the smallest bezels we've ever seen on a telly. Front on it is "99%" picture, according to Samsung.
But the Samsung Sero caught out attention more than anything else at CES 2020. This is a TV for the TikTok generation and beyond, because, get this, it can swivel around to suit stuff filmed vertically.
It's a 43-inch TV too, which is handy given the average Gen Z person scrabbling for a little appreciation on the latest flavour-of-the-week social network can't usually afford a mansion.
6. Vizio: Affordable OLED and HDR?
Vizio is one of the biggest names in TV over in the US. And we're begging for some of the models it announced at CES 2020 to make it to the UK. The company made its UK debut in 2019 with an audio range, but we're still waiting for the chance to buy its TVs.
Why should you want to? Vizio TVs tend to represent awesome value, and it will release an OLED range in 2020.
There will be 55-inch and 65-inch models, complete with Vizio image processing tech and ProGaming Engine smarts that should suit the PS5 and Xbox Series X down to the ground when they arrive.

7. Hisense 70-inch L5: laser rising TV-projector hybrid
Hisense deserves a lifestyle aspirations prize for its mad-looking L5 "self rising" laser TV. This is completely different to the norm, because it's not a TV in the usual sense.
This is a block that looks like a giant soundbar. A 70-inch screen rises out of it on command, and the base is home to an ultra-short throw laser projector. Such projectors don't tend to look great in a bright room, but the screen also has an ambient light rejecting surface to solve that problem. These screens are usually extremely expensive, but this whole setup will only cost you $6000 (~£4570).
OK, so this TV is not within reach of those of us who shop for TVs at supermarkets. But we love the idea of a set that disappears almost completely when not needed.

8: TCL's micro-LED 8K TV
Chinese mega-manufacturer TCL is not quite a UK household name yet, but the 8K TV tech it just announced at CES has us interested.
TCL calls it Vidrian Mini-LED, and it uses thousands (and thousands) of tiny LEDs behind the TV's pixels to provide far better contrast, and image depth, than the average LCD TV.
65-inch and 75-inch sets with this next-gen tech are coming this year. Will they come to the UK? So far we only know they are headed to the US. TCL does already sell some cracking affordable LCD TVs over here, though.
The TCL X915 is a TV we're more likely to see in the UK and Europe. It's an 8K monster that comes in 75-inch and 65-inch flavours, and uses Samsung's brilliant QLED tech.
Looking for televisions out now? These are the best TVs of 2020 so far.
Related Reviews and Shortlists