ShortList is supported by you, our amazing readers. When you click through the links on our site and make a purchase we may earn a commission.
Learn more
Cambridge Audio Melomania 1+ review
Brilliant true wireless earbuds that go big on battery, small on price.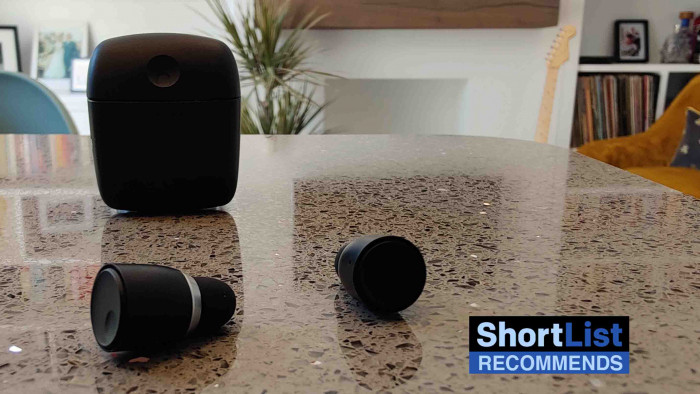 The Cambridge Audio Melomania 1 true wireless earphones are still a fantastic set of earbuds, with both sound clarity and battery life impressive. So we were very happy when the Brit-based audio company revealed its latest offering, the Melomania 1+ earbuds.
They may look very similar but there are a number of changes for the better. We have been using these for over a month now - here are 5 things to know about the Cambridge Audio Melomania 1+ earbuds.
---
1 Setup is a cinch Having had a multitude of Bluetooth connectivity problems with wireless buds in the past, it's a joy when a pair of earphones just work out of the box. And this was our experience of the Cambridge Audio Melomania 1+. We plugged the case in for 30 minutes before touching them (as per the instructions) then once you take them out of the case they automatically make themselves known to your phone, flashing blue and white. Two clicks later and they were ready for our ears.
The buds are Bluetooth 5.0 ready and have aptX and AAC codec support.
2 These bullet buds look and feel fantastic If you are familiar with the Cambridge Audio Melomania 1 range then you will be right at home here. We couldn't tell the difference between the earbuds on looks alone. They are the same bullet shape and are still ridiculously light at 4.6g. We reviewed a black pair, but you can also get them in white. The pebble case they come in is nice and compact and also matte, so no grubby fingerprints.
Controls aren't touch, which means that there is a nice click when you are using them. They are fairly simple to use, which is what you want when they are in your ears. Things like: press and hold the 'r' button to increase volume level (you decrease it's on the left), a quick press to pause and call acceptance is just a press, too.
3 Sound is awesome and you are in control The big change in the headphones from their predecessor are the software flourishes. You can combine these headphones with the new Melomania app and its fantastic equaliser functionality. In the app, there are a number of presets that you can try out - all why the music you are listening to is still playing.
They include Balanced, R&B, Electronic, Bass Boost, Rock and Voice. You can also move the equaliser up and down to create your preferred sound. There is a real difference between the presets which is, er, nice to hear.
Sound-wise, for the most part it's impressively rich. The harmonies in Albertine Sarges' Free Today soared, the melodic melancholy in Gruff Rhys' Loan Your Loneliness thrummed and when we needed a pick-up, Ritchie Sacramento by Mogwai sounded epic through the earphones.
Our one caveat is minor: when you wear the earphones you need to make sure, the mics are on the bottom of the ear for when you take phone calls. Because these are bullet-shaped buds it's not always clear which way round the top and bottom is. There is a circle you can feel, which does help position them properly.
4 Battery life is improved and impressive The battery life of the Cambridge Audio Melomania 1+ is simply fantastic. You can get 35 hours in what it calls High Performance mode (7 hours out of the case). This can be extended in low power mode when you get up to 9 hours out of the case and 45 hours with it. At this level, these are right on the top of the market with its battery life. It really is brilliant.
Low performance mode is a similar sound to what you get with the original earbuds so you really aren't missing a huge amount when in this mode, but we think that the battery life is decent in high performance mode, so never felt like switching.
5 They perform way above their price bracket The Cambridge Audio Melomania 1+ cost the same as their predecessor which really surprised us. That means you are getting a hell of a lot of decent tech here for your money - which is £120 ($140). Given that Apple's AirPods are £159 and we think these surpass them in every way, that's something of a steal.
Cambridge Audio Melomania 1+: Final Review There are things that the Cambridge Audio Melomania 1+ are missing: noise cancelling isn't on board and the case isn't wireless charging. But, for the price, these are brilliant true wireless earbuds. Comfortable enough for both running in (they are sweat resistant) and using day to day, with a sound clarity that really impresses, they are a joy to wear and to listen to.
20% off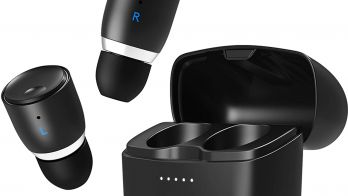 Cambridge Audio Melomania 1+
£39.95 WAS: £49.95
These are fantastic true wireless earbuds that put you in control of your music.
Buy now from Amazon
Related Reviews and Shortlists