ShortList is supported by you, our amazing readers. When you click through the links on our site and make a purchase we may earn a commission.
Learn more
Sennheiser CX True Wireless review
If you are looking for True Wireless battery boost, then these are for you.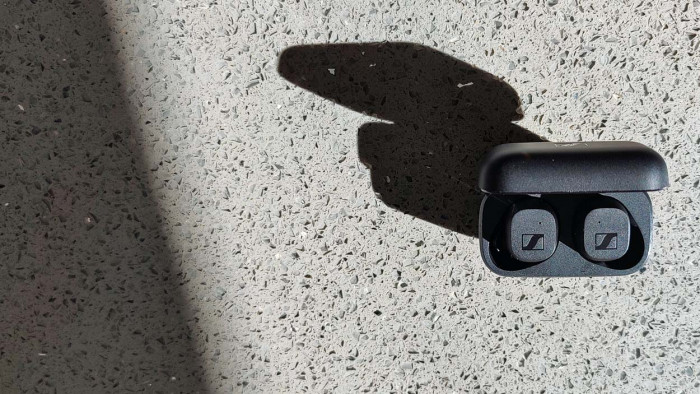 When looking for a decent pair of true wireless earphones, there are a number of factors you need to consider. These differ from person to person but for us they need to score well in three areas: comfort, sound and battery life.
We could add affordability into the mix but, if we are honest, we don't mind spending a little bit more if it means our first three requirements are locked in.
Enter the Sennheiser CX True Wireless - a pair of true wireless earphones that pass the affordability test but how do they sound, feel and what's their battery life like?
Well, for the latter these are among the best we've tested. As for the other two, well here are five things to know about the Sennheiser CX True Wireless earbuds...
1. The design is subtle Sennheiser has been an audio stalwart for getting on 70 years now, with the focus of sound rather than making the best-looking gadgets around. The Sennheiser CX True Wireless are of no exception. Their design is subtle, there's no room for flair here.
This means they don't stand out when in your ears. This is a good thing as we've tested plenty of earphones that act like beacons, drawing peoples attentions to our lugs. We don't want that and you don't either.
The main part of the earphone looks chunky but when it's in the ear it's pretty much flush. There isn't much weight to the buds, either, so they feel comfortable when you are wearing them.
The pretty plain matt-black lozenge look is broken up with the Sennheiser logo imprinted on each bud, a tiny gloss trim and a small LED.
Case wise, it's also a little chunky but we didn't notice much of a bulge when put in our pocket. It's a case that can rest alone without falling over, which means you can nicely flick the top up when on a commute or wherever with ease. Again, the only noticeable design flourish is the Sennheiser logo and that small gloss trim.
2. The setup is simple We initially downloaded the Sennheiser Smart Control app and tried to pair through that but this wouldn't work with our review unit. So, we paired the Sennheiser CX True Wireless through our phone's Bluetooth settings and were up and running in seconds.
Once that was done we went into the Smart Control app again and it recognised our headphones. In the app there's a short guide on how to get the right 'lock' for the earphones to work properly in the ear, as well as details on how to pair the earphones to another device.
There's also a picture tutorial on the touch controls (which is straightforward, one touch to play/pause, two to skip a track etc) and then you are presented with an equaliser which you can manipulate using a visual version or more static controls. Here you can add presets and the like to enhance your listening experience.
3. The features are streamlined First, it's best to lay out what these earphones don't have. They don't have ANC (Active Noise Cancellation), there's no transparency option (which allows you to hear what is going on around you) and if you take the earbuds off they will continue playing, which means that there's no auto stop functionality on board here.
While we would have liked all of the above, Sennheiser really has streamlined things to focus on sound quality and battery life. Sound quality is tailored nicely in the accompanying (and aforementioned) Sennheiser Smart Control app. It's here you can play with the EQ and choose a number of presets for your audio listening.
4. Sound is well balanced and you can boost when needed There's a richness to the sound that comes out of the Sennheiser CX True Wireless earbuds. Listening to Heels by Billy No Mates, the syncopated beat rattled through nicely, while the vocals were clear, startlingly so. the same can be said of Scratchcard Lanyard by Dry Cleaning - there's real detail in the high ends, as well as a punch accompanying the drums.
To make use of that Bass Boost (quite an archaic-sounding feature but it works well here), the rolling bass of Rhye's Sweetest Thing came through beautifully, while the propulsive bass of Kelly Lee Owens' Jeanette sounded fantastic through the ear buds.
The lack of ANC does grate somewhat, as the added seal would have really rounded off the sound but we were impressed throughout.
5. Battery is immense but there is a reason
We got between 7 and 9 hours per charge in our tests which makes these one of the best true wireless earphones for battery. Add in the case and what you have is a package that will whizz past 24 hours and then some.
This is fantastic, jaw dropping in a way. But the main reason for the powerful battery is that there is a lack of active noise cancelling through the earphones, and this is the biggest battery sucker for earbuds right now. Many other earphones will show similar (but not as good) battery lives when you used them with the active noise cancelling turned off.
Sennheiser CX True Wireless: Final Verdict Sennheiser has created a solid, great-sounding pair of true wireless earphones. They may not have some of the features we have come to expect from higher-priced earphones but, for the price, the sound is fantastic and they are very comfortable to wear.
Couple this with fantastic battery life, some decent waterproofing and EQ features, and what you have are a very capable pair of true wireless buds.
Buy the Sennheiser CX True Wireless earphones now from Amazon, for £119.
Related Reviews and Shortlists