ShortList is supported by you, our amazing readers. When you click through the links on our site and make a purchase we may earn a commission.
Learn more
Best sports bra 2020: for runners, the gym and all other exercise
Make sure you have the ultimate support when working out, with the best sports bra.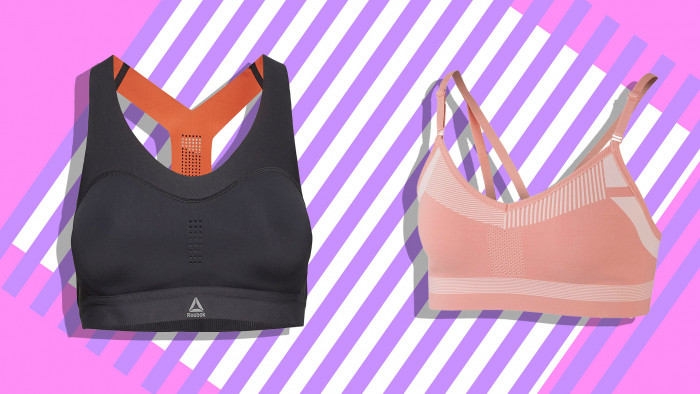 We have taken the stress out of finding the best sports bra for women of all sizes by testing out a range of prices and styles, putting them through both their cardio and weight training paces, and, of course, judging whether they are comfortable too.

UPDATE:We may not have had chance to test out this sports bra yet, but we thought it would be worth a mention because it's supportive, has a cool guitar print and is... designed by Brian May? That's right, Brian May of Queen fame has released a line of sportswear, including a sports bra. But unless you're particularly taken with the guitar design, it's probably best to stick with the tried-and-tested options below for now!
We've also added Maaree's award-winning Solidarity High-Impact Sports Bra into the mix. Designed by female-founder Mari Thomas who used to be a performance analyst for some of the UK's leading sports brands, her bras not only look the part, but thanks to a unique over-band, they reduce upward movement as well as downward movement. It really is a design catering to a missing area of the market! While some may find playing sports or going to the gym a highlight of their week, for most of us, signing up to an activity or a class is an achievement in itself.
And for women, we have the extra trauma of worrying what to wear so we don't embarrass ourselves with a Janet Jackson-style wardrobe malfunction. This guide will help make sure that never happens.
So, let's cut to the chase: our best sports bra for value award goes to the Camille Racer Back Sports Bra. At just £16.99, it does not burn a hole in your pocket, but offers comfort, support and a dash of style for good measure. Our best sports bra overall is the Pour Moi Energy Underwired.
Why are they both so good? Well, read on to see how we tested and all the other sports bras on offer.
Best sports bra for value Camille Racer Back
£16.99
Sports bras don't get much more comfortable than this Camille pick.
View now at Camille
One of the most comfortable bras we have tested, the Camille could be worn all day before heading to the gym. Its comfortable crop top style, with the added support of a functional bra clasp, ticks the boxes for us, and its simple style with a splash of colour is is easy on the eye too.
Best sports bra overall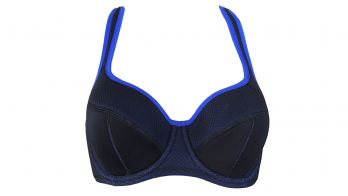 Pour Moi Energy Underwired
£7.15 (From)
A different style to many on the market. The Pour Moi Energy Underwired Bra offers firm support thanks to the underwire and three-hook clasp.
View now at Pour Moi
Despite being a mid-range priced bra, the functionality of this garment rivals its higher priced and more well-known brands, while offering a unique style which, while some may not warm to, gives it some individuality in a crowded market.
Best sports bra: the shortlist
Best sports bras: how we chose what to test
Early on we decided every bra tested needs to come come in a range of sizes. One glance around any gym shows you women of all shapes go for a variety of reasons, whether it be health, weight loss or even for the social aspect. Your cup size - large or small - should not limit your choice.
We then looked to include range of prices. Again, sports bras are for all, from those who can afford luxury gym pass to those who stick to an outdoor runs. We wanted to show what was on offer at all budgets.
We also wanted to know whether the pricier bras were worth the cost, or if cheaper alternatives offered the same performance without needing a payment plan to afford one.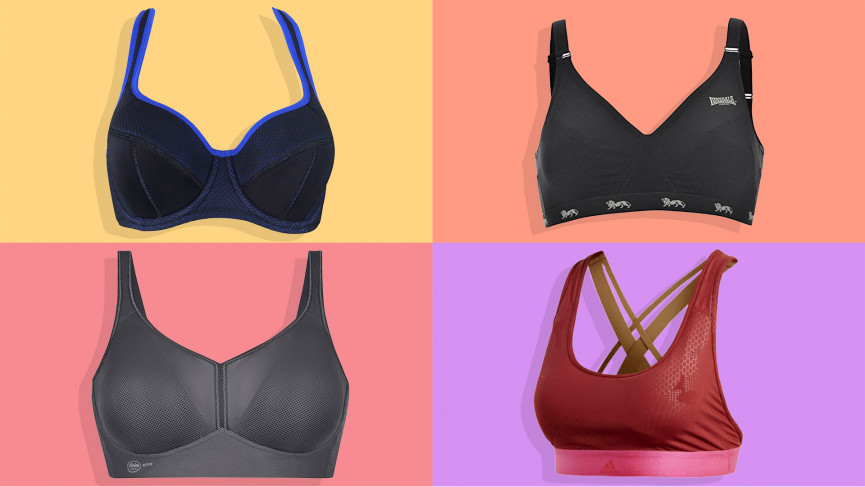 And, finally, we made sure they are easy to get hold of. Bras only available from specialist shops in well-to-do London shopping streets are out. All the bras we chose can be ordered online, and many are found on the average high street too, for those who prefer trying before buying.
We also wanted to put the big sports brands against lesser known companies to see how they compared.
Best sports bras: how we tested

There really is only one way to test a sports bra for all eventualities, and that is to take it to the gym.
We tested the bras over two months, ensuring we put them through similar workout routines.
Each was used for a fitness class that focused more on toning and stretching. They were then used for weight training sessions, both free weights and machines. And finally on a range of cardio machines, including treadmills, cross trainers and rowing machines, to cover a wider range of sporty activities.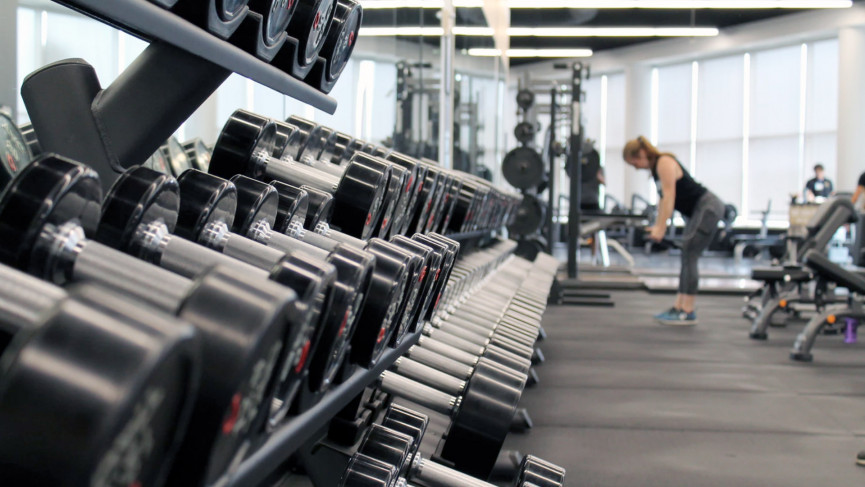 The idea was to ensure whether you prefer a jog in the park, playing football, a bodytone session or a yoga class, the bras would be put through a vast number of scenarios to covered all bases.
Function and fit were the first areas we judged. You need to feel secure in your sports bra and no-one wants a wardrobe malfunction. But it's important from a health point of view too. Every woman deserves a bra that fits properly, even more so when working out, so we looked for the support needed for fitness activities.
Second came comfort. A secure feel is good, but if a bra feels like a Victorian corset it has gone too far. And many products sell themselves on offering a comfortable fit. Do they stack up in reality?
We looked at the material, the straps, the clasps and tested them out for long periods to make sure we could say if they were a pleasure or pain to wear.
Style came third, after fit and comfort. This is a little more subjective. We'll tell you what we think, but take a look and decide on your favourite. But with such a range on offer, from high fashion prints and colours to more subtle options, we tried to include a range so you can pick a statement piece or functional garment. And we wanted to see if "style" bras sacrifice substance.
Best sports bras: test results

The Pour Moi Energy Underwired Lightly Padded Convertible sports bra was top of the class. At a mid-range price it offered the same support and performance as some of the pricier breas we tested, but with additional comfort and a stand-out design.
It is also a bra, rather than a crop top, which gave us more confidence in its performance and made it more adjustable. It comes in a range of sizes to suit women's needs and is easily buyable from the company's website.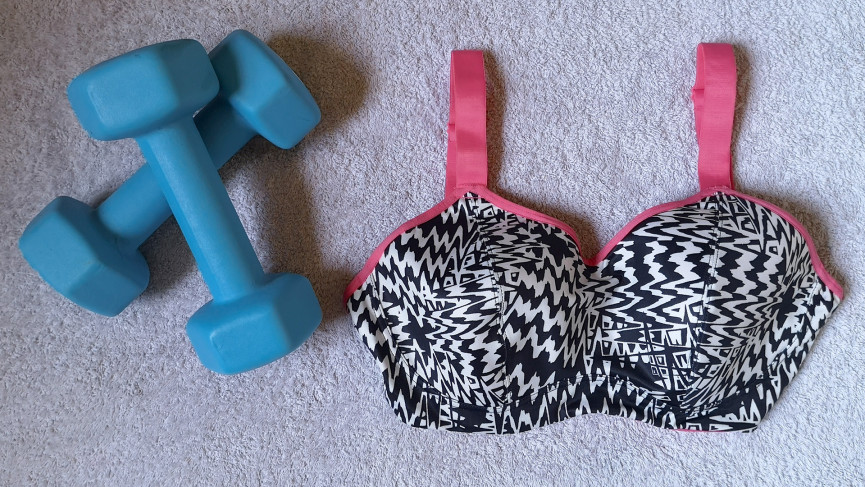 In at number two was the Reebok PureMove sports bra. It was the easiest of the crop top designs to put on and had the best fit, although it did occasionally ride up under the bust.
It was a subtle, yet distinct design, with cut-off straps rather than stitching, and was the most comfortable of all the bras tested. But the £44.95 price did not feel wholly justified when our top choice offered similar performance at a fraction of the cost.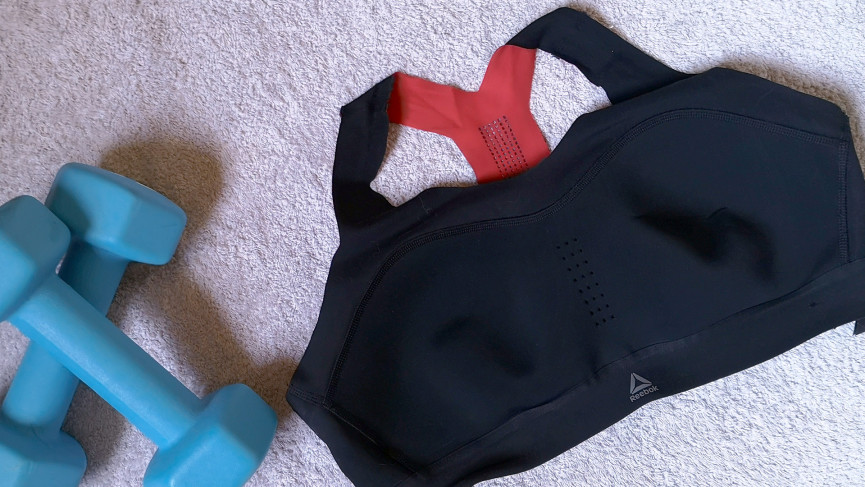 Third place in our ranking was the Nike FlyKnit Indy Tech. This crop top had a bit more character, with bright dayglo colours and fun split straps at the back. But while both the look and support were excellent, it felt very thick and warm during a hard workout, and began to dig in a little under the bust - despite its smooth elasticated design.
While perfect for weights, it allowed a little too much bounce compared to the Reebok bra during a long session on the crosstrainer. At £54.95 from sportsshoes.com, we expected near perfection and it missed the mark.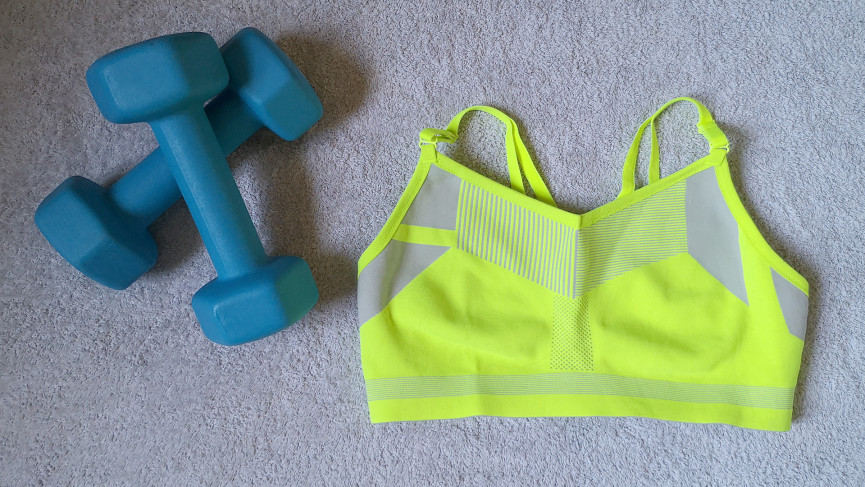 Fourth came theCamille Racer Back sports bra. We gave this our best value choice, as how much it offered for just £16.99 impressed. The design was simple, but attractive, and although a crop top, it had an additional clasp on the back for additional security.
It was a bit bouncy - more so than the three above - but it was so comfortable, breathable and attractive, it ticked most of the boxes - especially considering the budget price.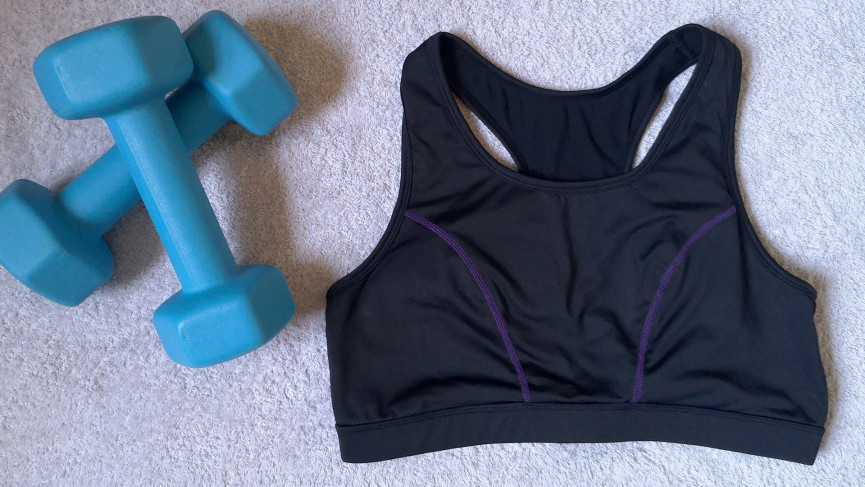 Fifth was the Adidas Don't Rest Bra. The design was absolutely gorgeous - a deep red bra with beautiful cross hatch straps on the back - and it felt incredibly comfortable to wear. But the support was minimal and we almost provided a show at one of our toning classes when we had to do star jumps.
It was also incredibly difficult to get into thanks to its intricate strap design, and just did not give us the coverage we needed. It's a cheap bra at £14.99, but a case of style over substance.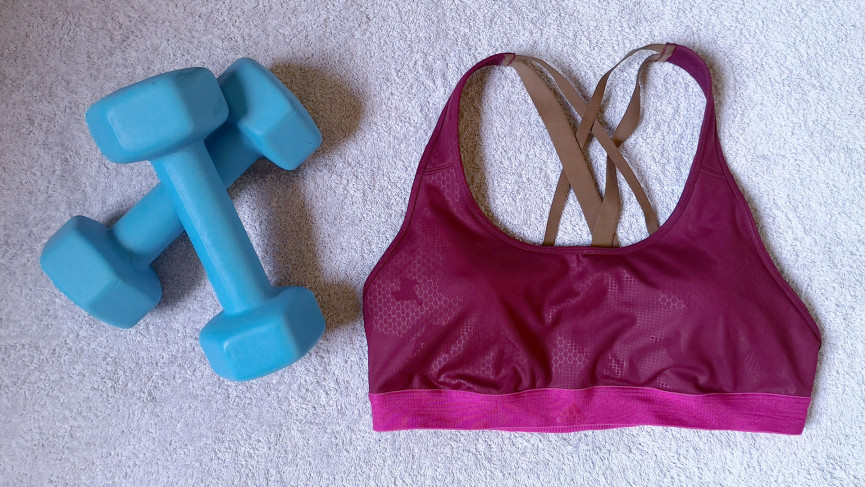 Our sixth placed bra almost came further down the pecking order because of our anger at the idea of paying £57 to be placed in a vice. But there were a couple of plus points to the Anita Air Control DeltaPad.
The support was unquestionable, you did not move an inch, and it was very breathable, keeping you cool in a sweaty gym. But it was the most uncomfortable bra we have ever worn.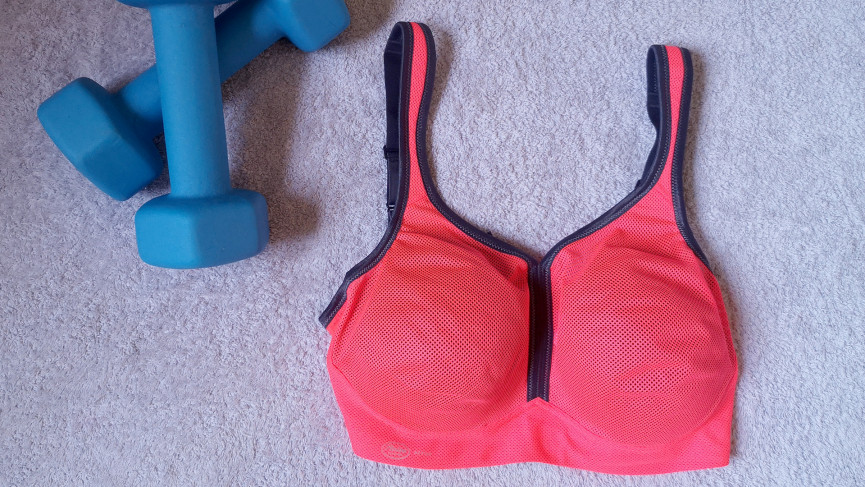 It dug in around the underbust, the back and the arms, even after adjustment, and while the coolness was apparent, you felt unable to breathe. There was a range of colours on offer, from neon to a simpler black or white. But the look still felt a bit a bit retro, and the additional pads over your nipples, meant to be a selling point, just did not feel secure.
We would have loved to have placed our seventh ranking higher up the list for its ethical values, but sadly the Carrot Banana Peach Bamboo Tear Drop fitness bra offered next to no support - even less than the Adidas bra, which was £13 cheaper.
Yes, the soft pastel appearance was pleasant and the feel of the "bamboo" fabric was lovely against the skin, but a single jump made you worry where your boobs might end up.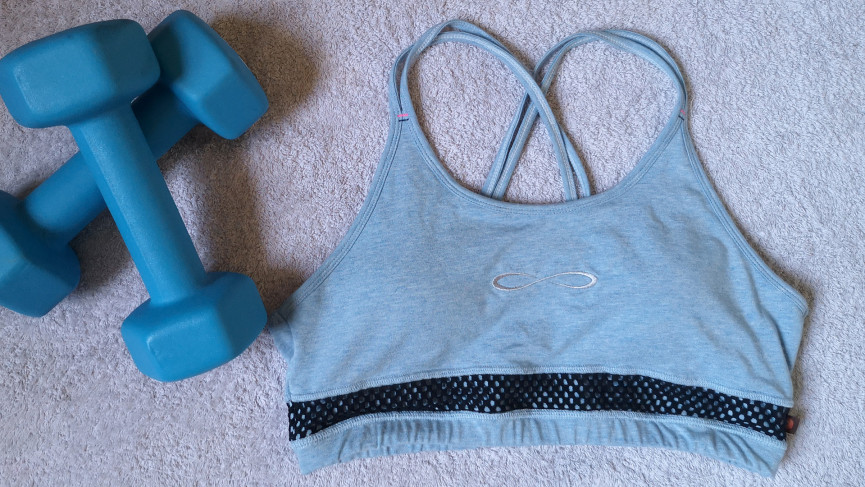 The attractive crossing back straps were thin and flimsy, while the additional underbust band rode up constantly. The padding within the cups also shifted a lot and your nipples could be seen right through them anyway. We praise any company wanting to use more sustainable materials, but for anything more energetic than a quick run up the stairs, it would just not perform.
In last place was the Lonsdale Sports Bra from Sports Direct. There were many sizes available, the soft cotton felt good on the skin and it didn't dig in. But the basic design not only looked as cheap as its £8.50 price tag, it offered absolute minimal support - less so than a daily wear t-shirt bra. The material also soaked up sweat, leaving you soggy and aching after any decent workout. For a few pounds more, you can get a much higher performance in every aspect.
Best sports bra overall

Pour Moi Energy Underwired Lightly Padded Convertible Sports Bra £28
That the Pour Moi Energy Underwired looks like an actual bra was the first thing that appealed to us here. Many of the options on the market are crop top styles, which for anyone with a larger chest does not always offer the most support, and can be difficult to put on. However, this won overall when it came to both styles.
The unique and less than subtle design may put some off, but we loved the individuality. The print is somewhere between a zebra print and a 90s pattern, accompanied by a coral trim, making the contrast pop. The clasp - again like your usual daily bra - has three vertical hooks, making it feel firm on your back, as well as three horizontal ones, giving options if you change size as your workouts progress.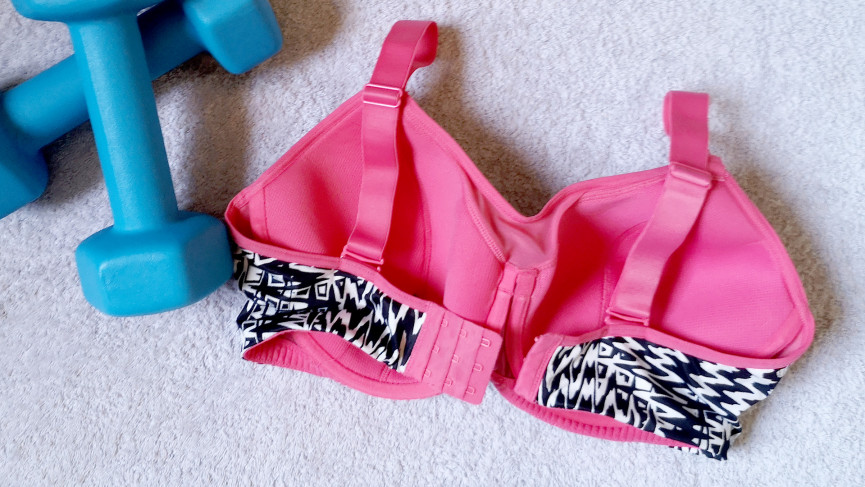 The straps are thick and sturdy, again offering that additional support, and are adjustable to suit your size. They are also made from a smooth and soft polyester mix, which sat comfortably on our shoulders and did not dig in.
The cups are made of a slightly padded but breathable material, so although it appeared at first glance the bra may be a bit warm for a workout, it kept us cool and comfortable at the same time. It also has the benefit of an underwire to give you additional support, as well as a nice shape - rather than some of the other options that flatten you down beyond recognition.
Unfortunately, like any underwired bra, that did mean after a long session, it could dig in a little, but no more than you would expect from a daily wear bra, and it really was only after an extensive workout.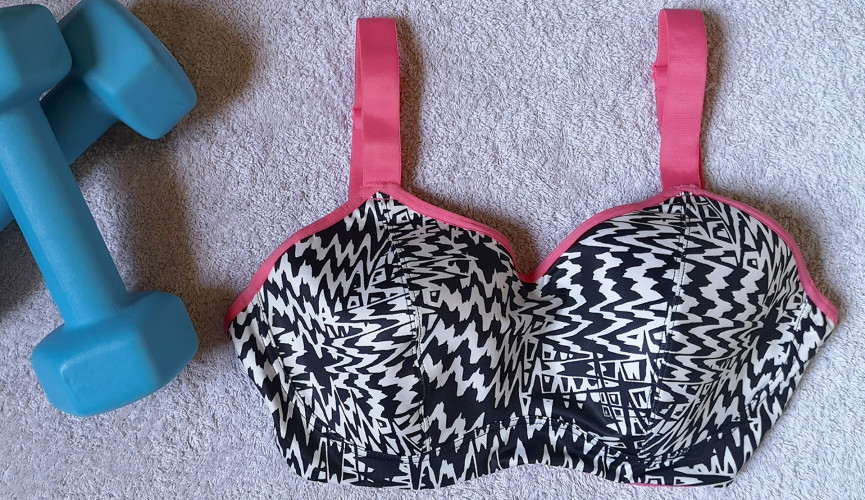 The overall design made it fantastic for wearing under other sports tops for a run or yoga, but the stand out pattern could offer an on trend alternative to a crop top, without revealing too much.
During cardio workouts on the treadmill and crosstrainer, it offered utmost support, with very little bounce, taking pressure off your back and offering excellent coverage without risk of a slip. For weight training, it again felt firm and did not move, but with those cooling pads, made sure you only overheated from the reps, not the underwear.
We were really impressed with the price of this bra too. Although £28 might be more than some are willing to pay, it performed just as well (if not better) than bras twice the price from far more well known sports-associated brands. It also comes in a huge variety of sizes, up to a G cup, so suits a huge range of women's needs.
For comfort, support, design and value, this was our clear winner.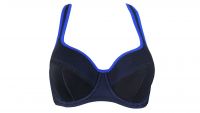 View now at Pour Moi
Best value sports bra
Camille Racer Back Sports Bra £16.99
As this is the best value category, you have to start with the price. The Camille Racer Back may not be the very cheapest on the list, but at a third of the cost of the most expensive option we reviewed, how much the Camille bra offers for relatively little from your pocket is fantastic.
It was an easy fit and easy to put on. You don't have to squirm your way into it, unlike some other crop top designs. This is thanks to a genuine bra clasp and the elasticated polyester fabric that, while sounding cheap, feels very smooth to the touch. This fit gives you the extra security when you do yourself up, but without the sometimes painful wiggle into a one-piece.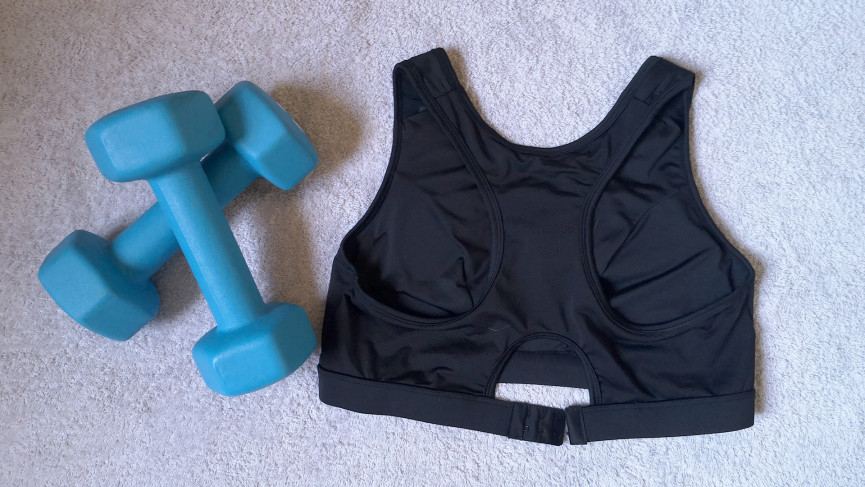 During both weight training and toning classes, it felt incredibly secure, keeping everything firm while you focus on firming up everything else. It was also cool, so even at the height of your workout it wasn't uncomfortable or sweaty. But the design offers the option to wear it as a crop top or under a gym top. You choose.
The Camille Racer didn't live up to some of the other products when it came to cardio, and the bounce was a little more than we would have preferred - especially considering the racer back gives the impression it should offer more support. But it still more than outdid its fellow value competitors on this front and there weren't any concerns mid-way through a run or jump, especially with the added padding around the front of the cup, which cuts out concerns about chafing.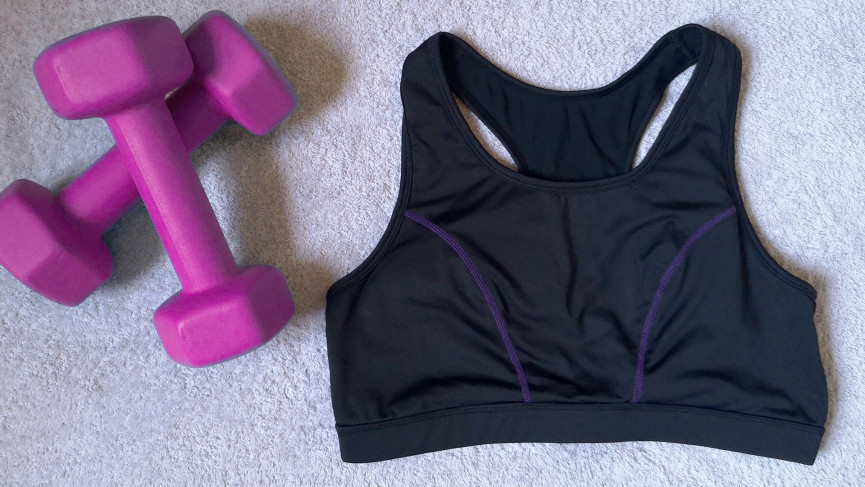 It's a comfort winner too. We could have worn it all day and did find ourselves reaching for it on a lazy Saturday morning a few hours before we even ventured for a workout. There was no digging in from either the elasticated band underneath or the thick, comfortable straps, and while the runner back gave the look of professionality, it really worked better for the feel.
The look, of course, is down to preference, but we liked having a simpler option with just a dash of purple piping colour. It also doesn't flatten you down like many of the other bras - which again could account for the bounce - but it meant the bra gave you a little cleavage and felt more attractive for those who prefer that look.
The Camille Racer is not the perfect sports bra by any means, but for less than £20, it offers a lot more support than most, along with a stylish design and comfort for miles.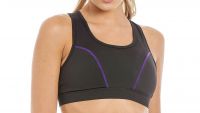 View now at Camille
Comparing the rest on test

While the Pour Moi is our top choice, we would highly recommend the Reebok PureMove sports bra for those with a little more cash to spend. Its appearance is classier and subtle, and the "Motion Sense" technology does seem to work. It was cool during a workout, keeps you well supported and fits naturally under any sports top, while also working as a crop top.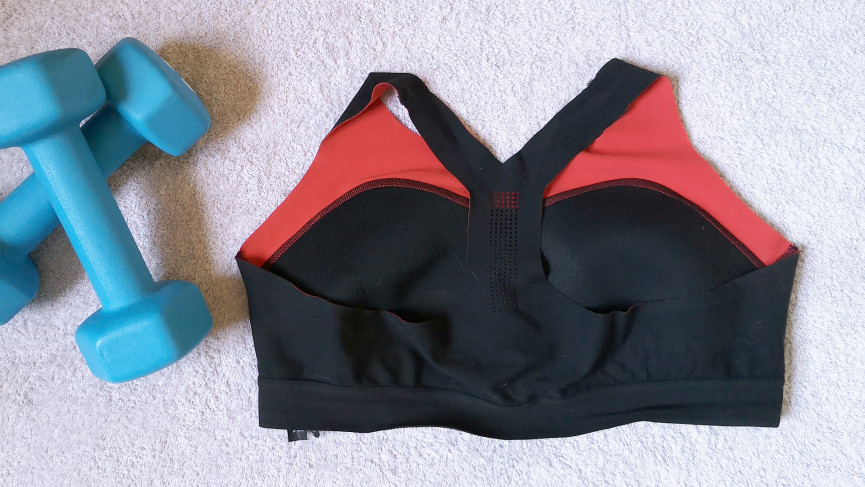 The best wear for those who do want a crop top, however, would be the Nike IndyFit. We think it was designed more as a top than a bra and you feel very well covered - even more so than the Reebok design. Its adjustable straps give you the added lift you need compared to some other crops on the shelves, and when worn on its own, it doesn't feel as toasty as it did under a top.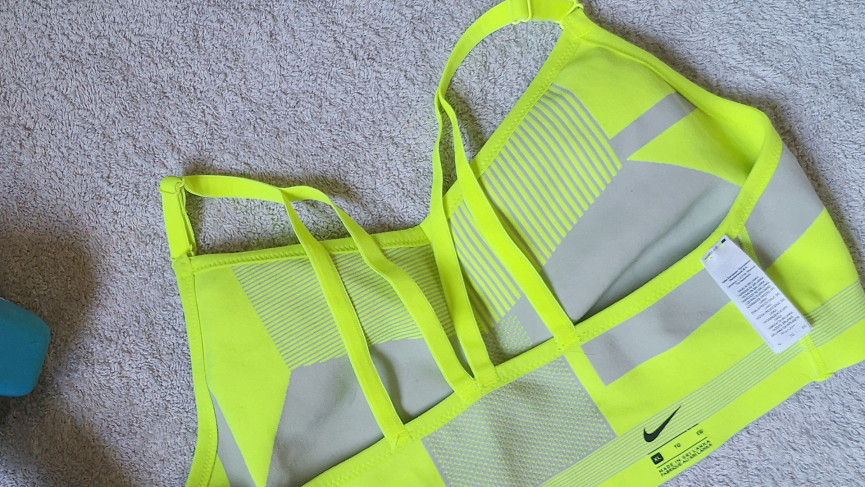 The comfort win goes to the Camille bra. We can't emphasise enough how much of a pleasure this was to wear, and how we may have taken to putting it on at home instead of a pajama top.
If you aren't going to be doing a lot of fast cardio, it will give you everything you need, without the dig-in marks that other bras leave.
We again want to praise the Carrot Banana Peach Bamboo Tear Drop fitness bra for its ethical choices, but hope the company improves its functionality in the future.
And out design winner? The Adidas Don't Rest bra. Its back straps really do look like the piping of a stained glass window, and if you want a sports bra for next to the pool or a walk, while showing off your style, you could find worse ways of spending £15. Just avoid any sudden movements.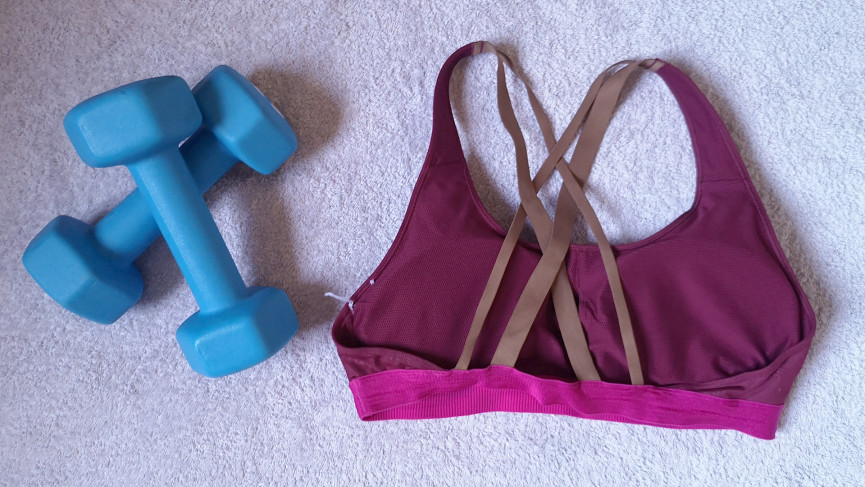 One to avoid?

We can't recommend the Anita Air Control DeltaPad. We like that it comes in a range of colours and sizes for different women, but to pay just shy of £60 for something so uncomfortable, with thin straps and a fairly unattractive design that makes you dread putting it on is just somewhat galling to us. Give it a bit more stretch, cut the price tag, and glam up the design, perhaps we will be moved - even if our boobs won't be.

Latest
Health & Fitness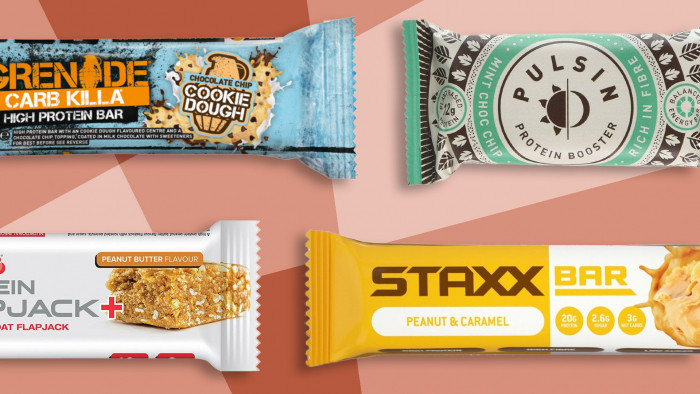 The best protein bars to fuel your workouts
Health & Fitness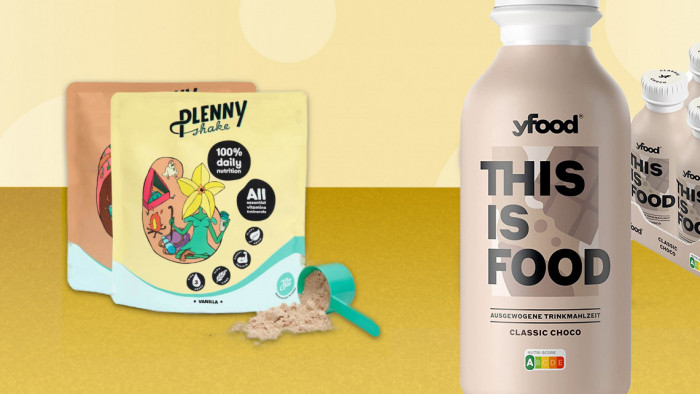 Best meal replacement shakes we have tested this year
Related Reviews and Shortlists