ShortList is supported by you, our amazing readers. When you click through the links on our site and make a purchase we may earn a commission.
Learn more
​Exclusive interview: Bastille on success, technology and their most memorable gigs
"It's really easy to try and sell music by being as inoffensive as possible"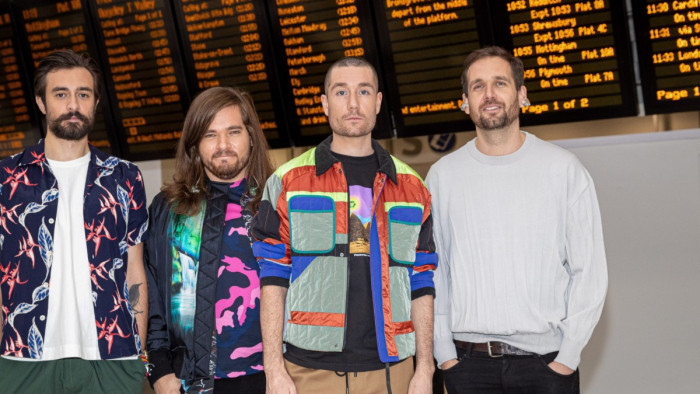 British band Bastille have a knack for producing hook-heavy hits that will undoubtedly see you through many a shower sing-along. They're also a band that, by their own admittance, are in danger of becoming victims of their own success.

With three UK Top 10 studio albums under their belt (Bad Blood, Wild World and recent offering Doom Days) alongside a just-announced Brit nomination for Group of the Year, the South London four-piece seem to relish the uphill battle to challenge the conjecture that accompanies their sound.
"Ultimately we've had a few songs that have been very successful and to some people that will be all that we are," remarks frontman, Dan Smith.
"Yes, we make pop music - I think quite interesting, dark pop music in some respects - and some of our songs have slightly weird subject matters, things that people wouldn't always write about, but we've never really given a fuck about the perception of us and what people might think."
Experimenting with interactivity and introducing fans to the immersive world surrounding each release is certainly one way to disrupt the stereotyping. Between 2018's ReOrchestrated tour - which saw the band perform a classical reworking of their hits - and the interactive launch of their third album Doom Days, Bastille have collaborated with a host of creatives to alter the way fans experience their music.

"At the beginning I think people were frustrated that we weren't more of a conventional indie band, but we've never been a band with just guitars, bass and drums. It's always been that our music is an escapist way to explore stories and I think we've always tried to push the boundaries as much as possible," says Smith.
Set over the course of a single night, 2019's Doom Days depicts a debaucherous bender that may or may not coincide with the end of the world. Delving into the double-edged sword that is technology, the lyrics weigh up the hedonism and escapism that it provides against its darker, self-destructive side-effects.
"I think Doom Days is a much more intimate album - a snapshot of a moment in time. The language of world politics and daily problems is so interlinked that we wanted to use a relationship breakdown as a metaphor for bigger things," the frontman remarks.
"It's really easy to try and sell music by being as inoffensive as possible - and we very much didn't want to be that. We wanted to be more direct with the lyrics, more outspoken, but create a music world that is a 40-minute escape into someone else's head."
A loosely conceptual eleven track offering, the album's release was accompanied by a concept tour and rather unique visual narrative.
"It's always been exciting for us to challenge ourselves visually - in terms of how we launch music online and with our artwork," Smith enthuses.
"We did this experiential, choose your own adventure play for four or five hundred people in a room. It was essentially a silent disco with three or four different narratives you could follow and used 3D sound. It was a kind of interpretation of our album - and there was a digital house party people could explore."
It's this love of all things visual that led the band to collaborate with EE on their latest campaign, treating commuters to the world's first augmented reality gig direct from Birmingham New Street Station.

Streamed simultaneously over 5G to stations in Liverpool, Edinburgh and London, the gig also saw Kevin Bacon join the party, assisting commuters at London Kings Cross.
"I mean, it's not often you can share a stage with two giant yetis and a load of mirrored dancers," laughs the frontman. "We've always tried to involve new technology and to be as creative and as innovative as we can be, so it just seemed like a really fun idea. I love any idea where it makes music more accessible."
As it turns out, Bastille are no strangers to performing in UK train stations. Back in 2012, Dan Smith - the band's then solitary member - found himself back in King Cross gracing a much smaller stage.
"They used to get up-and-coming bands to play and I had to perform to probably a total of 12 people and a few passers by," he muses.
"As we grew from pubs to other venues we kind of stepped up rung by rung. From KOKO, to the Shepherds Bush Empire, to the Brixton Academy, to Alexandra Palace and then the O2 - now that was a pretty surreal moment - it was like a barometer as a music fan."
Seeing as that barometer appears to have climbed to some pretty heady heights, we thought it only fair to get Dan and the Bastille boys to compile a Shortlist of their all-time favourite shows. You're welcome.
---
1. Pyramid Stage, Glastonbury "Playing Glastonbury on the pyramid stage this year felt like a huge moment for us. I'm a pessimist when it comes to everything, so when it came to that show I couldn't really gauge if anyone would come. I've been to gigs at the Pyramid Stage that were rammed and I've also been to ones that were not so rammed, so we were overwhelmed when we walked out on stage and saw the crush of people trying to get into the gig from the sides.
"We were on at four o'clock in the afternoon and trying to play an album that was about an all-nighter - we tried to bring that atmosphere to the afternoon sun. We had a lot of other musicians on stage - from a gospel choir to a brass section - and everybody was moving around and bringing this apocalyptic party to Glastonbury."
2. Red Rocks, Colorado "In America they have these things called sheds which are more like outside amphitheaters. For a Brit, it's just something you never get to do. There's a venue in the US called Red Rocks and it's carved out of the mountain and so high-up the altitude is insane. They warn bands about it before they go out and play. It's really beautiful and surreal to play in.
"I always get nervous and over excited before shows - so if someone is telling me to take it easy, I'll subconsciously do the complete opposite. There's a song of ours called Flaws where I'll always jump in the crowd and wander as far as I can. That day the sound guy challenged me to run to the top of the amphitheatre - bearing in mind the altitude is quite intense - so in the middle of the song I did that and I nearly died."
3. Elbphilharmonie Hamburg "We did a gig this weekend in Hamburg at a venue called the Elbphilharmonie - it's this amazing feat of modern architecture. It was this beautiful concert hall and we played with a 62 piece philharmonic orchestra and a twelve piece gospel choir - so there were 72 of us on stage and a few extra percussionists. I think that was my favourite thing we've ever done.
"We deconstructed all of our songs and built them up with an orchestra from scratch, working with the amazing Baltic Sea Orchestra who are from different countries all over Europe. I really don't have the words to describe how amazing it was for all of us - it's one of the most beautiful things I have ever been involved in. It was the strings off to the left and the gritty brass off to the right and three percussionists and tympanis. It was kind of its own beast."
4. The Courtyard Theatre, Shoreditch "We played a gig at a tiny venue in Shoreditch for 200 people when we released our second album. It was under a fake name - Chaos Planet - which was a bad play on our second album Wild World.
"So it was the hottest day on record or something ridiculous and it was just the most filthy sweaty environment. The air-con wasn't working and it was packed. People were feinting and slipping on their own sweat and it was pretty grim but it was one of the funniest, grimiest gigs doing it as a fake grunge band called Chaos Planet."
5. Gröna Lund, Stockholm "There's this theme park in Stockholm, Sweden, and every year they do a run of gigs - two or three a week - and they get the most insane line-ups. We played alongside Hozier, Elton John played last year, Madonna's played there, The Rolling Stones played there. You buy a season ticket for the theme park for something like £50 and you get to go to the gigs - and it almost doesn't make sense.
"The gig was really fun but there was one of those high drop rides next to the stage and when I was singing Flaws I decided to walk up to the ride, get on the ride and that was pretty surreal - dropping to earth and trying to hold a note."
Related Reviews and Shortlists