ShortList is supported by you, our amazing readers. When you click through the links on our site and make a purchase we may earn a commission.
Learn more
The top 5 iconic moments in women's football, according to Kelly Smith MBE
We chat to England's greatest-ever female footballer about the beautiful game...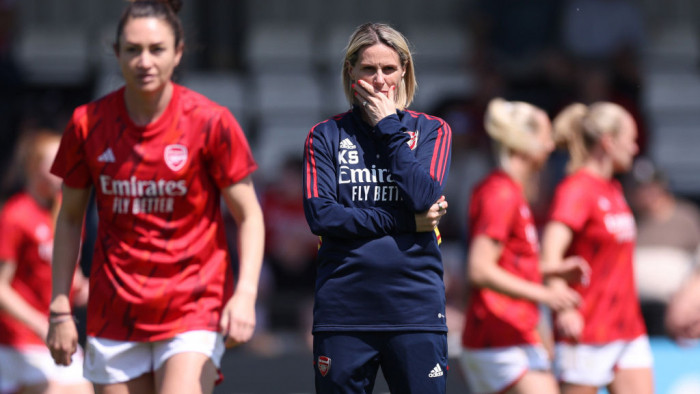 EA Sports FC 24 has arrived and the game is out to prove that there is life beyond FIFA.
One way it is doing this - aside from its 'Hypermotion V' technology which boasts the most authentic player movements and play styles ever, as well as cross-play across different consoles - is by adding women's football into its popular Ultimate Team, fully integrating men and women's football for the first time ever in the game.
It sees some of the biggest female stars in the real-life game immortalised in video game form and ready to play in your mixed dream teams. One of those Icons is former England forward and Lioness legend Kelly Smith MBE.
Sitting down with Shortlist to tell us about her first ever appearance in the game, she says, "I feel humble about it. Don't forget, women's football didn't just happen in the last five years. So to be recognised for something that I've done throughout my career, along with all these amazing players that I played with, makes me so grateful to be in that category of one of the first Icons to to be involved in this game."
The inclusion of women in FC 24 is even more important than making a damn fun game, Smith tells us, "I can't wait to see how many children actually play it and want to go on to be a female player and not think anymore of it - that it's just football."
"So many young boys growing up have just had role models that are male; I had male role models. but young girls now can be a role. So in this game, you can be Lauren James, for example, and have that female role model to look up to. We've seen a real shift in it now."
So, in honour of the momentous addition to arguably the most popular game on the planet, and Smith's latest accolade as official EA Icon, we took a walk down memory lane with the decorated sports star to reveal her own personal most iconic moments in women's football…
--- 1. Arsenal conquer the Quadruple
"My first one has to be in 2007, when Arsenal won the Quadruple. Arsenal is the only female team to have ever done it - when we won the Champions League, and with it, won all four trophies in one season, that was super special."
2. Playing with the Lionesses
"The Lionesses has to be up there, for changing the face and the landscape for women's football in this country. I think a whole new fan base has been gained, especially as there are so many millions of people watching them on TV."
3. Smith's last FA Cup final
"My third most iconic moment is probably my last FA Cup Final that I played. I won 5 FA Cup finals, and most of our FA Cup finals were played at lower league stadiums. Like, in Doncaster we'd play in front of three or four thousand people. But, my last season was at Wembley. I think that was the second or third game that they actually committed to playing at Wembley, and we played in front of about 60,000 people there against Chelsea. To captain the club at the time, while I knew it was my last season, that was special."
4. Playing in the London 2012 Olympics
"I've got to choose playing in the Olympics. I never thought I'd get to play in the Olympics, because Great Britain had never been represented in women's football until then. To be in a home Olympics, too - that was incredible." 5. Becoming an EA Sports FC Icon
"I want to see what I look like playing in the England kit again, on a computer screen. I'll definitely be picking myself as a first Icon, and get some other Icons on my team… I'll probably pick Ronaldinhho - he was such a brilliant player growing up, the skill that he can do is just second to none - and Leah Williamson too. I'll pick as many female players as I can for my team, and support the women.
"My nephew loves this game, so I can't wait to tell him that I'm actually going to be in it. His jaw's going to drop open thinking, is that really my aunt playing? And my son and daughter, they'll be super proud to know that I'm in an actual video game."
EA Sports FC 24 is out now, on PlayStation 5, PlayStation 4, Xbox Series X and Series S, Nintendo Switch, Xbox One and PC.
Main image: Catherine Ivill / Getty Images
Related Reviews and Shortlists