ShortList is supported by you, our amazing readers. When you click through the links on our site and make a purchase we may earn a commission.
Learn more
The Flash early reactions are in: this is what the critics are saying
Could DC's next movie be the next bright light in superhero cinema?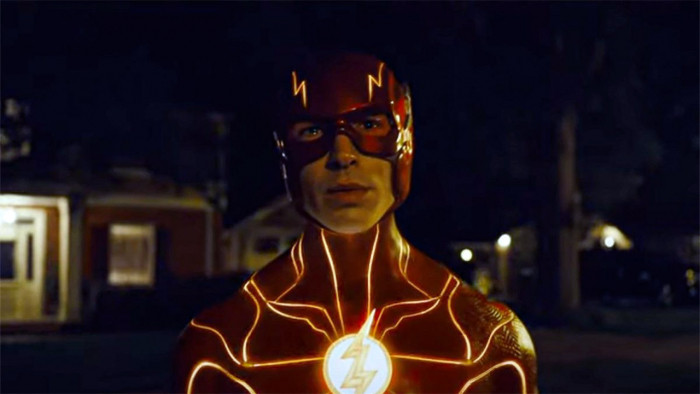 DC's The Flash is not due in cinemas until June. But a select audience of influencers, journalists and fans got to see the film early at CinemaCon, held in the Caesar's Palace casino-hotel in Las Vegas.
No NDA was signed for this one, because attendees have been making their opinions known all over social media. And they are almost exclusively positive. Glowing, in fact.
The way their gushings are invariably complemented by the film's official #TheFlash hashtag may give some of you the "ick", but it's a good sign for a film that has been surrounded by controversy, because of the much-publicised actions of its star Ezra Miller.
A trailer for The Flash dropped during the Super Bowl back in February, and centred the action much more on Michael Keaton's Batman.
As the early reactions show, though, Miller is still the key draw of this movie. And, reservations aside, it does sound like The Flash will easily outclass most of the recent MCU cinematic fare. Roll on June, but for now take a look at that the CinemaCon folks are saying. Scroll all the way down to see the new trailer too, which just dropped.
The Flash is hands down one of the best superhero films of all time. No joke, The Flash is the ultimate movie going experience as it has a little bit of everything! Action, emotion, heart, humor and plenty of nostalgia. Ezra Miller is phenomenal as dual Barry Allens. Michael… pic.twitter.com/F7SHA30vZM
— Scott Menzel (@ScottDMenzel) April 26, 2023
DC's #TheFlash is TREMENDOUS! Forget DC, it is without a doubt among the best superhero films ever made. An all-timer. Inventive storytelling, FANTASTIC action sequences, great cast. SO MANY nerdy details. I'm in tears at the end. Everything you want from a superhero film & more pic.twitter.com/xYSn0zuXMm
— Erik Davis (@ErikDavis) April 26, 2023
#TheFlash is a compelling, character-driven flick with a real emotional core & game changing stakes. With heart & humour aplenty - along with some shocks & surprises - there's so much to be excited for. Keaton steals the show with a terrific performance. A real love letter to DC! pic.twitter.com/TkhTjccisz
— Nicola Austin (@nicola_aus) April 26, 2023
BELIEVE THE HYPE! Christopher Nolan movies aside, #TheFlashMovie is the GREATEST DC movie of the last 30 years that belongs in the same conversation as SUPERMAN 78 and BATMAN 89. The movie breaks incredible new ground in superhero cinema & honors DC lore of years past. #TheFlashpic.twitter.com/zGkhpfjlsl
— Umberto Gonzalez (@elmayimbe) April 26, 2023
THE FLASH is awesome! One of the very best DC movies, a perfect blend of action, heart & humor! So many WOW & chill-inducing moments that longtime DC fans will love! EZRA MILLER is superb (twice, actually!) & MICHAEL KEATON's still got it! #TheFLASH#BATMAN#CinemaConpic.twitter.com/mYJrz7YUZG
— Scott Mantz (@MovieMantz) April 26, 2023
#TheFlash is fantastic. I know Ezra Miller has made a lot of mistakes but they are soooooo good in this movie. Loved Keaton, the action, humor and emotion. Andy Muschietti has crafted something special. Thumbs way up.

WB didn't show the after the credits scenes. pic.twitter.com/J8KsdrKVwz
— Steven Weintraub (@colliderfrosty) April 26, 2023
Damn, #TheFlash is good! It's super inventive both visually and in concept. The dynamic of two Barry Allen's is crazy well done.

Emotions hit me intensely hard, solid surprises, and it got me wanting to watch again and really eager to see how they follow it. Well done. pic.twitter.com/7QqiHVNAJy
— BD (@BrandonDavisBD) April 26, 2023
I don't know what to say other than #TheFlash delivered more than I could have hoped. The acting is beyond great. Keaton delivers everything you want. Supergirl is my new favorite superhero? I'm genuinely shocked this movie meets and surpasses the hype. I never expected that. pic.twitter.com/PcmpJ2juZ6
— Chris E. Hayner (@ChrisHayner) April 26, 2023
Excited? Could this be the moment DC grabs the superhero baton back from Marvel's grip? Could be. Here's a fresh second trailer for The Flash, which is due out on June 16.
Related Reviews and Shortlists