ShortList is supported by you, our amazing readers. When you click through the links on our site and make a purchase we may earn a commission.
Learn more
The disturbing true story behind the BBC's new crime drama 'McMafia'
This show is definitely worth a watch BBC One's disturbing and blood-soaked new crime drama McMafia stormed onto our screens this week with two compelling episodes.
The eight-part series charts Alex Godman's (played by Bond-hopeful James Norton) journey as he falls deeper and deeper into the world of organised crime, money laundering and human trafficking.
Godman is the English-raised son of Russian exiles with a mafia history, now living lavishly in the richest parts of Kensington. But after a close family member is targeted in a shocking attack, Godman begins to seek revenge.
See our list of Best Crime Dramas to binge on Netflix

The reviews have been glowing, especially on Twitter. One user, Kevisionary, said: "McMafia was an absolute delight! Best bit of tense drama since The Night Manager."
And politics writer Jane Merrick added: "I caught up with #McMafia and it is excellent, particularly understated performance of James Norton."
And perhaps the most disturbing thing about the show is that it's based on the real-life world of corporate corruption, inspired by the 2008 book McMafia: Seriously Organised Crime by journalist and broadcaster Misha Glenny.
Glenny, a former BBC foreign correspondent, wrote the non-fiction book to expose the truly dark side of globalisation. Indeed, the book's name is inspired by the global corporate success of McDonald's - and how criminals extend their networks around the world using a franchise model similar to that of the world's biggest fast food chain.
According to the book's publisher: "The book shows that organised crime is part of all our worlds – often without us even knowing. It moves from gunrunners in Ukraine to money launderers in Dubai, by way of drug syndicates in Canada and cyber criminals in Brazil.
"Glenny wrote the book after years as the Central Europe Correspondent for the Guardian and then the BBC. He spoke to gangsters, policemen and victims of organised crime, exploring the ferocious consumer demands for drugs, trafficked women, illegal labour and arms across five continents."
Indeed, one viscerally upsetting scene shows how women are laundered, like dodgy cash or any other ownable commodity, as forced prostitutes from Russia to terrorists in Egypt to Israeli gangsters and beyond.
And screenwriter Hossein Amini, who adapted the book for TV with co-creator James Watkins, added: "Modern criminals are no longer just thuggish mobsters. They can be bankers, politicians, lawyers, intelligence agents. The lines have become blurred and the boundaries between the overworld and underworld much more fluid.
"The recent release of the Panama and Paradise papers, The Trump/Russia saga and the accusation of corruption at FIFA, football's governing body, are all examples of the new criminality."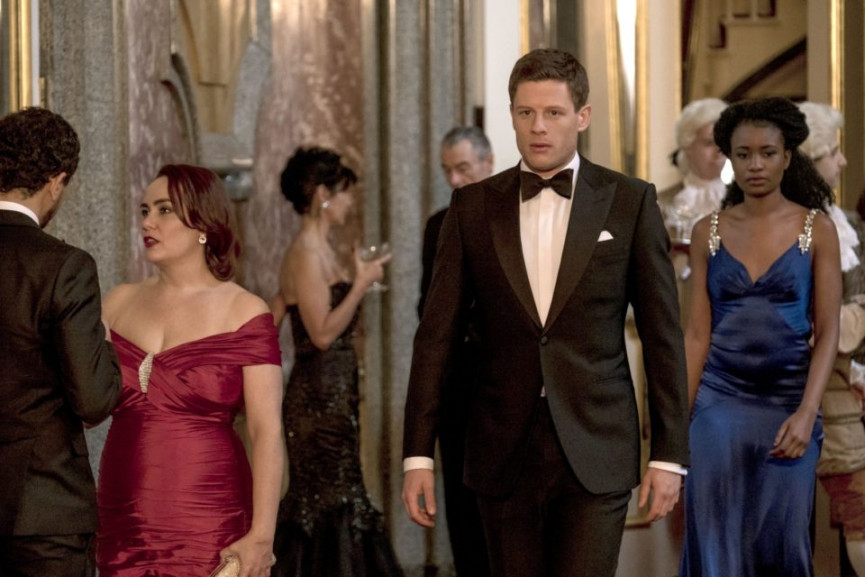 While the show's characters have been invented for the TV show, Amini went on: "There's a line in McMafia where Alex's mentor tells him that modern gang wars 'are fought in the boardroom not on the street'. Our ambition with the series is to nudge the gangster genre into the contemporary world.
"Our anti-heroes don't run neighbourhoods, they run countries, they don't aspire to be the king of a city, they want to rule the world. We have plenty of bullets and blood in the series but the nastiest, most ruthless murders are committed at conference tables in the upper echelons of wealth and power."
And anti-corruption activists have praised the show for shedding a light on how international crime operates – including in off-shore financial hubs under British jurisdiction.
Global Witness anti-corruption campaigner Ava Lee said: "If you just watched McMafia you'll have seen how James Norton's character explains how a corrupt politician can move his money around the world while keeping his identity a secret. At Global Witness we know this isn't just a drama it's happening in the UK's banks and boardrooms and it's shaping the world we live in.
"Many of the world's most notorious tax havens are under the UK's jurisdiction. That means the Prime Minister has the power to force them to open up and remove the smokescreen used by the criminal and the corrupt to steal, hide and spend billions."
Writer and campaigner George Monbiot also took to Twitter to explain how the show highlights 'gangster capitalism'.
He said: "Another reason why we need a new government in the UK: without it, London will remain an entrepot for organised crime and money-laundering. Result: gangster capitalism and dark money networks will gradually strangle democracy. #McMafia
"Money makes power, and the way in which that money is gathered determines the nature of power. If we allow the oligarchs to dominate, we end up with an oligarchy."
This show is incredibly gripping and it's definitely worth a watch.
So what do you think of it so far? Tell us below:
(Image: BBC)
Related Reviews and Shortlists