ShortList is supported by you, our amazing readers. When you click through the links on our site and make a purchase we may earn a commission.
Learn more
The best football boots in 2022: for all skills and budgets
Weekend kickabouts back on the horizon? These are your best boot options.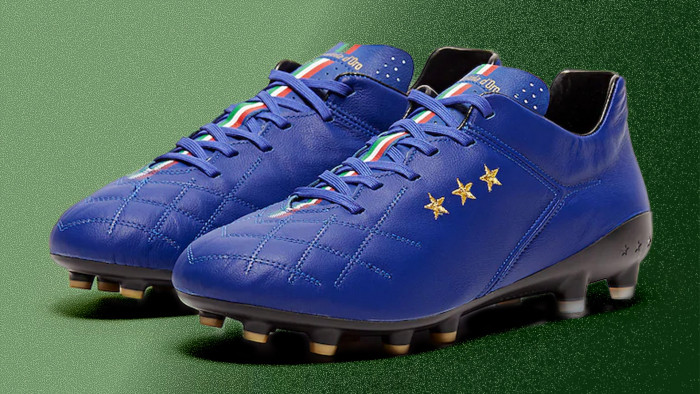 Plenty of us have gone on a fitness kick (excuse the pun) over the course of the last year or two, whether through joining a gym or taking up tennis, boxing or another sport. But nothing beats a proper game of Sunday morning football down the park, complete with your best football boots.
And while lockdown did its best to scupper these plans, we are all gagging to get back on the pitch. While your fitness may need a bit of help, some shiny new football boots will definitely help to make sure that you are completely on your A game if and when football starts up again.
UPDATE: Nope, we can't believe it either but the World Cup is happening this year. This time it's a winter one, taking place in November in Qatar - plenty of time to lace up the best football boots and get practicing!
The only thing stopping some people from getting back into the game (apart from the obvious right now) is not knowing where to start when it comes to buying new boots. Things have moved on since we played 11-a-side at school, and figuring out the best option can be a minefield.
We've tried to cut through some of the confusion, providing you with a guide to some of the best boots to turn you into a Sunday morning Scholes or a marshes Maradona.
Vote for your favourite pair, and let us know if we've missed a classic below. and if you want more buying advice to make sure you get the best football boots for you, we've added our picks of boots for whatever type of player you are, as well as what the pro footballers are wearing, below.

FYI: Football Rebooted, co-created by David James, is a new charity that wants to stop football boots heading to the nearest landfill. If you are thinking of buying new boots - and we can't blame you, looking at the best football boots in this guide - this could be the ideal thing. The charity is looking to rehome at least 1 million pairs of quality football boots in the UK. According to them, this is the equivalent of taking 7,000 cars off the road for a year, in carbon reductions. If you are interested in helping out then head to their official site.

The best football boots 2021
---
The best football boots professional footballers wear Wearing these boots won't make you a pro footballer but sometimes it is nice to spend a bit of money and get the football boots the professionals are wearing. Below are our five picks and where you can buy variations of them.
What football boots does Anthony Martial wear?
The Man Utd striker opted for a pair of Nike Mercurial Vapor boots for the strange 2019/2020 season, a season where he got his first ever professional hat trick. But it's very likely that he will be wearing the top secret Puma Ultra 1.1 boots next season, as he's been spotted wearing a pair.
What football boots does Lionel Messi wear?
Messi is famous for wearing the Adidas Nemeziz Messi 19.1 boots when kicking a ball around. The upper part of the boots utilises a sports taping-inspired 360° Bandage System, which means that no matter how many shifts and turns he does, the boot doesn't fail him. They are lightweight, too, helping not hindering his speed. While you can get your own pair - they are actually pretty cheap - for obvious reasons Messi usually gets boots that are exclusive to him.
What football boots does Cristiano Ronaldo wear?
Christiano Ronaldo has been spotted in a pair of Nike Mercurial Superfly VII Elite CR7 Safari boots, which were only released in June 2020. Known for their explosive speed and traction, they have been given Ronaldo's seal of approval and there's a whole section on Nike's site for Ronaldo garb.
What football boots does Paul Pogba wear?
Pogba has a deal with Adidas so it's pretty obvious that he would be wearing its garb and it's the Adidas Predator Mutator 20+ boots that he has a fondness for. There's a whole section of Paul Pogba shoes on the site - so if you are a fan of the rather controversial Man Utd player, you have a decent choice of boot available.
What football boots does Kevin De Bruyne wear?
One of the very best in the Premier League, Kevin De Bruyne is partial to a pair of Nike Phantom GT Elite DF Phantom GT boots when he is playing the ol' soccer ball. There are a number of new variants of these classy boots available on the Nike store right now, ranging from those that are decent on artificial grass to firm ground boots. Best football boots for wide feet: what to look for
Our choice here, if you are looking for the best football boots for wide feet is the adidas Predator 20.1 Low. While many went off the brand after its heyday in the 90s, there's been a huge resurgence in Predator wear and for good reason. These boots have the width you are looking for around the toes and the Demonskin upper of the boots really is a joy to use, sticking to the ball like glue. Don't go for laceless if you have wide feet, but these really are a stunning pair of boots.
Best football boots for defenders: what to look for
If you are looking for the best football boots for defenders, then you are looking for a pair of boots that are really light so you can quickly run after that git of a midfielder that's been eluding you all game. Because of this, we'd recommend the Puma One 20.1. These aren't just for defenders, as they are an all-rounder boot. But they're light with enough flex to make sure you won't be nutmegged at the first opportunity. The outer foot is nice and stiff, so a shield for those hard kicks, while the ankle area is one of the most comfortable, thanks to the bloody brilliant knit Puma has added to the Puma One 20.1.
Best football boots for strikers: what to look for

If you want the best football boot for strikers, then what you are after is something that offers a decent amount of power when you kick a ball, but is light enough to make sure you can get those runs into the box. For us, it's the Umbro Medusa 3 Elite. Umbro is renowned for its football boots being light, but there is a mix of high-class leather and mesh on board to give your ball a decent strike. Couple this with a mixture of plastic and aluminum studs and you have all the firepower you need to stay on your feet and reach the top corner… unless you are in the box, that is and can feel a defender's shin pad around your ankle.
Best football boots for speed: what to look for

Look, you are going to have enough fuel in the tank to make those runs yourself but if you are after the best football boots for speed, then we would have to recommend the Nike Mercurial Vapor 13 Elite FG. And this is the reason (sorry, but we have to talk a bit about boot tech here). Nike has something called the Aerowtrac zone to the forefoot of the boot and has mixed this with slightly stiffer chassis. The reason is that this helps supercharge traction so once you start that run, the boots power you along. Inside there is an insole that uses NikeGrip technology. This provides maximum interior traction (there's that word again) and a nice bit of cushion, so when you are sprinting, your feet feel like they are in the spa getting all of the treatments.
Related Reviews and Shortlists