ShortList is supported by you, our amazing readers. When you click through the links on our site and make a purchase we may earn a commission.
Learn more
The best new Netflix movies and shows this October
Fantastic new things to watch coming to the streamer soon...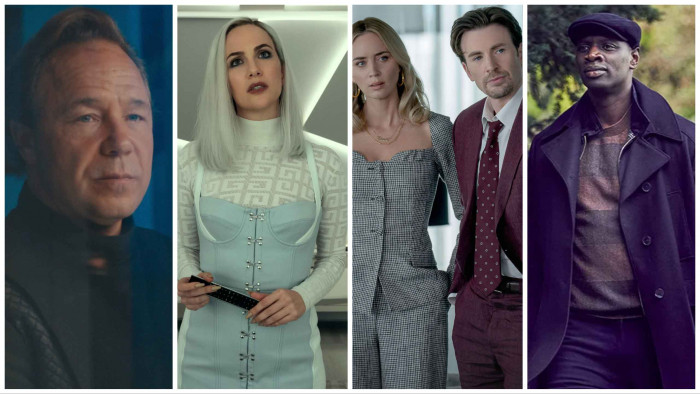 October as arrived and it's a bumper month for new releases on Netflix. We have looked through the catalog, so you don't have to - picking out 9 fantastic new things you should be watching on Netflix this October.
From well-established series to new movies that pack a punch, here is what we will be watching on Netflix - and what you should be watching, too.
If you are looking for a weekly dose of new things to watch across all the services, then head to our What To Watch guide - for everything you need to see on Netflix in October, keep reading!
---
1. Beckham
According to Netflix, Beckham is: "The definitive multi-part series will go beyond the shine of stardom to explore Beckham's humble working class beginnings in East London, and the drive and determination that led him to become one of the most recognisable and scrutinised athletes of all time."
Featuring a mixture of never-before-seen archive footage and a number of interviews with the family, friends and notable footballers, this one will be a must-watch.
2. Race to the Summit
Race to the Summit is a 90-minute documentary that showcases two trail-blazing climbers. Dani Arnold and Ueli Steck are climbers renowned for their speed. This doc showcases their attempts to scale the north faces of the alps, with no safety equipment, and the huge risks this brings.
3. Lupin: S3
The third season of the successful French crime show sees the renowned thief in hiding after the events of the second season and estranged from his wife and child. Omar Sy is back as Assane Diop, as is Ludivine Sagnier as his wife. There are high hopes for this one, given just how popular Lupin is - its debut was so successful, it is one of the most watched Netflix shows of all time.
4. The Fall Of The House Of Usher
Mike Flanagan is back for the final time on Netflix. Before being snapped up by Amazon, Flanagan completed this, his third series that tackles the work of American horror authors. Following on from The Haunting Of Hill House and The Haunting Of Bly Manor, Usher merges myriad stories from Edgar Allen Poe, adding a modern-day twist to them. The reviews for this one are already in and it's being billed as a horror version of Succession, with Mark Hamill starring alongside regulars Carla Gugino, Henry Thomas and Kate Siegel.
5. The Devil on Trial If you watched The Conjuring: The Devil Made Me Do It then you will be familiar-ish with elements of the true story of The Devil On Trial. It is about 19-year-old Arne Cheyenne Johnson who pleaded not guilty to murdering his landlord, claiming demonic possession made him do it. This documentary looks into the 1981 incident, which drew the attention of paranormal investigators Ed and Lorraine Warren.
6. Bodies
The plot for this one is high concept: Four detectives, four timelines, one body. Bodies is based on the graphic novel by Si Spencer, and is a police procedural set over four timelines - 1890, 1941, 2023 and 2053 - where the same body appears. One detective from each period investigates, with the storylines becoming intrinsically linked. The always-ace Stephen Graham stars in this one.
7. Old Dads
Comedian and occasional Mandalorian actor Bill Burr is behind Old Dads, his directorial debut which is about a group of men who come to fatherhood late in life, while trying to understand the life of Millennials after they sell their company to a younger start-up. Burr stars, alongside Bobby Cannavale, and Bokeem Woodbine.
8. Pain Hustlers
Pain Hustlers will be a big one for Netflix, given its cast includes Chris Evans and Emily Blunt. It's directed by David Yates, too, who has finally rid himself of the shackles of the Harry Potter franchise and its spin-offs. It's based on the story of a college dropout who manages to turn the fortunes around of a failing pharmaceutical company, but soon finds herself at the centre of a criminal conspiracy. Andy García and Catherine O'Hara also star.
9. PLUTO
Based on the fantastic Astro Boy series, this anime is a re-imagining of the classic story. The official plot is as follows: "When the world's seven most advanced robots and their human allies are murdered one by one, Inspector Gesicht soon discovers that he's also in danger."
Related Reviews and Shortlists