ShortList is supported by you, our amazing readers. When you click through the links on our site and make a purchase we may earn a commission.
Learn more
These are the best Lego Star Wars sets, according to LEGO designers
Exclusive: we speak to LEGO about the Star Wars sets that get them excited!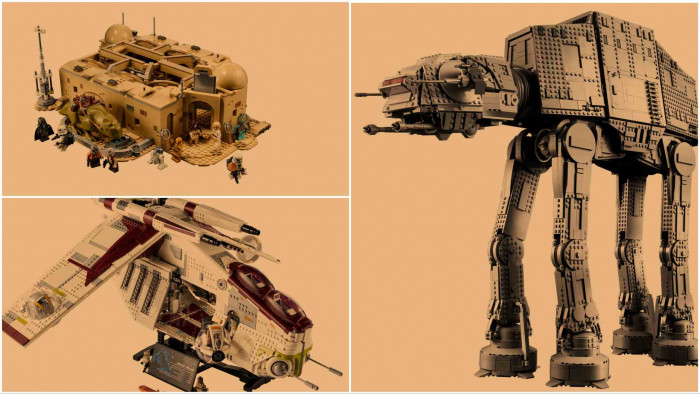 Star Wars is one of Lego's longest-running and most successful product lines, with sets that span all nine mainline films, the spin-offs, and more recently the Disney+ TV shows.
Some of them are compact, afternoon builds, others so enormous that you might need to book some time off work to even make a dent.

To make your decision-making process a bit more streamlined, we caught up with Lego designers Henrik Andersen and César Soares, both of whom design Star Wars Lego sets every day, and unsurprisingly, they're both big fans of George Lucas' enduring space opera.
"I still remember going to the cinema to watch Episode I: The Phantom Menace and being mesmerised by the special effects and all the cool vehicles and locations," says César.
"I was wearing a LEGO Star Wars T-shirt during my final interview at the LEGO Group. So maybe that hinted that I would totally love to work on the Star Wars team. But in reality, I was initially hired to work on the Super Heroes team and just before I started I was moved to Star Wars, and I was absolutely thrilled!"
Get, set, LEGO!
Knowing the subject is naturally beneficial when it comes to designing sets, and the extra effort goes a long way when you're building the results. "Being able to design an X-Wing Starfighter or a Mos Eisley Cantina is like reviving my childhood when I watched the movies for the first time," he adds.
"It's also fun to incorporate a lot of small details and easter eggs in the sets if you are a fan and know all the little things that happen or show up in the content."
People who love Star Wars often really love it, and that means that the designers feel the weight of responsibility when designing sets that pay homage to the characters, vehicles and scenes from the films.
"The most challenging part of the job from my point of view is designing sets for all the different ages of builders, from children to adults, and making sure we create models that are true to the vision of the Star Wars universe," says Henrik.
"Designing sturdy models and keeping everything within the limits of the Lego System is also a challenge – but that is what makes it fun and fresh from day to day."
With so many sets to choose from, recommending just a handful is no easy task, but we asked the designers to each select a few Lego Star Wars sets they really love, and we've added a pick of our own for good measure...
---
1. Mos Eisley Cantina "I'm a bit biased on this one because I worked on it," says César. "But I do believe that it is a great set to have. It displays beautifully, it's very intricate and has details all around.
"It's also very playable with a full interior, including all the alcoves and the bar. It comes with an amazing lineup of Minifigures and a couple of speeders. It depicts one of the most famous scenes from the saga and you just can't go wrong with this choice."
---
2. Ultimate Collector Series AT-AT "I really like working with the Star Wars sets, both because I like the universe in general, but also because there are so many opportunities to work on many different sets all the time," says Henrik.
"This is by far the most challenging model I have worked on simply due to the size, there are so many things to consider when designing a set as big as this. And I really love designing sets that are half engineering and half designing tasks. And obviously, it's a very iconic Star Wars vehicle."
---
3. The Child "The Mandalorian is one of the most popular shows at the moment and much of that is because of Grogu," reckons César. "He is adorable, brave and mysterious!

"With this set you get an intricate brick build version of him that you can display. It captures his likeness expertly and you can even change his face expression by moving the mouth and the ears."
---
4. Republic Gunship "The Republic Gunship is one of the most recognisable vehicles from the franchise and this Lego set is a fantastic tribute to it," says César.
"It packs tonnes of features and also has an amazing and unique minifigure line up with some very desirable characters.
"With its striking colour scheme, huge wingspan and overall size and lots of interior space, including cockpits, I think this set is a perfect build for a longtime Star Wars fan."
---
5. And the ShortList pick... Emperor's Throne Room Diorama As both Star Wars and Lego nuts, we think the dioramas are a great addition to the line, especially if you like to display your finished builds on a shelf, and as it's the 40th anniversary of Star Wars: Return of the Jedi, we'll point you towards the new Emperor's Throne Room set. Depicting (or de-brickting) the climactic lightsaber duel between Luke and his wayward old dad, with Emperor Palpatine watching on, it's a detailed and fun recreation of one of the most iconic scenes in movie history.

Related Reviews and Shortlists