ShortList is supported by you, our amazing readers. When you click through the links on our site and make a purchase we may earn a commission.
Learn more
Best Studio Ghibli movies on Netflix: the 20 movies to watch
These brilliant Studio Ghibli movies are now on Netflix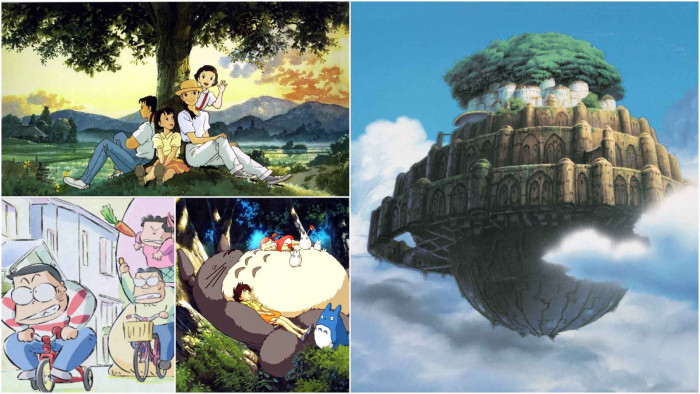 Studio Ghibli is finally on Netflix, everyone! Netflix announced recently that it would be streaming select cuts from its sprawling movie archive in the UK on Netflix and now there is a fantastic selection of Studio Ghibli movies on the streaming site.
Studio Ghibli is perhaps the most well-known animation house outside of Disney.
Founded by famed director Hayao Miyazaki, it is responsible for 10 of the highest-grossing animated movies in Japan, so having these movies on Netflix is a massive win for the streaming giant.
Here are the 20 best Studio Ghibli movies you can stream now on Netflix.
---
Best Studio Ghibli movies on Netflix

1. My Neighbor Totoro (1988) One of the most iconic Ghibli movies (and a particular favourite of ours), the story revolves around Mei and Satsuki who move house as their mother is in hospital and they want to be near her. It turns out their neighbour in the new house is a fantastical creature who turns out to be a spirit.
View on Netflix | Buy on Amazon
2. Only Yesterday (1991) This is based on Manga of the same name, Only Yesterday is a beautiful, intimate tale about how the past and present collide for a woman called Taeko. Even though it is nearly 30 years old, it was only released in the US a few years ago, so it is great to see it on the service.
View on Netflix | Buy on Amazon
3. My Neighbors the Yamadas (1999) One of the more unusual Studio Ghibli titles (the animation is unlike anything they had done before), this is a loosely connected series of tales about the goings-on of an average Japanese family. Don't watch this if you are expecting a sweeping, epic movie but it is a lovely blast of nostalgia.
View on Netflix | Buy on Amazon
4. Ocean Waves (1993) Much like Only Yesterday, Ocean Waves is about a young man reminiscing about his past as he gets ready to go to a high-school reunion. This was a TV movie at the time and it shows in its production values, but it's still a great watch and way better than most things that are on TV right now.
5. Kiki's Delivery Service (1989) This is one of the best coming-of-age stories from Studio Ghibli. It's about 13-year-old girl Kiki who is a witch but pretty much just uses her powers to fly around. This is skewed at a younger audience, so is the perfect Ghibli to introduce to your little 'uns. It is also the movie that pretty much saved Ghibli from ruin back when it was released, as it was a much-needed hit after a string of flops.
6. Porco Rosso (1992) This is a strange one - it was originally meant to be a small in-flight movie commissioned by Japan Airlines but it eventually turned into a full-fledged movie. It's about a former World War 1 pilot who is now a bounty hunter and has been turned into a pig. This is one of the most political Ghibli movies with a big anti-facist storyline.
7. Castle in the Sky (1986) Perhaps the most beautiful-looking early Ghibli movie, Castle In The Sky is a brilliant Steampunk-infused story that was actually the very first movie from the studio. Its story includes pirates, robots and spies, and a massive floating castle and it contains all the hallmarks of future Ghibli movies - a must watch!
8. Spirited Away (2001) Not just the best of the second batch of Studio Ghibli movies available but Spirited Away may well be the best animated movie ever made. The story is slight but fantastical: A 10-year-old girl is upset that she has to move home, away from her friends. But, it turns out, the place she is now living is next door to the Land of the Spirits. This is a gorgeous movie that takes its cue from Alice and Wonderland and the Wizard of Oz, but does it in its own unique way. There is a very good reason this is the biggest animated movie in Japan of all time.
Watch on Netflix now | Buy from Amazon now
9. Princess Mononoke (1997) We would always recommend watching the Studio Ghibli movies with subtitles on and in the original language, but Princess Mononoke's English dub was spruced up by Neil Gaiman, so it is definitely worth giving that version a spin. This is a fantastic movie about a young prince who is cursed by a demon, given supernatural powers and he must find a cure in a Western land. Mononoke isn't actually a person, but a spirit in the movie.
View now on Netflix | Buy from Amazon now
10. Nausicaa of the Valley of the Wind (1984) Nausicaa of the Valley of the Wind may not be as well known as later Ghibli fare but this is the movie that started the turning point for the studio. It's another animated sensation - although, it sometimes feels a bit thin when it comes to plot - with a brilliant female lead in Nausica, one of the strongest Ghibli characters. It sometimes gets a bit too dark for its own good, and the visuals don't ping as other movies from the Studio, but it's still a great movie.
View now on Netflix | Buy from Amazon now
11. The Cat Returns (2002) Studio Ghibli can't always be perfect. The Cat Returns isn't a great movie. It's about a girl called Haru who saves a cat in the street, only for it to reveal itself as the prince of cats. She goes with him to an enchanted cat world and then starts to turn into one herself. Even so-so Ghibli movies are watchable, but we'd put this one on the bottom of the list.
View now on Netflix | Buy from Amazon now
12. Arrietty (2010) One of the more tender Studio Ghibli movies - Arrietty is essentially a Borrowers movie, with its titular character Arrietty a small person who lives under the floorboards of a teenage boy who is sick. A friendship sparks up that is, well, just lovely. The UK dub features the likes of Saoirse Ronan and Mark Strong.
View now on Netflix | Buy now from Amazon
13. The Tale of the Princess Kaguya (2013) As you can see from the picture, this is a very different looking movie compared to the rest of the Ghibli lot. The Tale of the Princess Kaguya is strewn in watercolour paint and charcoal, and is once again about the meeting of a small person - she is found by a bamboo cutter and turns herself into a baby for the man and his wife to look after. It's long and not that much happens but the animation is like a bath for your eyes, so we would highly recommend. Chloë Grace Moretz and James Caan star in the English redub.
View now on Netflix | Buy now from Amazon
14. Howl's Moving Castle (2004) This is one of the best Ghibli movies, focusing on a massive steampunk castle that walks which is owned by a strange wizard called Howl. The English dub is packed with A-listers but as always we recommend you put the subtitles on.
View now on Netflix | Buy now from Amazon
15. Ponyo on the Cliff by the Sea (2008) A tale about the friendship between a five-year-old boy and a goldfish princess who yearns to be human. This is the ninth Ghibli movie and one of its lighter ones - although there is still a big message here, and that is about the state of the environment at the moment.
View now on Netflix | Buy now from Amazon
16. Pom Poko (1994) Based on Japanese folklore that involves Tanuki (raccoon dogs) and their bid to save their habitat from urbanisation, this is an overtly political movie that is for older children (and adults) as there is actually a lot of death in the movie. It's a gripping watch, though.
View now on Netflix | Buy now from Amazon

17. Whisper of the Heart (1995) A school girl has aspirations of becoming a writer and looks for some inspiration in the school library. The book she wants, though, has been taken out by what looks to be a rather annoying boy. Whimsical and heartfelt. Whisper of the Heart is a small story that's big on love.

View now on Netflix | Buy now from Amazon

18. The Wind Rises (2013) Hayao Miyazaki once again shows off his love of planes with this beautiful animation that is perhaps Miyazaki's finest non fantastical work. The story is about a Jiro Horikoshi, who was a Japanese airplane engineer that was responsible for designing the Mitsubishi A6M Zero. This was the plane used in the attack on Pearl Harbor. It's a bittersweet tale and one close to the animator's heart. This one was meant to be Miyazaki's final film but he is releasing How Do You Live? at some point in the future.
View now on Netflix | Buy now from Amazon
19. When Marnie Was There (2014) This is a tender, beautiful movie by the studio. It's about relationships: the childhood friend relationship between Anna (a poorly child) and Marnie, as well as the relationship between reality and fantasy. This is the last Studio Ghibli title made - but there will be one more, with How Do You Live? set to be released in the next few years.
View now on Netflix | Buy now from Amazon

20. From Up on Poppy Hill (2011) A coming-of-age tale of two lovers who try and stop their old high school's clubhouse from demolition, From Up on Poppy Hill is a sweet movie but not one of Ghibli's finest. It is the first collaboration between Hayao Miyazaki and his son (who directed the movie) Goro.
View now on Netflix | Buy now from Amazon

Related Reviews and Shortlists