ShortList is supported by you, our amazing readers. When you click through the links on our site and make a purchase we may earn a commission.
Learn more
You can buy the house from 'Spaced' for a mere three & a half million quid
Anger. Pain. Fear. Aggression.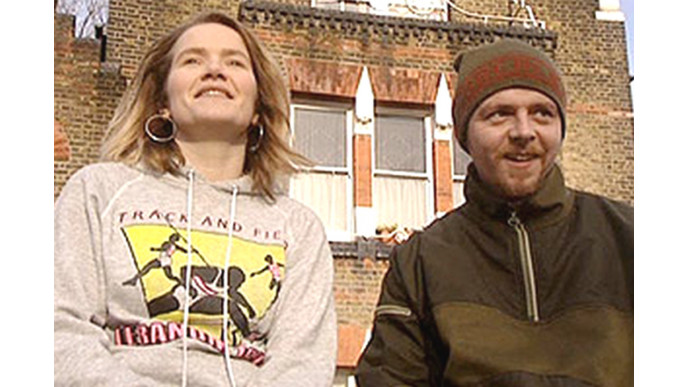 Not a lot of British sitcoms, even the great ones, end up influencing Hollywood. Only Fools And Horses might be a beloved institution, but it didn't lead to Nicholas Lyndhurst working with Martin Scorcese. Keeping Up Appearances might have made the whole family laugh, but it didn't result in Patricia Routledge playing Jean-Claude Van Damme's partner in a big-budget comedy about a mismatched cop duo.
Spaced, though, made Simon Pegg into a movie star, palling around with Quentin Tarantino, wielding machine guns next to Tom Cruise and working with Steven Spielberg. It shot Edgar Wright into the big leagues, leading to Scott Pilgrim Vs The World and Baby Driver (Jessica Hynes - nee Stevenson - may not have had such a high-profile ascendancy, but is ace in W1A and makes an appearance in Paddington 2, about which not enough good words can be said).
The opportunity has now come up to own the house from the cult millennial Channel 4 hit, and all you need is a few million pounds.
Three and a half million.
Three and a half million pounds. 
It was spotted by stand-up comedian Bec Hill, who tweeted the listing:
It's got nine bedrooms, and it was a great show, and it's in Tufnell Park which is quite nice, but still, THREE AND A HALF MILLION QUID. Dunno if anyone's ever pointed this out, but London property prices, eh? What's going on there? Aren't they high? Aren't they really really high? (Although it's worth pointing out that this is half a million quid cheaper than the last time it was on the market, in April 2018. House prices are cascading/Brexit's kicking in/we're all doomed etc.)
Potentially, if you're in a couple, you could team up with eight other couples and buy it, and each person would only have to get £194,444.44 together. Sure, that's nearly a quarter of a million pounds to live in a house with seventeen other people, but there are four reception rooms, so maybe you could split into warring factions like on Shipwrecked: Battle Of The Islands and it wouldn't seem so crowded.
You'd also have to deal with fans showing up and taking pictures - Spaced seems to perpetually be discovered by new generations of fans, and the house is pretty easy to get to, so there's always nerds loitering about. It could be worse though - the owners of the house used in Breaking Bad keep being upset by people throwing pizzas on the roof. 
You might be as well staying where you are and recreating it in LEGO. 
(Image: Channel 4)
Related Reviews and Shortlists