ShortList is supported by you, our amazing readers. When you click through the links on our site and make a purchase we may earn a commission.
Learn more
Snap's Spectacles 3 are easy on the eye - but not the wallet
The dual-camera upgrade is just the start...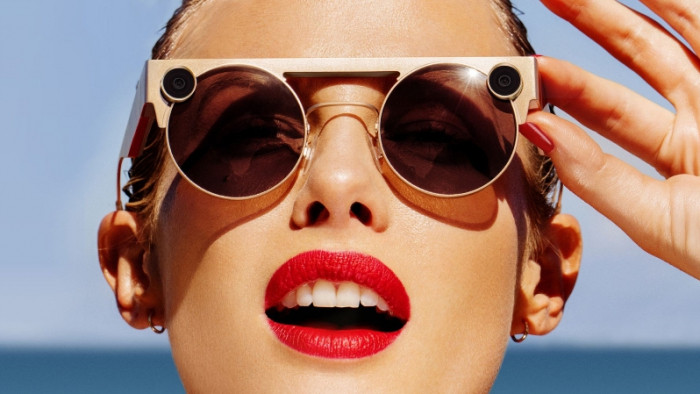 Is there really room in our tech-infested lives for a pair of AR sunglasses? Snap certainly seem to think so.
The brand has returned with a 'spexy' (sorry) new model in the form of Spectacles 3, boasting a second HD camera that aims to improve users' overall AR experience with added depth perception.
But with a price tag that's nearly double that of its predecessor - shooting up from $150 to an eye-watering $380 - the brand have well and truly aimed their sights beyond the gimmick market.
What is undoubtedly a move to recoup some of the $40 million associated with the flop of its first model, the higher price point comes as something of a surprise, given that 60% of US Snapchat users are under the age of 25 and nearly a quarter are still of high school age.
Despite this, the sleek redesign certainly has the potential to catch the eye of creatives and professionals alike.
The latest Spectacles 3 model allows users to "reimagine" their favourite moments with a suite of 3D effects on Snapchat. Unfortunately, the product's wireless syncing isn't currently automatic (unless you're on iOS and on your home Wi-Fi) - something Snap blame on "technical hurdles".
However, if you wish to try and manually transfer footage to your Snapchat account, have the patience of a saint and access to bluetooth or Wi-Fi, then chances are you'll be ok.
First creating shockwaves back in 2016 with the launch of their debut piece of face-worn technology, the tech company utilised a unique marketing ploy, dishing out its new product by way of pop-up vending machine. Possibly the best impulse purchase ever?
However, the past few years have been something of a rough ride for Snapchat - between the ongoing battle to stay one step ahead of copycat Facebook and having $1.3 billion wiped off the price of its shares thanks to Kylie Jenner's comments about its redesign.
In addition to four microphones for capturing audio, the new model features 4GB of onboard storage - which basically equates to capturing 70 videos or 200 photos on a single charge.
Available in "carbon" and "mineral" colourways - which to you and I translates as black and a sort of off-gold shade - the glasses are also able to capture footage at 60 frames per second, alongside depth information using something called parallax effect. Fancy.
Complete with a leather case which claims to recharge your glasses in as little as 75 minutes, Snap's third generation model appears to take a giant leap forward in terms of hardware this time around.
Snap glasses not your thing? Check out our pick of the best Ray-Bans.
Related Reviews and Shortlists