ShortList is supported by you, our amazing readers. When you click through the links on our site and make a purchase we may earn a commission.
Learn more
Samsung's latest 8K TV has a 292-inch screen - and now we have pixel envy
The remote is probably a lot smaller, mind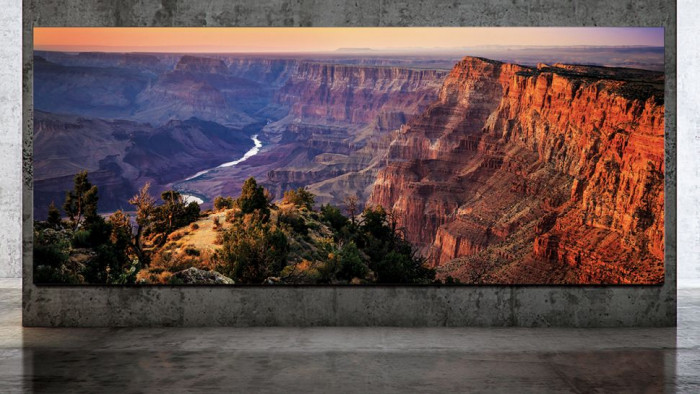 There was a time when a 32-inch TV would be considered big. Now 75-inches seems to be the generally accepted top end, but inevitably over time we're going to have to recalibrate again, and Samsung is certainly pushing hard at that open door.
Last year, the company announced a new television set it called 'The Wall' – the kind of nickname you might expect to find attached to a particularly sturdy centre half, rather than high-end AV equipment, but I digress. The Wall came in two sizes: a piddling little 75-inch version, and a faintly mad 219-inch edition.
Clearly that wasn't mad enough though, as Samsung has just unveiled 'The Wall Luxury' – a version that ranges from a 2K 73-inch model all the way up to an 8K 292-inch version. This ridiculous size only refers to the screen part though: it's just 30mm thick, and has a bezel-free design.
In other words, there's simply nothing between you and the wealth of 8K programming that currently doesn't exist.
Still, Samsung is prepared for that, and The Wall Luxury is equipped with something called the Quantum Processor Flex, which uses AI upscaling to optimise picture quality, scene by scene. And the rest of the specifications are suitably high end, too. It has Quantum HDR technology, offering a peak brightness of 2,000 nits, as well as a 120Hz refresh rate too.
Samsung hasn't put a price on the unit yet, but if you need to ask, you likely can't afford it. We'll find out next month for sure, but if you have more sense than money, you're better off referring to our list of the best TVs you can buy, and picking one of them instead.
Or going to whole hog and talking to Sony about its own
16k, 63-foot number
...
Related Reviews and Shortlists