ShortList is supported by you, our amazing readers. When you click through the links on our site and make a purchase we may earn a commission.
Learn more
Retro fans rejoice: the Nokia 8110 'Bananaphone' is back
The bananaphone from 'The Matrix' can be yours again Ring ring ring ring ring ring ring, BANANAPHONE! Doo doo ba doo do do! Ding dong ding dong ding dong ding, "I know kung fu."
The Nokia 8110, adorably nicknamed the bananaphone due to its bendy shape and famously featured in The Matrix, is back.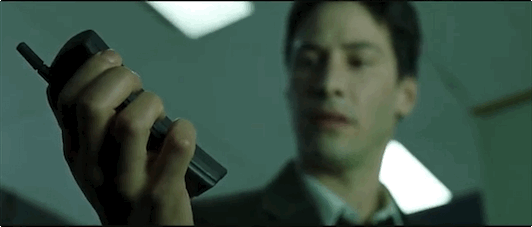 (That's still cool, isn't it? There was a massive gasp in the cinema when that bit happened. It's the best bit in The Matrix.)
Due to a really complicated corporate arrangement, Nokia don't make phones anymore, but a company called HMD Global, who are closely affiliated with Nokia but aren't Nokia, make Nokia phones. They brought back the legendary, iconic, beloved 3310 last year (complete with Snake), and have now unveiled the bananaphone, in both the original black and a new, bananaey yellow.
It was hella swanky when it first came out back in barely-rememberable 1996, costing close to a thousand pounds (A THOUSAND POUNDS, A THOUSAND POUNDS FOR A BLACK-AND-WHITE PHONE WITH AN AERIAL LIKE A WITCH'S LITTLE FINGER) and offering such up-to-the-minute tech features as the ability to receive ringtones by SMS, meaning you could sit on the bus repeatedly changing them so everyone knew you had a phone and lived in the future.
The new version is known as the 8110 4G and is now on sale from Carphone Warehouse for the much more reasonable price of £69. It has a colour screen (whoa!), internal aerial (whoa!), 4G capabilities (whoa!) email (whoa!) as well as Facebook (what even is that?) and something called Twitter (no idea). There are extra appealing elements of it beyond just being hella rad. The battery lasts for a whopping 25 days on one charge, which is amazing. We've somehow just got used to the idea that a fully charged phone is dead in twelve hours. When you get a new phone, a week later you buy a second charger to keep at work, and isn't that, kind of, broken? Couldn't one argue that a really expensive product that can't make it through a day is maybe, just maybe, not a good product? 
There's also a two-megapixel camera (for comparison, the iPhone X has a 12-megapixel one), 512MB of memory (the Samsung Galaxy has 8GB) and a 4-gigabyte hard drive (the cheapest iPod Touch available has 32). The thing is, if you're running around bending physics and fighting ever-cloning agents, you probably don't have time to take panoramas or listen to 5,000 songs in a row (while plugged in obvs) anyway.
Anyway, here's a ten hour version of Bananaphone by beloved Canadian children's entertainer Raffi, the best song ever written about bananaphones, featuring a Samuel L Jackson thumbnail for some reason:
RING RING RING RING RING RING RING!
(Image: Rex)
(Image: AllStar)
Related Reviews and Shortlists