ShortList is supported by you, our amazing readers. When you click through the links on our site and make a purchase we may earn a commission.
Learn more
Is your living room big enough for the world's biggest 8K LCD TV?
Probably doesn't have a 20-inch remote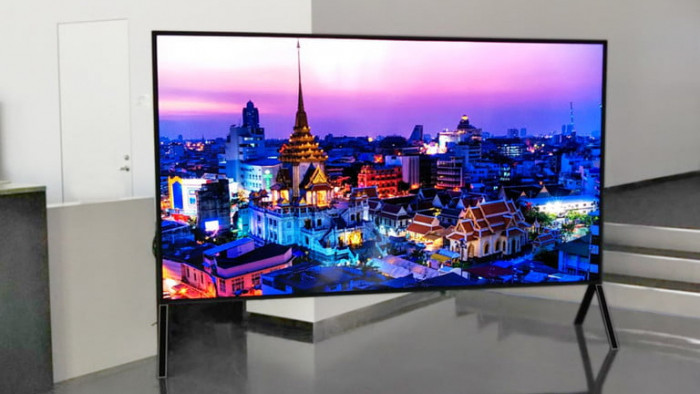 If your living room is so large that you find yourself squinting at your 75-inch television set, then one or more of these points is possible true:
1. You live in an airport hangar
2. Your TV has lousy picture quality
3. You seriously need an eye test
Point three withstanding, you might be interested in what Sharp plans to show at next week's IFA trade show in Berlin. The company is planning on launching the world's biggest 8K LCD TV.

Given the small number of 8K television sets in the world of any size, that's not too big a sounding boast, but Sharp has taken no chances, coming up with a TV that's a frankly ludicrous 120 inches in diameter. To try and justify its (presumably) high price of entry, the company has also included 5G connectivity. Just think how quickly you'll be able to load Take Me Out reruns on ITV Player now.
More seriously, Sharp sees other uses for the chunky tele and its lightning fast connectivity: "the comprehensive framework promises to transform consumers' lives in a variety of fields, from video production and transmission, to medical and educational applications,'' the press release boasts. Maybe scratch the Take Me Out marathon, then: it sounds like some surgeons might need the remote.
While Sharp says this is the biggest 8K set, it's not the biggest TV we've ever seen. Back in April, Sony built a screen that's 63ft by 17ft and displays in 16K – that's 16,360 x 8,640.
That doesn't mean that Sharp was incorrect in its brag, though. Just like how it's always a bit of a let down when you discover a giant chocolate bar is made up of dozens of little ones, the same trick is at play here, with Sony's screen made up of bezel-free modular panels linked together. Sharp's TV, on the other (oversized) hand, is just one big panel.
No word on price yet, but the likely answer is "too damned much." For anyone looking for something a little less ostentatious, here's our guide to the
best 32-inch TVs
.
Related Reviews and Shortlists