ShortList is supported by you, our amazing readers. When you click through the links on our site and make a purchase we may earn a commission.
Learn more
How to bring your cultural heritage into your personal style
The founder of menswear collective We Are Outlanders reveals how to avoid appropriation You only need to take a look at John Jarrett's Instagram to see how strong his personal style is. 
The stylist, director and editor founded menswear collective We Are Outlanders to combine his love of East and Western culture – a passion which he also expresses through the clothes he wears.
We asked John how he incorporates his Vietnamese, Malaysian and Chinese heritage into his everyday look. Why did you start We Are Outlanders?
"I'd been doing styling for a while and I was constantly seeing the same things in magazines and online. It was really boring!
I wanted to highlight the more interesting aspects of Eastern and Western culture and style, so I gathered a bunch of friends to create an editorial and a short video mixing English tailoring styled on East Asian guys while they were playing basketball.
It was a turning point for me as I realised nobody else in London was really using this angle to tell stories, or document style in general.
We turned it into a creative online platform just over two years ago. 
Now myself and a small team of creatives, photographers and filmmakers create inspirational travel, lifestyle and style content for our platform as well as global brand campaigns for clients. 
We might even be delving into product design at the end of the year. Who knows? The sky is the limit."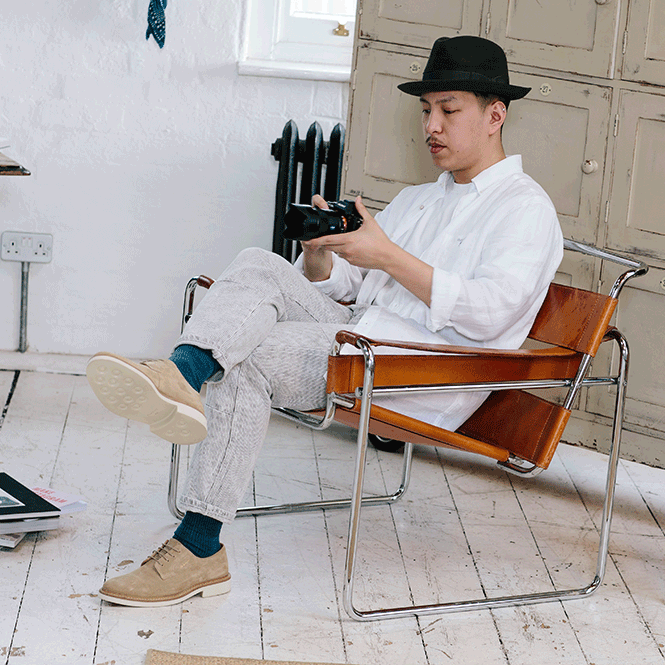 What would you like your collective to achieve? 
"It's about giving creatives a platform to express themselves through content creation.
I'm always open to new ideas on how to grow, so if someone has a good idea or story they want to test out on the platform, I'm up for helping make that a reality."
So, how does your heritage influence your style?
"For me, it's always about mixing and matching both culture and style elements. 
For instance, I'm really into how the Japanese interpret Americana and workwear, and have now made it theirs." What wardrobe staples do you rely on?
"My wardrobe is made up of a sea of indigo, so it's important that I have a range of plain shirts and tees that work with pretty much anything.
A plain white shirt is always essential – one of my go-tos is a button-down Gant white Oxford shirt.
I can wear it with a pair of selvedge denim jeans worn with a white tee for a casual summer look, or dressed up with a blazer, chinos and tie for a more collegiate feel.
I also have every colour of sock imaginable to give my look a pop of colour. And I never leave the house without my trilby."
How do you incorporate cultural elements subtly so it doesn't feel like you're wearing a costume?
"I just take inspiration from everywhere when I'm styling myself. If it works, it works. It's trial and error. 
I've made a lot of style no-nos in the past.
Start with accessories – something small, as it's less noticeable. If someone picks it up, you can tell the story of how you came to wear it." How do people avoid appropriation?
"You have to be smart with what suits you – and what isn't going to be a cause for debate.
Be respectful to the cultures you take inspiration from. You have to find the right balance. Seek inspiration and ask for opinions."
Finally, where do you look for fashion influences that blend two cultures into clothing?
"Japan has a gift for exploring Eastern and Western cultures and styles.
My favourite place to do this is in central Tokyo, from the Harajuku district all the way to Daikanyama."
---
However you choose to embrace style, shop the Gant collection now.
Related Reviews and Shortlists