ShortList is supported by you, our amazing readers. When you click through the links on our site and make a purchase we may earn a commission.
Learn more
Hold on to your cardigans, Frasier is coming back
Everyone's favourite shrink is going to be back on our screens - but it won't be quite the same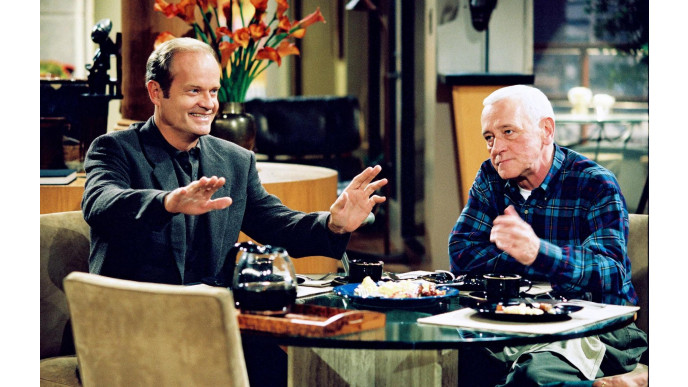 Frasier, the televisual comfort blanket of the late nineties and early noughties, is coming back to our screens. You may never have to leave the house again. I was once very late for an extremely important exam because I couldn't turn Frasier off, and I'm pretty sure my University would have understood. 
It's a gentle hug of a programme, you've probably never cried laughing at it, but you watch it all with a wry smile and a chuckle every now and then. It's sometimes easy to forget that Frasier was initially a spin-off from Cheers, and that the first time we saw Frasier Crane sat at the bar, was in 1984.
We thought we'd seen the last of him fifteen years ago when Frasier aired its last episode in 2004, but this week on The Late Late Show with James Corden, Kelsey Grammer revealed that there are plans to bring him back.
In the interview, the actor revealed: "The first principle is that it's a different story basically, same group of characters, but something has changed in their lives. Sadly, John Mahoney died over a year ago and we would probably deal with that a little bit, Dad being gone. But, the third act of Frasier… we're just exploring what that might be. It could be Chicago, he left for Chicago before, in the last episode of Frasier. He's passed the radio show, he might be an art dealer, he might be a professor, we don't know yet.'
So he won't be a radio psychiatrist any more, which is even more exciting, who knows what the next setting will be? And will all the old gang be involved? Perhaps in lieu of Marty Crane there will be new characters to bring Frasier down to earth in every situation. 
We can only assume Jane Leeves, who played Daphne, will want to come back, her salary for the final few seasons made her richer than God, and the highest paid female television actress of the time. So watch this space, personally I'm gunning for Frasier 2.0 as a louche University lecturer. Or an influencer for Hot Dads. Dig out your roll necks and suits lads, all we have to do now is wait.
(Images: NBC)
Related Reviews and Shortlists