ShortList is supported by you, our amazing readers. When you click through the links on our site and make a purchase we may earn a commission.
Learn more
Record Store Day 2023: 10 amazing records to look out for
Our picks from this year's Record Store Day stash.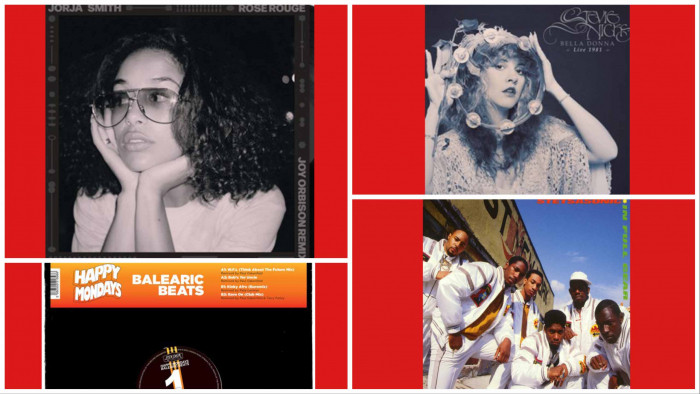 It's that time of the year again when a long snaking queue begins to appear around the door of your favourite record store. That's right, it's Record Store Day and there are some fantastic exclusives to be had.
While streaming is a constant in the world of music, vinyl still appeals to the collector - the music listener who'd rather have a malleable collection of vinyl stuffed into Kallax shelving units, next to a well-loved turntable.
This year's Record Store Day takes place in the UK 22 April (Saturday) and there are LOADS of Record Store Day exclusives - the best of which will be entirely up to your own preference but we thought we would let you know the records that we will be heading our to buy (see you in London, if you are that way).
To make things easier, and to make sure you aren't searching for your very own Moby Dick, we've added 10 of the best records to go hunting for this Record Store Day - all of which should be available in numerous stores up and down the country.
To find your nearest Record Store Day participant, head to RSD's store locator guide now.
---
1. Stevie Nicks – Bella Donna Live This one is available for the first time on vinyl. It's a 2 LP set which was recorded during the 'White Winged Dove Tour' in 1981. The show included tracks from Bella Donna - Nicks' debut album - so the likes of Stop Draggin' My Heart Around, Leather and Lace and Edge of Seventeen are there, alongside Fleetwood Mac classics Dreams, Sara and Rhiannon.

2. Taylor Swift – Folklore: The Long Pond Studio Sessions This 2-disc grey 12-inch vinyl is a selection of sessions surrounding Folklore, the album Taylor Swift recorded during the Covid-19 lockdown. Folklore was a unique album as Taylor and her collaborators were never able to play the album together. That was until the Long Pond Studio Sessions in September 2020, where this vinyl comes from. These songs have been recorded live and feature Taylor Swift, Aaron Dessner (The National), Jack Antonoff (Bleachers) and Justin Vernon (Bon Iver).
3. Self Esteem - Compliments Please Self Esteem has had huge success with the Mercury Prize nominated album, Prioritise Pleasure, which is great news as it means more and more people are finally waking up to the fact that her music is amazing. This Record Store Day finally sees a repress of Compliments Please, the debut album of Self Esteem - the bonus is it's been pressed on gold double vinyl.

4. Happy Mondays - Balearic Beats You can't help but feel blissed out when listening to Happy Monday's tracks and this album revisits four of their classics, which have been given the remix treatment by Paul Oakenfold, Terry Farley and Pete Lorimer and more. Everything about this package screams '90s which makes it a must-have.
5. Amorphous Androgynous - Tales Of Ephidrina Another alias for Future Sound Of London, Amorphous Androgynous' Tales Of Ephidrina is an ambient/techno album that's now 30 years old. To celebrate, this vinyl has been released with unreleased tracks, alternate versions of album tracks that can be found on a bonus 12". The album has been remastered by Matt Colton - whose worked with Arctic Monkeys, Thom Yorke and many more - at Metropolis studios.

6. Tony Troutman - What's The Use This beautiful soul track from Tony Troutman has been sought after for years. Given the original pressing will set you back nearly a grand, this is one of the more affordable ways to finally have this feel-good soul classic in your collection. This is what Record Store Day is all about, giving people an opportunity to own something that was previously very rare.

7. The Amazing World of Doctor Who First released in 1976, The Amazing World Of Doctor Who is a,n well, amazing archive of stories of the show, voiced by some of the original folks behind Doctor Who. These short stories - including The Sinister Sponge, The Vampires Of Crellium, On The Slippery Trail and The Mission - are the very essence of Doctor Who which makes this one a must-have - especially as we are now into the 60th year of the show. This one comes in 140g clear vinyl LPs with the same artwork from the book this vinyl is based on.

8. Jorja Smith and Joy Orbison - Rose Rouge "I want you to get together" is one of the most recognisable vocal lines in dance music, thanks to St Germain's classic propulsive jazz-tinged track. Those lyrics are, of course, from the song Rose Rouge and here we have Joy Orbison and Jorja Smith's tantalising take, which eschews the frenetic drumming of the original for a more 2-step approach. It's a wonderful, woozy track that will sound great thanks to it being pressed on heavyweight etched black vinyl.
9. Ocean Colour Scene - B-Sides, Seasides and Freerides Not just a clever name, B-Sides: Seasides & Freerides is a culmination of all the B-sides, demos and rarities that the criminally underrated Ocean Colour Scene released over the course of 1996, when the band was in its heyday. This vinyl is packed with acoustic demos - The Circle sounds great while there's a lovely stripped-down version of The Day We Caught the Train. There are number of live tracks, too, with the likes of Noel Gallagher and Paul Weller turning up on a handful of tracks. Oh, and Liam pops up, too, making this a slice of Britpop you need to own. This one is pressed on 140g blue vinyl.

10. Stetsasonic - In Full Gear (35th Anniversary) Stetsasonic are one of the pioneers of hip-hop, introducing sampling (mostly jazz beats) and introducing live instrumentation to the rap world. Founding member Prince Paul went on to become engrained into De La Soul and even went 'horrorcore' with Gravediggaz. Here this 1988 album, In Full Gear, is re-released on vinyl, celebrating its 35th Anniversary.

Related Reviews and Shortlists