ShortList is now ad free and supported by you, the users. When you buy through the links on our site we may earn a commission.
Learn more
5 best movie and TV trailers this week: Addams Family, Carnival Row, new Chris Morris and more
Stop what you are doing, you need to watch these right now.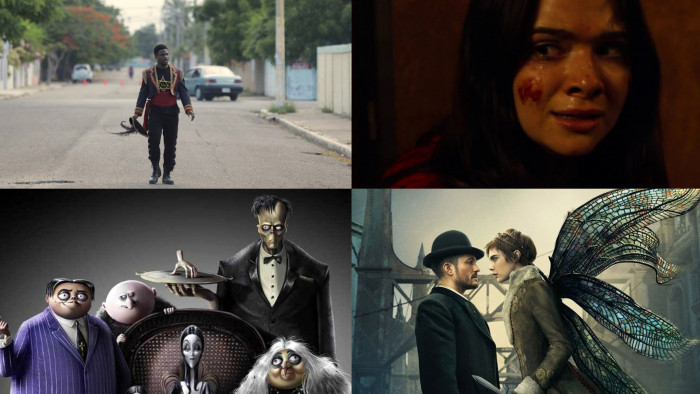 It's an eclectic mix of promos this week, which started with the debut trailer of Chris Morris' latest movie The Day Shall Come. It comes across as a Hollywood remaster of Four Lions, but the material this time is that of true accounts of the FBI trying to radicalise terrorists so they can hit quota and throw away the key. While this sounds harrowing, it makes for compulsive, hilarious viewing.
There's also a new horror from the writers of The Quiet Place, an animated version of Addams Family and an Amazon Prime series that's set to satiate your hunger for fantasy and gothic horror.
1. The Day Shall Come
Chris Morris isn't the most prolific of directors but we can forgive him, given he's given the world BrassEye, The Day Today and Nathan Barley. After the brilliance that was Four Lions, where he managed to find humour in terrorism, Morris is back... finding humour in terrorism. The location has switched from the UK to the US, but the humour is still the same.
2. Bloodline
Stiffler as a serial killer is an elevator pitch to end all elevator pitches, so no wonder there is a buzz around Bloodlines - which stars Seann Williams Scott as a social worker who's just killing in the name of his family. It's low budget, kind of schlocky and is directed by debut helmer Henry Jacobson - and it looks actually decent.
3. The Addams Family
When we first heard that Oscar Isaac was cast as Gomez Addams, Charlize Theron as Morticia and Chloë Grace Moretz as Wednesday we nearly died with glee as that's about as perfect as casting gets. Unfortunately, they are all just voicing the characters in this animated version of the creepy and kooky family. Still, it looks a lot of fun.
4. Carnival Row
Did you hear the one about the detective and the fairy? Nope, neither did we but that's the premise of Carnival Row - the new Amazon Prime series that hopes to whisk all away to a gothic Victorian world that's full of the fantastical. The main cast is strong - with Orlando Bloom and Cara Delevingne on board. And one of the writers on the show is one Guillermo del Toro.
5. Haunt
The writers of the Quiet Place have come up with another tense thriller, centred on the idea that a group of teens are forced to spend the night in what is the scariest haunted house the world has seen. Given the pedigree of writers, this could well be one horror movie to look out for - they are directing the movie, too.
Related Reviews and Shortlists