ShortList is supported by you, our amazing readers. When you click through the links on our site and make a purchase we may earn a commission.
Learn more
Apple Vision Pro headset revealed - and it looks incredible
Apple finally dips into the world of virtual reality.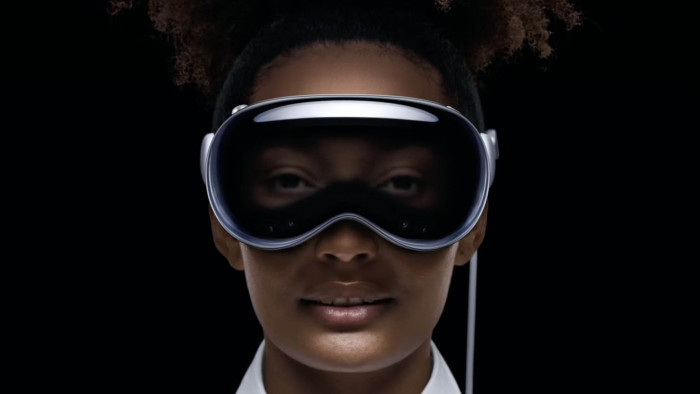 The rumors are true: Apple really has been building an AR headset and it showed off the device at its WWDC 2023 event.
Called Apple Vision Pro, the headset is controlled by your hands, eyes and voice, so no controllers are needed here.
There have been rumblings for years now that Apple was looking into VR as its next big category. VR is something that big companies have been dabbling in for years.

Sony has the PSVR 2, HTC has its HIVE device and then there's Meta with the Meta Quest. Unfortunately, Apple looks to have kicked them all in their collective teeth with the Vision Pro.
Given its revolutionised the smartphone, the tablet and the smartwatch, while Apple is never first, it does come with the right features to entice this new type of tech for the masses.

Here are 5 things you need to know about Apple Vision Pro...
---
1. It's all about the eyes The key here is that Apple's headset doesn't have to be as fully immersive as its rivals, with Apple clear that it wants to you to stay connected with those around you - even revealing your eyes when someone is in the room.

It also has a similar digital crown on its side which, when turned, can expand just how much you want to be surrounded by Apple's AR/VR experience.
You can also control the thing with your eyes, opening apps just by looking at them.
2. The design is ultra premium The design of the things is ultra premium. Apple reckons it has used the most advanced lightest weight materials possible.
The entire front of the product is a singular piece of 3D formed and laminated glass. The glass flows seamlessly into a lightweight frame that houses a button to capture spatial photos and video on a digital crown.
The frame has been machined from a custom aluminium alloy, which is said to have gentle curves to wrap around your face.
As you have a computer strapped to your face, things could get warm so Apple is keeping everything cool by an efficient thermal design that quietly draws air through the system.
There are flexible straps that conform to the head, ensuring headphones remain close to your ears. They deliver rich spatial audio while keeping you aware of your surroundings.
The headband, according to Apple is 3D knitted as a single piece to create a unique rib structure that provides cushioning breathability and will stretch.
If you are a glasses wearer, then there are custom optical inserts that magnetically attached to the lenses.
3. Apple has a new OS for Vision Pro There's a new OS for Vision Pro and it's called Vision OS. The operating system is built on the foundation of macOS, iOS and iPad OS.
Apple has added a host of new capabilities to support the low latency requirements and spatial computing and says that Vision OS is the first operating system designed from the ground up for spatial computing.
Apple has also redefined its familiar apps given a new lease of 3D life and says that it has created a new App Store just for Vision OS apps.
Apple offers the ability to bring your Mac into the experience. Open your Mac up and you can change the screen into a giant 4K immersive display.
4. Apple brings FaceTime and 3D videos to the fore FaceTime works in the headset, with each person you are speaking to popping up in a different tile - you can group chat and also play games together within the app.

You can also capture 3D images and video on the device, then play them back in immersive 3D. This feature feels like something that will be on the next iPhone.
Vision Pro is also Apple's first 3D camera and lets you capture and relive your memories in 3D. With spatial audio is magical and impossible to fully appreciate on a two dimensional screen.
With a click of the button you can video something in 3D, then play it back on the device. A child's birthday was used in the demo but we know exactly where your filthy minds are at right now...
5. Movies look MASSIVE when using Vision Pro You can also watch a movie on the very big screen with Vision Pro. Like other VR devices, you can watch movies in a huge cinema environment. This isn't knew but sure does look slick on Apple's Vision Pro. You can also watch 3D movies on the thing.
This is pretty cool, turning any room into your own personal movie theatre. This environment lets you focus fully on the movie and is built to give you a fantastic viewing experience, while you are on on a plane and the like.
One more thing... All of this tech comes at a huge price Apple caveated the price of Vision Pro with the statement: "If you purchased a new state-of-the-art TV, surround sound system, powerful computer with multiple high definition displays, high end camera and more. You still would not have come close to what vision pro delivers."
Also, Tim Cook was VERY excited about the headset, saying that Vision Pro will "change the way we communicate collaborate, work and enjoy entertainment."
Big statements, then, which mean big money - and it is. The Apple Vision Pro starts at $3,499 and will be available early next year.
Related Reviews and Shortlists