ShortList is supported by you, our amazing readers. When you click through the links on our site and make a purchase we may earn a commission.
Learn more
7 amazing things to watch on Netflix in November
The best new Netflix series and movies to put on your watchlist...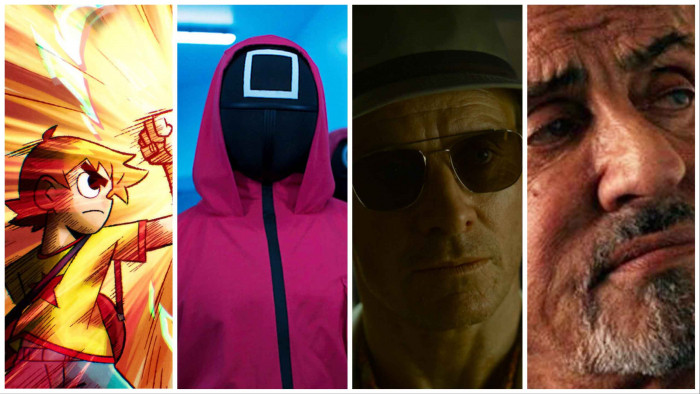 Netflix has a whole host of new movies and shows coming out in November. The month is a key time in the Netflix catalog, as it is usually a time when some of its best shows and films are released, in time for the festive season when we are all looking for something to watch.
The Netflix slate in November is a strong one, but we have chosen our 7 favorite things you should be streaming.
From A-list movie star docs to A-list director drops - all of these are well worth your attention...
---
1. Sly
With the success of Arnold Schwarzenegger's fantastic doc on Netflix, we can't wait to see Sylvester Stallone get similar treatment. The action star has had a stunning life, but it's not been without its problems. This doc charts his humble beginnings and how he managed to muscle in on Hollywood with his rags to riches boxing tale.
Sly release date: 2 November
2. The Killer
David Fincher has chosen Netflix for his home for the foreseeable, which is fine by us! The director has turned comic-book tale The Killer into a full-blown assault on the senses, with Michael Fassbender along for the ride as the titular hitman.
This is the first time Fincher has teamed up with screenwriter Andrew Kevin Walker since Se7en, which automatically makes this one a must watch.
The Killer release date: 10 November
3. The Crown Season 6 Part 1
The end is near for The Crown and the soap based on the UK's royal family isn't afraid to go out with some controversy. Season 6 focuses on the death of Princess Diana and the effect this has on an already fragile family unit, which just so happens to be one of the most famous in the world.
The Crown Season 6 Part 1 release date: 16 November
4. Scott Pilgrim Takes Off
The original cast from Edgar Wright's live-action version of Scott Pilgrim are back to lend their voices to this animated version of the comic book. The animation has been done by the creator of Scott Pilgrim Bryan Lee O'Malley - so there is a lot of faith and love that's gone into this adaptation.
Scott Pilgrim Takes Off release date: 17 November
5. Squid Game: The Challenge
Squid Game meets real life in The Challenge, a game show where 456 contestants compete for a $4.56 million cash prize. While there are no deaths this time around - we hope! - the fear of the original Squid Game is definitely still there, with many of the games aping what was seen in the fantastic South Korean dystopia.
Squid Game: The Challenge release date: 22 November
6. Temple of Film: 100 Years of the Egyptian Theatre
ShortList loves a movie documentary, but this one has a twist: it's based on one of the most famous movie theatres in the world, the Egyptian Theatre in LA. Talking heads with some of the best-known directors and actors come together to celebrate the building's 100-year birthday, painting a picture of a place where movie magic really does happen.
Temple of Film: 100 Years of the Egyptian Theatre release date: 9 November
7. The Netflix Cup: Swing to Survive
This is the first time Netflix has delved into live sports, so we can't really give our opinion on something that is yet to happen. But this will be one sports spectacle not to be missed, with Formula 1 drivers and PGA Tour golfers teaming up for a star-studded sports competition at the Wynn Las Vegas golf course.
The Netflix Cup: Swing to Survive release date: 14 November
For an up-to-date look at what's on Netflix, head to our constantly updated Watch To Watch guide...
Related Reviews and Shortlists