ShortList is supported by you, our amazing readers. When you click through the links on our site and make a purchase we may earn a commission.
Learn more
Wardrobe essentials: 10 everyday style items you need in your life
Fantastic style items every well-dressed man should have in his wardrobe.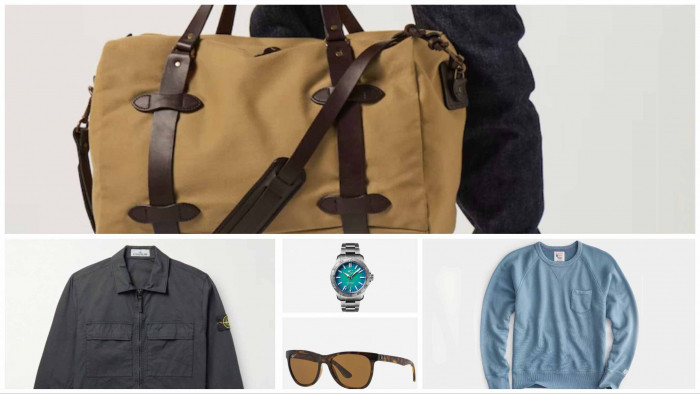 You don't need the trainer collection of a superstar rapper and 007's never-ending rails of expensive suits to build yourself the perfect wardrobe - as this wardrobe essentials list proves.
In fact, there are but 10 (count 'em) essential items (you also need underwear but you don't need us to tell you that) that need to be within reaching distance when you're dressing yourself in the morning.
These are pieces that can work their magic in any number of scenarios, should never leave your side, will never date, can make you feel better about yourself or will simply take the stress out of decoding the dress code.
Get scrolling through our list, and start filling those wardrobe must-have holes ASAP…
---
1. Slim-cut jeans Hitting the middle ground between nut-hugging drainpipes and Dad Jeans, the slim-cut silhouette is the most versatile shape a man can get his legs into. Wearing them on te terraces? They look ace with your Fred Perry polo, parka jacket and favourite trainers. Trying to decipher the 'smart casual' dress code of your weekend drinks party? On these go with a crisp plain Oxford shirt and a pair of Clarks desert boots. They're the Swiss Army knife of your wardrobe, especially in indigo.
---
2. Harrington jacket As much as it may pain the wannabe hell raisers amongst us, not every man can pull of a leather jacket. For some, throwing one on is a whole lot less 'achingly cool James Dean' and a whole lot more 'out-of-work Grease The Musical extra'. But when it comes to the Harrington jacket, you'd need arms where your legs are and legs where your arms are for it not to suit you. Worn by everyone from Steve McQueen to punks, Frank Sinatra to preppy college kids, this undeniably classic garmant, with its iconic tartan lining, is a go-to for nailing the transitional climate between winter and spring. And you're gonna look real good doing it.
---
3. Leather Brogues
Image Credit: Base
Originally worn by workmen earning their keep in the Great Outdoors of Ireland and Scotland, the perforations you find on a true pair of brogues were put in place to let out the stinking bog water that the wearer may have stepped through while going about his duties. Flash forward to now, and the classic shoe has earned a promotion, ditching rolling hills and sodden grounds in favour of smart drinks parties and work dos. That said, its rugged history still means a pair of hardy brown or oxblood brogues can look most excellent with a crisp pair of dark and turned up jeans.
---
4. Blue crewneck jumper Aside from in the middle of a desert, the supporters' stands at Anfield or in a militant nudist camp, we can't think of a place where a simple blue crewneck wouldn't be appropriate.
---
5. Statement socks We're not sure if there's been any highly scientific studies into the effect good quality socks have on professional males, but we'd expect the results to look at little like this: awesome socks make men feel awesome. Not only do fresh-out-of-the-packet feet huggers give you a tiny little "ooooh yes" pep-up in the morning, but a splash of colour between your shoe and trouser hem tells the rest of the world that you take pride in the details, too.

---
6. Oxford shirt Pretty much the definition of 'wardrobe staple'. Get a couple of these button-downs in white, a couple in blue, and never have that 'but what should I wear to work/the party/the pub/dinner/the date/my holiday' dilemma again.
---
7. Chronograph watch Ditching the digital Casio and strapping an analog timepiece to your wrist is a rite of passage that sees a boy turn into a man, a step up from burying plastic dinosaurs in sandpits, eating spaghetti hoops with a plastic fork and thinking girls have cooties, to answering questions on University Challenge, appreciating hops in beer and putting together IKEA furniture. A smart yet simplistic but timelessly stylish watch maketh the man.
---
8. Tortoiseshell Wayfarers Google Image search for 'John F Kennedy on a yacht' and discover how a man should look every weekend, even when he's got the world's most powerful country to run. If we can get close to the envious levels of ocean-going chill the former pres achieved in his Wayfarers, we'll be doing okay.
---
9. Leather billfold wallet Much like the watch, there comes a time in every man's life where his £5 Umbro wallet (circa 1993) needs to fall into the big pocket in the sky. Hopefully, you'll only ever need to buy two or three high-quality leather billfolds in your lifetime, but the more beat up they get the better they look so don't be afraid to get it out regularly to treat yourself to a spending spree.
---
10. Weekend bag A man with a quality weekend bag is a man that knows how to travel. A man who knows how to travel is a man with a bank of stories worth hearing. A man with a bank of stories worth hearing is a man you want to be friends with. We're not saying you'll be Mr. Popular with a bag this smart, but you'll sure as heck look like it.
---
Related Reviews and Shortlists