ShortList is supported by you, our amazing readers. When you click through the links on our site and make a purchase we may earn a commission.
Learn more
10 gadgets of the future that are already here
Techy slices of the future that might just change how you experience the world...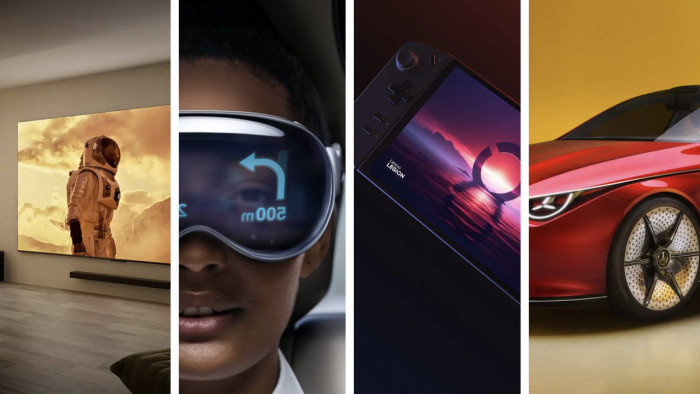 Fan of gadgets? It's all too easy to fall into the trap of just looking at the biggest stuff that gets an annual update.
We get new Samsung phones in February, new iPhones in September, a bumper crop of TVs at the start of the year. Yawn.
Take a more wide-angle view and you start to notice the tech that might actually change things in the future, the products that do something a little different.
We got to see and hear about a bunch of these potential disruptors at tech shows like IFA 2023, Gamescom and the Munich Car Show in recent weeks.
These are the 10 tastiest future tech gadgets we think you should keep an eye on...
---


1. PlayStation Portal Sony has only gone and made another portable console, but this one is quite unlike the PSP or PS Vita. The PlayStation Portal looks like a DualSense controller, chopped in half and with a screen bunged in the middle. However, rather than playing games itself, it streams them from your PlayStation 5 console. It has an 8-inch 1080p screen, one bigger and sharper than the Steam Deck's. And, for Sony, it's not badly priced either at £199/$199. The idea is it lets you continue playing your PS5 games when the people want to watch something on the TV. Or, yes, you can take it in the toilet with you. Out in November.
---
2. Honor V Purse Think phones have been too boring for too long? In a classic case of "be careful what you wish for," Honor has shaken things up with what might be the strangest phone we've seen in years, the Honor V Purse. This concept design is a foldable phone made up to look like a clutch bag. The screen covers most of the outside of the thing, snaking around the side, and Honor has teamed-up with designers to make handbag-like designs to plaster on the display. Can it actually hold stuff, like a handbag? Absolutely not. The idea here is fashion doesn't need to be useful to have value. And if that sounds like a load of old nonsense, check out Honor's Magic V2 foldable phone instead.
---
3. LG StanbyME Go The LG StandbyME Go looks like a prop from a Mission Impossible movie. It's slick-looking suitcase that houses a 27-inch display. This pivots out on a slick articulating arm, and you can even flip the thing over, to turn it into a portrait display. It's a 1080p LCD panel, and a touchscreen one at that. You can plug in a games console using the HDMI, but this is much more than just a dumb display. It has Wi-Fi and an app store, uses the WebOS platform, and offers apps for services like Netflix and Disney Plus. The built-in battery lasts three hours too, enough for all but the longest movies. One downside: at $999 this one doesn't come cheap. Due for release in the US shortly.
---
4. Lenovo Legion Go If a Nintendo Switch and a Steam Deck had a baby, it might look a lot like this, the Lenovo Legion Go. It's a Windows gaming handheld with detachable wireless controllers. The right one even has a tiny wee touchpad, for games that won't feel quite right played with a gamepad. Lenovo has gone all-out with this one, out spec'ing both the Steam Deck and Asus ROG Ally. It has a brilliant 8.8-inch screen with 2560 x 1600 pixels and an ultra-high 144Hz refresh rate. Its battery is a larger-than-average 49.2Wh, and the AMD Z1 Extreme CPU is the same as the Ally's. It's a beast, and a pretty darn good deal at £699. Out in October.
---
5. Apple Vision Pro We've known about Apple's Vision Pro for a while. It announced this bold product in June 2023 but, thanks to the sheer complexity of the thing, you won't be able to buy one until 2024. Your first take: it's a VR headset. However, Apple calls it a "Spatial Computer." It wants you to do actual work on this thing, and you can select items in the interface just by looking at them. Welcome to the future, folks. The displays provide "more than a 4K TV" of resolution per eye, and Vision Pro has a processor from the same family as Apple's MacBook laptops. Want? Yes. Can we afford? Not so much, as this luxury slice of the future is set to start at $3499.
---
6. Lenovo Legion Glasses We've heard a lot about VR headsets over the last few years. Lenovo is having a stab at making a less, well, demanding kind of visual wearable mainstream, video glasses. Lenovo says the Legion Glasses perform the equivalent of putting an 86-inch TV in front of your face. And the setup here is way less bulky than a Meta Quest 2, or the other video glasses we've tried over the last decade. The suggestion is you could pair a pair with Lenovo's new Legion Go handheld, but it'll work with any normal source. Resolution isn't mind-blowing at 1080p per eye, but the price is pretty reasonable at $329 (UK pricing TBC). Comes to the US in October.
---
7. TCL X955 mini LED TV You may not think of TCL as one of the big TV brands but it was joint second-place globally, matching LG, in 2022. Its latest TCL X955 set is also a major eye-opener. This is a QD Mini-LED with some frankly ridiculous specs. It's available in a massive and gigantic flavours, 85in or 98in, and can hit peak brightness of more than 5000 nits. This is ridiculously high. A good phone might hit 1000 nits, while even good OLEDs might reach around 800 nits. "Searing" doesn't even cover it. There are no pricing deals yet, but we'd love to witness this one in person.
---
8. Asus ROG Swift PG49WCD No, we didn't stretch the pic of this gaming monitor in Photoshop. It really is a 32:9 aspect ratio screen that curves around your vision, one so immersive it's just a step away from pulling you right into the game world, Tron style. You can actually buy a similar-looking version of this line today, but the ROG PG49WCD ups the stakes with a QD-OLED panel. Play games in a nice dimly-look room and this thing is going to look absolutely amazing thanks to those deep OLED blacks.
---
9. Mercedes Concept CLA Class Some concept cars might as well just be computer game renders but the Mercedes Concept CLA Class, shown at the Munich Motor Show, is the real deal. An actual car based on this design may be on forecourts by the end of 2024. We think it looks bloomin' eye-catching, don't you? Highlights include up to a Tesla-beating 466 miles of range, a light bar that wraps around the back and sides of the chassis and a triple-screen dashboard. Keep en eye out for more details in early 2024 if you fancy a Tesla Model 3 rival like this.
---
10. XGIMI Horizon Ultra Conversations about buying a projector often end up with the rather final "we are not having that in the living room." XGIMI has tried to address this classic spat by making the Horizon Ultra really rather good-looking and compact. And it has a a motorised, fabric-covered lens cover, to all but hide the fact it's a projector when not in use. XGIMI also maxes out on usability and image quality with a laser-plus-LED lighting source. You get the sheer brightness of laser, the greater colour fidelity of LED. It's a pixel-shift 4K projector with Harman Kardon speakers, Dolby Vision support and a baked-in smart interface. Doesn't come cheap at £1749 but, well: want.
Related Reviews and Shortlists