ShortList is supported by you, our amazing readers. When you click through the links on our site and make a purchase we may earn a commission.
Learn more There is nothing better than a coffee scene in a movie. Granted, it may not be the place where the most of the action takes place but someone serving up a coffee or sipping on one in a scene almost always means something is brewing.
As the following shows, coffee is key to some of the most interesting movie scenes of all time. From the first meeting of two active heavyweights on screen, to a masterclass in how to argue with a barista, by way of a superhero who gets his first taste of the good stuff, here are our picks of fantastic movie scenes where coffee played a vital part.
This list is sure to give you a caffeine-fuelled kick but if you feel that we have missed your favourite coffee scene out, then let us know below.
The greatest-ever coffee scenes in movies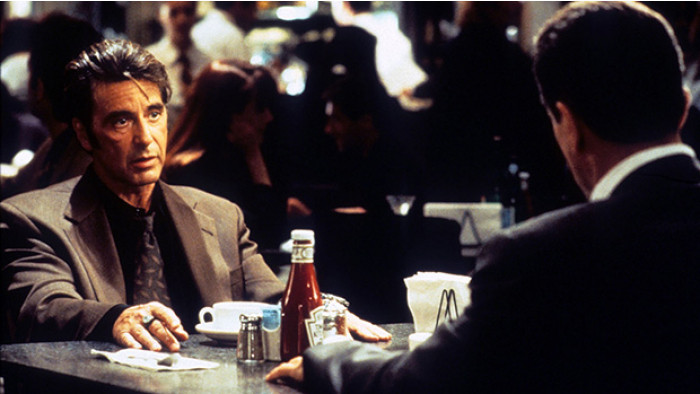 1

. Robert DeNiro and Al Pacino meeting for coffee in Heat
One of the greatest scenes in the history of cinema… that just so happens to have both coffee and a coffee shop at the centre of it. Even after 27 years the power of the scene hasn't waned with criminal Neil McCauley (Robert DeNiro) coming face to face with his detective pursuer, Al Pacino's Vincent Hanna, for the first time. It's tense stuff, with both sides having mutual admiration, even if they will destroy the other at any cost. It was the first time that Pacino and DeNiro had ever shared a screen together and it's well worth the wait, even if their coffee is getting a little cold as they are discussing their next moves.
Image Credit: Warner Bros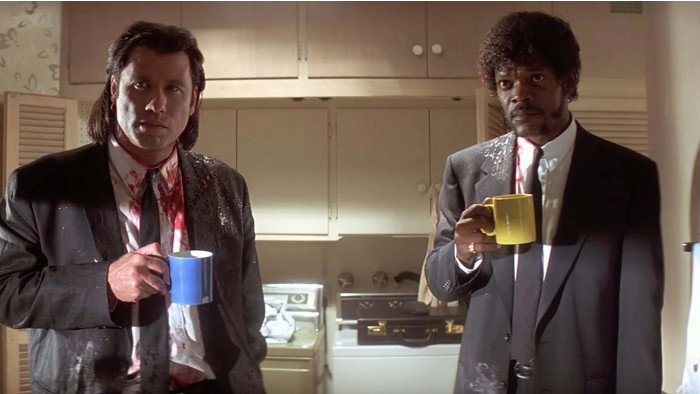 2

. Jimmy's coffee making skills in Pulp Fiction
The ever-quotable Pulp Fiction is littered with lines that you want to say again and again, and one of them comes in a scene that's full of jet-black comedy. Hitmen Jules (Samuel L Jackson) and Vincent (John Travolta) are in Jimmy's front room (played by Quentin Tarantino), after they accidentally killed someone and need to stash the body... as you do. Jimmy is obviously not impressed with the situation, but at least he makes great 'gourmet' coffee that gets praised by Jules in his own unique, sweary way.
Image Credit: Miramax Films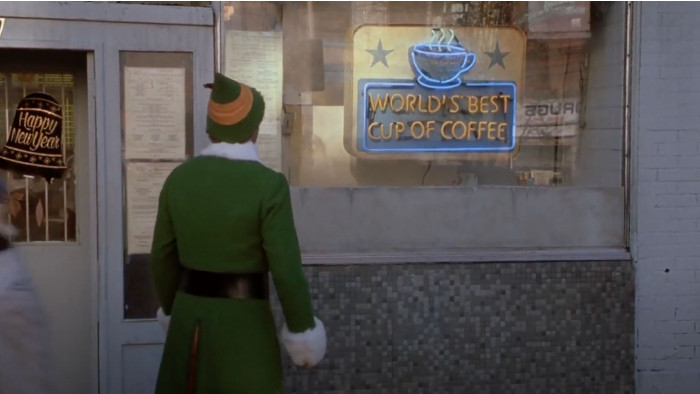 3

. The 'World's Best Cup of Coffee' in Elf
At a certain time of year, there is one movie that is certain to be played on loop and that is Elf. While many of us are sipping on our Gingerbread Lattes during the festive period, Will Ferrell's Buddy also seems to like coffee, in one scene enthusiastically congratulating the team behind the 'world's best cup of coffee'.
It's such a release of joy that shows off Buddy's unbridled innocence in a world that is, frankly, not that innocent at all. Is the cafe really serving up the 'world's best cup of coffee'? Absolutely, not - it should probably be done for false advertising - but wouldn't the world be a better place if we all had even a smidgen of Buddy's wide-eyed optimism?
Image Credit: New Line Cinema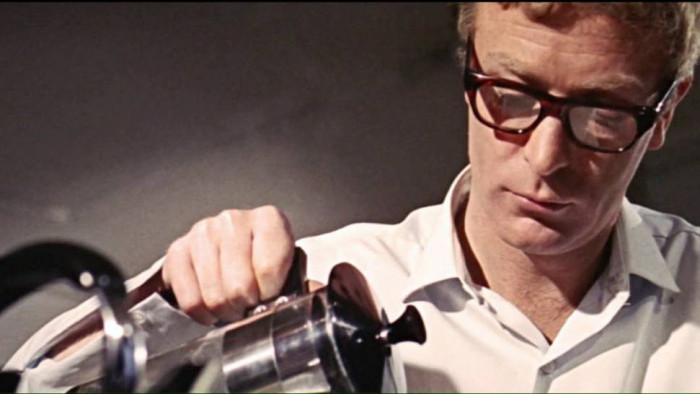 4

. Even spies need their morning coffee in The Ipcress File
Pop quiz: which movie about a spy has one of the coolest title sequence of all time which is soundtracked by John Barry? No, not James Bond but The Ipcress File, the Michael Caine starring spy caper which just oozes cool. Unlike Bond, who needs fancy graphics and scantily girls in suggestive poses, in The Ipcress File we get spy Harry Palmer (Caine) making what looks like a fantastic cup of coffee.
Image Credit: Rank Film Distributors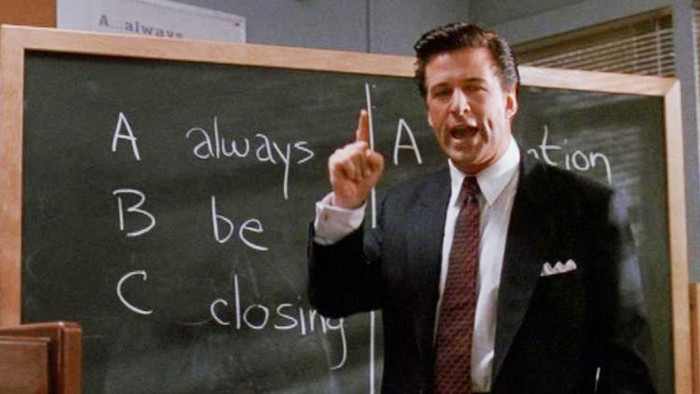 5

. Coffee is just for closers in Glengarry Glen Ross
Alway Be Closing. That's the mantra of Glengarry Glen Rose, the riveting drama centring on real estate agents trying to close their sales. The David Mamet script sizzles with spite, while the acting talents of Jack Lemmon, Al Pacino, Alec Baldwin and the rest is just perfect. Especially in the scene when Sheldon Levene (Lemon) is helping himself to coffee just as plucky upstart Blake (Baldwin) comes into shake up the company and make some sales. Needless to say, he isn't allowed to drink his coffee.
Image Credit: New Line Cinema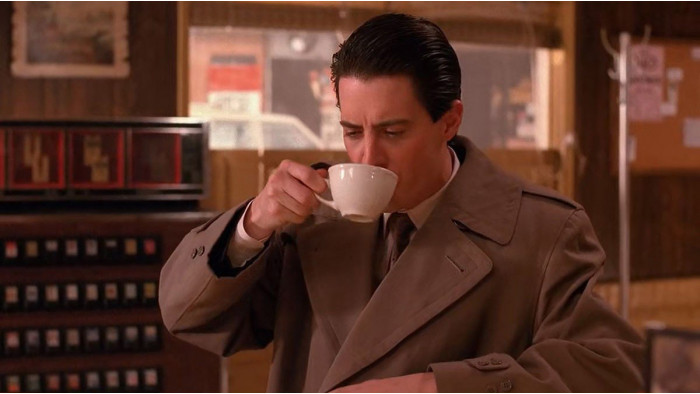 6

. Dale Cooper's 'damn good coffee' in Twin Peaks
In our world, Twin Peaks isn't a series but one very long movie (the Emmy's thought so, too) so that's why the ever-brilliant FBI agent Dale Cooper (Kyle MacLachlan) is in this list. His love for a 'damned good coffee' in Twin Peaks is unrivalled as is his love of cherry pie. It's one constant in the strange world of Twin Peaks, where atrocious murders are committed, people speak backwards and a certain lady loves a log.
Image Credit: Showtime Networks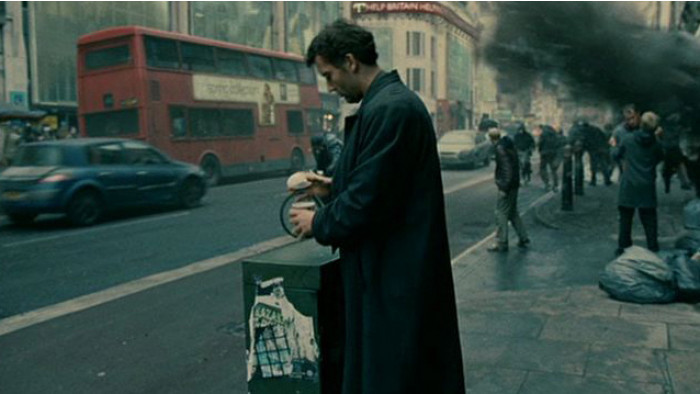 7

. Grabbing a coffee with explosive results in Children Of Men
Children of Men is a stunning, prescient movie which houses one of the most powerful scenes involving a coffee ever committed to celluloid. It's near the beginning of the film and is the ultimate scene setter. Theo Faron (Clive Owen) is out getting coffee and minding his own business when an almighty terrorist explosion rocks the area he is in. It's clear this isn't the London we know and love, but a near future dystopia where the entire human race is at risk. At least there is still coffee in the future but, boy, is the rest of it bleak.
Image Credit: Universal Pictures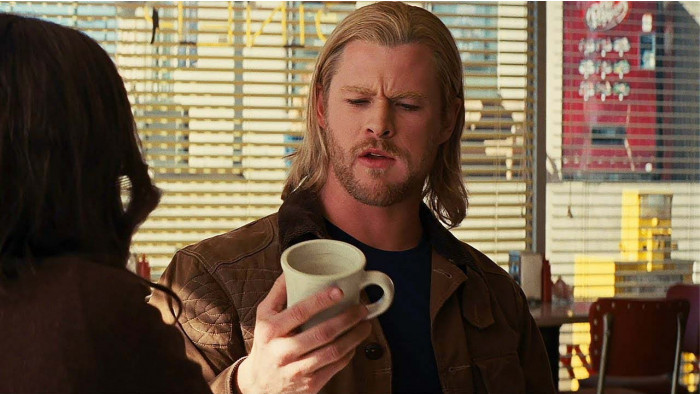 8

. In Thor, even superheroes can't handle their coffee
Thor has changed a good deal since his film debut back in 2011, when thespian Kenneth Branagh directed the movie. It was short on laughs, compared to the more comedic recent outings. But there is still fun to be had, especially in the scene where Thor tries coffee for the first time. He calls it "delicious" and smashes the cup on the floor to show his appreciation in true Asgardian style - much to the shock of the rest of the diners trying to eat their breakfast.
Image Credit: Disney / Marvel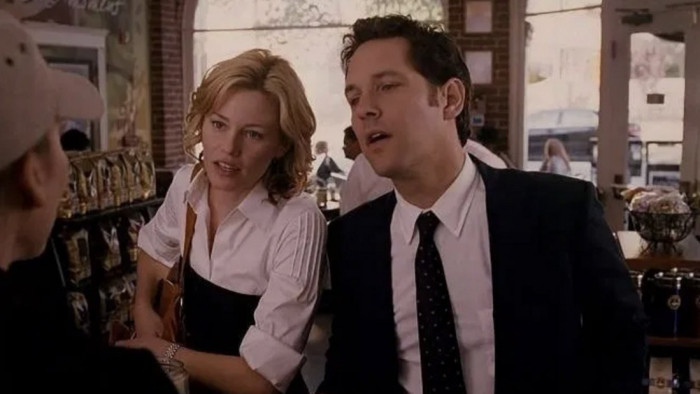 9

. Venti is 20! The 'big' coffee rant in Role Models
The coffee rant in Role Models is superb, striking straight to the heart of cafe culture and the silliness involved in the naming and sizing of the coffee you can buy. Paul Rudd, before he went all Ant-Man on is, is the one with the rant and it's secretly something we have all wanted to say when ordering a drink. Repeat after us: "Yeah. Large' is large. In fact, 'tall' is large, and 'grande' is Spanish for large. 'Venti' is the only one that doesn't mean large."
Image Credit: Universal Pictures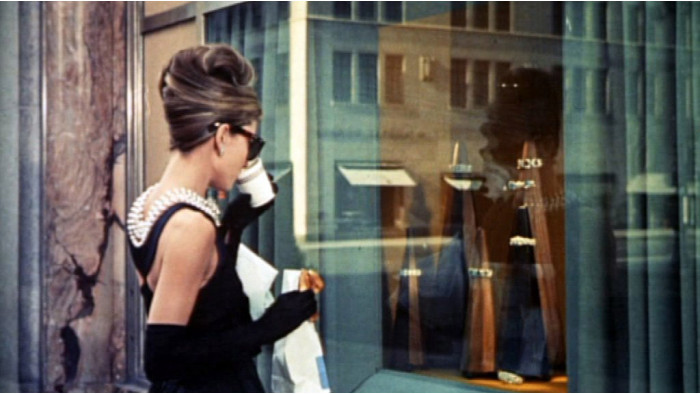 10

. Coffee, Breakfast at Tiffany's style
Any scene in Breakfast At Tiffany's could be printed off and framed but there's none quite as iconic as Holly Golightly (Audrey Hepburn) looking into the window at Tiffany's cup of coffee in one hand and pastry in another. It sums up the character of Golightly in seconds and marked the entrance of one of the most iconic book, and subsequently movie, characters of all time.
Image Credit: Paramount Pictures
This Shortlist was brought to you in association with AO.com.
Related Reviews and Shortlists