ShortList is supported by you, our amazing readers. When you click through the links on our site and make a purchase we may earn a commission.
Learn more
The best beard trimmer 2020: perfect your facial hair whatever your budget
Updated: Keep your face fuzz in check with one of these best beard trimmers.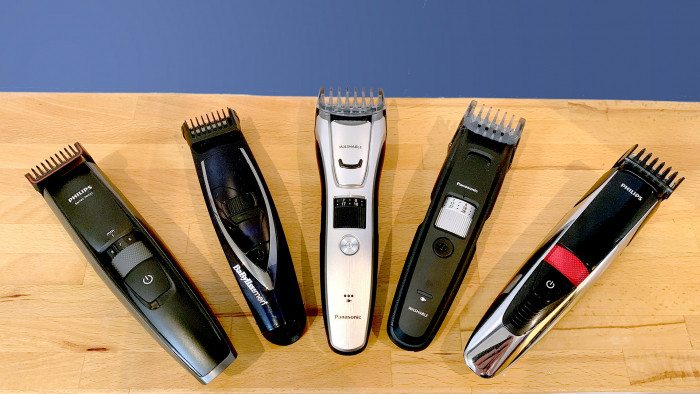 So you want to grow a beard. Good idea. Get it right, with the best beard trimmer, and you'll look great, keep your chin warm and save a whole load of time and cash.

Get it wrong and you'll have that ten-blade razor back in your hand before you can say, "Did you know the only member of ZZ Top without facial hair is called Frank Beard?" To avoid that fate you need to invest in the best beard trimmer your budget will allow.
Speaking of notable facial hair, these are the best beard oils to make your beard a thing of envy.
UPDATE: On the subject of recommendatins, if you're on the hunt for a beard trimmer but are unsure of the offers available out there, it's worth checking out the Panasonic ES-LV97 Wet & Dry 5-Blade offering. We know, we know, it's a bit of a mouthful, but when you see what this trimmer can do, you'll more than forgive them. This shaver comes complete with a cleaning and charging stand and adjusts power to match the demands of your beard. Panasonic claim the ultra-fast motor provides 70,000 cross cutting action per minute, while the contour-following head ensures an even and accurate trimming experience.
That's because growing and maintaining a beard isn't just a case of giving up shaving. You need to cultivate it, and that's where a good beard trimmer comes in. We spent a few weeks with the leading models to see which ones offer the best performance.
Below you can read what we liked and disliked with all the beard trimmers we tested but, for clarity, the best beard trimmers for value we tested were the BaByliss 7897U Super. The best trimmers overall were the Panasonic ER-GB96.
Best beard trimmers: overall and best value
Best value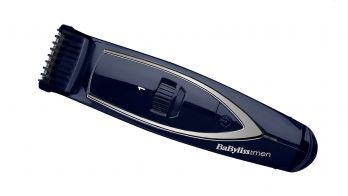 BaByliss 7897U Super Beard
£79.99 (From)
Is it a bird? Is it a plane? No! It's the BaByliss Super Beard – a trimmer that has a special locking mechanism to prevent the comb attachment accidentally moving.
View now at Amazon
It might lack some of the bells and whistles of other, more expensive trimmers, and the upkeep is a little more hassle than just rinsing it under the tap, but considering how little you can buy it for online the BaByliss Super Beard offers the best trim at the most agreeable price.
Best overall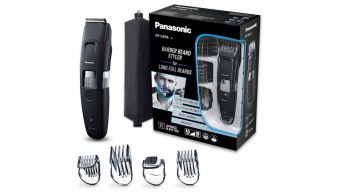 Panasonic ER-GB96
£99.95
It might not be cheap but the Panasonic ER-GB96 comes with a comb that takes the trim lengths from 0.5mm right up to 30mm, so it can deal with proper 'wild man of the woods' looks.
View now at Amazon
The RRP of Panasonic's ER-GB96 is a whopping £120, a price tag it can't possibly justify. But when you can find it online for around half that, this high-quality, versatile and well-built trimmer is hard to beat. Whatever look you're after, it has you covered.
Have a look at the 10 that made it into our test shortlist.
The Shortlist: Best beard trimmers in order
Overall the Panasonic ER-GB96stood out, but in terms of value for money the BaByliss Super Beard is hard to argue with for most beard growers.

Want to dig deeper? Read on to find out how we tested, and exactly what each of these beard trimmers offers.

Best beard trimmers: how we selected

Firstly, let's get one thing straight – there's a big difference between a beard trimmer and an electric shaver. They're easy to tell apart. The latter has a foil you press right up against your skin to cut the hair as close to the root as possible, but if you want to maintain anything more than a 7 o'clock shadow you need something with proper blades and an adjustable guard.
The guard allows you to not only choose how long you grow your beard out, but trims different parts to different lengths, which usually offers a more natural look. Anyone who thinks cultivating a beard is just a case of leaving it to grow is very much mistaken.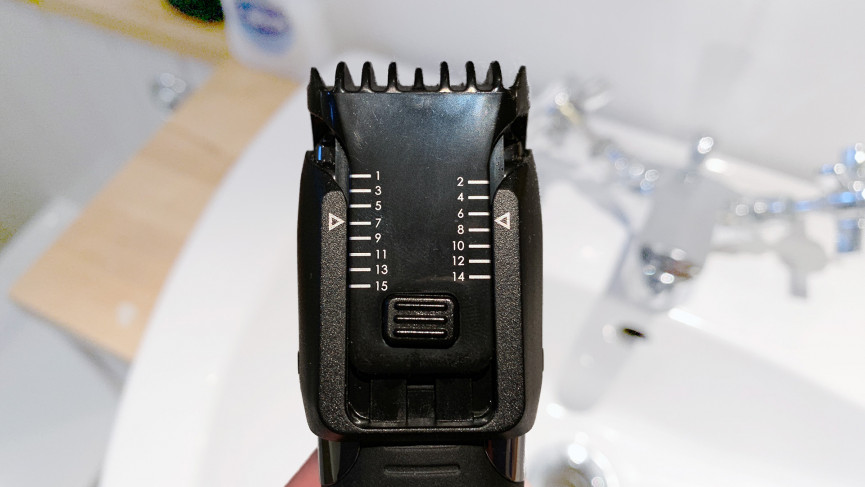 So how did we pick our ten trimmers on test here? For starters we ignored any model that couldn't cut to more than 5mm, ideally looking for something that coped with at least 10mm.
Beards come in all shapes and sizes, and while anything longer than that probably requires regular visits to a professional to keep in check, having something at home to look after its basic upkeep saves a lot of hassle.
There are a whole range of mains-powered clippers that, while designed predominantly for giving haircuts, could also do a job on your face, but in the interests of convenience we've stuck to battery-powered trimmers. Some will still work while plugged into the mains, so you won't have to dash out of the door with a half-trimmed beard when the juice runs out. Our assumption is that you don't have a standard plug socket in your bathroom. Electricity and water don't mix, remember?
There were, of course, other trimmers that didn't make our final shortlist. We tried models from Wahl and BaByliss but ruled them out because they were just too basic.
Of the two on the market with built-in vacuums we preferred the cut offered by the Philips BT7202 to Remington's MB6850, while others just didn't make the list simply because they weren't available to test. For example, Amazon has a whole range of trimmers listed by brands such as Hatteker and Solimpia which sound completely made up, and considering they don't even have official websites we wouldn't recommend buying them in case anything goes wrong.
Instead, we stuck to a range of tried and tested brands. Some specialise in grooming products, such as Remington and BaByliss, and others make a wider range of consumer tech, like Philips and Panasonic. A number of them have various models available at different prices, with almost all of them available for less than the advertised RRP, so there's something here for all budgets.
We also tried any with fancy features to find out whether they're more than just gimmicks. Surely you don't need a laser to ensure the furry edges of your face are straight?
Best beard trimmers: how we tested

The best way to prevent your beard getting out of hand is to give it a quick going over every morning. We used a different trimmer every few days over the course of three weeks, judging each one based on how evenly, efficiently and effectively it cut.
We chose a medium-length setting of 7mm but would always take into account just how versatile each device was, with extra marks for anything that could go over 10mm. Whereas some offer adjustments in half-millimetre increments, others are much less precise in their measurements – which is fine if one of the options happens to be the one you're after, but isn't that great if you have a particular length in mind it doesn't cater for.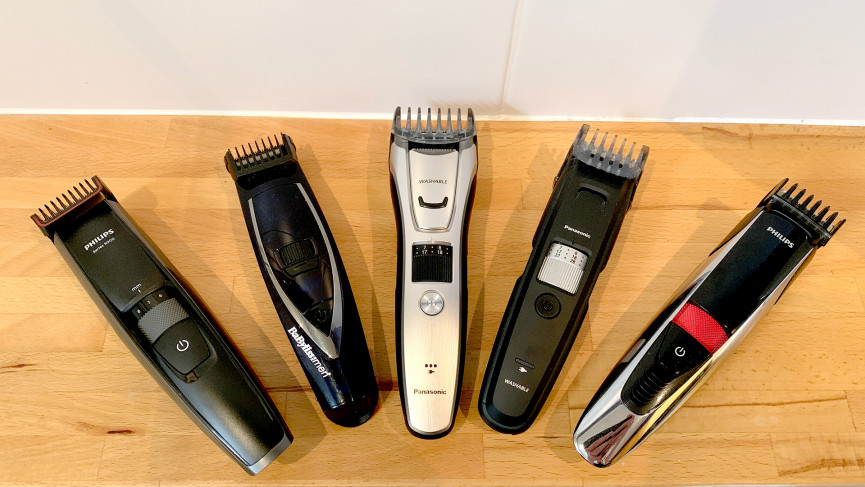 While you're unlikely to spend much time switching between length settings, it's still important to take into account how easy that is to do. Some models come with one attachment that caters for all available settings, while others have different ones that need to be switched in and out to achieve certain lengths. You'll want a trimmer that's easily adjustable, but not something liable to slip and change setting if your push a bit too hard while you trim.
Most trimmers use one of two mechanisms, either a sliding system or a wheel that allows you to adjust the distance between the blades at the end of the attachment. The former can be slightly tricky if the slider is too stiff or overly loose, so the wheel is often preferable for peace of mind, although this is largely a personal preference.
Of course, there's more to take into account during the grooming process than just what length the trimmer is set to. You tend to get two types of attachment with beard trimmers: comb-shaped ones and more box-shaped guards. Both have teeth to stop the blades getting too close to your face, giving you a shorter cut than you had in mind, but not all attachments are created equal.
We were looking for teeth that would lift the hair up for cutting but wouldn't flex too much in use and put your nice even look under threat. While overall face maintenance was our primary concern we also took into account what secondary attachments or features each trimmer had. Could they cater for top lips and finer details, for example?
Bear in mind the trimmer's job doesn't end when you've finished cutting. All that hair has to go somewhere – what doesn't fall into the sink and surrounding area gets collected in the attachments and around the cutting teeth of the trimmer, which means you need to clean them regularly. The easiest way to do this is to wash them under the tap, but not all models are completely waterproof, which mean they require a little more maintenance to keep in top condition.

Best beard trimmer reviews: The test results

The good news is that none of the trimmers tested here will leave you looking like you've stuck your face in a bowl of glue and kissed the floor of a barber shop, but there are a few that definitely stand out.
While the higher price point means it won't be for everyone, the performance and versatility offered by Panasonic's ER-GB96 really set it apart. The four attachments provided are sturdy, and its powerful motor makes light work of even fairly dense thickets of facial hair.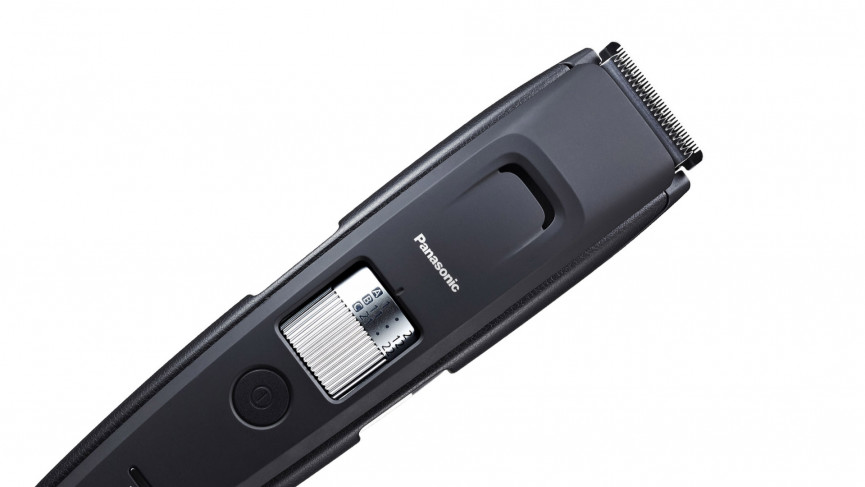 The range of attachments mean it's suited to taking care of virtually any type of beard you could possible want to grow, plus the build quality feels like a step up from most of the others on test. Add to that the fact that it's totally waterproof and, as long as you can get it for significantly less than the £120 RRP, the ER-GB96 is our top choice.
Of the more wallet-friendly trimmers we tried, theBaByliss 7897U Super Beard offers the best bang for your buck. While the single attachment it comes with feels a bit on the flimsy side, it cuts consistently and efficiently. With a maximum length of 15mm it's not for those looking to grow something extravagant, but for the vast majority of people that should be plenty long enough.
If you have a longer beard and are looking for a suitable trimmer at a reasonable price you'll want either the Remington MB4045 orPanasonic's ER-GB80. The former feels a bit plasticky but trims well and comes with three attachments that have everything from 1mm to 35mm covered, although the teeth on them are quite flexible.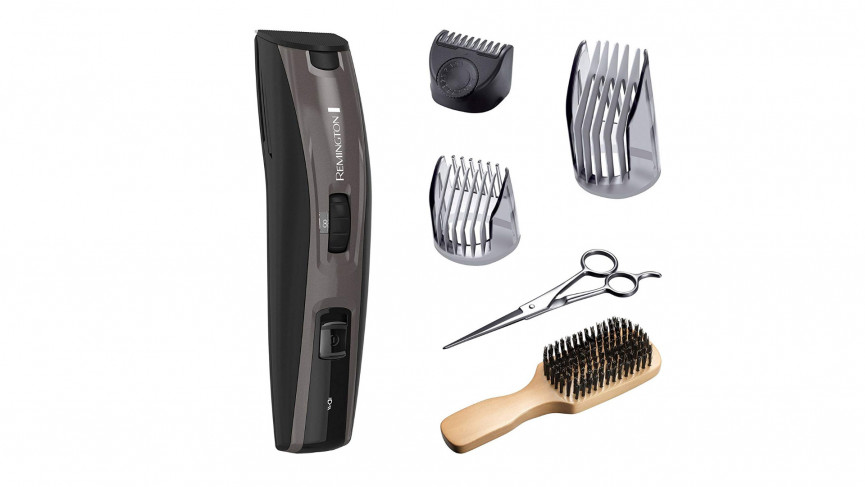 If 20mm is long enough, the ER-GB80 is quite similar to the more pricey GB96, although its wider cutting head means you can't be quite as precise when trimming. On the whole it gives an impressive all-over cut, plus it comes with a smaller, much narrower set of pop-up blades for neat edges.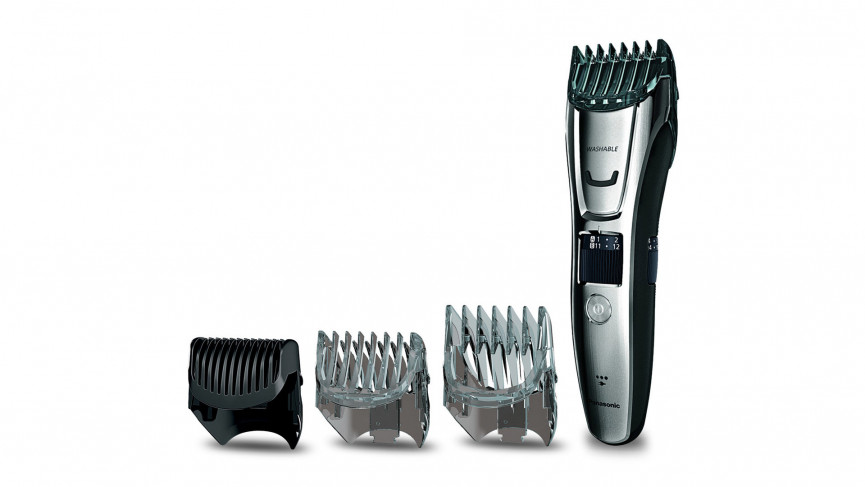 The ER-GB80 is one of the two trimmers we tested that is designed to be used on the top of your head as well as the bottom of your face. The other is Wahl's SPL 4-in-1 Multigroomer, which isn't quite as bathroom-friendly as the rest. Changing the cutting length requires swapping out the attachment, which also means you sometimes need to change the cutting head. That doesn't take long but it's less convenient than just twisting a dial or adjusting a slider. Plus they don't all fit as snugly as you'd want when performing irreversible facial topiary.


The best beard trimmer reviewed

Panasonic ER-GB96 review, £120


Picking the most expensive option isn't always a surefire way of bagging the best buy but that's exactly what you get with Panasonic ER-GB96. More importantly, it's easy to find for around half the £120 RRP.
Its four attachments and half-millimetre adjustments mean it's hugely versatile, offering a whopping 58 different cutting lengths in total. Admittedly, the very longest one is only of use to people with real rugs - it maxes out at 30mm - but if you can't find the right length from that lot there's no helping you.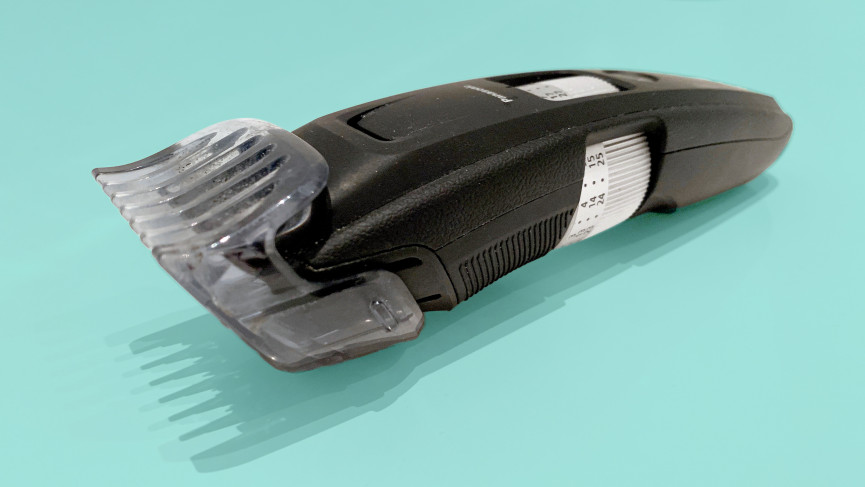 Still, whatever length you're after this offers a consistent cut with no tugging and little cause to go over the same spots again and again. No trimmer will catch everything first time but the GB96 does a better job than most.
That's all thanks to a solid set of teeth on each attachment, plus a powerful motor that makes short work of longer patches and offers about 50 minutes of use between charges. Considering you're only likely to be using it for a few minutes each day it'll go for ages without needing to be plugged in. Charging only takes an hour, which is handy because the design of the charger means it will annoyingly block any socket to the right of it.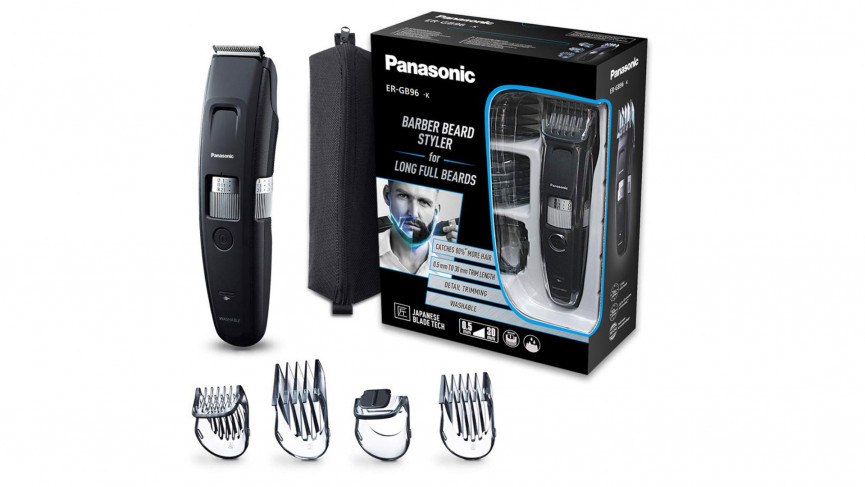 This is solidly built and the sturdy barrel-style adjustment makes it easy to click through the length settings, plus it's totally waterproof so you can rinse the whole thing under the tap to stop it accumulating hairs. The attachment does get fairly clogged up during use but that's by no means unique to this trimmer. A gentle bash and you're ready to go again.

The one thing we would point out is that there's an almost identical version available for around £10 less called the ER-GB86, the only real difference being that it doesn't come with the 5mm detail attachment. We hardly used that one anyway, so it could be worth saving yourself a few quid and picking up the cheaper model.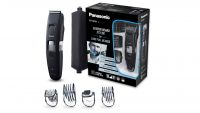 View now at Amazon
The best beard trimmer for value reviewed:

BaByliss 7897U Super Beard review, £60
Cheaper trimmers often feel inconsistent, inefficient or just plain ineffective, but the BaByliss Super Beard is none of those things. In fact, it pretty much does exactly what it says on the tin – and with online prices closer to £30 than the £60 RRP it's unbeatable value.
It only comes with one attachment but it adjusts in 1mm increments to a maximum length of 15mm, and the lockable adjustment wheel means you can be sure it won't accidentally change length mid-trim. A small LED display shows what length it's set to.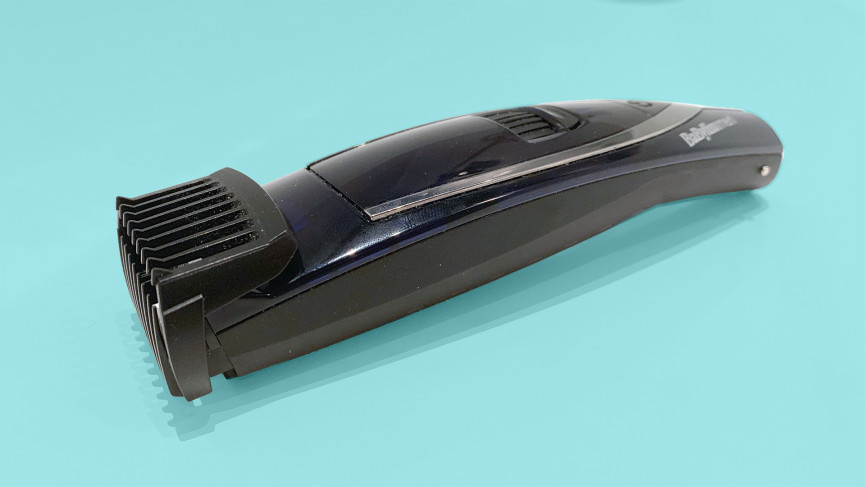 The thin plastic teeth on it aren't always the most comfortable to run over your skin, and it can be a bit fiddly to put on and take off when you want to use the bare blades for shaping your hairline, but it cuts consistently without fuss. The guard attachment is also very boxy and square, so it's not great at squeezing in under your nose to take care of your top lip, but there are trimmers out there that cost double and do an inferior job, so it's a compromise worth making.
The Super Beard's plastic build doesn't look as premium as Panasonic's two options or the Philips Series 5000, but it feels solid enough, plus it comes with a stand for charging that keeps things neat and tidy at home but isn't the most practical solution for travel.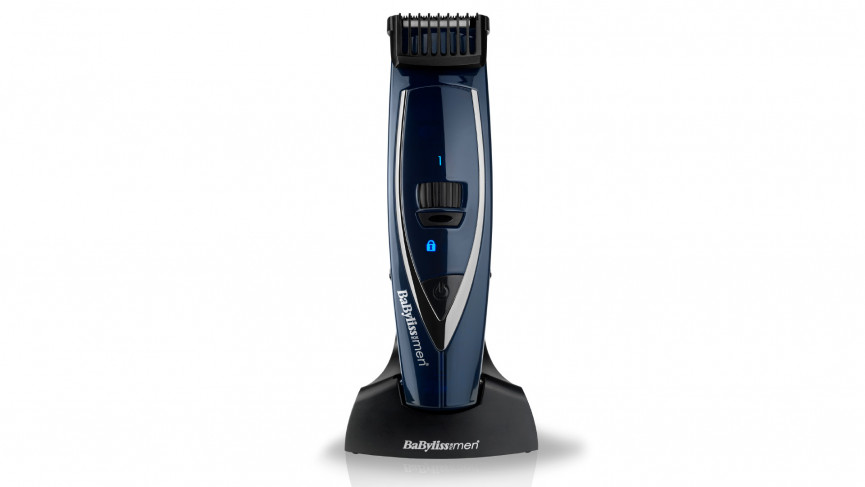 After an initial three-hour charge it takes about 90 minutes to fully recharge the battery from flat, but there's a five-minute quick option that'll give you just enough juice to finish off your trim if it conks out mid shave.
The Super Beard isn't 100 per cent waterproof but you can remove the blades to rinse them under the tap, so it requires a touch more maintenance than some other models. BaByliss also recommends that you oil the blades occasionally. That's certainly not unique to this trimmer but is worth bearing in mind.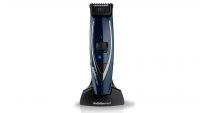 View now at Amazon
Comparing the rest on test
While the Panasonic ER-GB96 and BaByliss Super Beard are our top two choices, almost all of the rest still have things to offer, even if none of them are quite the complete package.
While we can't recommend the laser-toting Philips Series 9000 at all, the vacuum-packing Series 7000 is more successful. It still doesn't offer the most effective trim but if you're keeping things short it does a fairly decent job of sucking up hairy shrapnel, although it'll never collect 100 per cent of what you shear off, so the benefit is slightly questionable. The chamber the detritus falls into isn't removable either, so you'll never get it totally spotless without some very intricate cleaning. Not a total success, then, but not a complete failure either.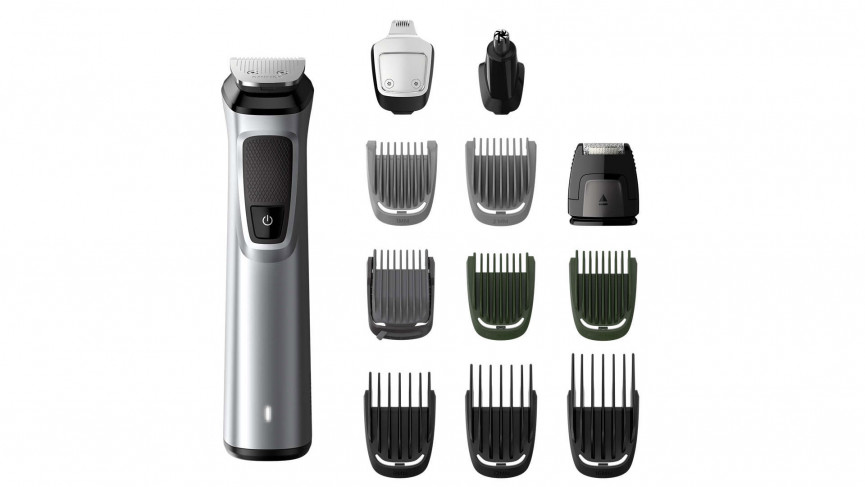 The Philips Series 5000 is a perfectly serviceable trimmer but doesn't stand out compared to the Panasonic ER-GB96 or BaByliss Super Beard, and its maximum cutting length of 10mm also rules it out if you're looking to cultivate something particularly rugged. It feels fairly solid and well built, but the smooth plastic chassis doesn't offer the most reassuring grip.
The Remington MB4045 is also perfectly adequate without excelling in any areas. Its buttons feel a bit cheap, it takes ages to charge and it doesn't offer the cleanest cut but you can't fault the whole package for versatility. It comes with three attachments that can cope with anything from 1.5mm all the way up to 35mm – the longest of the whole lot. There's even a brush and a pair of scissors in the box for grooming and trimming your 'tache or taking care of any stragglers that get left behind.
Probably more impressive is Remington's tiny MB4200 Endurance Groomer. Measuring about half the size of most other trimmers on our shortlist it offers a surprisingly thorough trim for something so small, and while the attachment is a bit on the fiddly side, being able to charge it using a USB port is very handy for frequent flyers.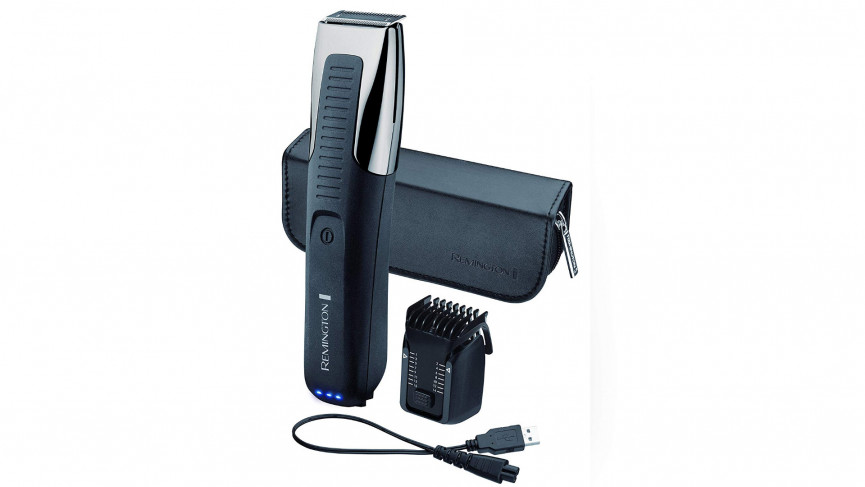 If you're after something to save you trips to the barber as well as keep your facial hair in check, we'd probably pick Panasonic's ER-GB80 over the Wahl SPL 4-in-1 Multigroomer. While neither were tested for how well they cut head hair, the Panasonic's ease of use and impressive cutting performance make it the better everyday choice for your face.
The Wahl is also by far the loudest of any trimmers we tested, which might seem like a minor issue to you, but ask the rest of the household what they think when you fire it up at 6:30am. It does come with an attachment for trimming your nostrils and inside your ears, though, which might seem laughable now, but just you wait…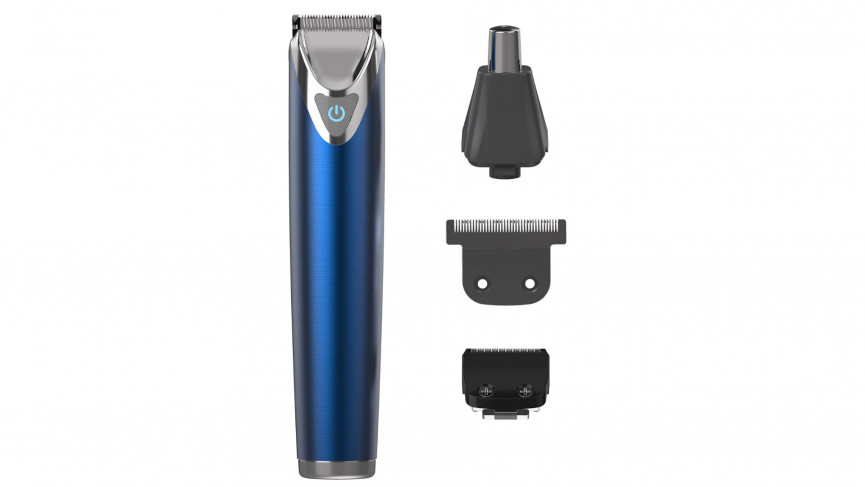 Braun's MGK3020also comes with bits to do your hairy head holes but as a general beard trimmer it's just a bit too limited, especially when you consider the BaByliss Super Beard does such a good job and will only set you back a tenner more.

Any beard trimmers to avoid?

While it might have the most high-tech appearance of all the trimmers in the test, and its built-in laser guidance system is undoubtedly unique, the Philips Series 9000 just doesn't do enough to justify its price tag and for that reason we can't recommend it.
Let's start with that laser attachment, which is surely the reason for the Series 9000's relatively high price. While it sounds like a neat idea in theory, in practice it's badly implemented to the point of being almost useless. If you're not careful it reflects off the head of the trimmer and actually makes it more difficult to see what you're doing.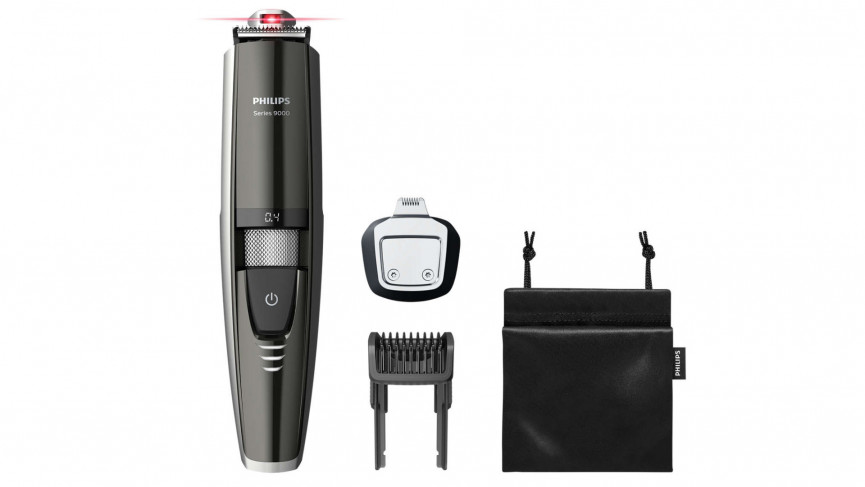 Then there's the fundamental flaw in the idea itself. The laser will only ever be as straight as you hold it, and since you have to move the trimmer as you cut there's no guarantee that this will offer a straighter trim than just going by sight alone.
This wouldn't be a huge deal if it offered a better overall cut than everything else on the list but the results are pretty underwhelming. While it adjusts in 0.2mm increments at the shorter end of the scale it maxes out at 7mm, so is of limited use to those aiming for a bushier beard. The attachments don't seem to do a particularly good job of lifting the hairs for cuttin, either, which means you end up going over and over the same areas.

On the plus side it feels sturdy and well built, it's 100 per cent waterproof and the double-sided cutting head means you just have to stop and flip it round to do details or deal with more fiddly areas, but that's not a lot of use if it can't get the basics right.
Related Reviews and Shortlists