ShortList is supported by you, our amazing readers. When you click through the links on our site and make a purchase we may earn a commission.
Learn more
Sky Live review: the future of TVs just got interactive
5 things to know about Sky's Sky Glass smart cam.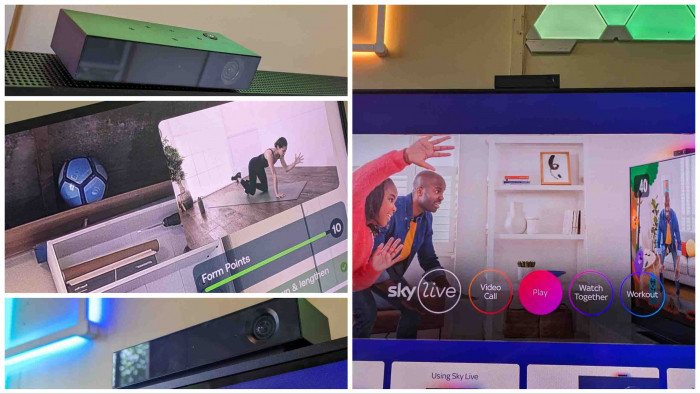 Sky has gone through a tech transformation over the last few years, decoupling itself from its satellite origins and embracing streaming.
The shining light of this is its Sky Glass TVs. Instead of selling its set-tops to plug into an existing TV, Sky Glass is your TV and Sky subscription in one.
It's no ordinary TV, either but one that serves up Sky's programmes in the best possible way: through a 4K screen and powerful Dolby Atmos speakers. Couple this with a super-smart Entertainment OS that gets to know your viewing habits and it's all very impressive.
It turns out that despite all this innovation, though, it was just the start for both Sky and Sky Glass - as the broadcaster had something else up its sleeve: interactivity.
Enter Sky Live, Sky's new smart camera that's been made exclusively for the Sky Glass setup, attaching itself to the top of the TV and unlocking watch parties, hands-free gaming, fitness features and more.
ShortList has been using Sky's all-seeing eye for a few weeks now: here are 5 things to know about Sky Live...
---
1. The Sky Live setup is simple Sky Live is a small device that sits effortlessly on top of your existing Sky Glass. It uses a magnet to clip into place and once latched to the TV there's the ability to tilt the thing - handy if you have a wall mounted setup - so that it tracks your movements better.
The good news here is that the TV powers the device. This isn't like a Fire Stick dongle which needs an extra socket to get things going, all you needed is to use the USB slot situated on the back of the TV and any free HDMI slot.
So far so simple. Once I plugged it in, Sky Glass recognised the device and automatically started updating the software. This took around 20 minutes (it quoted 30) so there is a bit of a wait before you can start trying out your shiny new toy.
Once done, a new content rail appears on the TV screen, packed with things to do with Sky Live.
2. It's designed for Live Before we go into the performance of Sky Live, it's worth noting that I was really impressed with the build quality of the device. It's smart looking and a natural fit when atop Sky Glass - it's clear that its stylings have been based on the telly.
On the top of the device are a number of mics - four far-field microphones to be exact - so you can interact with the thing, as well as a button to stop the camera from viewing anything - Sky has made it very easy to turn on privacy when you aren't using it, which is key given that you putting an interactive camera into your living space.
The lens on Sky Live is decent - a 12MP 4K Ultra HD sensor with a 110° field of view. Sky has been clever making the viewing angle as wide as possible - this is to make sure that it can be used in small rooms, as well as large ones.
The room we have Sky Glass in isn't the biggest but the camera still picked up all of us no problem.

3. Sky Live gets the body moving The reason it needs to see all of you is because Sky Live has the ability to track body movements. When I first heard that this was the case, I expected that I would have to help Sky Live go through a learning process, much like what you have to do with adding your fingerprint to a phone.
Nope, it's far more intelligent than that, tracking body movements in real-time using some 32 reference points to make sure it has an incredibly accurate view of your body. The fruits of this technology can be seen in the Mvmnt body app which is one of the key service for Sky Live. Load it up and it offers over 130 interactive fitness sessions, all with handy advice on how to improve your fitness and reach your goals.
Within seconds of loading Mvmnt up, Sky Live was tracking my movement and if I wasn't lunging in the right way, or if my body was a little bit off in a particular exercise, on-screen indicators would let me know. When the workout ended, I was given a run down on improvements that could be made. It's a fantastic, game-changing service that is something that will keep you coming back to Sky Live.
4. The games are fun and for the young at heart Another key area for Sky Live are the games. These range from classics - Fruit Ninja, Monopoly - to those that encourage younger children to get moving alongside some of their favourite cartoon characters - Morph's Thing-A-Bobsticle Course and Paw Patrol's Pawsome Fitness Dance Along the highlights here.
They are fun, if a little throwaway. I rattled through lots of the games and didn't really stay for more than 10 minutes in each but enjoyed flapping my hands around, slicing up fruit and the like.
My younger volunteer, who's six, however could have stayed all day dancing with characters he knows and loves so it's no wonder that a lot of the games are for a younger audience.
The more mature games do work well - Lazer Dodge got rather frantic in our tests, while Starri is like a rhythm game of old.
5. Sky Live hopes to bring people together The final two features of note with Sky Live are all about inviting others into your living room, virtually of course. Instead of creating its own proprietary video-calling service Sky has teamed up with Zoom and created a seamless group-calling experience. Once logged in you can move from you phone or laptop to Sky Live pretty seamlessly.
The only issue here is that Zoom is a remnant of lockdown past, so the amount of people regularly logging into to chat in there is not quite at its peak as it was a few years ago. Sky's integration of it can't be faulted, though, with the camera picking up ourselves and our room in decent clarity.
And then there's Watch Together. I was lucky enough to know other folks who are using both Sky Glass and Sky Live right now, so could log into a watch party with them. But you need to have both pieces of equipment to partake, as well as the relevant Sky subscription.
Assuming the take-up of Sky Live proliferates, this could well be a killer feature - the idea that for most programmes you can just push a button and get watching with a group of friends is a compelling one.
Sky Live: Final Verdict If you already have Sky Glass then Sky Live is a no-brainer. For a small subscription addition (currently £5 a month) you unlock the interactive power of Sky Glass. And I unlocked it with no problem at all - setup was as slick as you would expect from Sky.
The Mvmnt app is worth the subscription fee alone but couple it with the games and the video comms side of things and what you have is a decent entertainment device that packed with promise.
Sky has also said that this will be a growing service, so the games and features that are at hand now will only expand.
With Sky Live your TV is alive: it's a great new way to interact with your TV and, if you excuse me, I am going to try another workout and hope the feedback I get results in a few more green ticks this time around.
Sky Live is available to purchase outright for £290 in the UK, or £6 a month through subscription. Head to Sky for more information.

Related Reviews and Shortlists