ShortList is supported by you, our amazing readers. When you click through the links on our site and make a purchase we may earn a commission.
Learn more
Jean-Claude Van Damme launches his very own Irish whiskey brand
Old Oak whiskey is packed full of flavour - you might even call it a Universal Soldier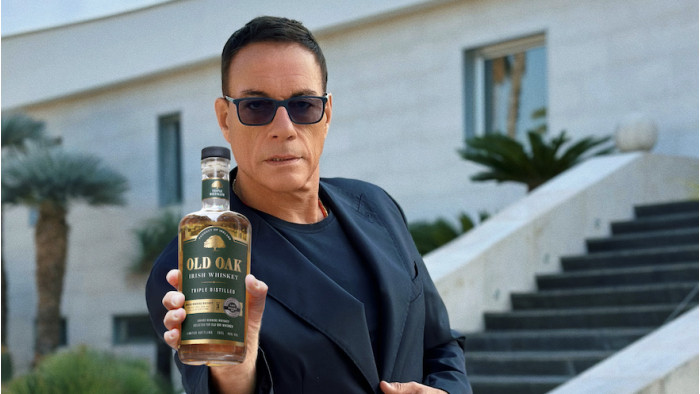 Kung-fu hero and Hollywood mega-star Jean-Claude Van Damme has announced the launch of his very own Irish Whiskey brand, Old Oak Whiskey.
Named after Oak Leaf County in Derry, Northern Ireland, this brand new venture sees the movie star unleashing an entirely new kind of power courtesy of this flavourful dram.
Known to many as the "muscles from Brussels", Van Damme is the latest star to dip his toe into the whiskey pool, becoming a co-founder of the Belfast-based spirit brand.
Switching from on-screen icon to out-and-out businessman, the actor has long voiced his love of the popular spirit, choosing to become a partner in the brand after sampling the spirit for himself following a chance encounter.
Serving up to blended offerings, Old Oak's signature 3-year-old blended whiskey is finished in a carefully selected mixture of bourbon and new oak barrels.
Meanwhile, the brand's second offering, a 5-year-old blended whiskey, draws its distinctive notes from its maturation in rum reserve barrels. Speaking of the launch, Van Damme, said: "I was looking for my own brand of whiskey possibly an American bourbon and then one of my close friends and business associates asked 'why an American whiskey when you can go back to the roots of whiskey and find an Irish whiskey?'
"He then introduced me to the Old Oak whiskey label which had yet to be launched and had been put together by some Whiskey aficionados in Ireland."
Famed for films including break-out hit Bloodsport and subsequent hits including Universal Soldier, the Belgian action star has joined forces with Derry native Kevin Carson as part of the project.
It now appears as though the man who once said "I am the Fred Astaire of karate" is now set to challenge for the title of Irish Whiskey titan.
The star added: "It was also the perfect opportunity to combine two things with which I feel a close connection …whiskey and its rich heritage and the charisma and warmth of Ireland and its people." "I loved its aroma and the smoothness on the palate compared to the more heavier whiskies I had tasted from different parts of the world."
Describing the brand as a "craft premium whiskey", Old Oak is produced at a craft distillery situated just outside of Belfast.
Using what it describes as "some of the purest water in Ireland" sourced directly from a 300 foot deep well located on-site at the distillery, the brand is also said to be introducing a Pot Still for a more exclusive range of older whiskey in the near future.
A feast for film fans and dram disciples alike, the two expressions of Old Oak - three-year-old (£34.95) and a five-year-old (£39.95) - are available to purchase now from the Old Oak Whiskey site.
While we have you, discover the best whisky, taste tested.
Related Reviews and Shortlists