When you're on the go and in a rush, it's easy to pick up a cheap coffee and chuck the cup away when you're done. But while it might be convenient, it's also two other things – bad for the environment and bad for your wallet - which is why you need one of the best travel mugs around.
For a start, if you choose wisely, they look great, can be used over and over again, are good for the environment and can even save you money. Even if you don't make your drink at home and take it with you, many coffee shops now offer a discount if you bring your own cup.
UPDATE: We've got breaking seasonal Starbucks red cup-related news! Yes, the caffeine fueled giant has unleashed those instantly recognisable rudolph-inspired cups ahead of the Christmas period. The best part? They're also bringing back their reusable cups - meaning you can save the environment at the same time as getting that caffeine kick - all for the low, low price of £1.50. Yes, you did read that correctly. Available from 5 November through to 2 January, coffee fiends nationwide can pick one up from their local store.
Here's our pick of the best on the market. Don't forget to upvote your favourite.
Best travel mugs
Available in a number of eye-catching designs, the rCup's aesthetics are a big selling point.
But it also has some excellent features. It's the only travel cup actually made from recycled paper cups, which is a good gimmick. It's also leak proof and dishwasher safe, as well as being able to keep your drink hot or cold, making it great for longer journeys.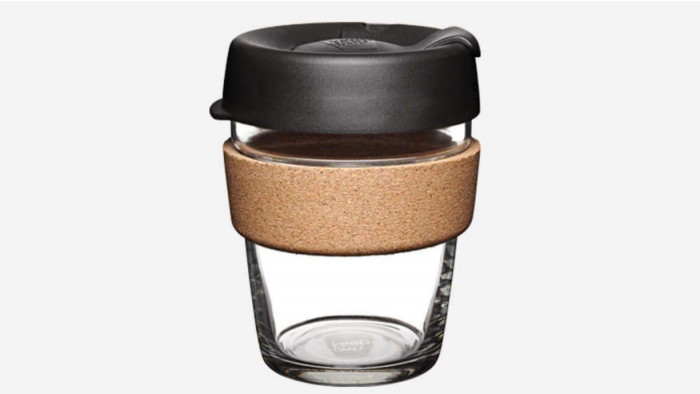 The design of this Keep Cup is now ubiquitous. A smart cork lid tops off a simple and elegant glass mug.
It's tough, too. The glass is tempered, so it's going to be able to handle being chucked around in your bag. The product has also recently been updated, with a larger drinking hole.
And it fits perfectly in a car cup holder.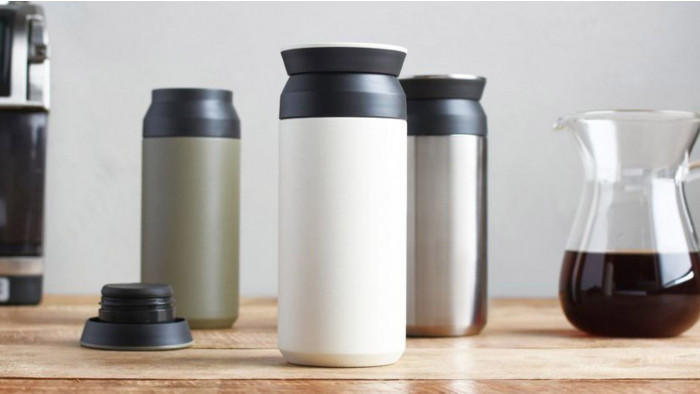 If you're looking for something seriously stylish, this Kinto mug is the one for you. It was designed with aesthetic minimalism in mind. The label's designers say they want to elevate "even seemingly mundane everyday items" to gorgeous cult status. And it's worked!
It's an impressive product beyond this too. Insulation allows you to keep your drinks hot or cold, and it's fitted with a sealed, leak-proof lid.
And it comes in numerous colours, though we think this understated cream version is the best of the lot.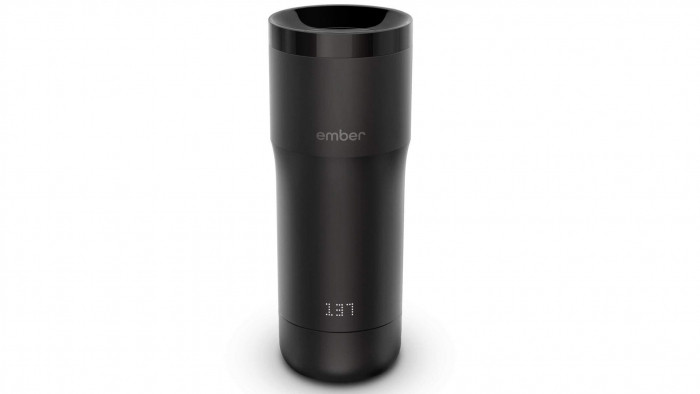 Our lightbulbs are smart, our heating systems are smart, our phones are smart – and now we can even make sure our mugs are smart.
This mug has all the usual functions of a travel cup – made of stainless steel, leak proof lid, keeps your drinks hot and cold.
But it can also be controlled by an iPhone or Apple Watch, meaning you can set your precise drinking temperature or even track how much caffeine you're drinking. It has a built-in battery, recharged using a clever coaster. This is our one pick with "active" temperature control.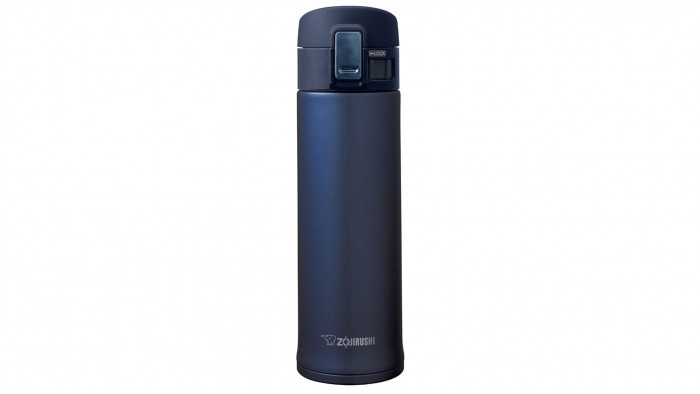 Another good looking mug, this Zojirushi mug can hold 480ml of liquid – big enough for a good cup of coffee but small enough to fit in your bag. A 600ml version is also available.

A specially designed vacuum means your drink will stay hot or cold for longer, and a combination leakproof and safety locked lid so you won't end up covered in coffee.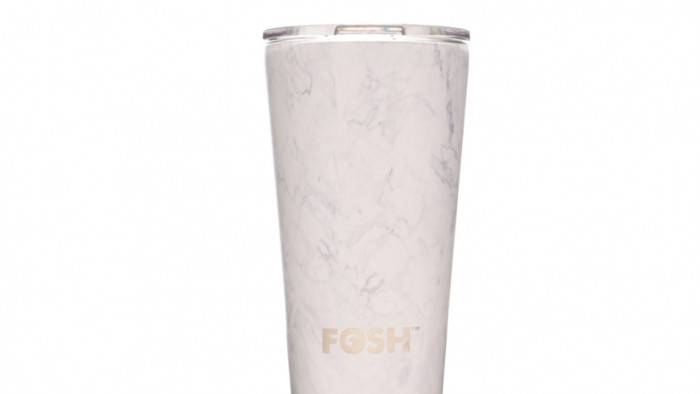 This is another gorgeous looking design. The marble version is particularly nice, we reckon. It's scratch proof, so the mug won't get ruined as you use it, and it has all the bells and whistles the other mugs have.
But FOSH is the one to go for if you're particularly keen on preserving marine life. Its mission statement is to reduce the amount of plastic that ends up in the oceans every year.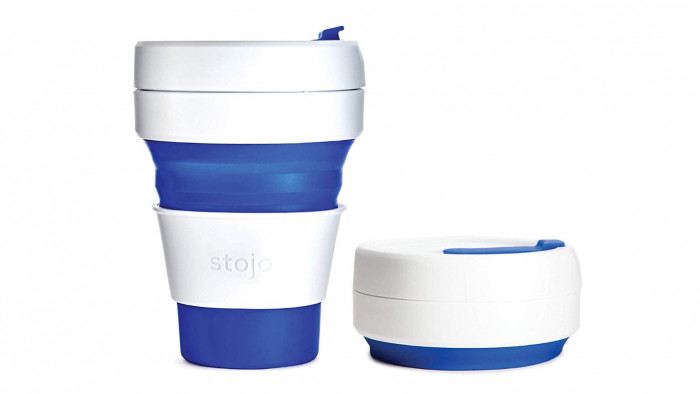 Having something you can use on the go is obviously at the heart of buying a travel cup – and if you're really short on space, the Stojo could be a good option.

Other mugs might be small, but they're unlikely to be as small as the Stojo. That's because it collapses into a tiny, leakproof disc – so you can store it wherever you are, no matter how tiny the space.
It also breaks down into even smaller parts, allowing for easier cleaning.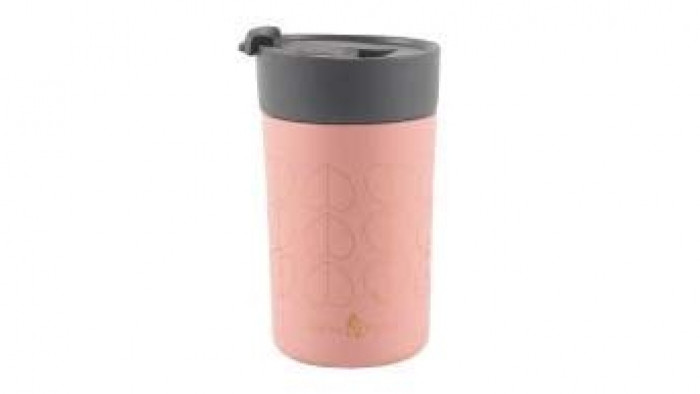 This Beau & Elliot travel mug offers 300ml capacity - let's be honest, short, strong drinks are the way forward. It comes in a cute-as-anything pink shade. Part of the brand's "champagne edit", this mug comes in a matte finish and is adorned with adorable gold hearts (other designs are available).
Insulated to ensure your coffee (or tea) is as hot as as possible, the brand claim the double walled insulation can keep drinks hot for up to 4 hours. Quite a claim. Complete with a flip-up lid, this is definitely up there with some ofthe most aesthetically pleasing coffee cups around.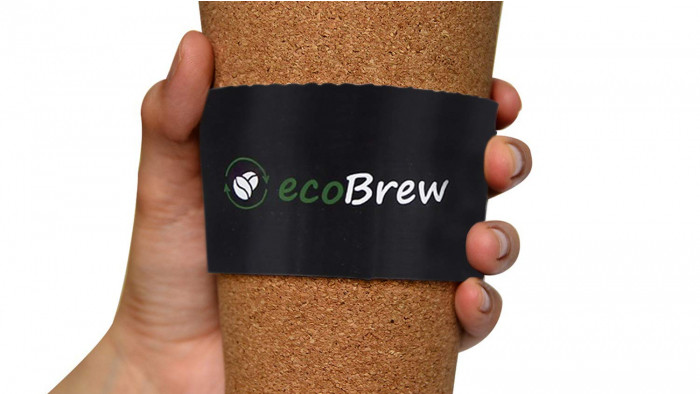 Distinctive in appearance, this 12oz cork coffee cup from ecoBrew is an environmentally friendly way to get your morning caffeine fix. It is made from fully biodegradable PLA and cork, unlike most bamboo fibre cups, which contain melamine plastic resin.
However, don't try popping this in the microwave any time soon - yes, we know, you love piping hot coffee - or throw it in a dishwasher for that matter, as it's safe to say it won't last the distance.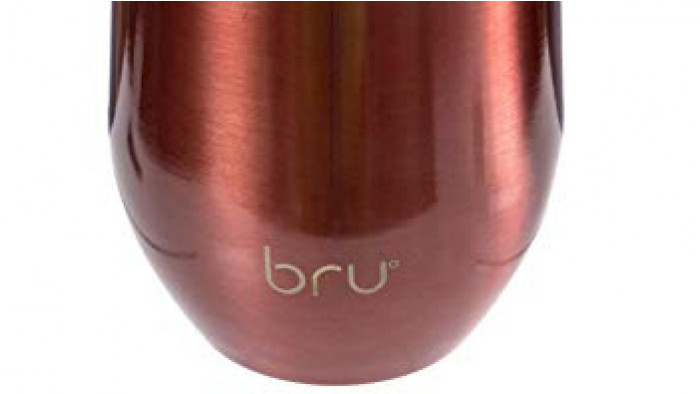 Top marks in terms of aesthetics, this reusable coffee cup from Bru comes in a variety of colours, including this striking Rose Gold Intense version. Made from powder coated stainless steel, the cup is recyclable at the end of its life, meaning when you've had your fill of coffee, you can dispose of it safe in the knowledge you're not harming the environment.
One thing to note is that this model isn't 100% leak proof due to a small air hole in the top. So, y'know, just be aware of that if you're wearing white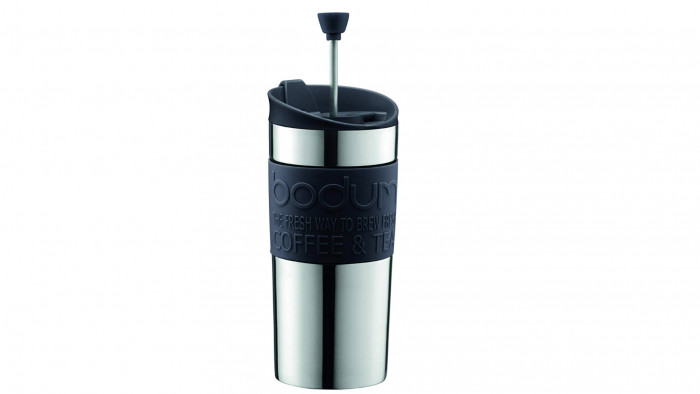 One for real coffee lovers, this BODUM French press mug allows you to have your coffee exactly how you like it every day.
It's a little bigger than other options – it does have a handle sticking out of it, after all. But it could be particularly handy for those taking a travel mug away on holiday with them – if you're camping, hiking or going on holiday, then no need to take a bulkier coffee maker.