ShortList is supported by you, our amazing readers. When you click through the links on our site and make a purchase we may earn a commission.
Learn more
Best mattress 2020: Sleep well no matter your budget
Memory foam isn't the only option - find the best mattress that's right for you.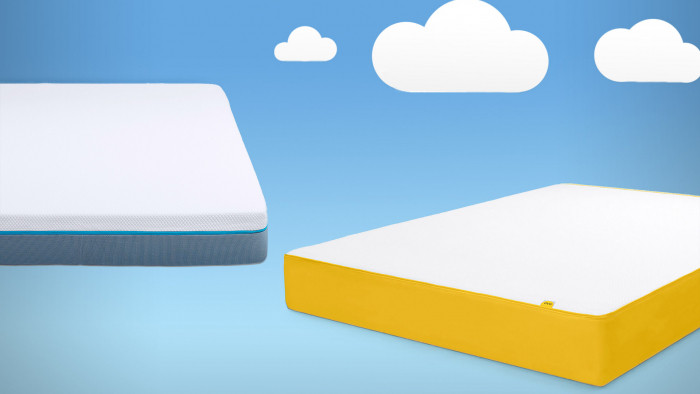 Finding the best mattress for you may not be the most exciting purchase. In fact, we're pretty sure that when you hand over your cash or your bank details for your next one you'll be wondering whether it's really worth it. Of course, the night time then rolls around and you realise you'd have paid double for the soft, cosy, supportive feel of a brand new sleep experience.
UPDATE: We have added a handy guide to the bottom of this list that focuses on the best ways to keep cool while sleeping in the summer heat. Buying the best mattress for you is one thing but making sure you are comfortable in bed heat-wise is another. Hopefully our expert tips will help.
Although that may sound dreamy, finding the best mattress for you does mean weighing up a lot of different choices. For example, do you need to opt for pocket strung? Foam? Hybrid? There are a lot of choices out there – as well as a lot of bold marketing claims.
Whatever your mattress choice, an upgrade is bound to result in a better night's sleep, plus, if you invest in one with good support, you'll have fewer aches and pains in the morning. Given the rise of box-fresh designs delivered straight to your door, there's also no excuse not to upgrade because it's a hassle - now it really doesn't have to be.

That said, the market is crowded. You'll find everything from those made of natural materials (ideal for regulating your temperature as you slumber) to memory foam marvels. Often touted as a recent innovation, memory foam was actually developed in 1966 for NASA, before making its way into mattresses in the 1980s.
Memory foam is supremely squishy and comfy, but as it retains heat well, it may not suit sleepers who like to stay cool, as well as those who may needed a firmer mattress to keep their back ache-free. With that in mind, head to our list below and choose a new bedfellow. Listed prices are for standard doubles.
Already have a favourite? Give it an upvote.
---
Four ways to keep cool while sleeping
Given how hot it is right now, we all need tips on how to stay cool while sleeping. Lucky, then, that Robert Lancaster Gaye, co-director of
Tielle Love Luxury
, has some tips:
1. Use cotton sheets

Gaye notes: "Cotton may have a natural beauty and luxe factor 5* hotels love but it's also one of the most breathable fabrics, cleverly wicking moisture away from the skin... the man-made fibres of polyester won't repel or absorb moisture, making you more likely too sweat."

2. Swap your duvet
"The higher the tog rating, the warmer the duvet," explains Gaye. "For hot summer nights, a good quality 4.5 tog down or luxury microfibre quilt is ideal." Also it's worth getting rid of blankets on the bed.
3. Keep it natural
Natural filled duvets and pillows make for the best night's sleep because they breathe more easily. Try Tielle Love Luxury's new Eco Pillow, a hotel quality pillow crafted from recycled plastic bottles and blended with Tencel , a botanical fibre. They are non-allergenic, machine washable and breathable, thanks to the natural cellulose fibres inside, which keeps you cool and dry whilst you sleep.
4. Avoid late night drinking and eating
"Be carefully with alcohol, caffeine and late night meals," says Gaye, as "they can all take time to digest, disrupting your body's natural sleep patterns." If you want something before bed, the calming effects of a cup of camomile tea before bed may help initiate sleep.
---
How To Buy A Mattress: 5 expert tips 1. finding the right mattress for your needs is really important?
Everybody's body is different and therefore mattress requirements differ from person to person. Finding the right mattress can mean the difference between helping reduce existing problems with the right level of support and making those aches and pains worse by not offering the right level of firmness.
"Mattresses play a massive role in the quality of our sleep given the fact that we spend 7.5 hours a day, 229 hours per month, 1/3 of our lives asleep. Putting it simply: sleep is a prerequisite for life!" notes Joe Molloy, Founding Director of Tielle Love Luxury. "Our general aim is to achieve a minimum of two hours a night in the deepest of our sleep patterns to allow our bodies to recuperate from the day."
2. Understand what makes a good mattress
"It should provide the correct amount of tension to allow the body to rest," notes Molloy. According to the founder, the perfect mattress should provide "movement and support in equal measure, making sure shoulders and hips are able to sink into the mattress for maximum all-over support."
"The unique thing about mattresses is that it isn't a case of one size fits all. Depending on your body type, the way that you move during your sleep and the amount of support you require, the ideal mattress can vary massively from one person to the next. Unfortunately, there really are no shortcuts for picking the right mattress." In other words, it's a case of testing out mattresses relentlessly until you get to know what you're looking for and what's comfortable for you.
3. These are the factors you should consider when buying a mattress?
"When choosing a mattress that it is best for us, height, weight and shape should all be factored into making the correct choice," notes Molloy. "Irrespective of composition, the mattress must comfortably support the entire body and keep the spine as straight as possible. Your hips and shoulders should sink into the mattress whilst waist and lower back are equally supported. Take time to ensure movement during sleep is free and easy.
"Broadly speaking there are three main types of mattress that are currently purchased: continuous coil, pocket sprung and memory foam. All offer support but do so in slightly different ways. The traditional continuous coil type uses a series of coil springs and is the oldest and most traditional form of sprung mattress. The generally more expensive method of pocket sprung mattress uses a large number of independent pocket springs allowing different levels of support in the same bed frame and is particularly good if the weight varies widely between sleeping partners.
"The most recent development of 'memory foam' mattresses mould and shape themselves to an individual's body to offer the necessary support . The downside in my personal view is that they do tend to create more heat and be less breathable and arguably limit freedom of movement. Like everything in life, there are few pros and a few cons to each option," Molloy notes.
4. Know the difference between a rolled box mattress and shop brought spring mattresses
"The most recent development in mattresses for sale are in the offer of a rolled mattress in a box which expands on opening," notes Molloy. Examples of these are offerings like the Casper Hybrid and Casper Essential mattresses that come delivered in a compact box and offer extended returns policies after a trial period.
"This is certainly innovative and of course super convenient from a transport point of view, but it does by its very nature severely limit the choice of filling that construction of the mattress allows."

5. Know your spending limits
In simple terms? According to Molloy, "the short answer is: as much or as little as it takes to get the correct level of support needed."
"If you wanted a good each way bet, why not choose a slightly firmer mattress in the full knowledge that if you want to soften it a bit at any stage down the line, that extra softness and unashamed luxury can be added after with the purchase of a luxury mattress topper. Go on have your cake and eat it too!"
Related Reviews and Shortlists