ShortList is supported by you, our amazing readers. When you click through the links on our site and make a purchase we may earn a commission.
Learn more
The best guitar gadgets to get that Glastonbury headliner sound
These are the best guitar amp modellers and multi-effects units you need to know about.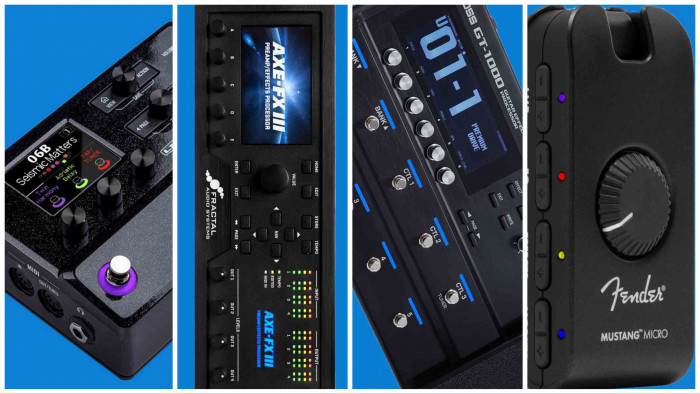 Glastonbury Festival has arrived and if you haven't got a ticket but do have an electric guitar in your house that you can dust off then these great guitar gadgets are for you. And the great news is: all of these devices can be stored away in a cupboard.
That's because there's been a quiet revolution when it comes to sound equipment, which you will have noticed if you've been at a gig lately.
Hulking amps and Marshall stacks – once a regular concert sight - may have been conspicuous by their absence with the guitar player perhaps wearing in-ear monitors.
The venerable vacuum tube amp has been a mainstay of rock music for the best part of 70 years, beloved by guitarists for their unique warmth, responsiveness, harmonic distortion and general musicality.
They're also back-breakingly heavy, temperamental, and need to be cranked to ear-splitting volumes to often sound their best. Their time on the world's biggest stages may be about to come to an end, however, thanks to massive improvements in digital mimicry.
Where early examples in the 90s were derided for their brittle, inauthentic tones, cutting edge algorithms and hardware from a new wave of digital guitar processors appear to have changed the game, providing scarily accurate representations of classic amps and pedals right down to the subtlest of nuances.
Perfect for recording as well as live work, the latest compact floor units offer a huge selection of sought-after vintage and boutique amps and effects, while also bringing the added convenience of being able to go direct to sound desks and monitoring systems without the need of onstage speakers.
Things have gotten so good that vintage tube amp purists like Blur's Graham Coxon, John Mayer and U2's The Edge have all made the move to go digital when playing live.
But the fun isn't restricted to just stadium-filling stars, with the latest processors affordable enough to allow bedroom and club circuit guitarists access to a world of previously unobtainable tones.
We've picked out some of the best guitar gadgets to help you perfect your sound. After much testing, we consider the 10 best guitar modellers and multi-effects units out there right now below. If you've managed to rock out on any of our best guitar gear selections, upvote the ones you like, and downvote the ones you don't think hit the spot.
Any if you think we've missed off any digital guitar devices that deserves to make the list, submit it to our team at the bottom.
Great guitar gadgets to get that Glastonbury headliner sound
Related Reviews and Shortlists