With the UK and other parts of the world currently experiencing something of a heatwave (we may have undersold that last sentence) it's a cold, hard fact that you need one of these best fans to sort cool the air in the room.

There's one bit you need to get your head around when buying a fan, though. Few of them actually cool the air. They just blow it around a bit. This has a cooling effect, though, as it helps the sweat evaporate from your skin. And that's how we, as humans, cool down.
Science lesson over, what do we want from a fan? The main concerns are: will it fit in the space? Will it look good in there? Is it too noisy? And do we want a fanless design to make it safer for wandering infant fingers? That's right, you can buy fanless fans.


Here are some of the top picks to consider. Upvote the one you'd choose.
Best fans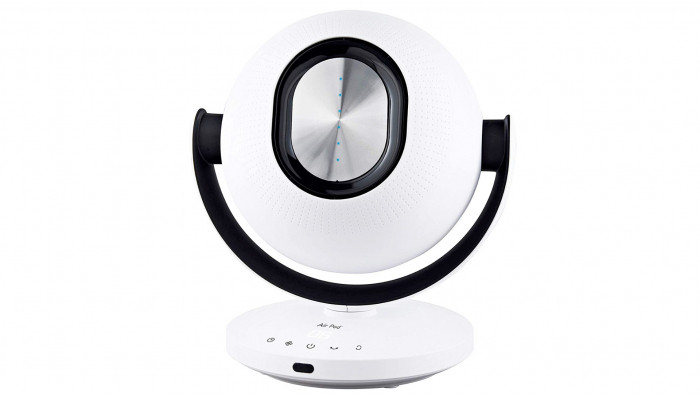 No, this is not a pair of earphones. It's a wee oscillating fan that uses some of the same tech has Dyson's fans. But costs a lot less.
The Air Pos is fanless, with internal blades that spin at up to 3000rpm. It also looks a bit like a surveillance device from the future. But, phew, there's no camera inside. You can get the Air Pod in black or white, and it offers a remote as well as touch sensitive on-fan controls.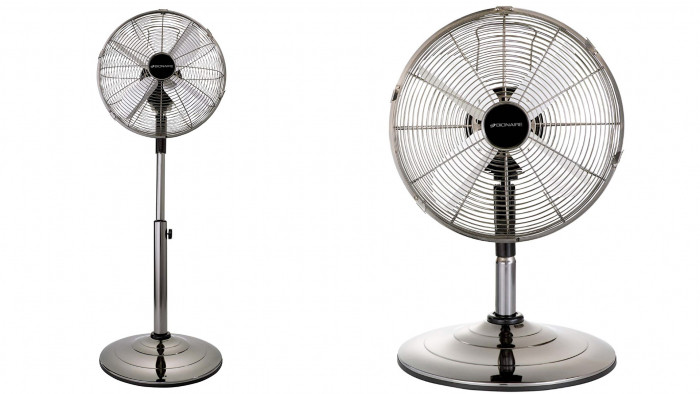 Ah that's more like it. A classic-look fan that also works as a statement piece for your living room. We particularly like the stand base, which gets away from the office vibe so many pedestal stands have.
Its 12-inch blades can shift serious air. And, thanks to its adjustable stand, it can work as a floor or desk-style model. It's 1m tall at its highest. And there's a separate desk stand pole in the box just a fraction as tall.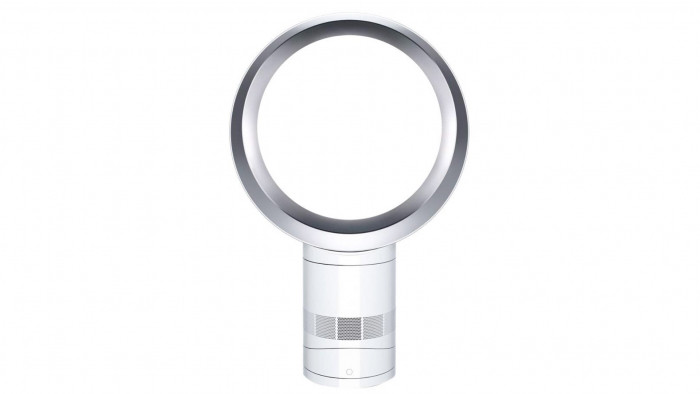 This is the dinky (but not tiny) alternative to Dyson's tower fan. And, hey, maybe it looks even better with that big loop at its top. At 55cm tall, the Cool Desk is just over half the height of the Tower version. But you otherwise get more-or-less all the same features.
These include app-based timers, oscillation, a remote control and quiet operation.
Here's one for the wage slaves. This is a USB-powered fan. Just plug it into your laptop or desktop and you're away.
Cheap but not too cheap. Small but not too small, the Ayouya fan would make a decent desk buddy. It has two speeds and, unlike a lot of USB fans, you can adjust the angle to get the best results from, let's be honest, a pretty weedy, power-frugal fan.
Here's something different. The Evapolar Personal Air Cooler purifies air, and cools it by evaporating water into the air. It cools just like our skin.
The Evapolar looks neat too. One side is illuminated by a multi-colour LED, making it glow with colour. Don't expect air con unit style effects from this dinky box. And it does increase air humidity.
Other Dyson cooling fans simply blow air around. The Cool Pure does more. Well, a bit more.
This fan has a top part similar to the normal Cool Desk model, but the lower part is also a purifier. It uses HEPA and activated carbon filters to remove allergens from the air. These are more effective than the ion-based purification you may see elsewhere, as that just knocks it out of the sky rather than "capturing" it.
The Cool Pure costs a packet but, yeh, it's pretty neat.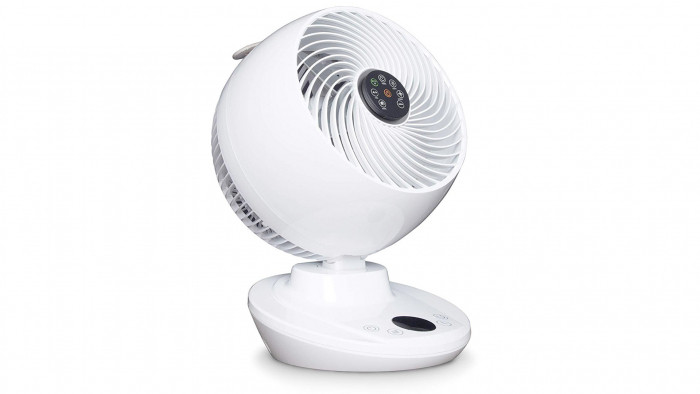 We have one of Maeco's dehumidifiers in the office. The company also makes fans, and the MaecoFan 650 is one of the quietest around.
In its lowest mode, the noise level is only 20dB. This is great if you want a fan to help you sleep, but think you might be distracted by fan noise. The fan barely uses any power too, just 3.5W in Eco mode, and can even be powered by USB. It has a power cable too, mind.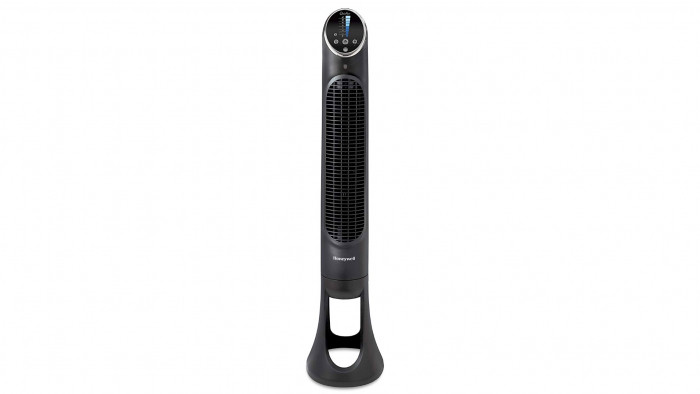 Here's a top tower pick. It's a much cheaper alternative to a Dyson tower. And the difference? This Honeywell doesn't look anywhere near as smart. You'll want to hide it, not show it off. And it will create more noise. But it's so much cheaper, lots of you should probably consider a Honeywell instead of a Dyson. It has essential features like timers and oscillation too.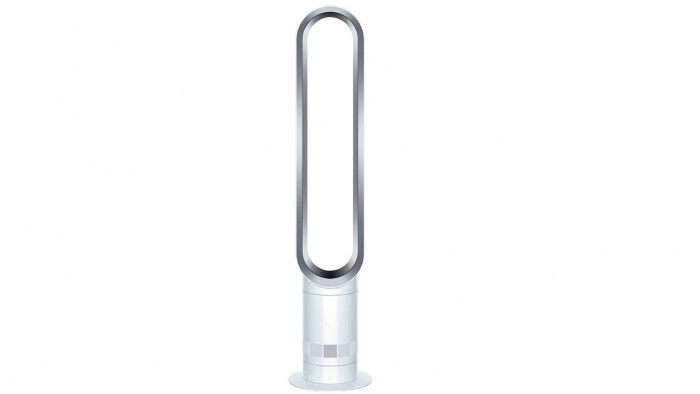 This is the fan choice of modern interior decorators and silicon valley start-up CEOs. The Dyson Cool Tower is just under a metre tall, allowing for a giant bladeless fan that can really pump out air. With no chance of lopping a finger off.
It's quiet, fairly power-efficient and you get a remote that looks a bit like something Apple would make. You can set a timer, handy for bed time, and set the times it turns on in the companion app. The Cool Tower also oscillates, and you can reverse the air flow if you like.
\ You Save: £30.00 (33%)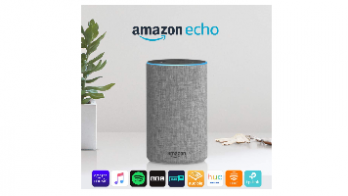 Amazon Echo (2nd Gen) - Smart speaker with Alexa - Heather Grey Fabric
£59.99
Amazon Echo connects to Alexa-a cloud-based voice service-to play music, make calls, set alarms and timers, ask questions, check your calendar, weather, traffic and sports scores, manage to-do and shopping lists, control compatible smart home devices, and more.
Buy now at Amazon
\ You Save: £40.00 (22%)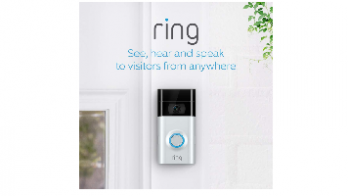 Ring Video Doorbell 2 | 1080p HD Video, Two-Way Talk, Motion Detection, Wi-Fi Connected
£139.00
Works with selected Alexa devices to launch real-time video with your voice. Lets you see, hear and speak to visitors from your phone, tablet and PC . You'll get a notification when movement is detected or when visitors press the Doorbell.
Buy now at Amazon
\ Up to 33% off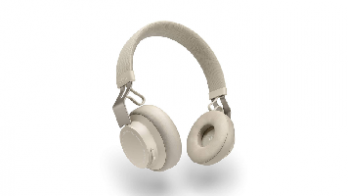 Jabra headphones and headsets
£59.99 (from)
Jabra's signature Digital Signaling Processing giving you crisp digital audio reproduction and high quality call performance in true HD Voice
Buy now at Amazon