ShortList is supported by you, our amazing readers. When you click through the links on our site and make a purchase we may earn a commission.
Learn more
Best breadmaker 2020: perfect loafs with the best bread makers
Use your loaf and invest in one of the best bread makers.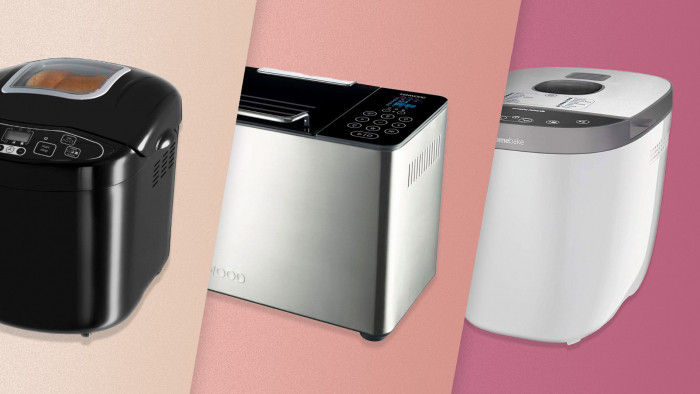 Life is hectic. Family, work and everything in-between, who has time to bake bread? It's a labour of love, after all, and a really good loaf takes time - even in the best breadmaker.
That's why most of us make do with shop-bought loaves. Sub-par sarnies and smashed avocado on floppy, spongy slivers that turn into listless mush after not very long. Stop settling. You can get a meaty, thick slab of crunchy goodness you've sliced yourself to load up or fill to perfection - just get a breadmaker.
UPDATE:We have been extremely busy in the kitchen - given there's not much else we can do right now - and have compiled this fantastic best kitchen gadgets guide. there are 15 things to choose from that will make cooking a lot more fun. The kitchen gadgets have been hand-picked by our expert, so you will definitely find something of interest in the list - once you've done with this best breadmaker guide, of course!.
Starting at less than £45 for the Cookworks Breadmaker from Argos, buying one of the best breadmakers saves time, energy, and if you make enough loaves, money too. It needn't cost the earth (although some can), and you'll never have to deal with mediocre toast ever again.
Not all breadmakers were created equal though. The Panasonic SD-ZX2522 will set you back £239.99 and is our ultimate do-it-all machine. It has the biggest pan and promises the most gluten-free features for celiacs, and includes the most modes of all our machines and is also the quietest too.
Best value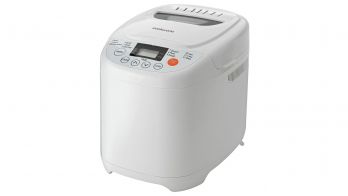 Cookworks Breadmaker
£44.99
This is the perfect start for bread baking beginners. Good results for under £40.
View now at Argos
If all you want is a decent homemade loaf of bread every day or two, you can get it from
Cookworks's Breadmaker
. It isn't perfect. The evenness of the bake makes for a slightly dryer, thicker crust, though if you refine your recipe and opt for a lighter crust setting, it makes a fantastic tasting, fantastic value loaf.
Best overall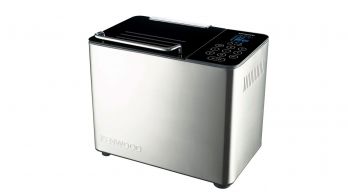 Kenwood BM450
£135.83
A great all-rounder breadmaker, the BM450 looks smart and makes tasty bread at a mid-range price.
View now at Amazon
Kenwood's BM450 breadmaker balances premium design with chrome trimmings, a sizeable loaf tin and plenty of modes and features. While we wouldn't recommend it for anyone looking to make cake in their breadmaker, for a sensational loaf and the best-looking breadmaker on-test, the BM450 is our choice.
If you've never used a breadmaker and are wondering how they work, all five of the ones we've tested have a core method in common.
You load up the pan with ingredients, usually starting with the liquids - oil and water, followed by the flour and salt, and finally, yeast. Next, put the pan in the breadmaker, let it do its thing, and let your nose guide you back to it when your home smells like a bakery.


The shortlist: best breadmaker
Best breadmakers: how we selected

The main thing we wanted to do when choosing breadmakers was to test out a spread across a range of prices. That's why we opted for the affordable Cookworks breadmaker, which costs £39.99, through to the priciest breadmaker of the bunch, Panasonic's SD-ZX2522, which costs £239.99.

All the breadmakers make different-sized loaves, so we also want to break down the options for singletons tight on time through to families in need of a three or four-person loaf. Their designs are also totally different, and given none of these breadmakers are small, these large appliances will have serious design implications on your kitchen - something we've tried to take into account. Need a gluten-free option? The Panasoni SD-ZX2522 breadmaker has you covered. Want to set the breadmaker to have your loaf ready in 15 hours? Kenwood is the only option that gives you more than can do so.
Best breadmakers: how we tested

Every breadmaker comes with a recipe book and, unsurprisingly, each includes a white loaf recipe. That was the first test - five white loaves using the machine's suggested recipes.
Some recipes recommend you use skimmed milk powder. This is to prevent fresh milk going sour when the breadmaker's on a timer of in excess of 12 hours. These generally result in slightly heavier loaves, with the Cookworks and Russell Hobbs default recipes generally being denser than the others. Once we made the recipes included with the machines, we tested out each breadmaker with our own tried and tested bread recipe which always makes a light, crusty but bouncy loaf, which was a much more even round. The more affordable options fared much better here.
Once we got a feel for each breadmaker's baking style, we were able to tweak the recipe to better match.
If lightness is the name of the game, then the wetter the dough, the better. Given there's no hand-kneading required when using one, breadmakers can knead a wetter mixture and make for the most pillowy loaf possible. This rang true of all our machines, including the cost-effective Cookworks, our budget choice.
There are also device-specific highlights. The two priciest breadmakers have compartments to drop ingredients in mid-knead or rise. The Morphy Richards breadmaker also makes an incredibly speedy loaf that actually tastes great - just 90 minutes if you use the Fast Bake mode. When it comes to cakes, what's interesting is that the only breadmaker that doesn't suggest you mix the batter in the mixer makes the best cakes - that's the
Panasonic SD-ZX2522
.
Instead, Panasonic suggests you combine the ingredients in a traditional mixer and just use the breadmaker for baking. We would generally avoid making cake with breadmakers if you have an oven. You can't pre-heat them and they just aren't as well suited to the nuances needed for a good sponge - but Panasonic's SD-ZX2522 beat the rest on this front.
We also tested out the dough settings, making pasta from scratch and gave a few speciality breads a go - a fruity quickbread, a gluten-free option and a rye and linseed loaf, for example.


Best breadmakers review: The test results
The easiest tell-tale clue as to which breadmaker made which loaf was the size of the loaf produced. The Kenwood BM450 and Panasonic SD-ZX2522, the most expensive on test, produce the biggest loaves, while the Cookworks Breadmaker produces the smallest loaf. Russell Hobbs's 23620 Compact Fast Breadmaker and theMorphy Richards Homebake fall somewhere between on the size spectrum.
Families of four or five who eat a fair bit of bread would be better off with a bigger machine. If size is your primary concern, the Kenwood BM450 will give you the biggest loaf for your dough.
All the bread machines are big from a kitchen or cupboard space point of view. Unsurprisingly, the Cookworks machine is the smallest, though. While the Panasonic SD-ZX2522 would look most at home in an industrial kitchen, the Kenwood BM450 is our favourite for fitting in a family home from a design and shape point of view. Onto the loaf tests, and first thing's first - crust.
Each of our five machines has three crust settings - light, medium and dark, but which matched the colour to the setting the best?
The Kenwood BM450 came first, followed very closely by Panasonic's SD-ZX2522. The Cookworks Breadmaker darkened the crust too much, and even on medium setting it was thicker on the bottom, making sawing through it a bit of a chore at times.
We were impressed on this front by the Morphy Richards Homebake too, which was about on par with the Kenwood BM450. As for the meat of the bread, or the crumb (the white part), Panasonic took the lead. It baked a light, bouncy core that complemented the golden, caramel loaf perfectly. Once again, the top spots are dominated by the priciest breadmakers, with Kenwood coming in second. But, in a turn for the books, the Cookworks breadmaker came in third. Once we got through the considerable crust, the meat was a beautiful texture and flavourful.
Side note: when bread cools, heat escapes out and cool air actually passes into the loaf. This air picks up the caramel notes of the crust, and flavours the white inside the loaf. That could be why the darker Cookworks breadmaker actually created such a flavourful loaf, and it's also why you should wait until your bread cools to slice it - so the maximum crust flavour can be carried into the crumb.
Back to our tests, and it's time for toast. For this round, we sliced our loaves, toasted them, then loaded them up with peanut butter on one quarter, jam on another, marmite on the third and left the final quarter naked. Our bigger breadmakers make loaves that are too big for most toasters - so they would be ideal for griddle toasters or grills. Alternatively, you can make a slightly smaller loaf in them, which is what we ended up doing. Or you can slice them horizontally once the loaf is cooled.
As for the results, Kenwood claimed victory here once again. Its loaf produced an evenly toasted slice, and because its crust was so good, it darkened proportionately to the crumb when it crisped up.
If sandwiches are the goal, the bigger breadmakers are definitely the ones for you. Their size means you can get more slices. It's that simple. Smaller breadmakers' loaves cut into about six to eight slices, larger breadmakers up to 14 slices. The best breadmaker overall reviewed:

Kenwood BM450, £199 RRP, available from £139
If we could pick any breadmaker to use ourselves and money was no object, we'd go for the Panasonic SD-ZX2522. It has more advanced features and we love geeking-out in the kitchen. That said, if we had to recommend one that balanced price with design, results with ease of use, and loaf size with versatility, the Kenwood BM450 would be it.
For starters, it looks gorgeous. The wraparound stainless steel body, glass top and its unique viewing window light which means you can see what's going on with your loaf are all excellent highlights. Then there's the loaf size. It's big, perfect for a family of bread eaters or anyone with a freezer that can take a few slices for toasting when needed, so you get home baked bread even when you haven't been baking.
The Panasonic SD-ZX2522 is much quieter when kneading, and it also features a separate yeast dispenser. If neither of those are vital for you, however, then you can confidently pick up the Kenwood BM450.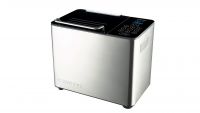 View now at Amazon
The best breadmaker for value reviewed:

Cookworks Breadmaker, £39.99

If you want the most affordable breadmaker on-test, then the Cookworks is it. While your first few bakes from it might not be your finest, once you get comfortable with its nuances, you can get very tasty, light and crusty loaf at a bargain basement price.
Our top tip would be to go beyond the recipe book included with the breadmaker and find some of the excellent suggestions available online - that's how we were able to get the best from the Cookworks breadmaker. It's also the most compact machine in our list, which will make it ideally suited to smaller kitchens. There are dough and jam settings, which do their jobs very well. We'd steer clear of making cake in it, but it's a steal for a quick, cheap and cheerful loaf.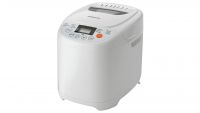 View now at Argos
Comparing the rest on test

Unlike most tests, there were no duds when it came to the breadmakers we reviewed. Each machine warranted its price - not least of all because of the stepped size increase that went hand-in-hand with a price increase.
The Russell Hobbs Compact Breadmaker produces a better crust than the Cookworks Breadmaker and, in turn, toast quality is superior. It also features two fast bake settings - 60 minutes and 80 minutes. While the Cookworks breadmaker makes a faster loaf, the 80 minute setting on the Russell Hobbs machine made a better-tasting loaf.
Additionally, the Russell Hobbs machine is the most affordable option with a gluten-free setting, and we were also impressed by how many celiac-friendly recipes were included for the program in the instructions. There are five in total: white bread, rosemary and garlic bread, dill and onion bread, cheese and chive bread and multi seeded bread. Spend a bit more on the Morphy Richards Home Bake and you get more size and evenness. There aren't as many gluten-free suggestions in the recipe book, but there is a yoghurt setting, which is absent from more affordable options.
We saw a couple of mixed reviews of the Home Bake online, but couldn't recreate the bad bakes other users experienced. We'd be happy with its bread every day of the week - perhaps Morphy Richards tweaked the hardware for 2019? The most expensive breadmaker on-test, the Panasonic SD-ZX2522, features the most accessories, including sourdough-specific tools (2x sourdough cups and a sourdough starter spoon), as well as two kneading blades - a traditional blade and a rye blade for coarser mixes.
It's also the only bread machine to include a yeast dispenser as well as a nut, fruit or seed dispenser. Why would you need one? If yeast combines with salt or an acid, it can lose its rising power, so keeping them as separated as possible until the mixing and kneading starts is the best way to guarantee a good loaf. The Panasonic SD-ZX2522 also includes the most comprehensive instructions of the lot - it's the breadmaker to really sink your teeth into if you're a baking fiend. Its recipe book is extensive, with delights including a linseed and quinoa loaf, oregano and olive Italian bread and a lemon and poppy seed spelt speciality bread to name a few.
Combined with its quiet operation, there's no better breadmaker for a refined (or indeed celiac) baker, even if you pay a premium for it.

Things to look out for
First thing's first - size. If you want a big loaf you have to pay bigger bucks, up to a point. The Kenwood BM450 and Panasonic SD-ZX2522 make similar loaf sizes, and they're your only options if you're feeding a family of four or more.
Next up, gluten-free choices. The Cookworks Breadmaker doesn't have any options for celiacs. Fundamentally, with no gluten, bread will need a different baking preset, so this feature is a must if you think you'll want to dabble with gluten-free baking. In turn, the Russell Hobbs, Morphy Richards, Kenwood and Panasonic options are the only choices here.
Design - are you going to stick your breadmaker in a cupboard and only pull it out when in need of a loaf? Or, will it take pride of place in your kitchen and be used daily?
The Kenwood BM450 was only breadmaker with a design we loved. That said, the Panasonic SD-ZX2522 has a premium industrial feel, so would look great in a utility room. Meanwhile, the more affordable three look just that - more affordable, and aren't kitchen showpieces by any stretch of the imagination. But they are more compact so could be kinder to cupboard space.
How long do you need your bread mix to stand before your loaf is baked? Most breadmakers offer a 13-hour delay timer, but the Kenwood BM450 holds things up for as long as 15 hours, so a 7am loaf can be set at 4pm the day before.
Other choices
Here are some other popular options to consider from the world of breadmakers.

Related Reviews and Shortlists