ShortList is supported by you, our amazing readers. When you click through the links on our site and make a purchase we may earn a commission.
Learn more
Best barbecue 2021: the best BBQ revealed for the ultimate in outdoor grilling
UPDATED: Find the best BBQ for you this summer.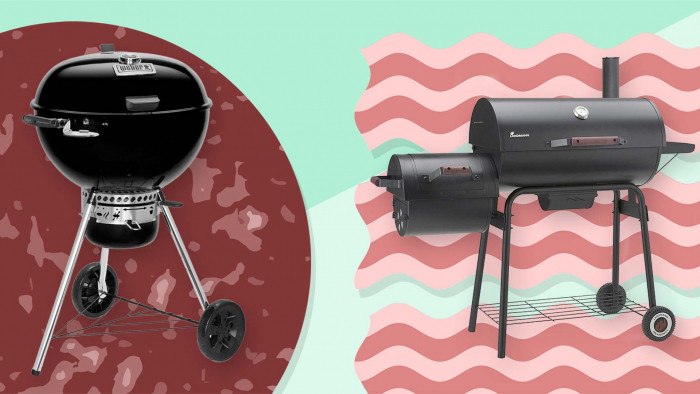 While we had a few rare BBQ-ready days of fine warm weather, here's hoping that we will get plenty more. With all of us spending much more time in our homes as well, having the best BBQ in the garden is a must - so nabbing yourself the best barbecue you can is, well, an essential purchase.
Now that we can start to have big(ger) gatherings again, a BBQ is a great way to have people around but also a good reason for everyone to stay outdoors.
If you don't already have a BBQ, then we've done a bit of the leg-work for you so you can get a better idea of which one to spend your hard-earned money on.

It may well be a good idea to buy your BBQ out of season, so check out our best barbecue guide and see if any of these hot things take your fancy.
Once you've done with the grilling, head over to our best craft beer guide. And if you head to the bottom of this article, we offer expert buying advice on the type of BBQ you should be buying, as well as offering up some fantastic BBQ cooking ideas.
Oh, and ass much as you need to sort out your BBQ situation, if you are cooking your food in the middle of a hell hole then you also need to head to our best garden tools guide. In the list you will find a whole host of goodies that will help get your garden into decent shape, and some that will just frankly be very cool to use - a weed burner, anyone?

---
How to buy the best BBQ
The type of BBQ you are on the lookout for all depends on a number of things, including: size, ease of use, the fuel you want to use.
There's no point buying a four burner with a mountain of chef accessories if you only have half a small patio and are cooking near your house.
On the flipside, you'll be disappointed if you but a simple kettle BBQ and are looking to cook for a small army of people.
To help whittle down your buying choices, it's best to choose the type of fuel you want to cook with.
Here are your options:
Charcoal BBQ
If you are after taste, then charcoal may be the way forward. Charcoal BBQs are messy and tough to maintain. Although firelighters and the like have helped reduce the time needed to prepare the BBQ, you will need to put in at least 20 minutes preparation time to get the coals white hot, and then you will have to make sure that the heat from the BBQ doesn't instantly charcoal the meat and vegetables you put on it.
Saying that, the taste you get from a coal BBQ is hard to replicate with an electric or gas option.
If you are looking to use charcoal, then maybe also consider a smoker (which will infuse the meat with a smokey taste) or even a pizza oven.
Best charcoal BBQ: Landmann 31421 - Taurus 660
This is a fantastic BBQ with added smoker functionality. You can cook meat for up to 10 people on it and the smoker can be used with different fuels (logs, wood chips) to give your food an intense, American-style BBQ flavour. The main chamber is just the same as a regular BBQ grill with ample room for your BBQ.
Buy the Landmann 31421 - Taurus 660 now
---
Gas BBQ
One of the most popular BBQ choices, a gas BBQ is really easy to maintain, takes minutes to prepare and acts much like your oven in the home with dials to get the grill to the right heat. One thing to consider with a gas BBQ is the added cost of a gas cylinder. These are readily available from your nearest hardware store but there will be a premium the first time you purchase one - this is because you are effectively paying for a barrel that can be refuelled. When you bring it in to get refilled, the price will be a whole lot cheaper.
There are myriad options for a gas/charcoal hybrid BBQ which is definitely something you should consider.
Best gas BBQ: Weber Genesis II E-310 GBS
This is the ultimate gas BBQ, hence the price. The cast iron cooking gates are coated in porcelain, the ignition is instant and there is plenty of space for utensils and areas to put the meat when you have cooked it.
Buy the Weber Genesis II E-310 GBS now
---
Electric BBQ
Again, these are like the stoves in your home - easy to use and cook meat fast. The biggest issues here are making sure that you have an electrical outlet for your BBQ, one that is safe from the elements outside.
You can always opt for the extension lead approach but this probably isn't a good idea in the long term.
The advantages of an electric BBQ are that it is instantly on and you can have varying temperatures on different grills. Electric grills are usually smaller and more portable, too.
Best electric BBQ: Weber Pulse 1000
Price: £449
The Weber Pulse 1000 is one of the smartest BBQs around and has been built for balconies. It uses a lid-on approach to cooking so there's no unwanted smoke and it uses cast iron gates, which means you get that nice griddle look on the meat and veg you are cooking.
Buy the Weber Pulse 1000 from Weber
---
Best BBQ Ideas
If you fancy some ideas on how to cook your food on the BBQ, then here they are...
---
5 best BBQ tricks, tips and hacks
1. Clean Your Grill In Seconds
The absolute last thing you want to do after one too many icy-cold brewskis and a belly full of sausages, burgers, steaks, chicken thighs and ribs is get to work cleaning your trusty old Weber BBQ. But really, it's not the break-a-sweat chore it seems. It can easily be done the day after and requires tools that are already in your kitchen. Firstly, scrunch up a large ball of tin foil and scrub the warmed-up bars, before rubbing them with half a lemon or a cloth doused in cider vinegar. Use another ball of foil to bring your metal bars back to their former shiny glory. It's that simple.
2. Arrange Your Coals Properly
There's a reason why everything that goes onto your grill comes off it looking blacker than your ex-girlfriend's heart – you're coals are a bloody mess, mate. You need to arrange your heat source so that you can cook some meats directly over the coals (direct method), and others using only the atmospheric heat under the lid (indirect method). That pic up there is a pretty decent way of looking at it, really. How to know what meats need what cooking space? Use the rule that anything ready in less than 20 mins can safely go over the coals, and anything more needs the indirect method.
3. Avoid Saucing Too Early
A real simple one this, but one we're all guilty of. That delicious BBQ sauce you've just proudly slathered over your raw meat? Error. Big, fat error. There's a whole lot of sugar in that there sauce, and sugar burns. Only add it to your meat when you're approximately 15-20 minutes away from taking it off the heat. That way you're stopping that sugar burning off and stinking up the flavour.
4. Keep Your Kebabs Juicy
Dry kebabs are a huge F next to your grilling name. Is that what you want? An F? An F for FAIL? No, you do not. The simple way to avoid your meat and veg skewers from losing all their moisture is pretty straightforward, actually – make sure every ingredient is pushed up to another on the stick. Don't be temped to cram them on though, as that'll slow down the cooking time and risk burning.
5. Make Your Steaks Scream
If you're adding beef steaks to the heat and they're not yelling in pain, you're moving too fast. Steaks should make that sweet sizzling noise when you slap them down, so you know you're searing in that moisture and keeping it from weeping out. You know the grill is hotter than hell and ready to go if your hand can only survive two seconds 12cm above the heat.
Related Reviews and Shortlists