ShortList is supported by you, our amazing readers. When you click through the links on our site and make a purchase we may earn a commission.
Learn more
Air fryers have a reputation as the go-to kitchen appliance for people looking to lose weight or cut fat from their diets, yet they're much more versatile.
Their somewhat misleading name suggests they can only be used for recipes that require "frying" when. But anything you bake or roast in an oven – including cakes – can be cooked in an air fryer, often more quickly and easily than in a conventional oven.
The best air fryer we've tested is the Wilko 4L, which offers great, healthy cooking abilities and incredible value.
We also highly recommend the Tefal Actifry Genius XL for making tasty chips and chicken wings, and a large capacity.
Highly Recommended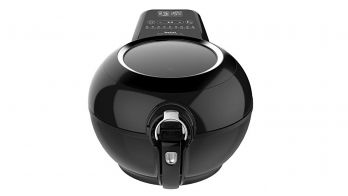 Tefal Actifry Genius XL
£159.00
Tefal is our higher-end choice. It's fast, easy to use and produces tasty meals.
View now at Amazon
Thanks to its rotating paddle and wide range of easy-to-use settings, Tefal's Actifry Genius XL produced great tasting food, quickly and skilfully. It didn't quite match up to Wilko's fantastic model in other areas, but fell short by just a single point.

Best overall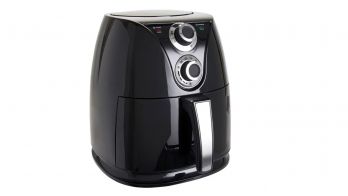 Wilko 4L Air Fryer
£40.00
Kitchen group test favourite Wilko has come up with another top product. This air fryer offers exceptional value for money, and good enough performance to scoop up the win.
View now at Wilko
From its large capacity to its incredibly simple-to-use design, not to mention the fact it consistently produced delicious food, we can barely fault the Wilko air fryer. Which is even more impressive when you consider it's the cheapest of the lot at the recommended price.
How does an air fryer work? The food goes in a removable "basket", which usually makes up the lower half of the unit.
When operating, hot air is circulated through this cooking compartment. In this sense it has more in common with an oven than a deep fat fryer. But the goal is to make healthier, less oil-soaked food.
Air fryers are often quicker to cook and more energy efficient than your oven too, as the space inside is used more efficiently. Fad or an esssntial buy? It depends on how you cook, but this is one of the benefits of our test winner. Far cheaper than most, it's a good buy even if you use it as an extension of your normal oven.

The shortlist: best air fryer
How we chose the products to test
Despite the versatility offered by air fryers, they largely perform in the same way. All offer a very similar set of functions, albeit at wildly varying prices.
To narrow down our selection for this group test, we began by studying customer ratings for 50 of the most popular models across leading homeware sites Lakeland, Andrew James, AO.com, Argos, Wilko and Amazon.
Any product labelled as an air fryer, or hot air fryer, was included, which (depending on the site) also pulled in multi-cookers. From this list of 50, we read hundreds of reviews to find the 25 most popular, well-regarded air fryers based on customer experiences.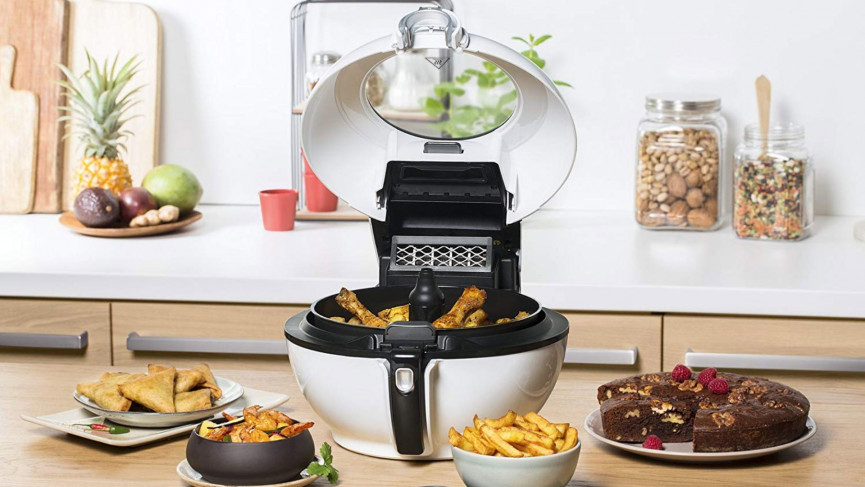 To narrow the list down to the top 10, we first selected the highest-scoring models from each brand and then handpicked the final models based on features and price.
When looking at features, we wanted air fryers with a minimum capacity of 2.5L because this size can typically be used to create part of a meal to feed a family of four. Each air fryer on the shortlist also needed to offer at least two temperature settings/modes – one for making chips and another for cooking meat because these are the most common settings used in the majority of air fryer recipes.
Design-wise, all of the air fryers needed to fit comfortably on countertops and in terms of price, we wanted at least two budget and two premium models with the remaining six offering a range of options in the mid-range.
The resulting shortlist contained air fryers from Swan, NuWave, Princess, Andrew James, Ninja, Tefal, Philips, Lakeland, Tower and Wilko. Prices ranged from £40 up to £300 and capacities ran from 2.6L on the Lakeland model up to Ninja's and NuWave's 6L models.
The Ninja Foodi was the only shortlisted model that is technically classified as a multi-cooker but we only used it to test its air frying capabilities for this group test.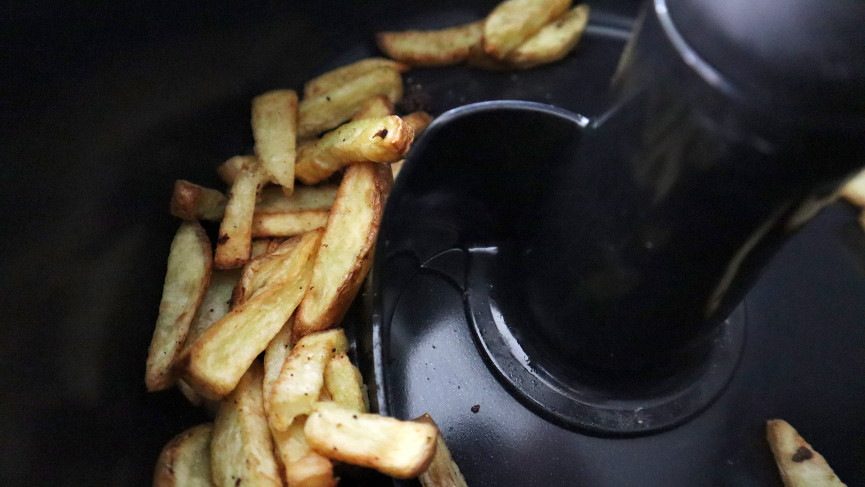 How we tested the air fryers


To test our list of best air fryers in the most objective and fair way, each model was ranked out of 10 based on features and performance. When ranking them for features, each air fryer was assigned points based on their respective price, capacity, the maximum time they'll run for, the number of settings as well as the maximum temperature offered by these settings.
For example, the most expensive model – the £300 Philips Avance Airfryer XXL – scored one point, while the Wilko air fryer, which costs just £40, scored maximum points for price. The Ninja Foodi and NuWave Bio had the largest capacities on test, so they both scored 10 points.
Each air fryer was also judged on how easy they were to use, how loud their fans were, how hot they got to the touch during cooking, and their design.
The air fryers were then individually tested on their ability to make chips, and cook chicken wings. For the chips challenge, we cut Maris Piper potatoes into chips, seasoned and placed them in each fryer on their respective chip settings.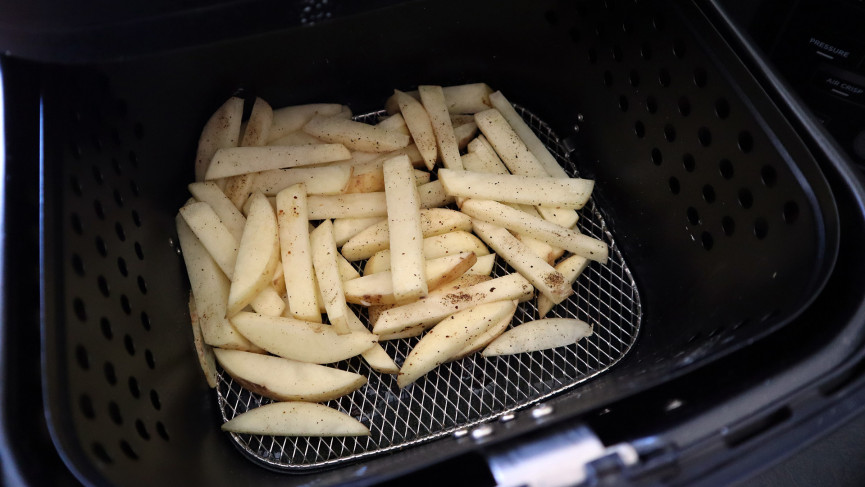 Our chips before cooking

Air fryers that didn't have a dedicated chip button instead advised which temperature and time to manually set to cook chips, either as instructions on the fryer itself or in an included recipe book. Across all air fryers, this was typically at 200° Celcius for 25 minutes. Are you hungry yet?

For the chicken wing challenge, four wings were butchered and marinated in a Chinese five spice mix. As with the chip test, the chicken wings were either cooked using the automatic meat setting or manually programmed based on the manufacturers' instructions.

Following both tests, the cooked results were placed on paper plates with the names of the air fryers listed underneath, out of view. Along with two family members, we ranked the 10 plates of chips, and 10 plates of chicken wings according to how crispy they were and their texture/how they tasted.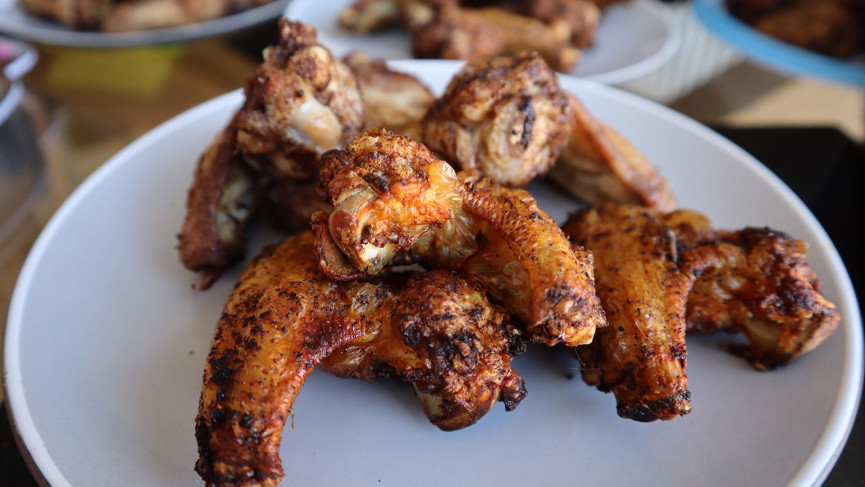 For the chips, we wanted light and fluffy potato inside a well-cooked, crisp skin. For the chicken wings, we scored them based on how moist and tender the chicken meat was, versus how crispy the skin had been cooked.
To test how noisy each air fryer was, we used a decibel meter reader placed a metre-away from each model during the chip test. To test how hot each one got during cooking, we placed a thermometer on the outside of each model. The total scores from all 11 food and specification tests were combined to reveal the winners and losers.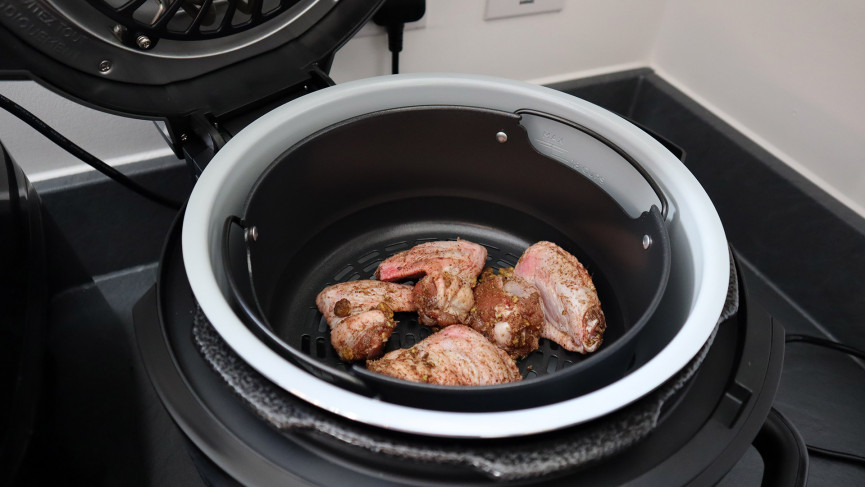 The best air fryer: test results

Proving, once again, that you don't need to spend a fortune to get the best household and kitchen appliances, Wilko's 4L model pipped its rivals to the top spot in our list of best air fryers despite being the cheapest of the lot (by "recommended" price).
It didn't make the best-tasting food. That award goes to second place Actifry Genius XL, but the Wilko 4L came close while scoring consistently high in almost every other category.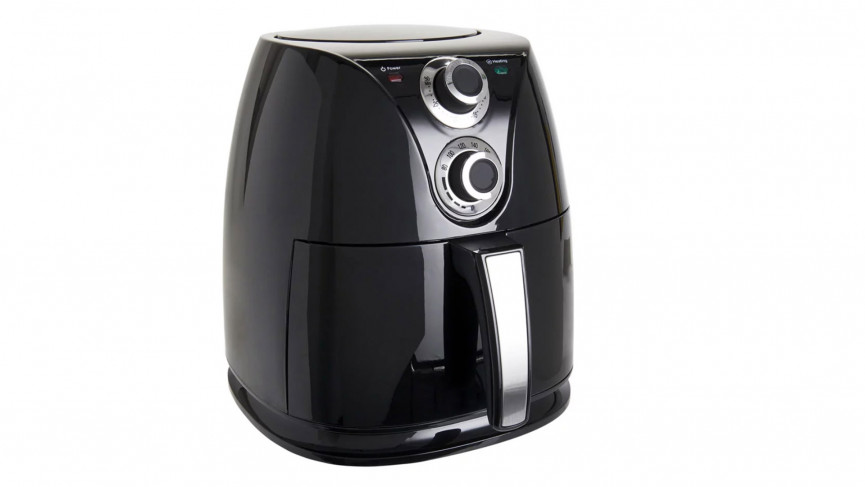 Scoring full marks in both the chip and chicken wing challenges, producing crispy, delicious food, Tefal only missed out on first place by a single point. Its Actifry Genius XL offers a wide range of settings while still being easy-to-use and it never got too hot. Its price, bulky size and noisy fan brought down its average, but only just.

There was quite a gap – of 13 points – between Tefal's Actifry and the three models that tied for third place. These were the Swan Manual 5L air fryer, the Princess Digital Family air fryer, and Ninja's Foodi multi-cooker. The Swan model's strengths lay in its ease-of-use; Princess's model offers a decent range of settings and made tasty chips, while the Ninja Foodi made great chicken wings, is quiet and has the largest capacity.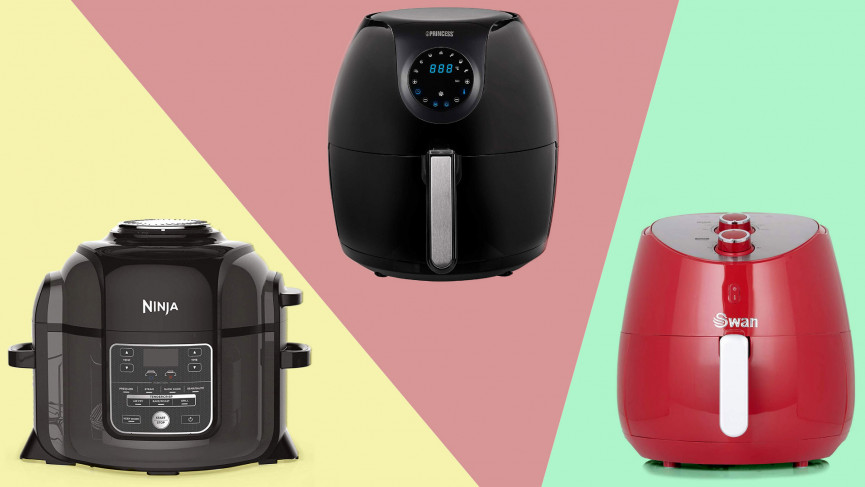 In 4th place, although technically 6th, was the Andrew James air fryer. It's attractive design boosted its average but it fell flat in both cooking challenges without offering much in the way of capacity or settings.

NuWave's Bio 6L took seventh place. Like Wilko, it offers a disproportionate amount of settings and capacity for its mid-range price and performed admirably in the cooking tests yet was the loudest, hottest and second most-difficult air fryer of the group to use.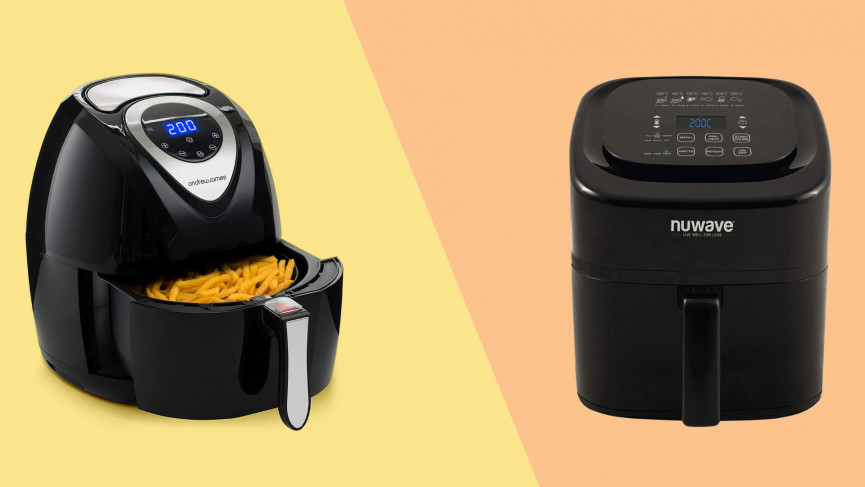 Two points behind the NuWave Bio, and 18 behind the leader Wilko, was the most expensive model in the list, the Philips Avance air fryer. For £300 we expected much, much more. It has relatively few settings and is tricky to get to grips with while making disappointing-tasting food,

In ninth, with mid-range scores to match its mid-range price, is Lakeland's Touchscreenair fryer. Its chips were below par, its chicken average and it was noticeably loud and hot.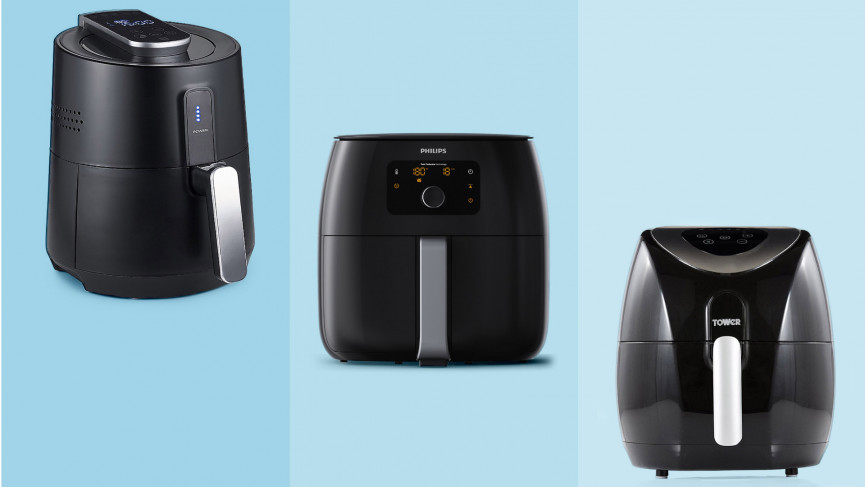 Finally, Tower's air fryer took last place because, despite being cooked at the same temperature and for the same amount of time as many other fryers, one of the chicken wings came out raw in the middle. Hardly ideal, not to mention dangerous.
Best overall choice review:
Wilko 4, £40
Despite being the cheapest model on test – a staggering seven-and-a-half times cheaper than the most expensive, Philips Avance – Wilko's victory in our hunt for the best air fryer didn't come as a surprise.
We've recently witnessed just how good Wilko products can be after the brand topped our list of best slow cookers, and its performance in this latest group test was impressive. Its chips were crispy on the outside, fluffy in the centre and tasty. Its chicken wings fell a little short of this high standard but still offered a nice crisp bite to the skin without overly drying out the meat.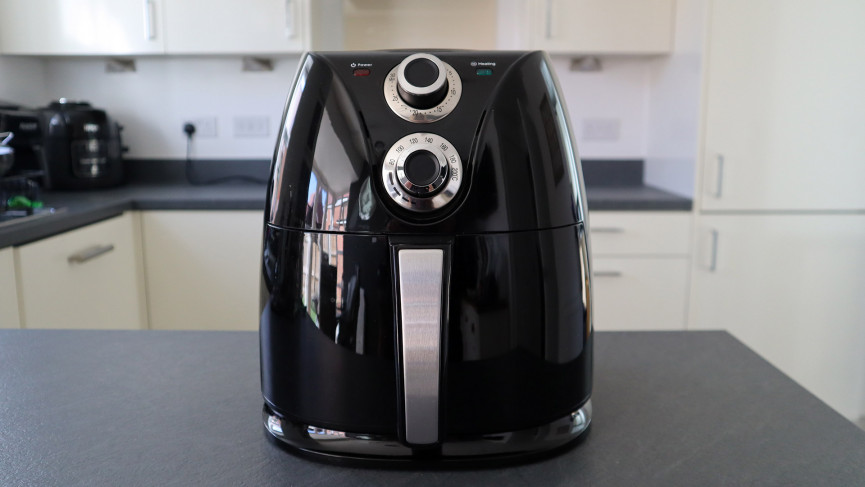 Design-wise, the Wilko air fryer's black casing is subtle and its relatively compact size means it will fit comfortably in most kitchens. It could even be stored in a cupboard when not in use, if need be.
Its fan is relatively quiet, and it is also one of two air fryers in our list to come with manual controls, the other being the Swan. In fact, its design is very similar to that of the Swan model, albeit in different colours.
These manual controls mean it has two rotating dials with which you set the time, and the temperature. A guide to cooking times and temperatures is printed on the top of the fryer. Once the time is set, it subtly ticks like an egg timer before ringing when the cooking cycle has finished.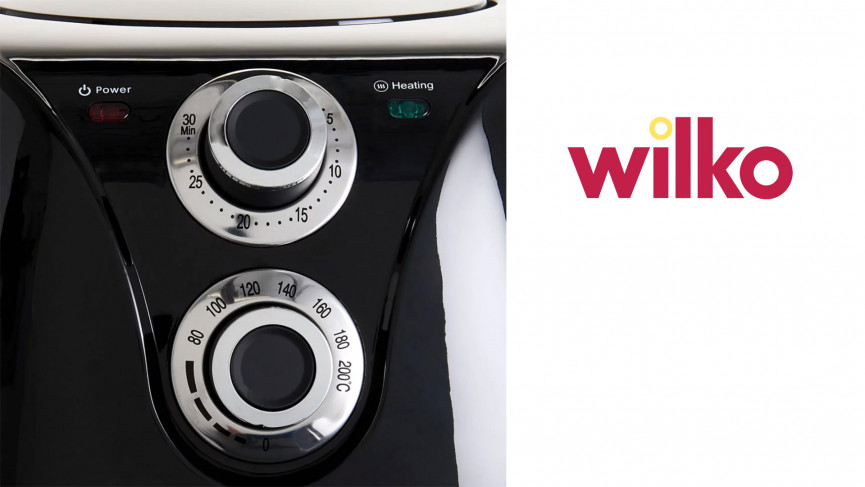 While these manual dials may seem a little antiquated compared to their digital and touchscreen rivals, they're actually a welcome, far easier-to-use alternative.
The maximum temperature on the Wilko air fryer is 200° Celcius – the same as almost every air fryer in this list bar the Ninja, which reaches 210° C, and Tefal's top 220° temperature. However, Wilko's maximum time peaks at 30 minutes.
This is half the time of its rivals and, consequently, comes with its limitations. Granted, many recipes won't require more than this, including chips, individual portions of meat, cakes and other baked food. Yet, if you wanted to roast a small chicken, for example, you'd have to remember to reset the timer after the first half an hour and this inconvenience undermines its ease-of-use ever so slightly.
The Wilko 4L air fryer also lost points for being one of the hottest on test. It didn't burn us, but it was far from comfortable to move and you could feel the heat emanating from it without actually making contact. At this price, especially given its great performance, there do need to be sacrifices but it's worth keeping it out of reach of children.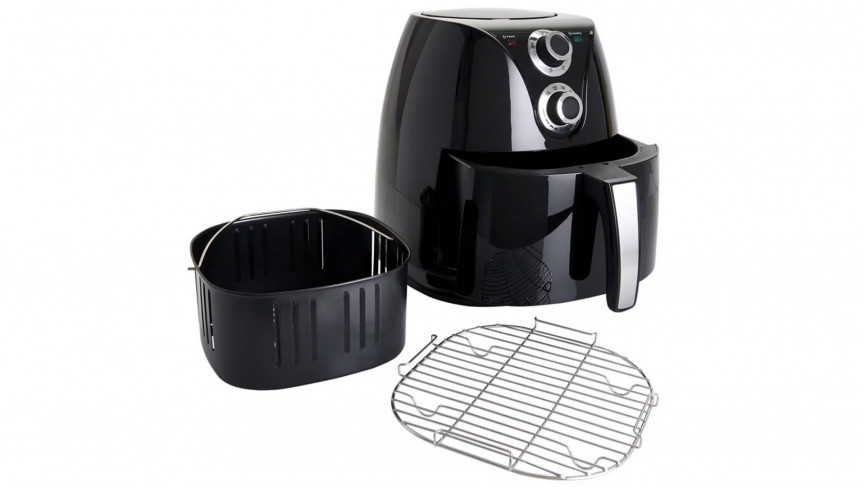 View now at Wilko
Highly recommended choice
If budget is less of a concern in the hunt for the best air fryer, and you want the one that makes the best-tasting food, the Tefal Actifry Genius XL wins hands down. It scored top marks in both cooking tests.
We were so impressed with the quality of the chips we could have been convinced they were from a chip shop. Similarly, the chicken wings were moist on the inside, crispy on the outside, and packed full of flavour.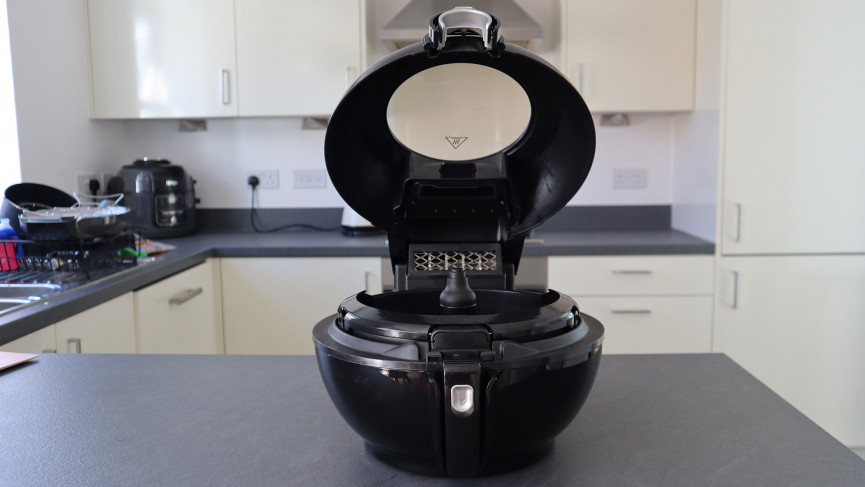 This is undoubtedly due to its cooking mechanism. Instead of having an aerated basket and fans that blast the food with hot air from all angles, the Tefal Actifry Genius XL's base doesn't have any holes and instead rotates and pushes the food through blasts of hot air using a curved paddle.
The upside is this cooks the food evenly and prevents any chips coming out as soggy or chicken coming out raw. The increased flavour and crispiness comes from the fact the oil, including any fats and juices from the meat, remain in the base and coat the ingredients as they cook.
The downside is that, while this is infinitely healthier than deep-fat frying, the food isn't quite as healthy or fat-free as that cooked in its rivals.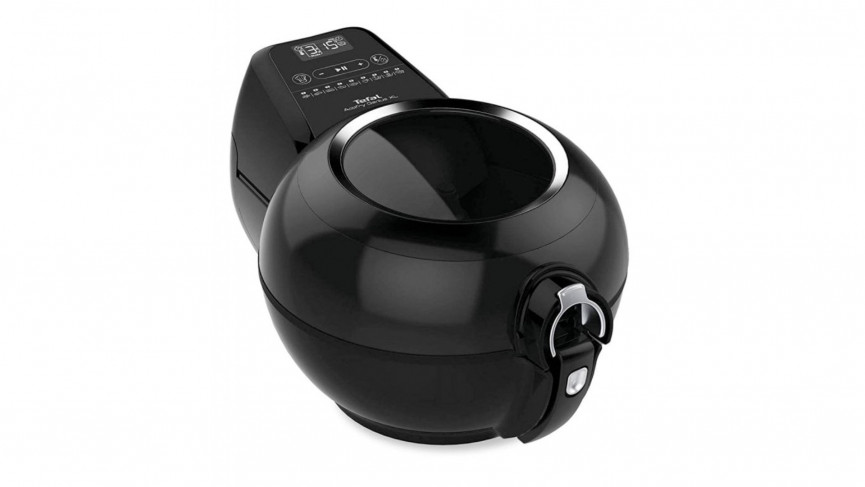 This circular design and rotating mechanism also makes the Tefal Actifry a loud, chunky and flat air fryer in a sea of tall, thin models. As a result, it's unlikely to suit smaller kitchens and takes up a significant amount of countertop.
It's not cheap, either, but you're paying for the performance, as well as the fact it offers a full one-hour cooking time alongside a wider range of temperature settings than any of its rivals. It is surprisingly simple to use, despite this large number of settings, and was the easiest of the digital models on our list to get your head around.
Only a single point separated the Tefal and Wilko models and if you can afford it (and have the room) we highly recommend paying the extra for the Tefal Actifry Genius XL. What's more, the same technology is also available in the cheaper, more compact original Actifry Genius model if space is at a premium or you don't have a family to feed.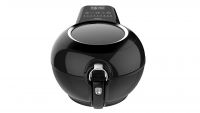 View now at Amazon
The rest compared
Three air fryers took third place, scoring exactly the same points but offering different pros and cons. The quietest and easiest to use is the Swan Manual 5L air fryer.
It has a similar design and the same manual controls as Wilko's winning model although it's larger, bulkier and the model we tested is bright red. Like the Wilko, it also only offers a 30-minute timer. Sadly its cooking performance fell well short of it similar rival. Its chips were soggy and some were still a little hard, while its chicken was marginally better yet was still a way off the competition.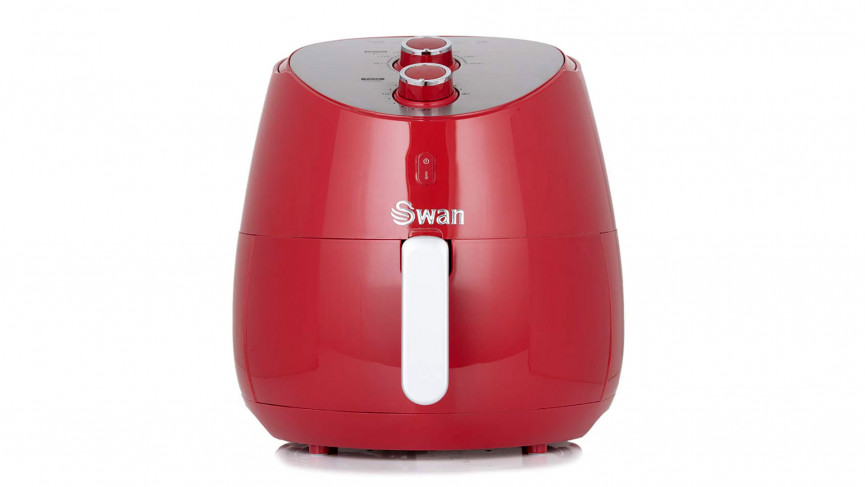 Coming in at £20 more expensive than Swan's £69.99 model is the Princess Digital Familyair fryer, available in 3.2L and 5.2L models (we tested the latter). It lost points compared to Swan's model for this higher price, and was one of the loudest air fryers we tested, but gained ground by offering a wider range of digital settings and performed significantly better at the cooking tasks.
It made above average chips that were crispy but not as fluffy as others in this test. Similarly, its chicken was crispy on the outside but a little dry on the inside. The increase in controls does make it a tad more difficult to get to grips with but it offers an hour's timer.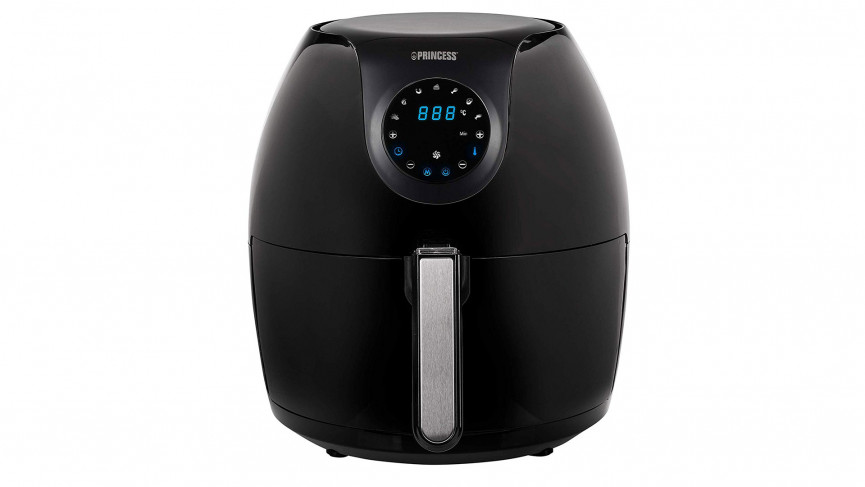 Ninja's Foodi was the third model in this trio and the multi-cooker is a beast of a machine; the largest of the lot and one that comes with a basket, bowl, grill rack and two different lids.
This appliance is not for homes with small kitchens or limited worktop space. The positive side to this design is that it offers the largest capacity on test, and its larger size and various accessories make it the most versatile.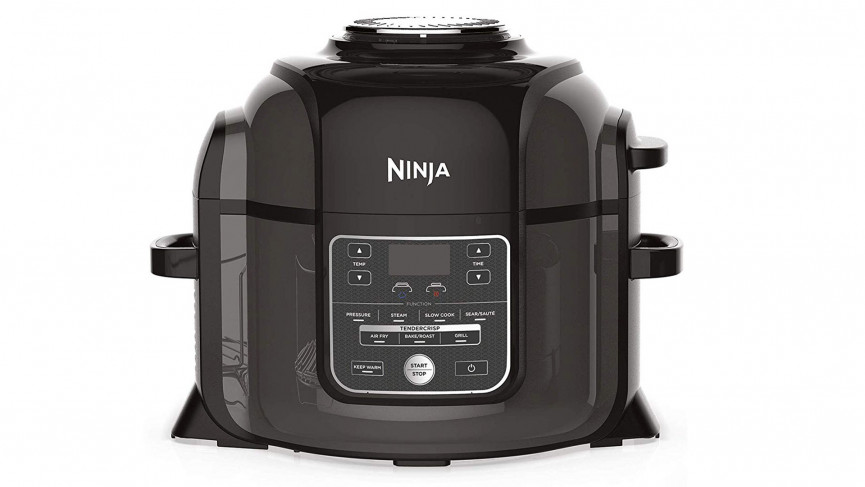 We only tested the air fryer function for this group test but have since used the baking and roasting tool, as well as the slow cooker function. and having them "all in one" does make it highly convenient. Sadly, during the air frying tests, the Ninja's chips were disappointing, overcooked and bland. Its chicken, on the other hand, was tasty and well-cooked, coming in third behind Tefal's and NuWave's wings.
Next up in the ranking was the Andrew James air fryer. It's a good-looking machine and offers a wide range of settings without being overly complicated as a result. All for a reasonable price. Both its chips and chicken wings fell to the bottom of the pack though, in terms of taste and crispiness. Only Swan's soggy chips and Tower's raw chicken wings scored lower. The rest of its scores, including how hot it got during cooking and how noisy it is, were middle of the road.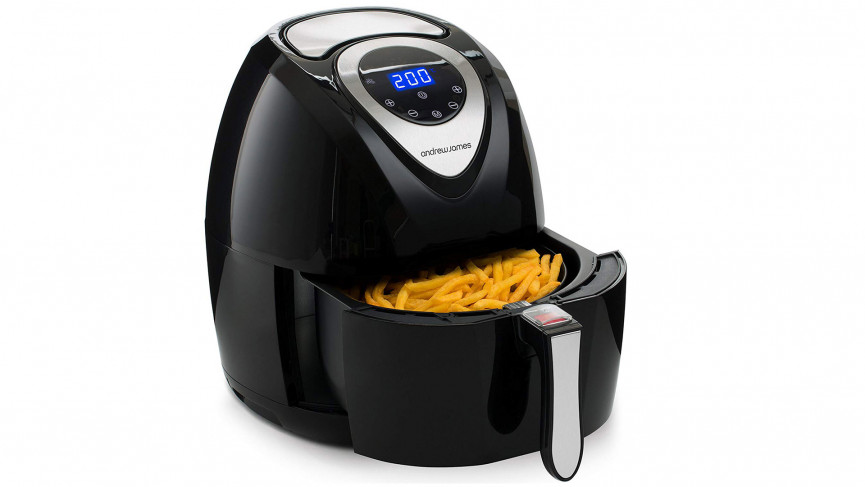 NuWave's delicious chicken and tasty chips elevated its NuWave Bio air fryer average higher than some of its other performance scores would suggest. This is because to power this performance, it's a noisy, hot and difficult-to-use machine.
For a mid-range price, you do get a wide range of settings if you can work out how to use them properly, and its large basket can be fitted with a separator, letting you cook two food items separately. But overall the NuWave offers a mixed bag of results.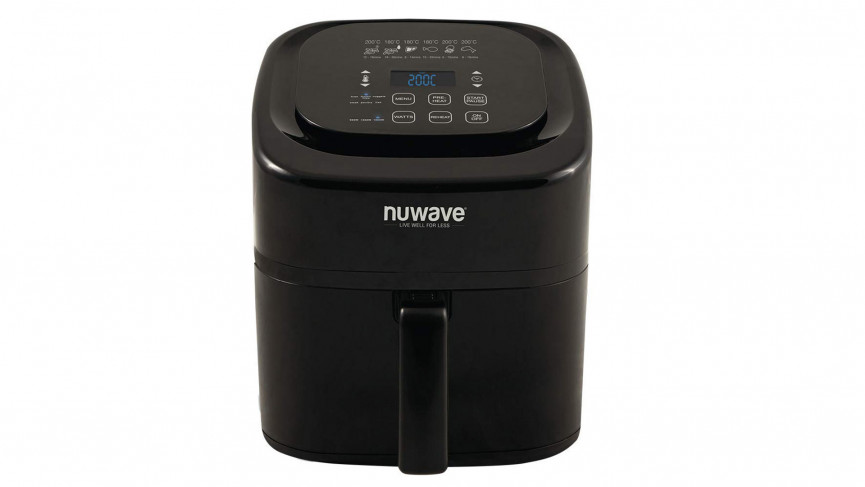 The most expensive model in our list, the Philips Avance, fell short of our expectations, scoring 18 points behind a model that is more than seven times cheaper. Design-wise, it's a chunky machine and is best suited to larger kitchens as a result.
That said, it performed well in the cooking tests. Both its chips and chicken were above the average. The chips in particular were fluffy on the inside although not as crispy as its cheaper rivals, and its chicken was somewhere in the middle of not too crispy, and not too dry.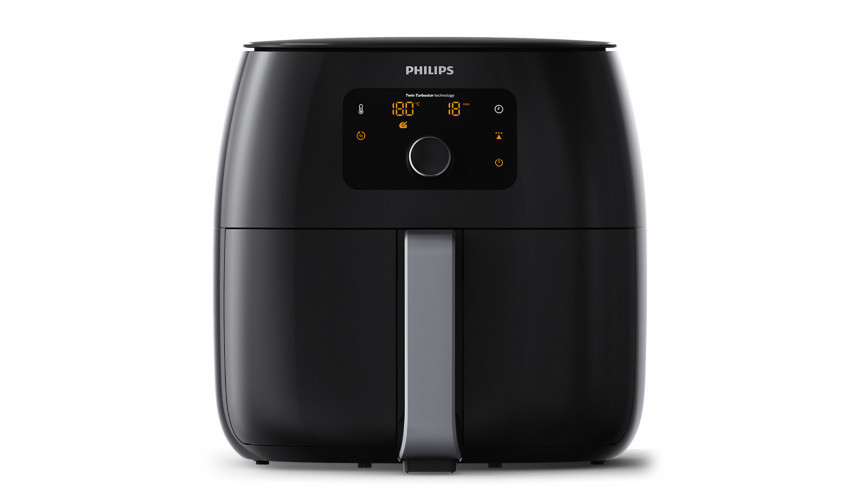 One to avoid
The worst performing model on our list was the Tower air fryer and we can't recommend an air fryer that left us almost eating raw chicken. It has few other redeeming features too.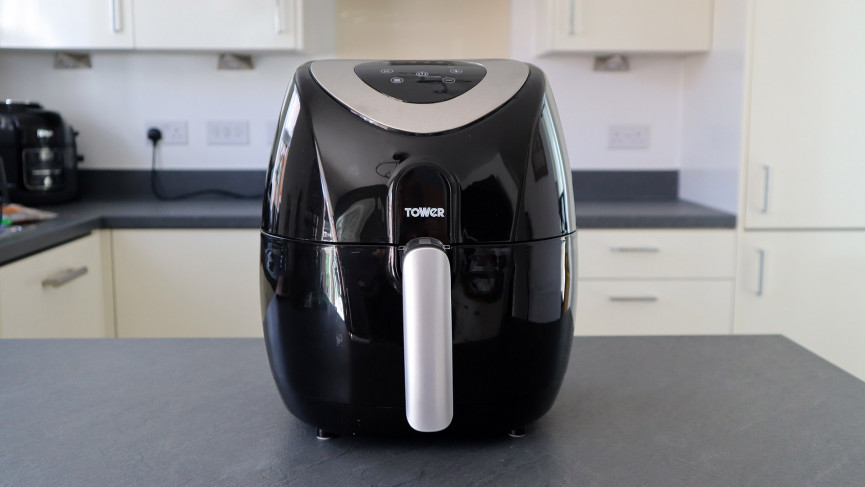 Its capacity is one of the lowest on test, its fan is one of the loudest, it's fiddly to use and overpriced for its performance at the original £69.99 asking price. It doesn't look too bad and it does offer an hour's cooking time but beyond that, this is a disappointing machine.
Related Reviews and Shortlists