ShortList is supported by you, our amazing readers. When you click through the links on our site and make a purchase we may earn a commission.
Learn more
7 best movies and shows to watch on Netflix in August
Everything you need to watch on Netflix in August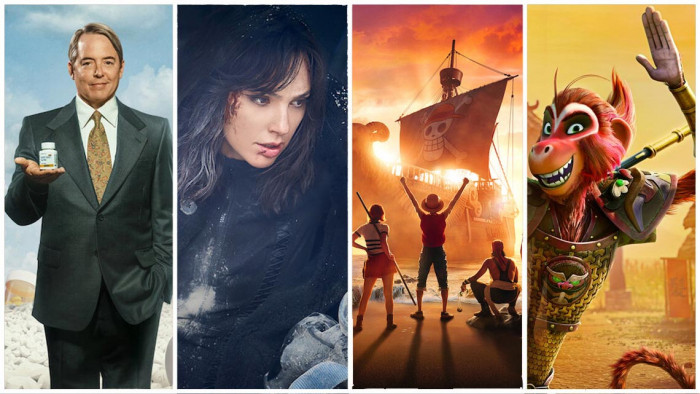 Most of the time at Shortlist, we focus on what you can do, see and read today, right now. But in this article we're looking forward. We'll dig into the shows set to come to Netflix over August 2023.
There's quite the selection. On the movie side, watch our for Heart of Stone. While it's not a direct follow-up to the immensely popular Red Notice, it does star Gal Godot. It's out on August 11.
The biggest TV show of the lot is One Piece, an adaptation of the best-selling single comic book series ever. This one's not due out until the very end of the month, though.
And if you want some classic easy-going binge-ready fodder, don't miss The Big Nailed It Baking Challenge. As it's out on August 4, it may be ready to stream by the time you read this.
For those who want more Netflix recommendations then head to our best Netflix shows and best Netflix movies guides - both updated with fresh August 2023 picks. But for now let's head on with the top 7 Netflix movies and shows to watch this month.
---
One Piece This is a live action adaptation of the comic book series that has sold the most copies worldwide, over 500 million copies as of August 2022. Yep, the number will be even higher now. This Netflix show is reportedly being made with an $18 million per episode budget, in the same ballpark as Game of Thrones follow-up House of the Dragon. The series follows the adventures of a bunch of pirates, headed up by Monkey Luffy, played by 19-year-old Iñaki Godoy.
Netflix release date: August 31
Depp v Heard You can't have missed the Depp v Heard trial, which rumbled through the US legal system back in 2022. This three-episode miniseries digs up these newly buried beefs. While we're not 100% sure we want to go back there, Netflix does promise first-hand testimonies from both Heard and Depp, "for the first time." We'll be keeping an eye out for the reports on this one.
Netflix release date: August 16
The Big Nailed It Baking Challenge Nailed it was the show that made us first fall in love with Nicole Byer, a comedian and presenter par excellence. The show itself sees contestants try to make ambitious baking creations to a strict remit, but with barely enough time to do so. And unlike the other baking shows, the bakers here are not pros or prodigies, just home bakers. Some are actively bad too. This new series also sees co-host Jacques Torres return.
Netflix release date: August 4
Heart of Stone Netflix must have its fingers crossed for this one. The last Netflix movie led by Gal Godot, Red Notice, is the most-watched film on the entire platform, with 230 million views. The Wonder Woman star returns in Heart of Stone, an espionage thriller in which she plays off against Jamie Dornan's Parker, an MI6 agent. This one doesn't have the comedy of Red Notice, or co-stars quite as punchy as the Rock and Ryan Reynolds. But it's one to watch.
Netflix release date: August 11
Painkiller This is a dramatisation of an ongoing US health crisis, that of opioids. In 2021 there were 80,411 reported opioid overdose deaths in the US, up from an already-high 21,089 in 2010. Painkiller is a limited series starring Matthew Broderick, Uzo Aduba and Taylor Kitsch that looks at both sides of the problem — the pharmaceutical companies that caused it to happen, and the victims of the crisis. It's a 6-episode series.
Netflix release date: August 10
The Monkey King Netflix has brought us some excellent family films over the last couple of years, including The Sea Beast and Guillermo del Toro's Pinocchio. We have big hopes for The Monkey King. It follows the self-professed monkey king of the title, who wields a stick that looks a bit like a light sabre. It's based on the classic Chinese novel Journey to the West.
Netflix release date: August 17
At Home with the Furys Tyson Fury is one of boxing's biggest characters, and a man you wouldn't necessarily want to meet in a dark alley. He's 6 feet 9 inches to start. And he's also the latest subject of an "at home with" style reality TV show. Fury, who will have just turned 35 when the show is broadcast, has five kids and has been married to Paris Fury since 2008. Now we get to see how far that slightly menacing charm stretches on the small screen.

Netflix release date: August 16
Related Reviews and Shortlists