ShortList is supported by you, our amazing readers. When you click through the links on our site and make a purchase we may earn a commission.
Learn more
50 movie quotes to start your day with
Sentence-size slices of wisdom from the greatest movie characters around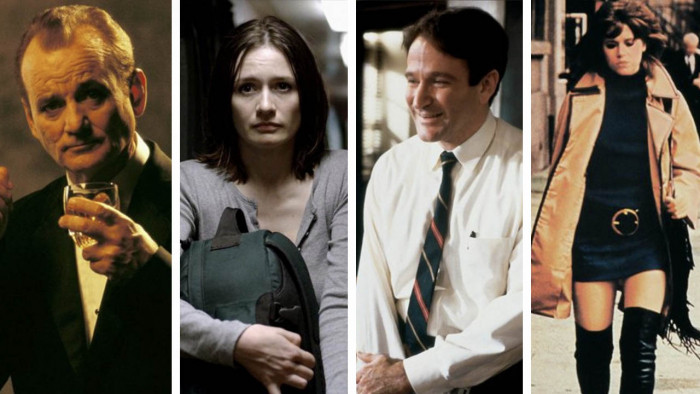 Movie quotes can show off the iconic writing in a film, or make you remember a scene that rocked your world at first viewing. But they don't all have to be about the film itself.
A great script can offer the kind of guidance and motivation you'd usually link to the inspirational and aspirational quotes of great thinkers or raconteurs.
And, let's face it, these days we often need a bit of a boost to get into the right headspace to tackle the day. That's what we have for you today.
50 quotes. 50 films. All picked to help you kick your day, or night, off right. Read and ponder.
Marty McFly (Back To The Future) "If you put your mind to it, you can accomplish anything."
Michael J Fox, 1985
Sean Maguire (Good Will Hunting)

"You'll have bad times, but it'll always wake you up to the good stuff you weren't paying attention to."
Robin Williams, 1997
Michael Corleone (The Godfather Part II)

"Never hate your enemies. It affects your judgment."
Al Pacino, 1990
Chris Gardner (The Pursuit Of Happyness) "You got a dream... You gotta protect it. People can't do somethin' themselves, they wanna tell you you can't do it. If you want somethin', go get it. Period."
Will Smith, 2006
Andrew (The Breakfast Club)

"We're all pretty bizarre. Some of us are just better at hiding it, that's all."
Emilio Estevez, 1985
Ben's Dad (Knocked Up)

"Life doesn't care about your vision. You just gotta roll with it."
Harold Ramis, 2007
Robert Spritzel (The Weather Man)

"Nothing that has meaning is easy. "Easy" doesn't enter into grown-up life."
Michael Caine, 2005
David Norris (The Adjustment Bureau) "It's not whether or not you get knocked down, it's what you do when you get back up."
Matt Damon, 2010
Gusteau (Ratatouille)

"If you focus on what you've left behind, you will never be able to see what lies ahead."
Brad Garrett, 2007
Lisbeth Salander (The Girl With The Dragon Tattoo)

"You choose who you want to be."
Noomi Rapace, 2009
Lazarus (Black Snake Moan) "You ain't got but one life. You ought to live it the way you want."
Samuel L Jackson, 2007
Veronica (Heathers)

"If you were happy every day of your life you wouldn't be a human being. You'd be a game-show host."
Winona Ryder, 1989
Bree Daniels (Klute)

"I think the only way that any of us can ever be happy is to let it all hang out."
Jane Fonda, 1971
Otter (Animal House)

"Don't think of it as work. The whole point is just to enjoy yourself."
Tim Matheson, 1978
Freddie Page (The Deep Blue Sea) "It's never too late to begin again."
Tom Hiddleston, 2011
Omar (Four Lions)

"Do you want to be in the queue, or do you want to be on the rides?"
Riz Ahmed, 2010
George (How Do You Know)

"We are all just one small adjustment away from making our lives work."
Paul Rudd, 2010
Finch (American Reunion) "You can be whatever you want to be – you've just got to be it."
Eddie Kaye Thomas, 2012
Rachel Dawes (Batman Begins)

"It's not who you are underneath, it's what you do that defines you."
Katie Holmes, 2005
Noah Vosen (The Bourne Ultimatum)

"My number one rule is - hope for the best, plan for the worst."
David Strathairn, 2007
Conrad Brean (Wag The Dog)

"A good plan today is better than a perfect plan tomorrow."
Robert De Niro, 1997
Mademoiselle (Heaven Can Wait) "What was bad yesterday is lot of fun today."
Signe Hasso, 1943
Charlie Allnut (The African Queen)

"Never do today what you can put off 'til tomorrow."
Humphrey Bogart, 1943
Janine Roth (Lions For Lambs)

"The only good thing about morning is it ends at noon."
Meryl Streep, 2007
Ferris Bueller (Ferris Bueller's Day Off)

"Life moves pretty fast. If you don't stop to look once in awhile, you could miss it."
Matthew Broderick, 1986
Hansel (Zoolander) "Do I know what I'm doing today? No. But I'm here, and I'm going to give it my best shot."
Owen Wilson, 2001
Jessie (Transsiberian)

"No matter what your dream in life, no matter what your goal, keep your eye upon the doughnut and not upon the hole."
Emily Mortimer, 2008
Sheba Hart (Notes On A Scandal)

"Mind the gap – it's the distance between life as you dream it and life as it is."
Cate Blanchett, 2006
General Zamir (Munich)

"If you can't decide in one day, you can't decide."
Ami Weinberg, 2005
Pi (Life of Pi)

"All of life is an act of letting go."
Irrfan Khan, 2012
Bob Harris (Lost In Translation) "The more you know who you are and what you want, the less you let things upset you."
Bill Murray, 2003
Natalie Keener (Up In the Air)

"It's only a problem if you have a solution."
Anna Kendrick, 2009
Marv (Sin City)
"Hell is waking up every god damn day and not even knowing why you're here."
Mickey Rourke, 2005
Bernstein (Scarface) "Every day above ground is a good day."
Harris Yulin, 1983
Ernie (K-PAX)

"Dying is something you have no control over. Why waste your life being afraid of it?"
Saul Williams, 2001
Boon (The Reivers)

"Sometimes you have to say goodbye to the things you know and hello to the things you don't."
Steve McQueen, 1969
Buddy Ackerman (Swimming With Sharks)

"Before you run out and change the world, ask yourself, "What do you really want?""
Kevin Spacey, 1994
John Keating (Dead Poets Society) "No matter what people tell you, words and ideas can change the world."
Robin Williams, 1989
April (Hot Tub Time Machine)

"You've got to embrace the chaos. That way, life just astonishes you."
Lizzy Caplan, 2010
Remy (Repo Men)

"If you want to change who you are, you have to change what you do."
Jude Law, 2010
Grandma (ParaNorman)

"There's nothing wrong with being scared, as long as you don't let it change who you are."
Elaine Stritch, 2012
Laura (High Fidelity) "You have to allow for things to happen to people – most of all to yourself."
Iben Hjejle, 2000
Henry Higgins (My Fair Lady)

"If you can't appreciate what you've got, you better get what you appreciate."
Rex Harrison, 1964
April Wheeler (Revolutionary Road)

"It takes backbone to lead the life you want"
Kate Winslet, 2009
Uncle Ben (The Amazing Spider-man) "You owe the world your gifts. You just have to figure out how to use them."
Martin Sheen, 2012
Jacob Palmer (Crazy, Stupid Love)

"You play to your strengths, pal. That's all anyone can do."
Ryan Gosling, 2011
Alex Hitchens (Hitch)

"Begin each day as if it were on purpose."
Will Smith, 2005
Terence McDonagh (Bad Lieutenant: Port Of New Orleans) "It's amazing how much you can get done when you have a simple purpose guiding your life."
Nicolas Cage, 2010
Dr Fredericks (The Good Shepherd)

"Never be ashamed of your abilities."
Michael Gambon, 2006
Frank Costello (The Departed)
"I don't want to be a product of my environment, I want my environment to be a product of me."
Jack Nicholson, 2006
Related Reviews and Shortlists