ShortList is supported by you, our amazing readers. When you click through the links on our site and make a purchase we may earn a commission.
Learn more
10 things we learned about Neighbours, according to its stars
Neighbours is back and we have been speaking to the legends that have returned...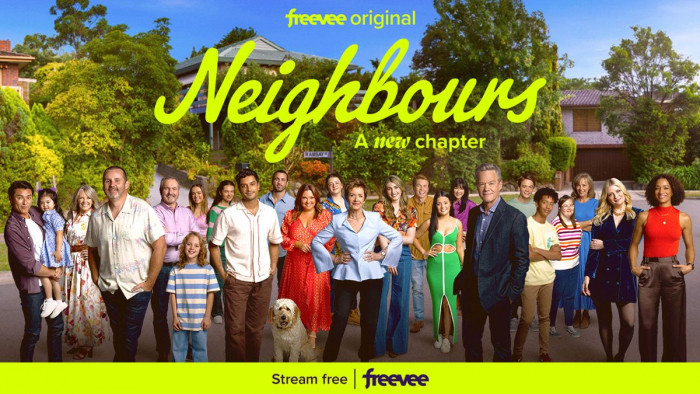 In 2022 and after 37 years, Neighbours, the staple soap for many, was cancelled by Channel 5. While the channel did a decent job of a send-off - bringing back numerous now-very famous faces - many were left bereft that they weren't going to see the likes of Toadfish, Karl Kennedy and Harold again.
Skip just a few months, though, and Neighbours is back! Amazon Freevee has taken the show under its wing, given it a glossy makeover and rebooted it two years in the future, to both entice a whole new audience and keep the regulars happy.
The goings-on in the Aussie cul-de-sac has never looked better. To get an understanding of the new show, and how it felt returning, we have spoken to Neighbours stars old and new.
We chatted to - brace yourself - newcomer Mischa Barton (The OC), who plays the mysterious Reece Sinclair; Tim Kano who plays regular Leo Tanaka; the brilliant Stefan Dennis who's been in the soap since day one; the legendary Karl Kennedy (well, Ian Fletcher); Georgie Stone, who is having better luck this time around as Mackenzie Hargreaves; and Rebecca Elmaloglou who has starred in both Home and Away, and Neighbours.
Here are 10 things you need to know about Neighbours, according to its stars…
---
1. Mischa Barton was nearly a Neighbour years ago… Mischa Barton: I had forgotten this, but I had been asked to be on Neighbours years ago, but it had never been the right time, probably not even the right role. But, this time, it was obvious. It's a reboot, so they're restarting and it was a different feel and this character in particular, Reese, she's a character I really liked and relate to and thought she'd be a good role for me, actually.
2. The Neighbours reboot was VERY unexpected… Tim Kano: We definitely did not expect the reboot at all. A lot of the cast and crew members sold their homes to move to other cities and changed their lives completely at the end, and we all went through a massive grieving process. So the reboot was really exciting, but we didn't expect it.
3. The Neighbours reboot was also VERY quick... Rebekah Elmaloglou: It was so quick! One was hoping that a white knight would sweep in and save the show but by the time we wrapped the show up, it was quite evident that it was over. Obviously, there was the whole grieving process and trying to finish the last few months of the show and trying to get to that finishing line. We didn't for the life of us think that, you know, four months later, we're gonna get a call. It was a bit of a shock.
4. The first day back was a big, exciting moment... Georgie Stone: It was so cool. There was a little bit of pressure. I remember being on Ramsay Street and there being paparazzi at the end of the street and some fans, so it was kind of weird to be trying to get in the headspace filming again and then just turning around and seeing this group of people cheering and screaming. But it was so cool. And what I really loved was seeing the new actors getting that experience for the first time. Even though the fans didn't know them, and they hadn't even been announced as cast yet, they were really excited to see the new cast.
5. Even Karl Kennedy got 'first day' nerves... Alan Fletcher: I found that first day quite nerve-racking. When you've done a show like Neighbours for 28 years, it's like wearing an old suit. You feel very relaxed in yourself and in your character. And you feel very relaxed in the team that you've been used to working with.
But when we bring in so many new elements as well, and very highly professional elements, people in the camera department, people in the lighting department so forth. Every department in fact, who are bringing new fresh ideas in, you suddenly realise you actually have to approach this new chapter as a new job. You've got to get to meet the new actors and find out how they work and how you can work best with them.
I found myself getting very hyper focused. It became very important to me to read every script, whether I was in a scene or not. So I had a really clear understanding of the show I was in. It was like coming back to film a feature film.
6. Mischa Barton didn't revisit Neighbours for her part... Mischa Barton: Honestly, not really, no. When I start, there is a time jump. It's two years later. And, as you know, so much drama happens so quickly on Neighbours that it doesn't really pertain to the current situation.
It would have been very overwhelming trying to catch up with all of it and really understand what all the characters had been going through over the years. The cast and the directors and the writers guide me. I sat down as soon as I got to Australia with the writers and had them catch me up on what the most important aspects of where we were going to be two years later.
7. Most of the cast found out about the reboot on WhatsApp… Tim Kano: We have a cast WhatsApp group, and someone wrote, 'I just heard a rumour that the show might be coming back' and we were like, 'No way that's absolute rubbish'. And then, I think at midnight that night, it came out in the press.
I don't know how it got leaked, that it was coming back. And we were all kind of shocked and stunned. And then, of course, it was an avalanche of questions about how, when, why, how, who? We all were calling each other and everyone was on the phone till the early hours of the morning trying to decipher what was going to happen, and also who was going to come back. It was an exciting, but nerve wracking time - we were all kind of gobsmacked.
Then we found out that a few of the cast actually knew. Jason, the producer, had gone and saw them face to face - literally gone to their doors, knocked on the door and said, 'Hey, we're thinking about bringing back the show'. So it was kind of funny thinking about that.
8. Stefan Dennis was in bed when he found out about the reboot... Stefan Dennis: I was in bed with my wife when I got the phone call. It was about eight o'clock in the morning, so I shouldn't have still been in bed but I was semi-retired!
I got a phone call from Jay [the producer] saying he was in the area and you know, would it be okay if he popped in for a cup of coffee because he's got a gift for me. He did actually have a present to give me. But then, once he gave me that, he dropped the bomb. I picked my jaw up off the floor and said, 'Wow, okay'. He just popped it in in the middle of the conversation: 'Oh, by the way, we're back'.
The worst thing was, he said, 'Look, I'm going round and I wanted to physically come and see you Fletch [Karl Kennedy actor Alan Fletcher], Jackie [Woodburne, Susan Kennedy] and Ryan [Moloney, Toadfish] as the current original heritage members, as they call us'.
He said, 'I wanted to visit you and tell you personally, but the news is not breaking for another three days. So he said, 'You must keep it top secret'. I'm like, 'Well, you can't do that!'
9. Being in Neighbours gives you 'gentle' stardom... Ian Fletcher: One of the things about the level of, what would you call it, stardom? I don't know. But the level that we have achieved in Neighbours, in terms of public perception, is very gentle. We're not like Robbie Williams, who can't leave his own house, you know? We can very safely wander around any city and have people just go 'Oh, hello, Alan, wonderful to see you. What's happening? Why are you here? Can I get a photo?'
It's always very gentle. It's always very courteous, and I have to say extremely enjoyable because when people say 'hi,' you know they're watching the show. We've got jobs, so we're pretty excited about it.
10. Stefan Dennis reveals the secret to Neighbours' longevity... Stefan Dennis: I never thought Neighbours would become such an institution. I actually didn't want the job at the beginning, because I was gunning for a film at the time. And I didn't get the film. And ironically, the film became one of the great box office bombs [it was The Lighthorsemen, fact fans].
I reluctantly agreed to do the show, thought the name was corny and that it would probably last six months. So I said, 'Look, I'll do it. I'll do it for three months.' They went 'no, no, no, they want you as principal cast so they want you for at least six months, preferably a year'.
So I said I would sign for six months, as it's probably not gonna last longer than that anyway. I was almost right because it lasted seven months on Channel Seven, before it was axed. And then two months later, it was picked up by Channel 10. So we have set another precedent by being, probably, the first show that's not been picked up once but twice, you know, it's been rescued twice.
There's obviously a secret or magic ingredient within the show that just keeps the thing going. People say, 'what's the secret of Neighbours' and I always sum it up in one word, and that is 'entertainment'.
Related Reviews and Shortlists