ShortList is supported by you, our amazing readers. When you click through the links on our site and make a purchase we may earn a commission.
Learn more
Why Pride still matters more than ever in 2018
Pride In London spokesperson Asad Dhunna on the importance of LGBTQ representation in magazines like ours Two guys kissing on the front of a magazine is still controversial. Fifty-nine per cent of gay men think twice before kissing their partner in public, so for them to suddenly see themselves on the cover of a magazine like ShortList? That's a huge step.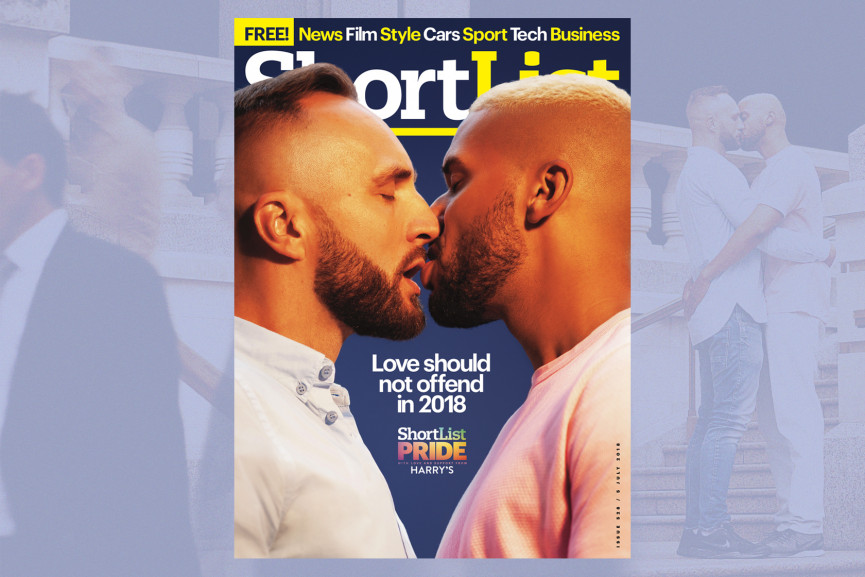 It's going to make people stop and have a conversation. The media carries a huge responsibility, in my opinion, to ensure that it is presenting things in the right way: it's important for LGBTQ+ people to see that we're not a niche, but it's also important for cisgender, straight men to see that there are gay people out there and that they live 'normal' lives. And to realise that they probably have a lot more in common than they think, such as wanting to settle down, have a family, dress well, earn good money, build a rewarding career. LGBTQ+ people long for exactly the same things. 
A lot of people think that because we've got equal rights and same-sex marriage in the UK, the work has been done. But we at Pride In London have realised that Pride is important for a whole bunch of reasons. 
"We made a freedom of information request last year and found that hate crime against LGBTQ people in London is on the up"     
It's about celebration, but it's also about pushing equality even further. Equal marriage still doesn't exist in Northern Ireland; a high percentage of homeless people are LGBTQ+, often because they've been kicked out of their homes for who they are. We made a freedom of information request last year and found that hate crime against LGBTQ+ people in London is on the up. And a lot of people who suffer from mental health issues are LGBTQ+; having to self-censor day in, day out has a natural impact on how you live. 
RELATED: Why the LGBTQ+ community needs more from you in 2018 (and how you can be a better ally)
The LGBTQ+ community needs what we call 'straight allies' more than ever. The concept of Pride needs to last for more than just one day a year: it's about making sure policies in your workplace don't exclude LGBTQ+ people; it's about not casting out family members, and it's about embracing queer culture. The success of Queer Eye shows how ready the world is for that. 
It's time to understand that just because a life isn't heteronormative, it isn't any less of a life.
Related Reviews and Shortlists