ShortList is supported by you, our amazing readers. When you click through the links on our site and make a purchase we may earn a commission.
Learn more
What it's like to taste test Midleton's €50,000 whiskey (spoiler: it's incredible)
Midleton's Very Rare Silent Distillery Chapter Four whiskey taste tested.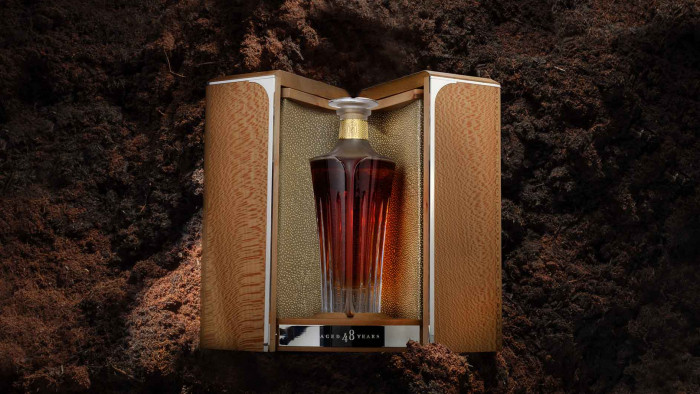 I'm sat staring at a small 50ml bottle of whiskey. To the uninitiated, it looks like any other whiskey but its contents are some of the rarest liquid on the planet.
I am about to be among the first in the world - outside the distillery - to taste the Midleton Very Rare Silent Distillery Chapter Four. Only 119 bottles of this 48-year-old ultra-rare Irish whiskey are available, with each bottle costing €50,000.
"What you have there costs about €3,500." Pointing at my bottle is Kevin O'Gorman, Master Distiller at Midleton and the man who has overseen the Very Rare story. It is hard to comprehend the idea of drinking - and savouring - something that is this expensive and I am hoping that my taste buds don't fail me.
I am very glad, then, that I am in the company of O'Gorman who is on hand to guide me, and a select few other lucky tasters, through what is the most privileged night of whiskey tasting.
O'Gorman has been at the distillery since 1998, taking over the Master Distiller job from Brian Nation in 2020 - Nation succeeded the legendary Barry Crockett in 2013. O'Gorman started as a distiller under the tutelage of Crockett and his knowledge of maturation is unmatched.
O'Gorman stands and the tasting begins.
"Let's absorb the colour first," he says holding the whiskey glass up high. "It's a natural colour. A golden colour which is dark - this is to be expected for something that's 48 years."
Pouring a small amount (€1,000-ish, gulp!) into my glass, I hold it to the light. The colour is glorious, rich with amber and, quite fitting, gold like.
O'Gorman's nose goes into the glass. "Upfront I get honey, honeycomb. There's a sort of coffee cake, a confectionery sweetness and lots of fruit - ripe fruits, maybe berries,"
The first sniff of the whiskey is quite overwhelming, in the best way. There's a definite sweetness there as well as a grassy element to it. It turns out, this is because of the age.
"With old whiskies, you typically get this earthy note coming through," says O'Gorman. "It's kind of like going for a walk in the forest, especially after rain."
Another inhale and there's notes of old leather then the sweetness hits once more. Now for the main event: "sláinte!"

"And this is the Midleton Very Rare Silent Distillery Chapter Four," say O'Gorman, pausing to take a sip, pausing further to savour.
"It's juicy. There's a lot of fruit. Peaches, apricots, citrus... then the fruits fade away and there's a spice, ginger and maybe hazelnut... that fades and you get a little of the oak tannins at the end. It's long, very long."
The taste is incredible. I can't help but think of all of the flavour notes O'Gorman describes and then I get some more - there's floral notes in there and huge amount of toffee.
Others around the table offer up their own taste notes: griddled pineapple, stone fruit, Blue Bird Toffee... regardless of the (subtle) differences in taste we all have, there's a universal feeling that we've just experienced something incredibly special.
It's a feeling O'Gorman shares and one that helps him recall memories of when he first began at Midleton and what happened at the distillery before his time - especially the closing down of the old distillery in 75, only for a newer, bigger one to open over the wall.
"A few important things happened between 1973, '74 and '75. Max Crockett, who was the master distiller then, had the foresight to put away a number of casks and those casks were put away into these very old warehouses called Warehouse A1, A2 and A3.
"I joined in 1998 and I remember getting a tour of those warehouses from a guy called Dennis Sweeney, who was the warehouse supervisor at the time, and Dennis showing me these casks. I remember thinking that 1973, 1974... these were old casks. I never would have guessed that I would be here tonight, introducing that very whiskey to yourselves.
"It's an amazing journey for the whiskey and myself." As you can probably tell by the name of the whiskey, it is the fourth chapter of what will be six releases. Each release has been very different from the others so far.

"Chapter One was launched in 2020. And that was a peated malt matured in a sherry butt, which was very unusual for Midleton at the time," says O'Gorman.
"Chapter Two was a single pot still matured in American oak barrels and spent a bit of time in a port pipe from Porto and finished its journey in an American barrel as well. Chapter Three, which we launched last year, was a combination single pot of an American barrel and a sherry barrel, which we put together at the end.
"We've got two more: Chapter Five and Chapter Six. Chapter Six will coincide with the 200th anniversary of the distillery in 2025."
Back to Chapter Four. I sit back in my chair and pour a tiny bit more - another €1,000, I think in disbelief - and swirl the glass, thinking of all the history that's gone into the whiskey, the precision and patience of the distillers that have passed it through the generations.
I sip once more and finally get that hit of peaches. I want more but decide to keep the rest, with the hope to drink it to toast the next as-yet-unknown celebration.
I look over at O'Gorman, just as he is pouring the final bit of whiskey from his bottle into his glass.
This is his celebration, this is Midleton's celebration and they thoroughly deserve it. ---
Midleton Very Rare Silent Distillery Chapter Four is bottled at its cask strength of 53.9%. Master craftsman John Galvin, originally from Cork, is the designer behind the specially designed box. The cabinet, made of select lacewood, is dressed in premium shagreen leather and detailed with sterling silver and oak reclaimed from Irish whiskey vats. The bottle is a mouth-blown crystal decanter produced by House of Waterford.
Midleton Very Rare Silent Distillery Chapter Four is available to purchase for €50,000 from Harrods and other select retailers later this month.
---
Related Reviews and Shortlists