ShortList is supported by you, our amazing readers. When you click through the links on our site and make a purchase we may earn a commission.
Learn more
Universal's Halloween Horror Nights: the scariest moments revealed
ShortList experiences the scariest Halloween of them all...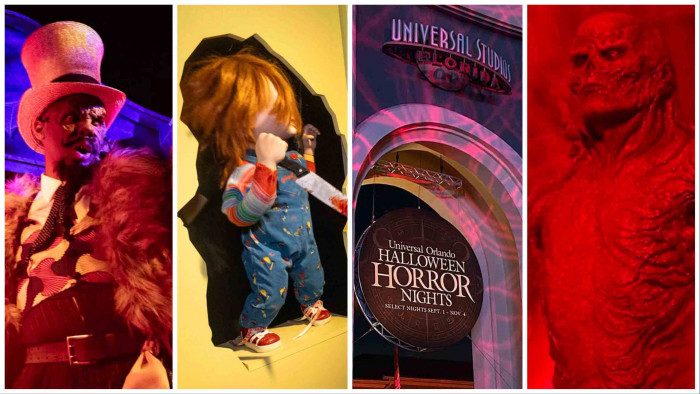 Horror fans, the most epic event of the year is upon us. Over in Universal Studios theme park, the annual Halloween Horror Nights event is taking place. And this Halloween, it might be the most exciting for monster movie fans yet.
The annual Halloween takeover sees ten terrifying haunted houses take over the resort, all waiting to scare you silly, with its mix of expertly-crafted jump-scares, "scare-actors", and scary storytelling for you to brave/scream through. There's no better way to spend Halloween, and if you like your pop culture on the spooky side, you'll be as satisfied as Michael Myers at a teen's October 31st house party.
Now in its 32nd year, the all-new lineup of haunted houses is a mixture of all-original concepts you'll only find at the event, and mazes based on some of the world's most iconic horror movie, TV and game franchises. For horror fans, there's nothing quite like it.
Those movie and TV shows brought to life at this year's Halloween Horror Nights event include Stranger Things Season 4, The Exorcist: Believer, Chucky: Ultimate Kill Count and more. But for fans of all things gruesome, perhaps the most exciting addition is The Last Of Us - created in real life for the first time in close collaboration with Naughty Dog studios.
"I'm a huge theme park guy," says Neil Druckmann, famed co-creator of The Last of Us, and co-president of Naughty Dog as he gives us an exclusive behind-the-scenes tour of the experience at Universal Studios Orlando, where we've come to get the rundown on the scariest moments, firsthand.
"I thought, if I tweet about how awesome it would be if The Last of US was part of Halloween Horror Nights, I wonder if it will get to the right people. So I did, and that same day, Mike [Aiello,Senior Director of Entertainment Creative Development at Universal Orlando] reached out to me… pretty quickly, we were off to the races and building this thing."
"I'm used to reviewing the game in 2D, on a screen. But here there are all these tiny details that most people won't even notice - a brick here, ammo pickup over there. You can tell this was built with pure love and to honour the source material," he explains.
If you fancy heading to the event, it's running until 4th November in the Orlando and Hollywood Universal Studios theme parks.
Can't make it this year? Here's your inside guide to the scariest movie and TV moments brought to life at the park (hey, we can experience it so you don't have to). Get ready to spook yourself… or share with a horror fan who you think would be up to the challenge.
---
Try and survive The Last of Us in real life Reckon you could survive the infected? In the first-ever real-world The Last of Us experience, based on the Naughty Dog game, you'll be faced with Clickers, Bloaters, Runners and more, as you join Joel and Ellie to escape the infected, set right in the middle of the Pittsburgh area of the first game.
"You're side by side with Joel and Ellie," Mike Aiello tells us, "You're going to see them, you're going to hear them, you're gonna encounter all of the dangers that they experience within this story."
"The great thing about Pittsburgh that we loved was just the variety of the aggressors. You have Hunters, you have all of the infected at their varying levels, and you have Bloaters - you will see all of those in this house experience," warns Aiello.
You'll start by Joel's crashed truck, and encounter Joel himself, where you'll immediately be attacked by a Hunter - before you traverse the maze amid those aggressors, dead bodies, live survivors being eaten and disgusting walls taken over by fungi. It's all pretty revolting. We'd expect nothing less.
…and become surrounded by TLOU scares for all the senses That authenticity comes down to the sounds around you, too. The house uses music directly from the game, and the sound effects of the Clickers and Bloaters come straight from the game files. Meanwhile, original The Last of Us voice actors, Troy Baker and Ashley Johnson also recorded new, bespoke, dialogue for the attraction. "It's now my third time writing this story," laughs Druckmann, of the live adaptation. Those lines are paired with live actors who look amazingly like the real characters to really transport you into the post-pandemic world.
The audio also adds to the horror, of course, too, "When it comes to the aggressors, there are moments where they're being aggressive but you can hear in the audio that they're crying at the same time," says Druckmann, "It's a really creepy moment and I love the effect."
"This infected is ripping apart a victim you're literally hearing her crying as well, because she's aware of what she's doing, but she can't stop," adds Aiello, as we start to feel a bit queasy - but not as much as when we're actually traversing the house when it's in full swing. The infected are genuinely revolting - and whatever you do, watch out for the gigantic Bloater.
Walk right into a possessed, living trailer for Exorcist Believer Okay so the new Exorcist movie may not have been to everyone's tastes but it's terrifying when you experience it first hand, in your face, in all its disgusting, demonic glory. Described as a 'living trailer' for the sequel to the iconic horror masterpiece, the house sees you walk through some of the scariest scenes from the film.
That involves following the case of two girls who have gone missing in the woods, which you must join the search for (while encountering demons and the like, naturally). When you discover them, the girls have been possessed - and it's not for the faint-hearted.
…and it's terrifying The Exorcist: Believer house isn't just about getting some more deets on the movie. At the horror event of the year, we found it to be the best haunted house of all; a real living horror movie experience unlike any other, and a terrifying one at that. Being jump-scared by three-eyed demons with you on their hit list, possessed girls writhing around and floating in the air, and some seriously horrible smells attacking your senses from all angles will do that. After all, we all know one universal fact to be true: creepy kids are always the worst.
Come face to face with Stranger Things' Vecna's curse Every season of Stranger Things has been transformed into a Halloween Horror Nights maze, and the latest Season 4 of Netflix's sci fi horror is no different. This time, fans will come face to face with Vecna multiple times, and in increasingly freaky jumpscares, eventually taking to Vecna's terrible mindlair, reliving the season universally dubbed the darkest and scariest yet.
…all while Running Up That Hill with your favourite characters Of course, that means joining your favourite characters along the way for those most horrific moments. We're talking walking through Eddie's trailer to find Chrissy in the air, Max being taken over by Vecna to Kate Bush's "Running Up That Hill," Eddie and Dustin trying to fight off Demobats to Metallica's "Master of Puppets" (and the former failing), and Eleven's showdown with the big baddie himself.
It's a Stranger Things fan's dream… or nightmare.
Chucky: Ultimate Kill Count's spot-on meta vibes Chucky running out at you with a hulking great carving knife is frightening at the best of times. But hundreds of Chuckys, keeping a running tally of their crazy kill count as you try and escape his haunted house? It's definitely not one for those who don't like terrifying killer dolls.
Hooked on the latest SyFy Chucky TV series but referencing the entire Child's Play series (look out for Kyle from Child's Play 2), this haunted house embodies the spirit of Chucky in a devilishly meta way: you begin walking through a haunted house, meeting an animatronic Chucky, only for Chucky to not like the haunted house… and murder everyone. He's your friend to the end. Which might be, erm, right now.
…and being attacked by hundreds of deadly Chuckys From there, you exit the haunted house… or so you think. A scareactor playing a Universal employee tells you, helpfully, to leave the house as Chucky is murdering guests - from which, you enter a second house, where more employees have met gruesome fates from the doll. Here, there are what seems like hundreds of deadly Good Guy dolls, escaped from their boxes and armed with knives and chainsaws, waiting to attack at every turn. Fans will be pleased to know that Tiffany makes an appearance, too. Barbie, eat your heart out.
A roaming horde of M3GANs
Chucky isn't the only doll to be let loose at the Halloween event of the season. Arguably the horror movie icon of the year, film fans will be thrilled to stumble upon a horde of M3GAN dolls patrolling the park this year. The M3GAN flashmob performs right in the park throughout the night - so you'll just have to be in the right place at the right time to see them (or wrong place, if you don't want your new AI BFF jumping out at you). Learn the dance and join in if you dare.
Universal Orlando's Halloween Horror Nights 2023 runs until 4th November. For more information about visit the official site. ShortList headed to Halloween Horror Nights, courtesy of Virgin Holidays. You can get seven nights at Loews Sapphire Falls in Orlando with Virgin Atlantic Holidays, including scheduled Virgin Atlantic flights from London Heathrow direct to Orlando, accommodation in Standard Queen room on a room only basis starts from £1,576 per person. Price also includes a Universal 3 Park Explorer Ticket and Halloween Horror Nights single night ticket. See Virgin Holidays for more details.
Related Reviews and Shortlists