Short of writing a coffee table book on the subject, our love for coffee tables knows no bounds.
The sleeker, the bolder, and the more original the better - and here we've picked a houseful which should be high on most furniture shopping lists.
So have a gawp and get your geek on with the picks. And if you do end up buying one of these, probably wise to invest in some placemats...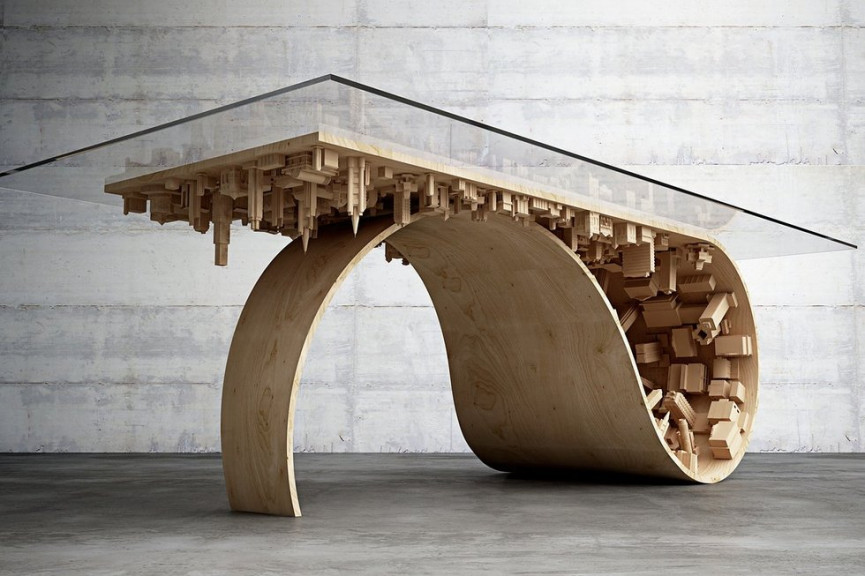 Wave City Dining Table
Okay, so it's not strictly a coffee table.
Cypriot designer Stelios Mousarris has drawn on a love of Christopher Nolan's Inception to create this mind-warping centrepiece. Constructed out of wood, steel and 3D printed technology, each of those miniature buildings is hand painted.
You'll have to act fast if you want it - he's only made a "limited" number of them, and you have to ask for the price. Which means it's REALLY expensive.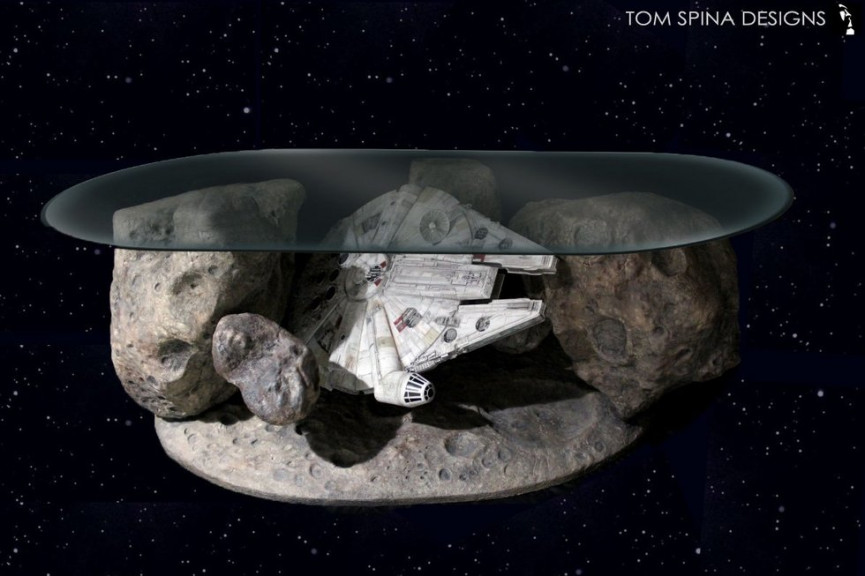 Falcon Asteroid Chase
Forget the 'Han Solo encased in carbonite' desk - this is the coolest piece of Star Wars furniture a home could wish for. The creation of Tom Spina Designs, this coffee table depicts the Millennium Falcon being chased by a TIE Fighter through an asteroid field, a la The Empire Strikes Back. With this in your living room, you'll easily be able to do the Kettle Run in 12 parsecs.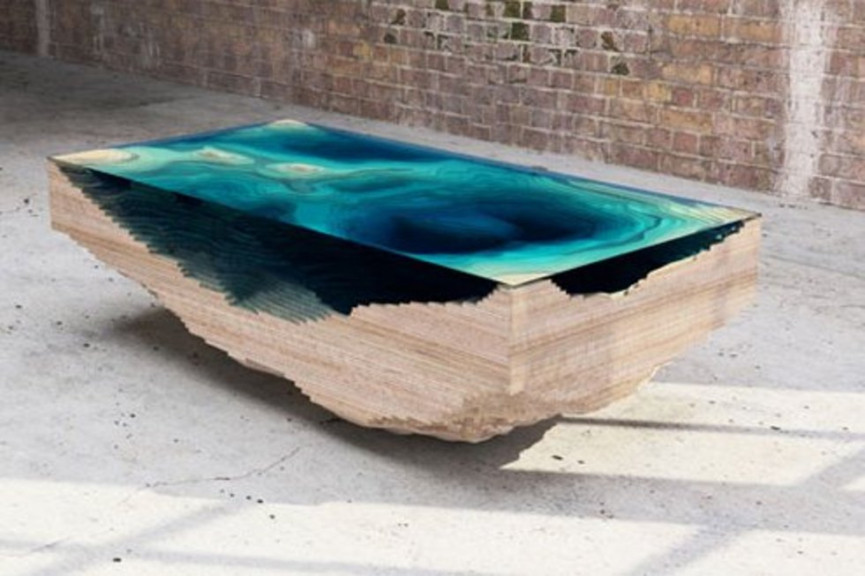 The Abyss
You don't need to be James Cameron to appreciate the rugged 3D topographical treat that is The Abyss, deftly layered by London design house Duffy, using pressured glass effects to create those dark fathoms. But with only 25 made and each costing £5,8000, it might help.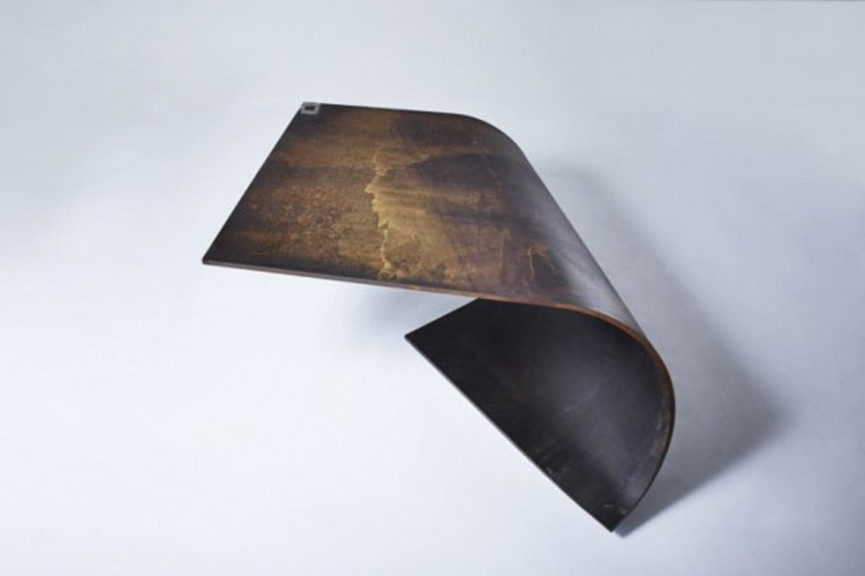 Poise
Mathematics and tables might sound like high school all over again, but this is anything but. The genius behind this gravity-defying piece, designed with such preciseness that a single millimetre's deviance would cause it to topple over, is Paul Cocksedge, whose work went on show in both London and New York last year. Only 10 have been made.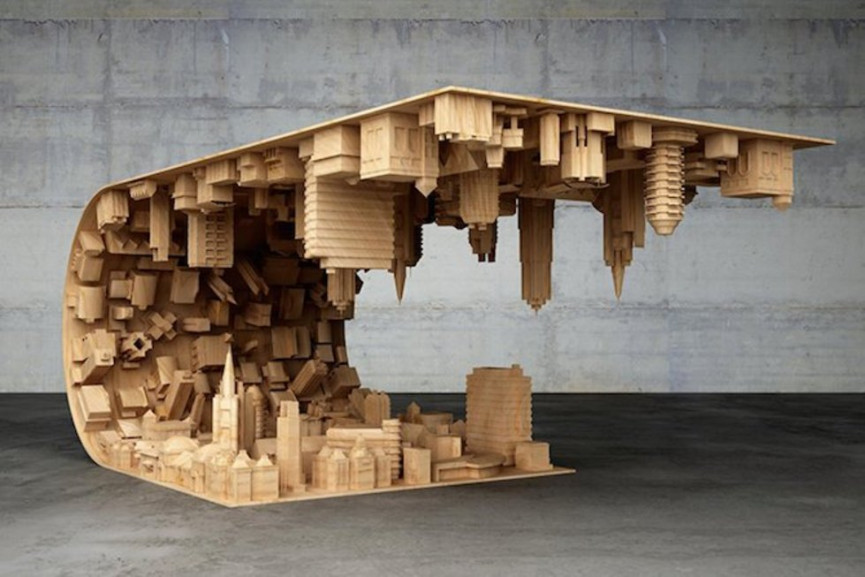 Wave City Coffee Table
Another creation of Cyprus-based designer Stelios Mousarris, you don't get any points for guessing his reapted pop culture reference that inspired the 'Wave City' coffee table (no, not Die Hard you fool - Inception). A fusion of wood and steel, Mousarris used 3D printing techniques to create the cityscape which holds the table's wave. You'll be drinking water for a while if you want one though - at €4,000, it towers over IKEA prices.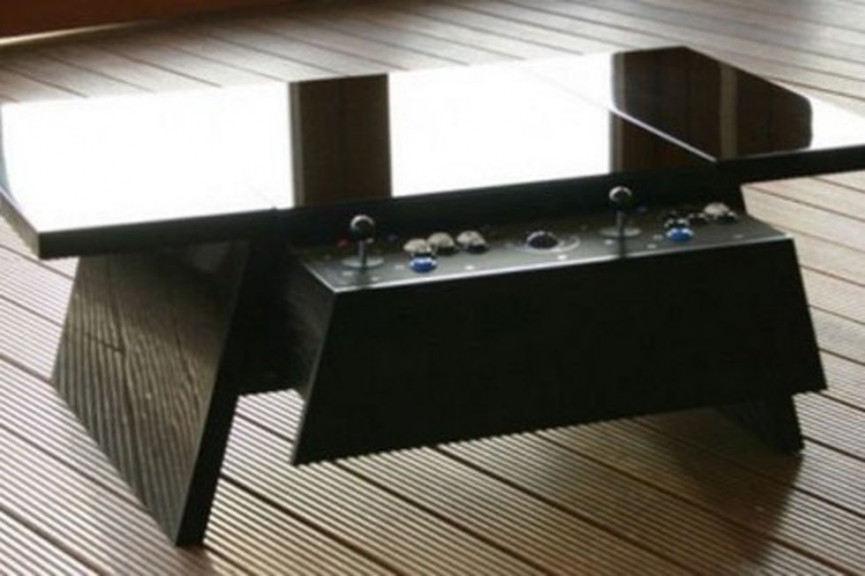 Arcane Surface Tension
Because nothing says 'coffee table' quite like whupping a bloody Sub Zero on Mortal Kombat via this £3,999 hardwood and glass arcade machine, does it? And that's the charm of this handcrafted piece: old-school buttons and Intel Pentium Dual Core hidden for when your auntie comes over for tea, then totally accessible when you're only left with a gingerbread man left to dunk. "Finish him!"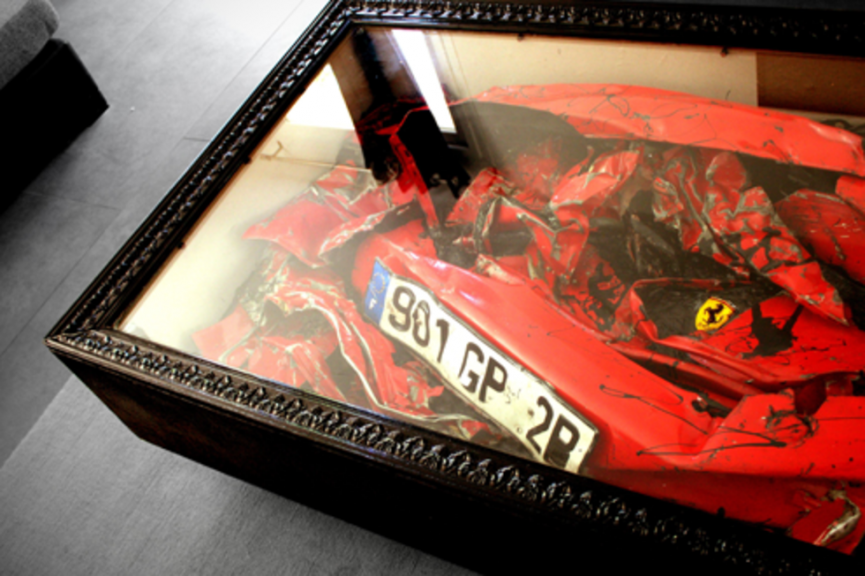 Crushed Ferrari
For most men, the thought of seeing a £260,000 Italian supercar crushed and encased under a coffee table is enough to wake up in a cold sweat. Luckily, the smashed Ferrari tucked inside this piece of furniture was already destined for the scrap heap before Corsican designer Charly Molinelli salvaged it and upcycled it for an anonymous client. We can only guess at the head of Lamborghini.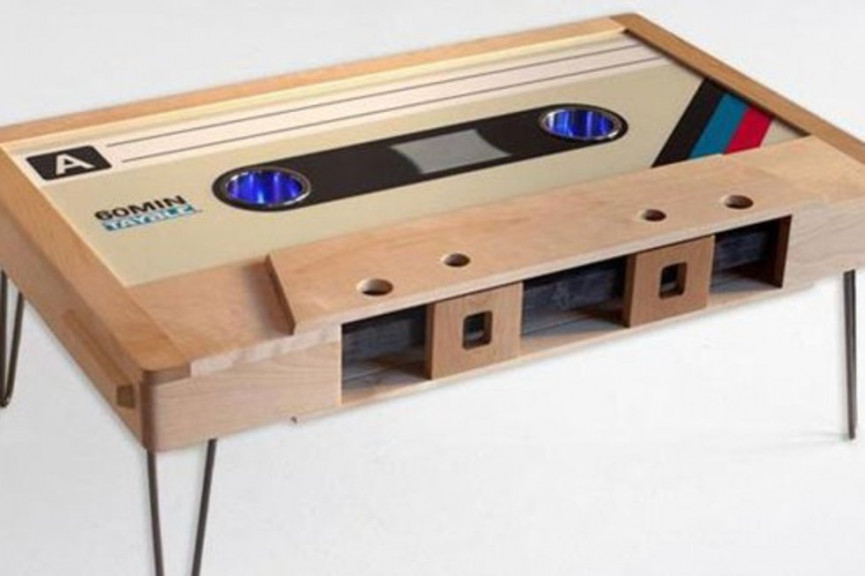 RETRO CASSETTE TAPE
Ever laid eyes on a more deliciously ironic piece of furniture? This piece of hipster home-wear is the brainchild of quirky US design trio TAYBLES (like we said, quirky), who allow customers to customise their own with a number of various stains colours and graphics, scrawling your own own mix tape name on the finished product as a bonus. You won't need a giant pencil for those big holes, either. They're stainless steel cup holders.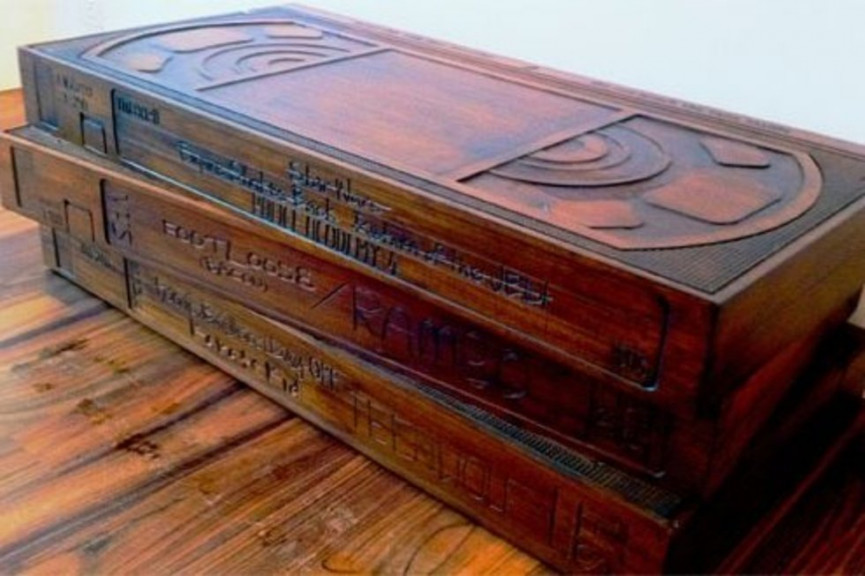 VHS Table
Eclipsing even the aforementioned cassette tape table in the retro stakes, this £1,242 wooden VHS coffee table – hand-carved from recycled Indonesian teak by T76 Design - is so rich in nostalgia it not only comes with the names of numerous cult '80s films carved into it, but has some crossed out for an added nostalgia overload. Police Academy 4 was always going to usurp the Star Wars trilogy, right?
Order@t76design.com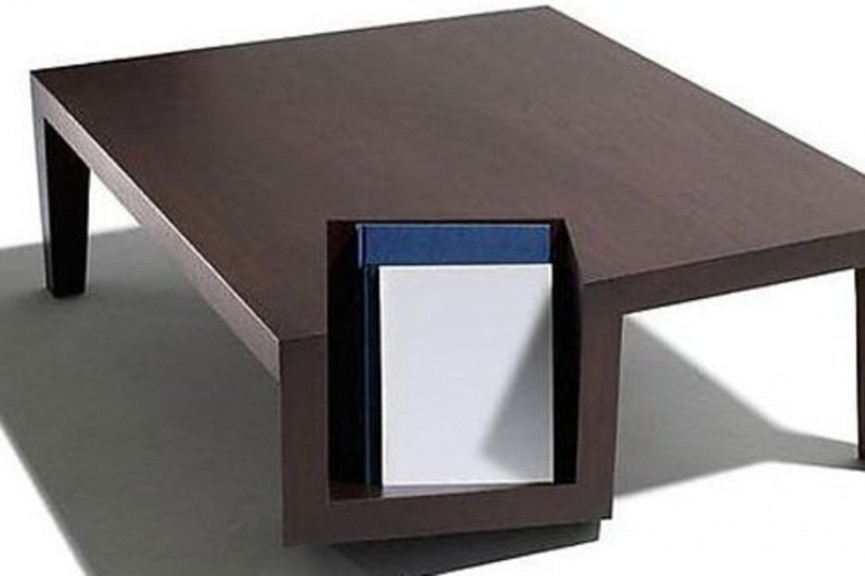 Cornered Coffee Table
How novel: a coffee table with somewhere to actually store coffee table books. The neat and clever design works with one leg acting as cross-section of a rotated cube, allowing owners to flaunt their classy reading collection in style. At the risk of sounding like Homer Simpson, our only adjustments would be a cup holder or two. For £1,200 you'd expect that much.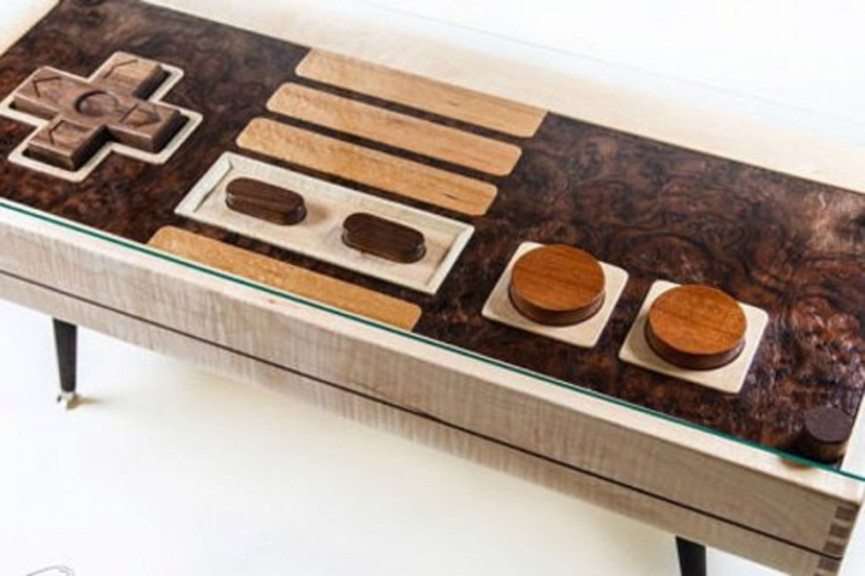 NINTENDO CONTROLLER
What better surface to serve a gaming fan a cuppa on than this walnut slice of Nintendo nostalgia? Finished off with doubtlessly rich mahogany, glass and various types of maple, the bonus here is that it actually works as a controller. Seriously. You can bash the buttons to elicit the right console responses, though you'd probably want to buy this TV to play it on.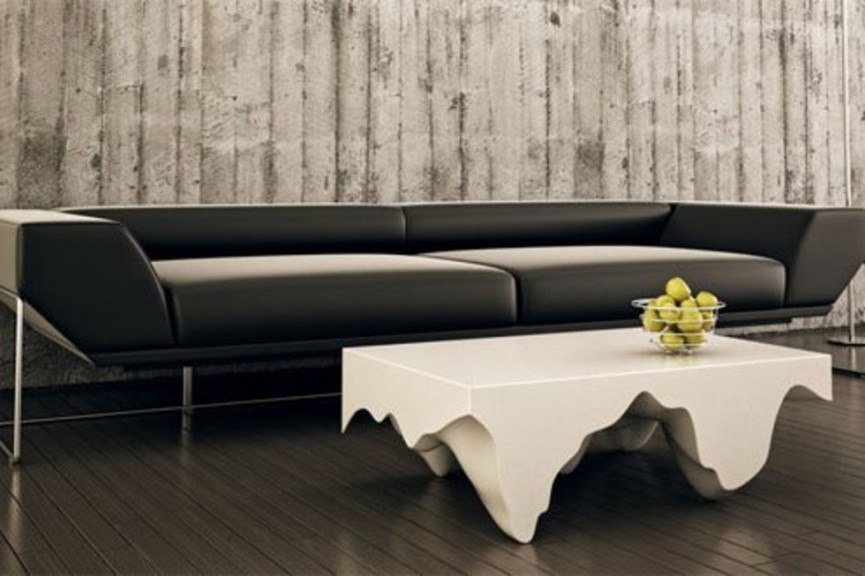 STALAC COFFEE TABLE
A philosophical eco-message about the melting ice caps? Possibly. A marvellous fiberglass pearl design serving as both optical illusion and something to put your feet on as you watch TV? Definitely. Manufactured by Every Design in Canada, it's available for build on request and we can see no reason why you'd plump for anything else.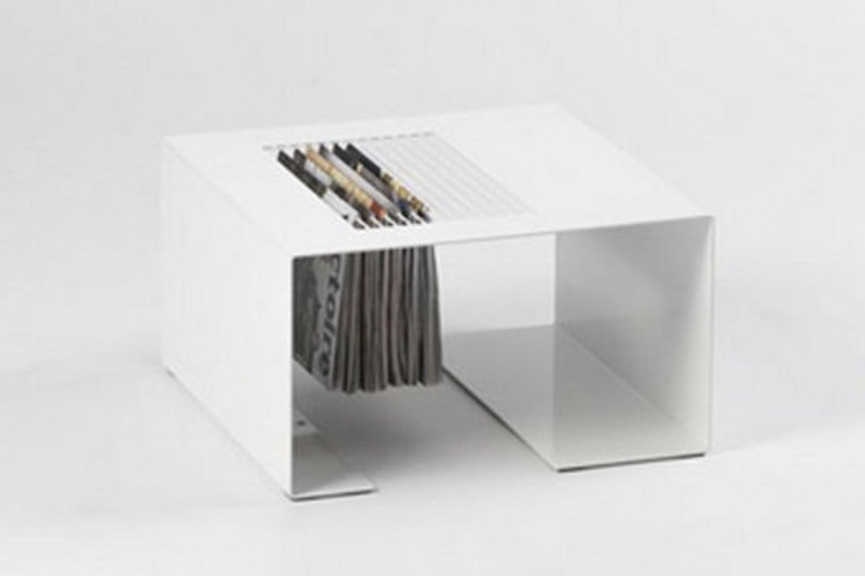 THE TABLE MAG
For anyone more interested in where to keep their magazines, however, let us introduce the Belgium-made TableMag, equipped with built-in racks to ensure those 14 of copies of Monocle you've never actually read. Prices start from £350.