ShortList is supported by you, our amazing readers. When you click through the links on our site and make a purchase we may earn a commission.
Learn more
The reviews for Apple TV Plus' monster TV show are in - this looks epic
You'll want to swap Netflix for this...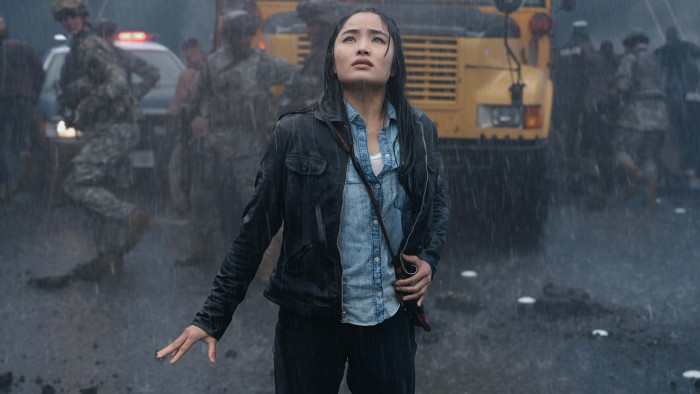 There's no shortage of great Apple TV Plus shows to watch at the moment but, if you are a fan of monster movies, its latest one may well be its best yet.
Monarch: Legacy of Monsters is a new addition to what's being called The Monsterverse, Legendary's take on the Godzilla and King Kong mythos.
We've already seen Hollywood versions of Godzilla/Kong of late. This resurgence started with Gareth Edward's Godzilla in 2014. Since then there have been Kong: Skull Island (2017), Godzilla: King of the Monsters (2019) and the monster mash-up Godzilla vs. Kong in 2021.
Monarch: Legacy of Monsters is set after the 2014 movie but also flashes back to the 1950s and the beginnings of the rather shady Monarch group, which has been trying to capitalise on the power of these big ol' monsters in secret.
The kicker is: Kurt Russell plays the older Lee Shaw, a military officer in modern times. And the same character is played by his son Wyatt Russell in the '50s. If that isn't inspired casting, then we don't know what is. The full synopsis is as follows: "Following the thunderous battle between Godzilla and the Titans that leveled San Francisco and the shocking revelation that monsters are real, Monarch: Legacy of Monsters tracks two siblings following in their father's footsteps to uncover their family's connection to the secretive organization known as Monarch.
"Clues lead them into the world of monsters and ultimately down the rabbit hole to Army officer Lee Shaw (played by Kurt Russell and Wyatt Russell), taking place in the 1950s and half a century later where Monarch is threatened by what Shaw knows. The dramatic saga — spanning three generations — reveals buried secrets and the ways that epic, earth-shattering events can reverberate through our lives."

A Monarch: Legacy of Monsters trailer was released this week (which you can watch below) and it gives you a great taster of what to expect.
But it's the reviews we are interested in and the show's first episode had its premiere at New York Comic Con and, well, prepare to get excited...
Slashfilm notes: "Kurt Russell is perhaps the best thing about the entire show. The actor is so breezy, so charming, that he lights up the screen whenever he appears. His son does well too, but it's the older Russell who holds our attention … This may be a streaming TV series, but Russell is an old-school movie star, and that lends Monarch some much-needed juice."

Polygon reckons: "We get actual character intrigue and development — the best of this comes from the trio of Sawai's Cate, Ren Watabe as Kentaro, and Kiersey Clemons as May. The time we spend with them uncovering the mysteries of Monarch (and their own families) is the backbone of the show … And while contained in a sci-fi plot, it's pretty relatable to what one imagines an Earth-wide siege by kaiju to be."
Empire says: "Not quite the MonsterVerse's high point, but far from its low point either, with some satisfying longform worldbuilding — and a hugely enjoyable dual performance from Kurt and Wyatt Russell."
The 10-episode series Monarch: Legacy of Monsters is out on Apple TV Plus 17 November. Here are the best Apple TV Plus shows to tide you over until then.
Related Reviews and Shortlists