ShortList is supported by you, our amazing readers. When you click through the links on our site and make a purchase we may earn a commission.
Learn more
The 'Horrible Histories: The Movie - Rotten Romans' film trailer: Are you not edutained?
"Caesar? I only just met 'er!"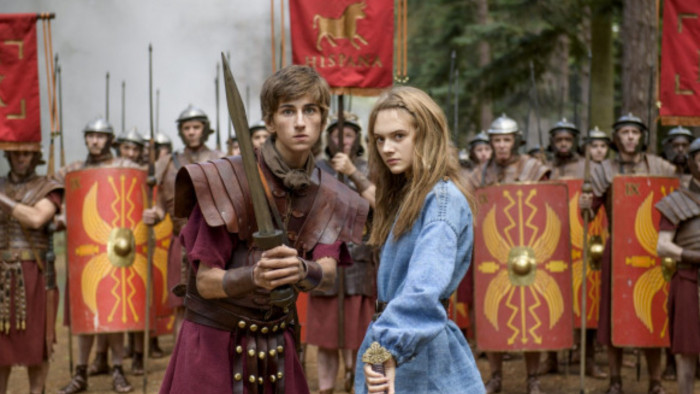 Horrible Histories is possibly the best TV show ever made – not just the best kids' show ever made, or the best educational show ever made, but the outright best TV show ever made. Like, try and name a better one. Whatever you've just named isn't as good.
Horrible Histories is better than The Sopranos. Horrible Histories is better than Breaking Bad. Horrible Histories is better than Mad Men. Horrible Histories is better than Game Of Thrones.
Horrible Histories is better than The Wire.
And now it's a film! Look!
What a lot of fun! What a lot of farts!
There's a pretty great cast of British comedy all-stars in there, with a few dramatic actors thrown in for gravitas. Between the trailer and the IMDb, appearing in it are Nick Frost, Rupert Graves, Lucy Montgomery, Jamie Demetriou, Dustin Demri-Burns, Kate Nash, Tony Gardner, Alex MacQueen, Tony Way, Kim Cattrall, Warwick Davis, the guy who played a young Ned Stark on Game Of Thrones, Amelia Jones, Alexander Armstrong, Lee Mack and Derek Jacobi (reprising his most famous role as the Emperor Claudius), Kevin Bishop, Samantha Spiro, Ella Smith, Dan Renton Skinner, Tim Downie and Chris Addison, plus veterans of the small-screen version Jessica Ransom, Tom Stourton, Mike Wozniak, Sarah Hadland, Sanjeev Bhaskar, Dave Lamb, Dominique Moore, Richard David-Caine, Lawry Lewin, Katy Wix and Katherine Jakeways.
The 'classic' lineup from the 2009-2013 version – Mathew Baynton, Simon Farnaby, Martha Howe-Douglas, Jim Howick, Laurence Rickard and Ben Willbond – are nowhere to be seen though.
Like, everyone wants to move on with their careers, and they've all done very well and are undoubtedly very busy, but if Simon Farnaby doesn't show up as Death, we're going to figure out a way to put our foot through the cinema screen and send the BBC the bill.
(Pic: Citrus Films)
Related Reviews and Shortlists