The band t-shirt is a badge of honour. A way to proudly display what awesome taste in music you have, as well as the design itself looking great in its own right. While hipsters have attempted to appropriate some of them in recent years, true class will out, and a Ramones t-shirt will always be cool.
We've picked the most 25 iconic band t-shirts ever. Wear one of these for instant style.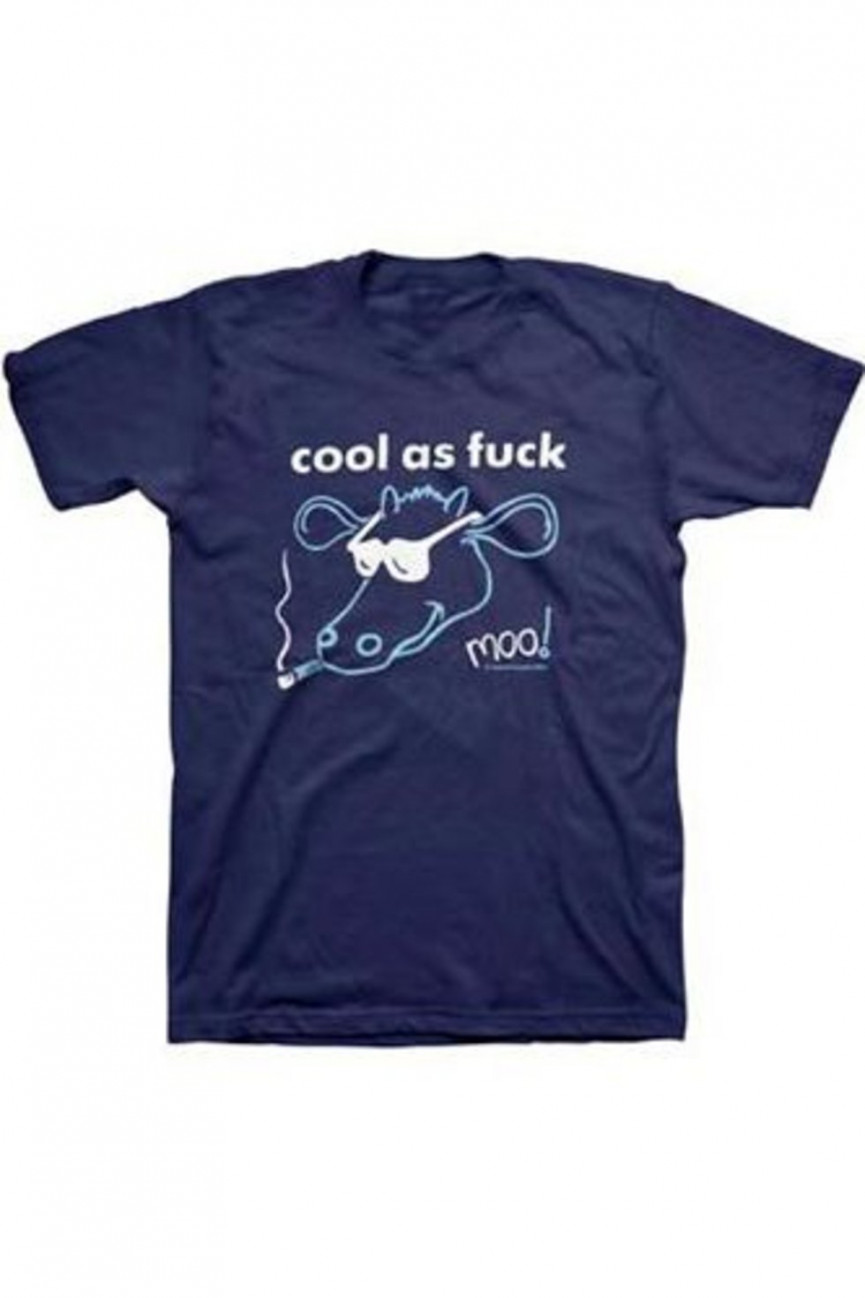 Inspiral Carpets
The Madchester Manc legends struck gold with this t-shirt, named after their 1990 EP and featuring an extremely relaxed cow; they reputedly sold more of these than they did copies of their albums combined.
Mogwai
The underground Scottish legends took on the Britpop survivors in 1999 with this incendiary t-shirt design. The band's Stuart Braithwaite defended it thus: "We decided to proclaim our dislike of one of the weakest bands on the planet by putting out these shirts. We sold out in one day and Super Furry Animals and Pavement have put in an order for more. The thing about the shirt is it's like a dictionary definition. Blur: Are Shite. It's factual and if there's any legal problems about it I'll go to court as someone who has studied music so I can prove they are shite."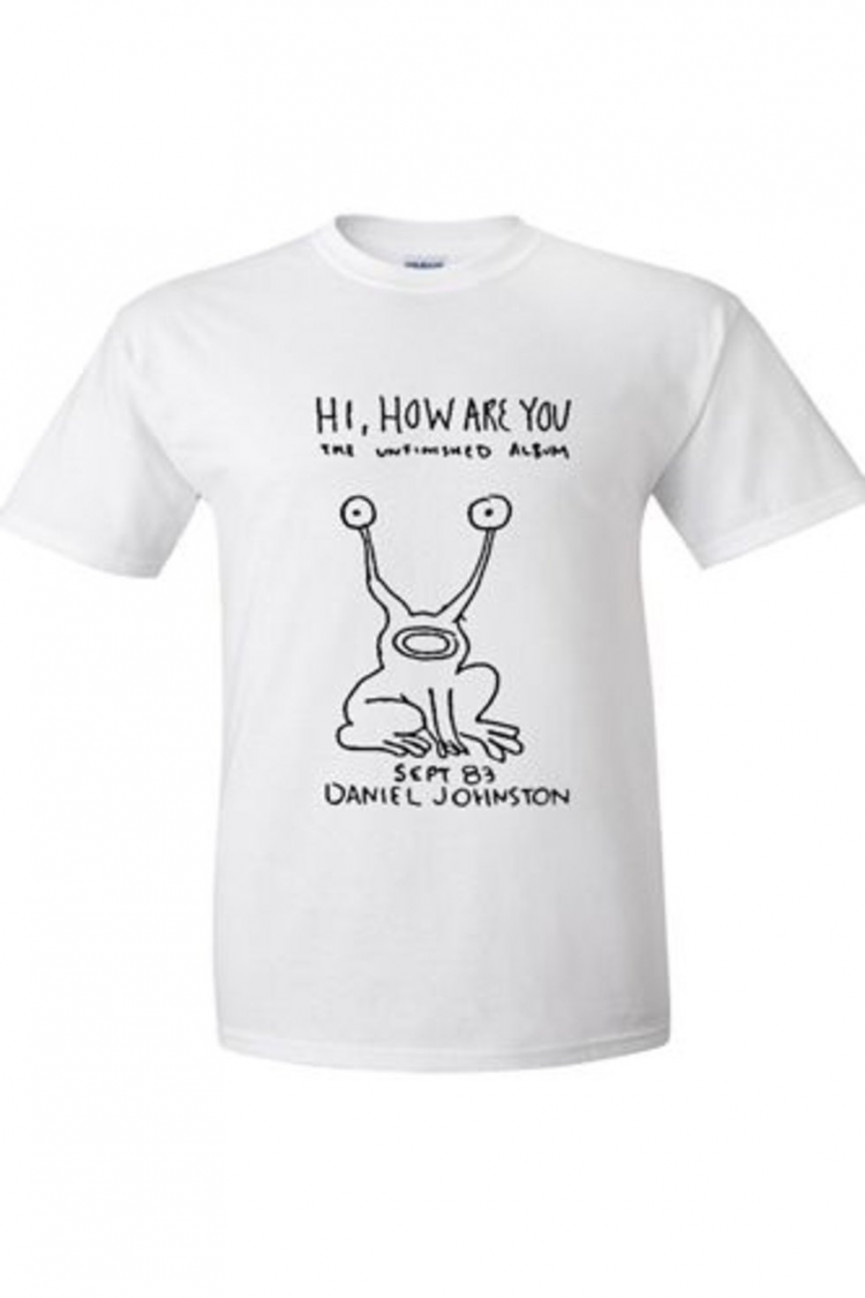 Daniel Johnston
A t-shirt made famous by Nirvana frontman Kurt Cobain, who was a huge fan of the cult artist and wore this on several occasions, leading to hugely increased interest in Johnston's work.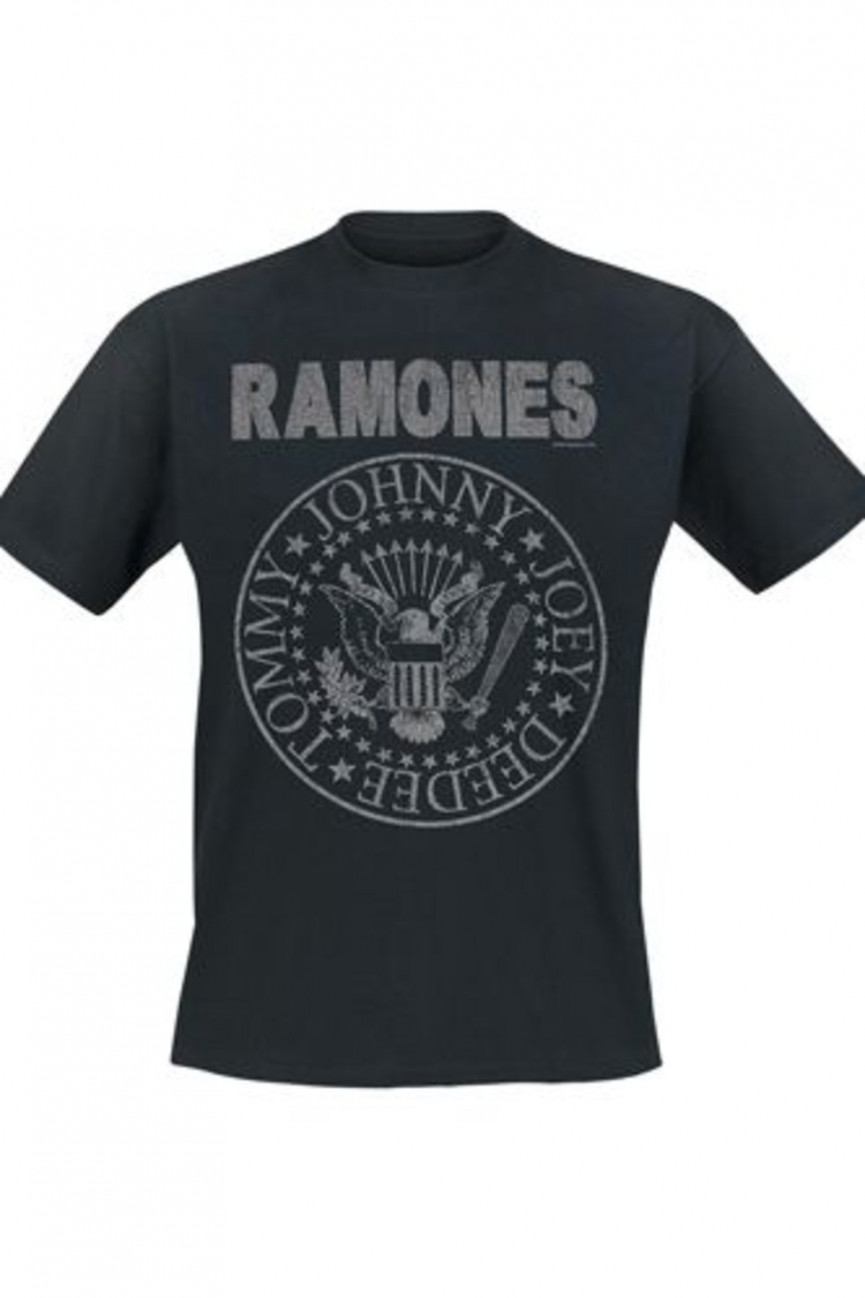 Ramones
It doesn't get too much more iconic than a Ramones t-shirt. Worn by hipsters the world over as well as everyone from Fergie to Harry Styles. We'd love to know how many of those wearing it could name more than one song by the band, but nonetheless, this, designed in the 70s by New York City artist Arturo Vega, is an all-time classic.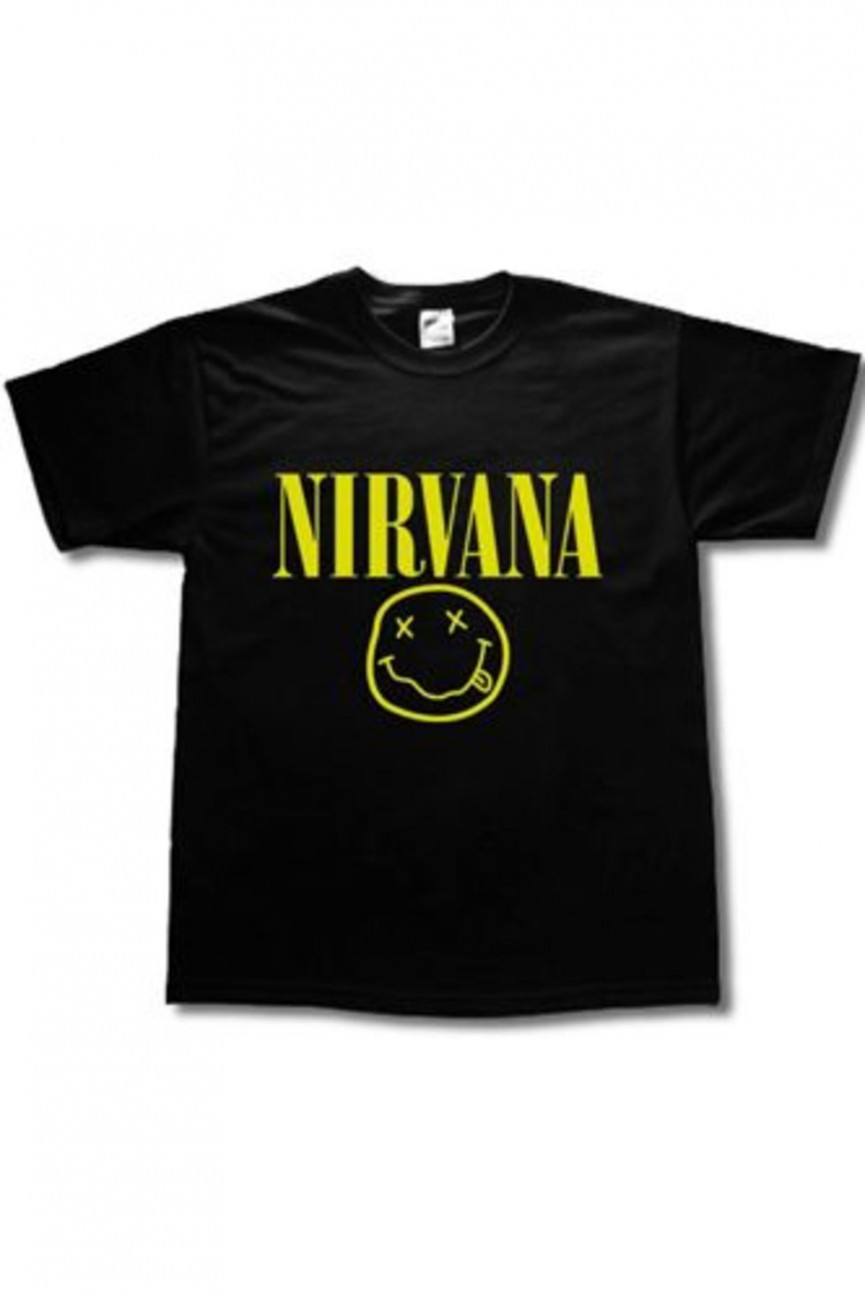 Nirvana
In the 1990s you'd have struggled to find a teenager who didn't own one of these. Apparently created by Kurt during the Nevermind sessions, it took the acid house emblem of the smiley face and mutilated it, complete with the famous reverse of 'flower sniffin kitty pettin baby kissin corporate rock whores', these are still doing a roaring trade in Camden market.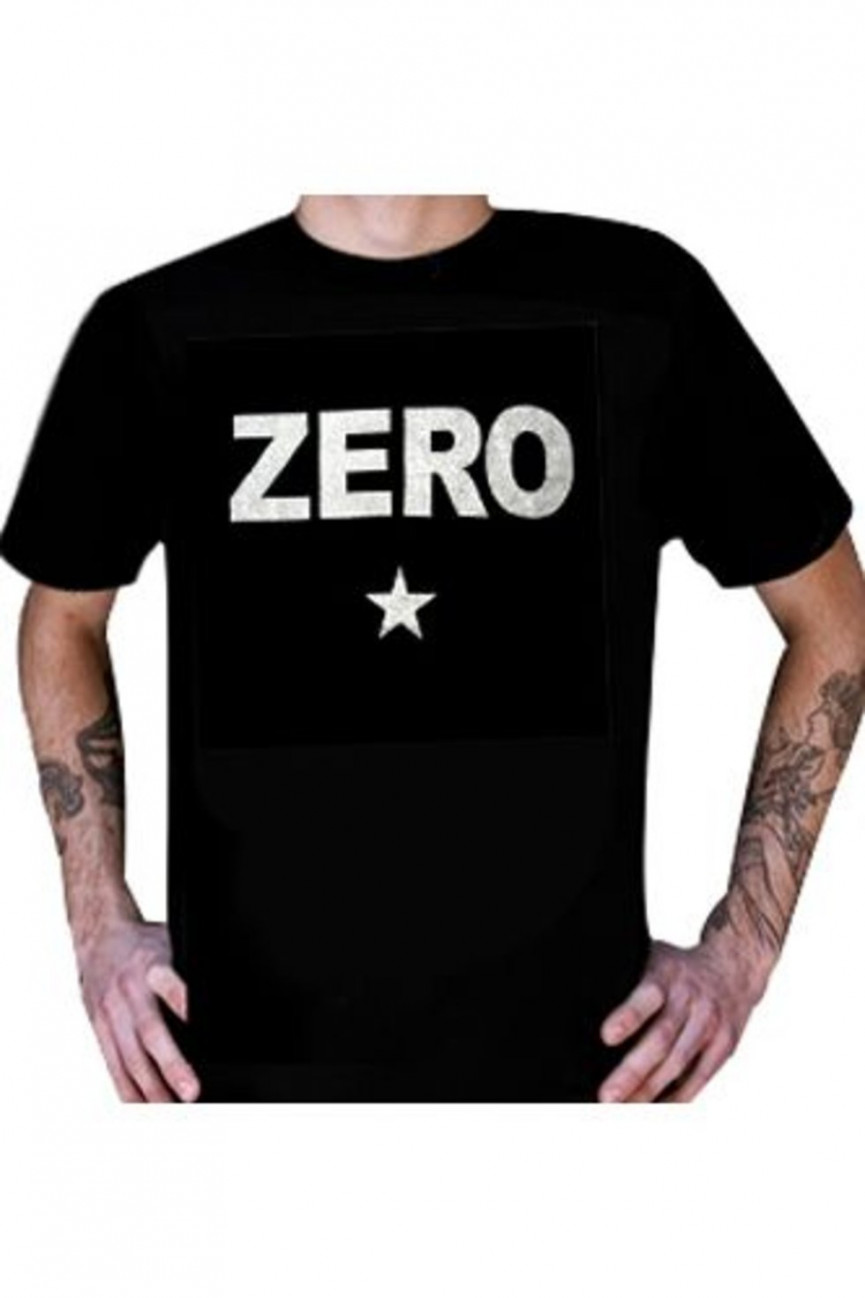 Smashing Pumpkins
Worn extensively by Pumpkins' frontman Billy Corgan during their 1996 tour in support of Mellon Collie and the Infinite Sadness, this was originally made by a skate company. The band eventually bought the rights to it themselves: it remains a rock classic.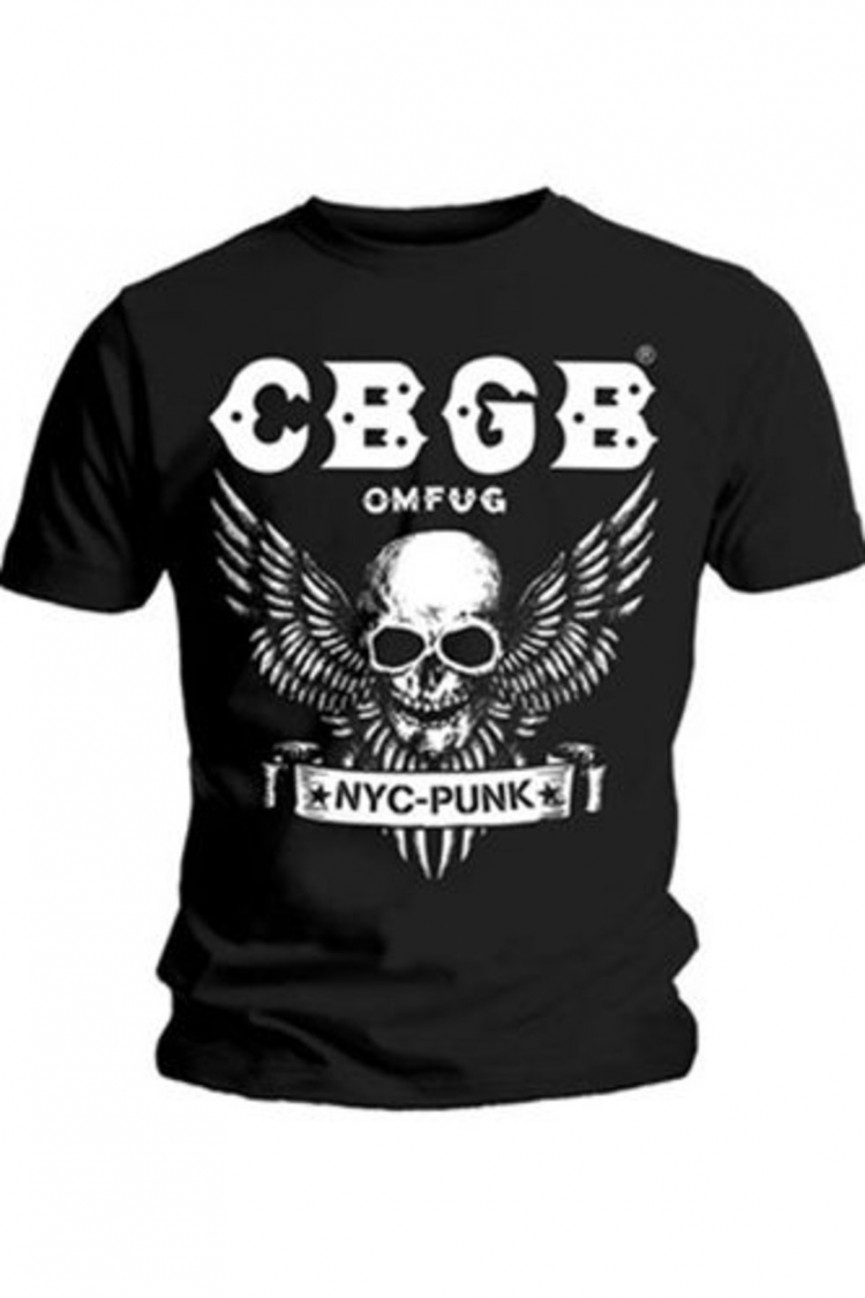 CBGBs
OK, not strictly a band t-shirt, but so many iconic bands passed through and probably bought their own, that it makes our list. A sadly-missed New York Punk institution which lives on through this design.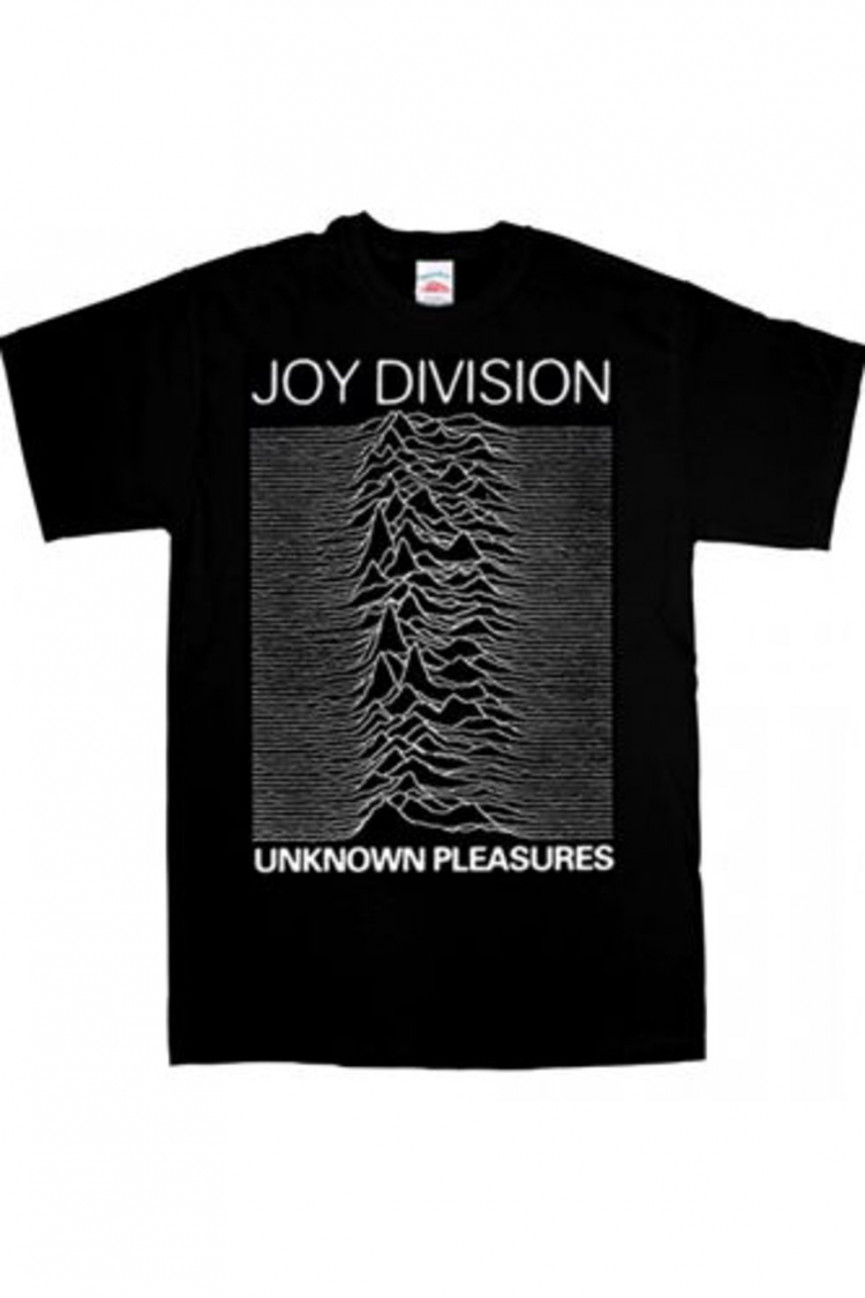 Joy Division
One of the most iconic record covers of all time, this was always going to be a perfect fit for a t-shirt. The image itself was selected by drummer Stephen Morris, who saw it in the Cambridge Encyclopaedia of Astronomy; it depicts the radio waves from pulsar CP 1919 (of course).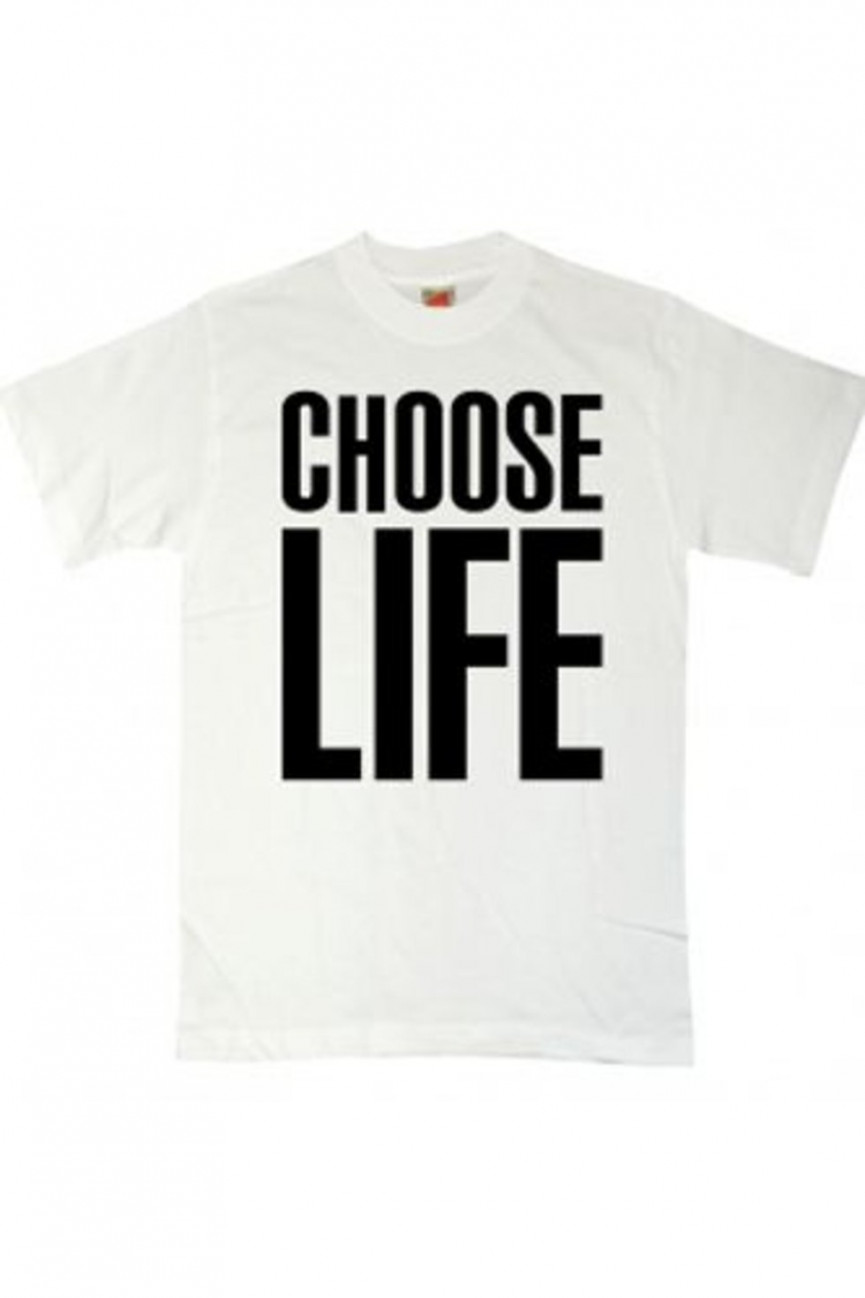 Wham!
Designed by English fashion designer Katharine Hamnett, this t-shirt rose to fame when it was worn by George and Andrew in the video for Wake Me Up Before You Go Go. Interestingly, and less well-known, it was also worn by Queen drummer Roger Taylor in the band's video for Hammer To Fall.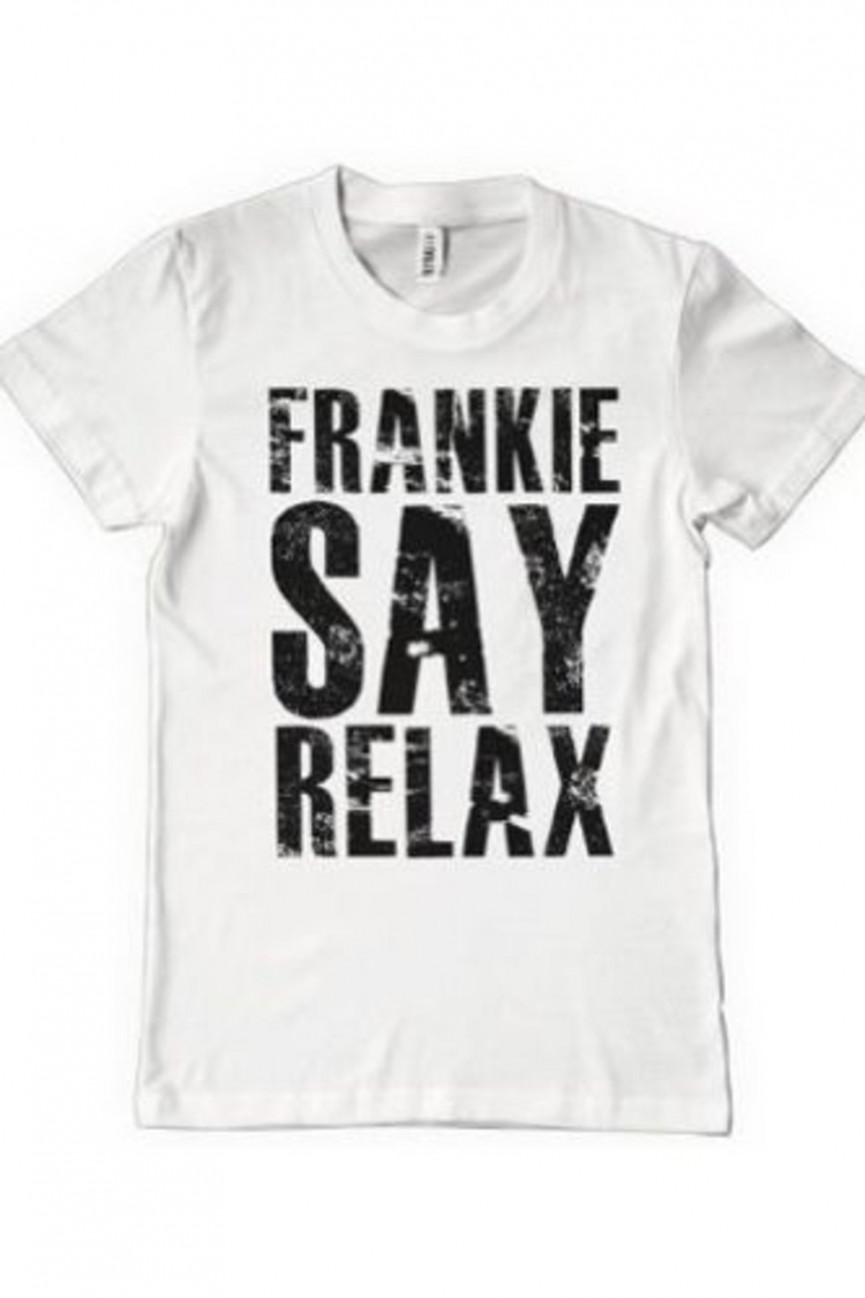 Frankie Goes To Hollywood
Designed by journalist and co-founder of ZZT (Frankie's record label) Paul Morley, this design was a conscious rip-off of Hamnett's 'Choose Life' design; they were ridiculously successful. For the avoidance of doubt, it is 'Say', not 'Says', as Frankie refers to the band, not a single person. Glad to clear that up.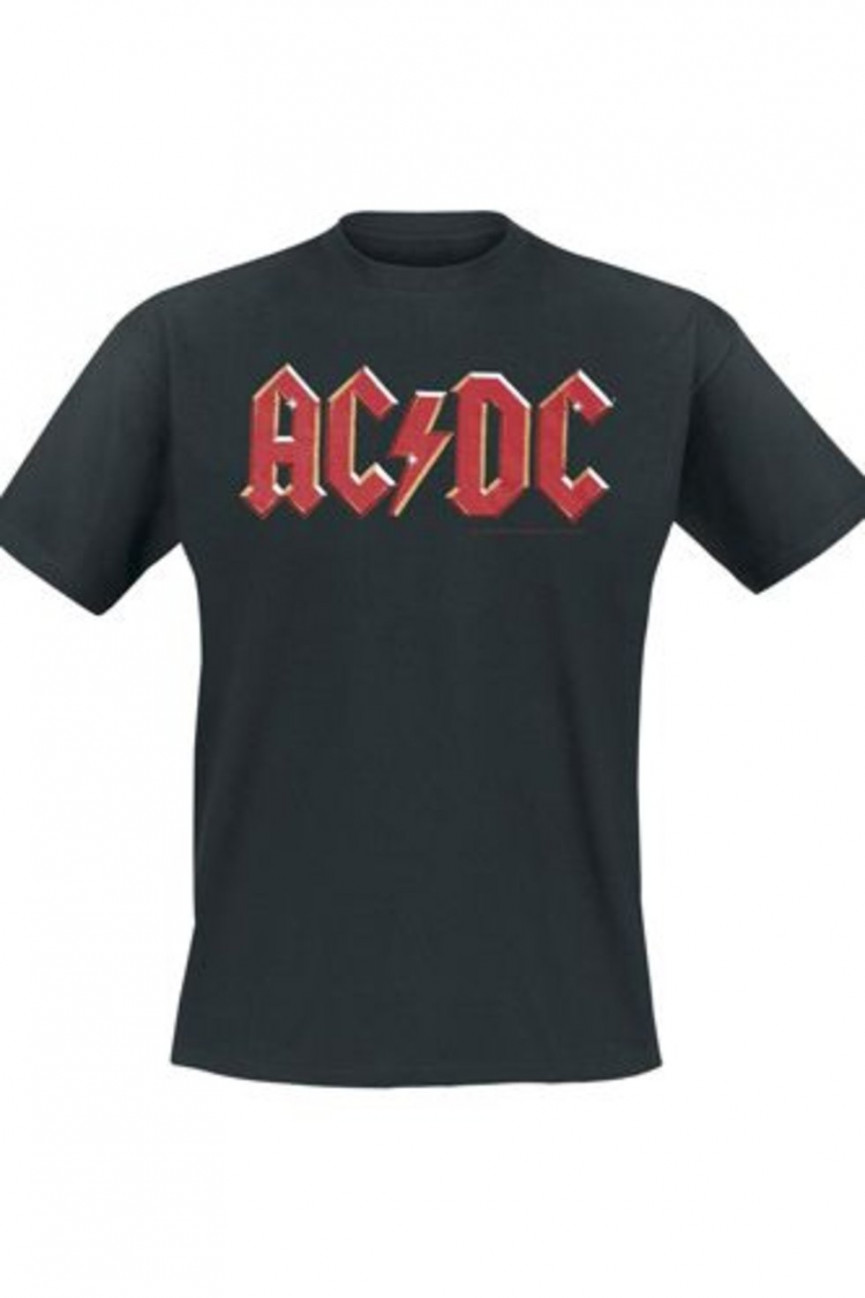 AC/DC
One of the greatest logos of all-time, this was a perfect fit for a t-shirt. Many variants exist; this - the original and the simplest - is the best.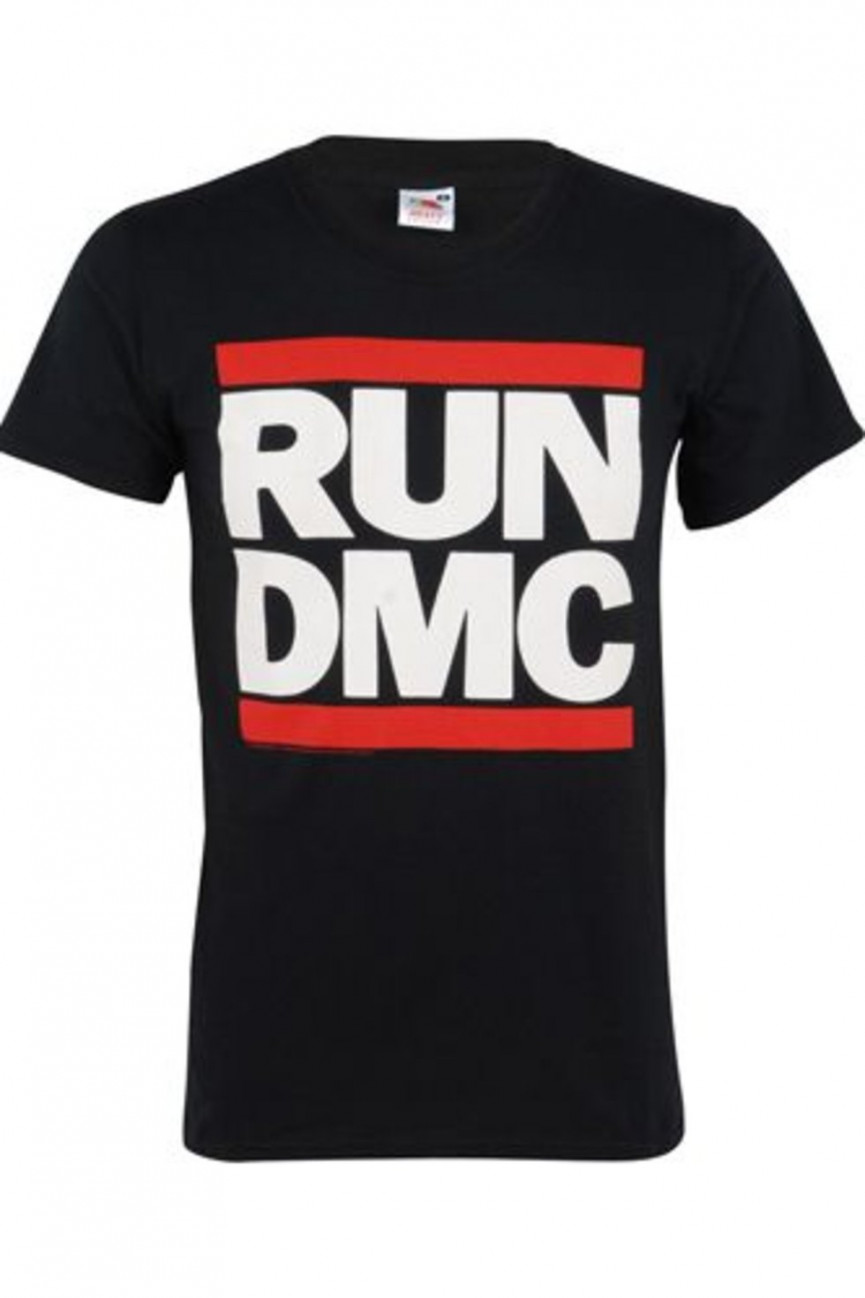 Run-D.M.C.
Like AC/DC, the hip hop legends benefited from having a truly iconic logo to use. Clean, simple and effortlessly cool, this'll be worn for as long as hip hop continues to be made.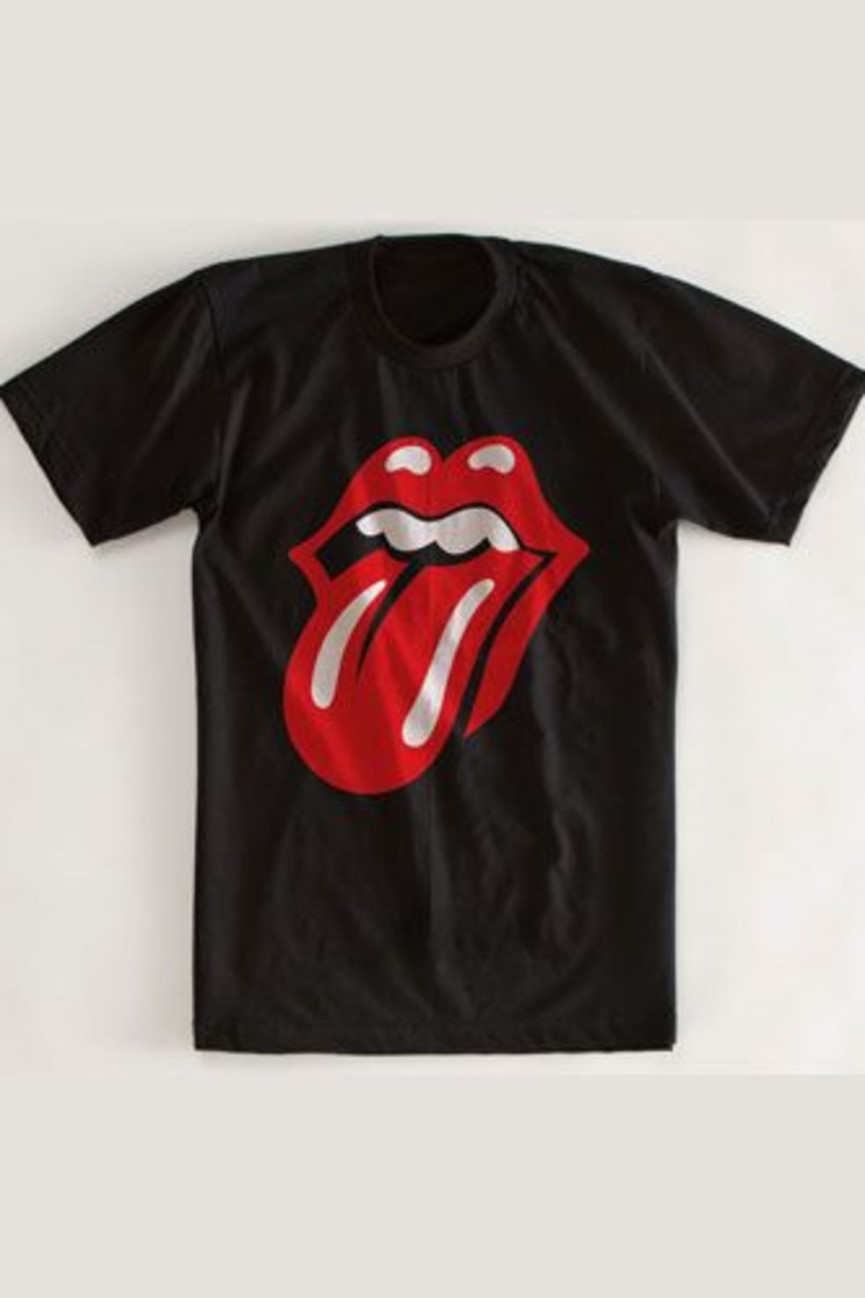 Rolling Stones
Inspired by Mick Jagger's very own lips and mouth, art designer John Pasche created the famous 'lips' logo for the Stones in 1971, originally appearing on the Sticky Fingers album. It's since been voted the greatest band logo of all-time, and is an enduring t-shirt classic.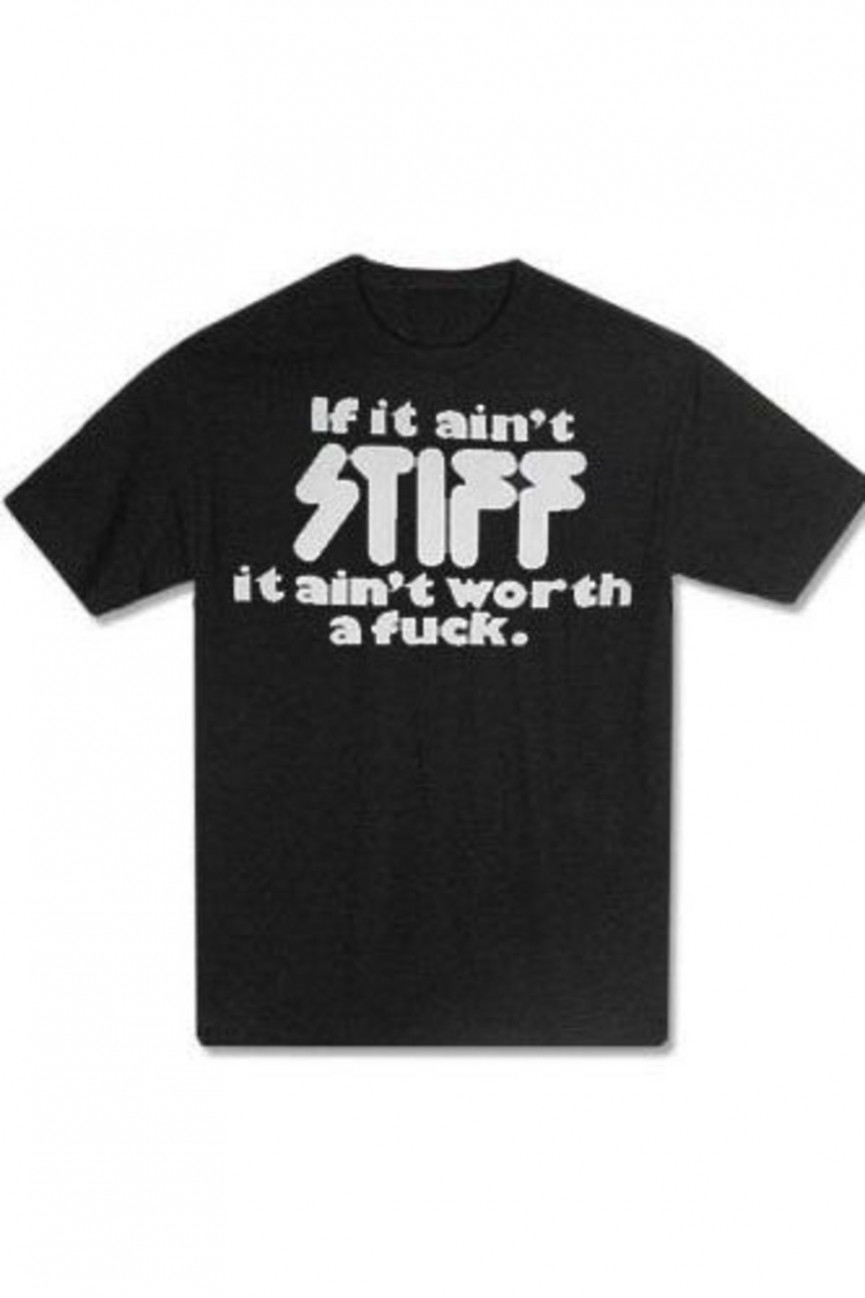 Stiff Records
The legendary independent record label ran from '76 to '85 and boasted a series of slogans such as this famous one - and, during their pomp, it was actually factually accurate.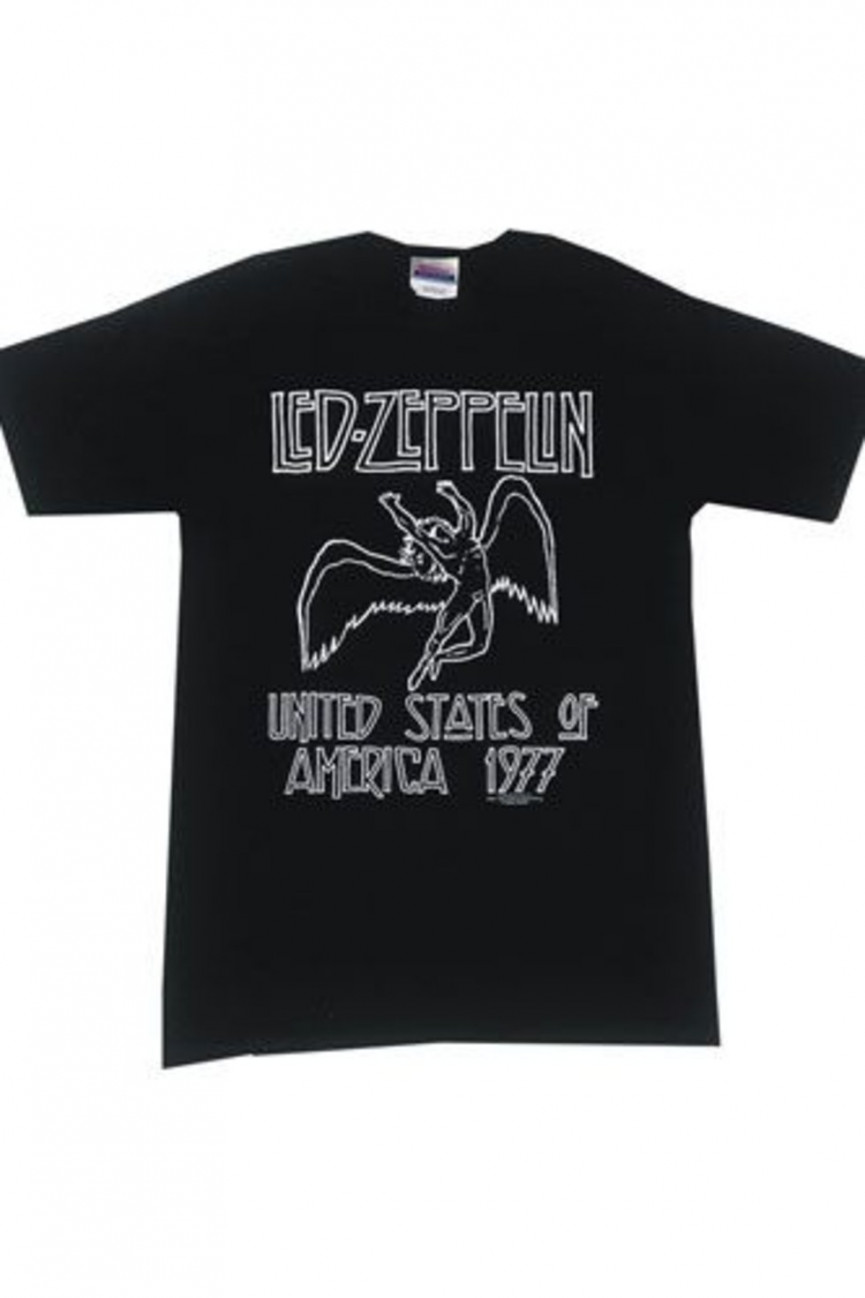 Led Zeppelin
The eleventh and final concert tour of North America by the legendary rock 'n' rollers, this was the crazy high point of their live success. If your t-shirt is a genuine original, then you have our unending respect. For the rest of us, we can but pretend we were there.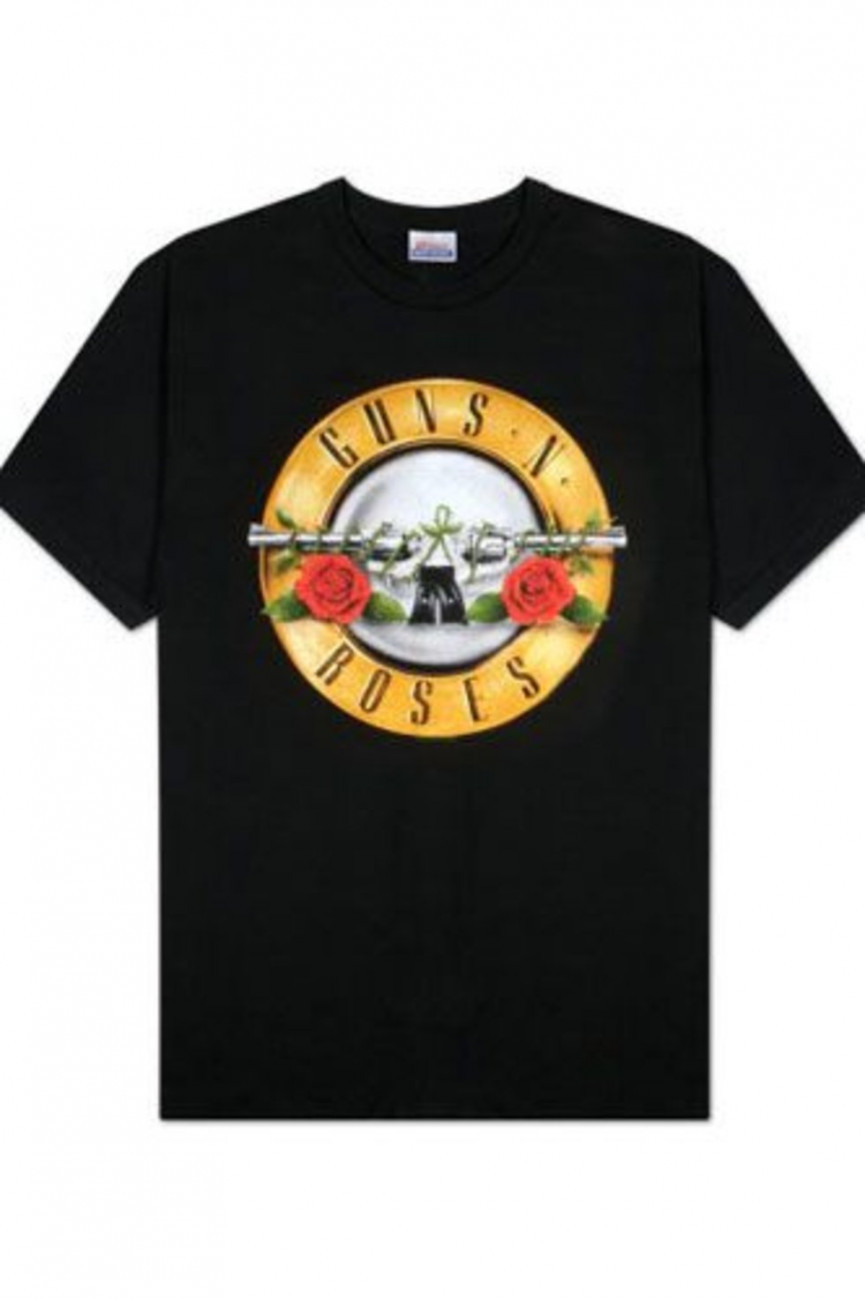 Guns N' Roses
The classic G N' R t-shirt design, although it never featured on the front of an album cover until the release of their Greatest Hits in 2004. It still looks cool today, no matter what Axl gets up to.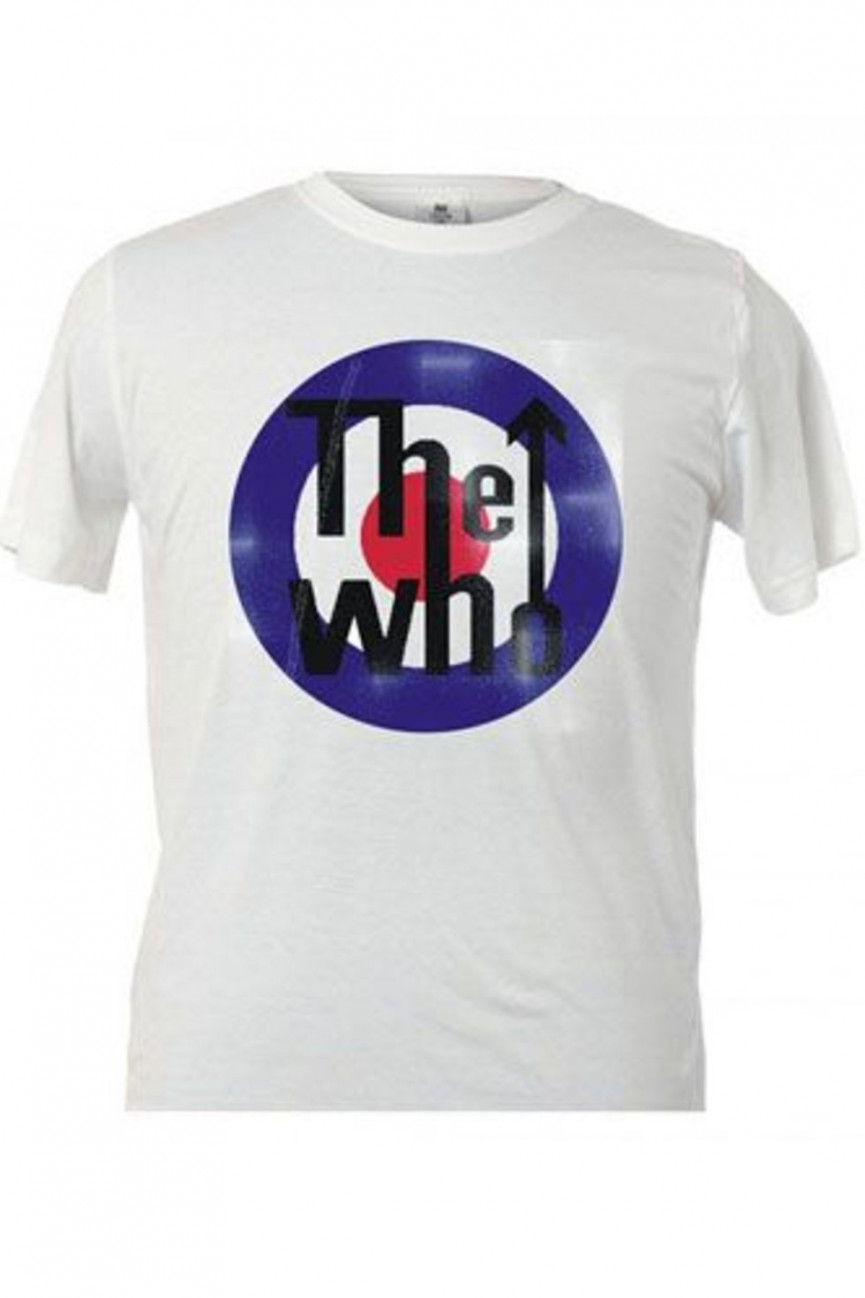 The Who
No self-respecting mod should be without one. The Who's logo and the iconic target sign together in perfect harmony. Put this on and have a fight with someone in the Led Zep t-shirt for true authenticity.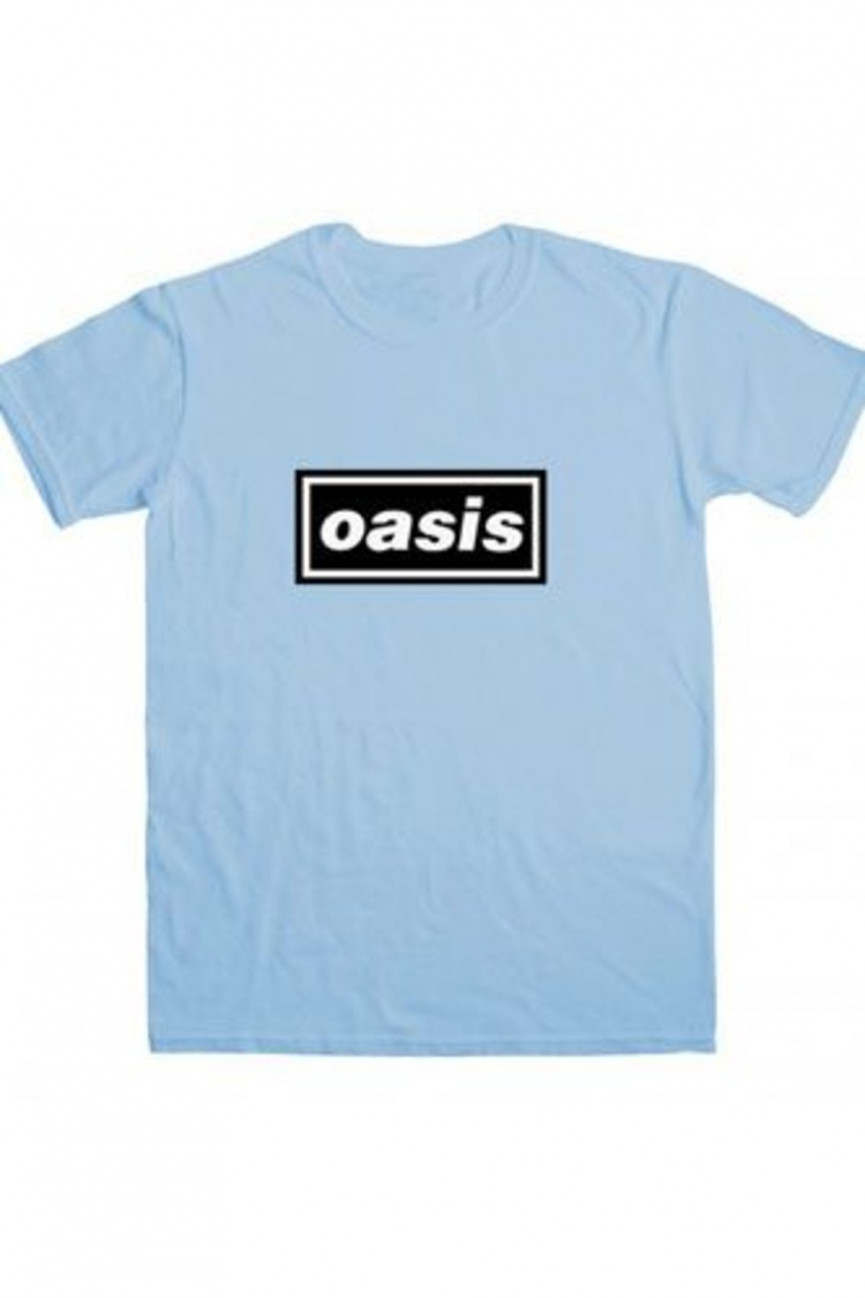 Oasis
1994, Definitely Maybe era - you couldn't move for these when Oasis were coming through. The classic Brian Cannon-design logo on a blue background. Best worn with swagger.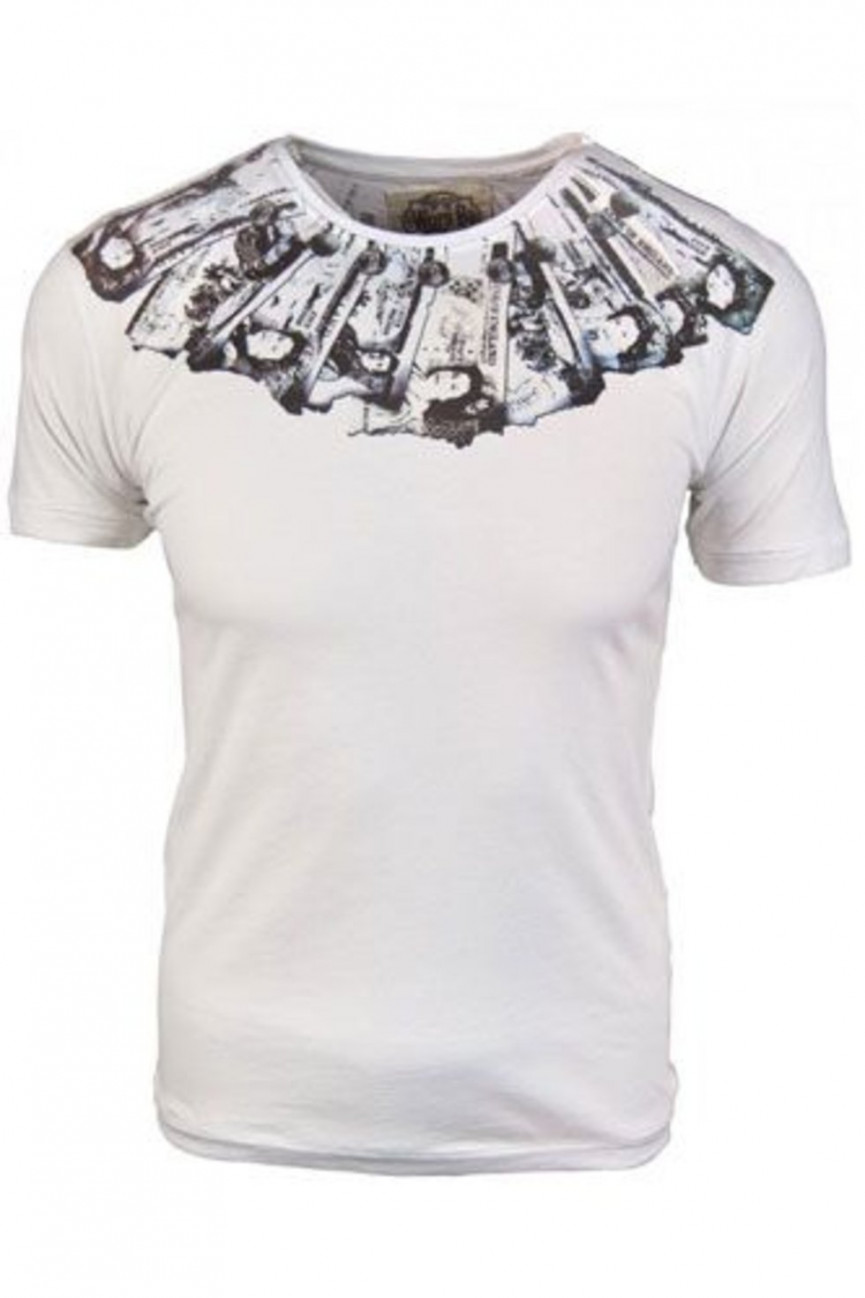 Stone Roses
As worn in the videos for Fools Gold and I Wanna Be Adored, get one of these and you can pretend you are King Monkey himself, Mr Ian Brown.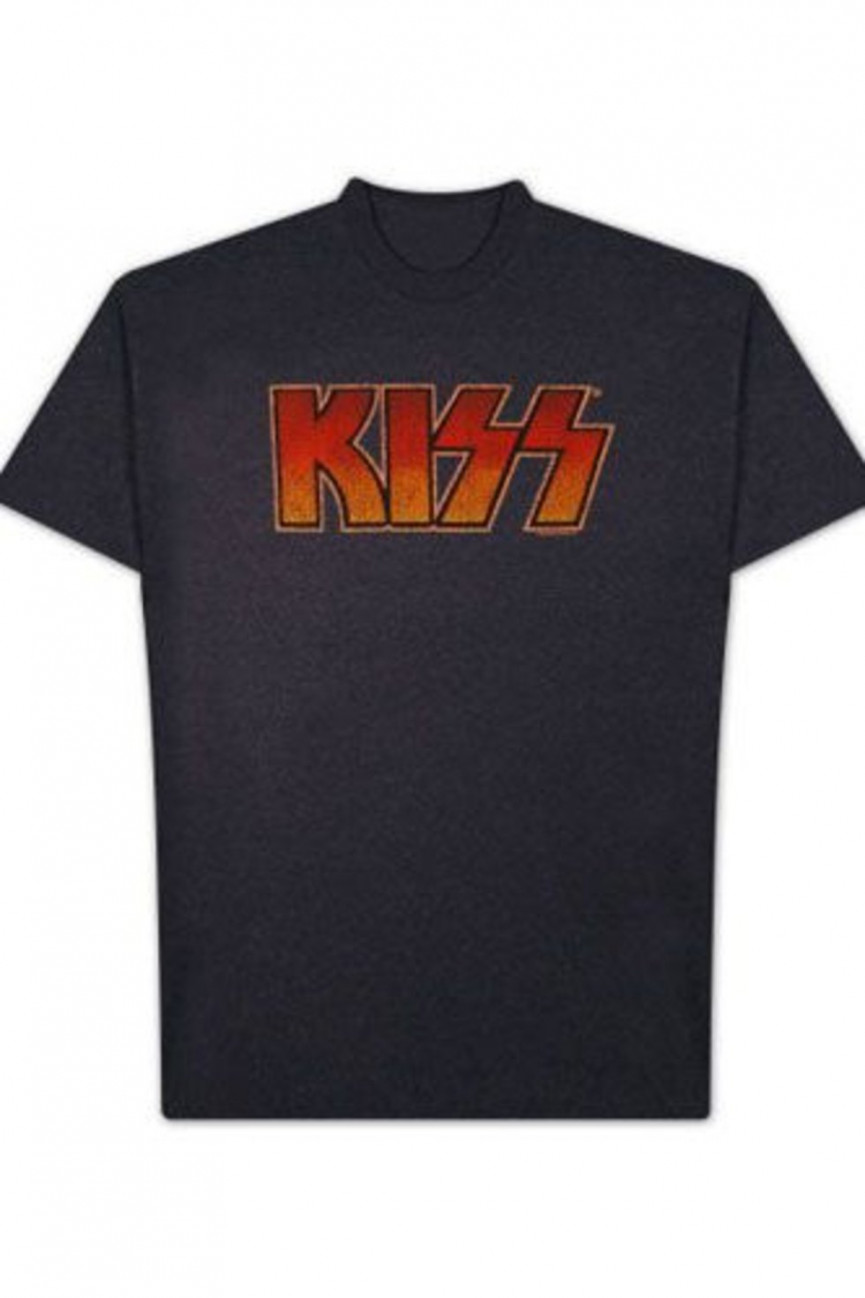 KISS
The masters of merchandise, the KISS t-shirt is a must-have for any self-respecting rock fan. They'd have probably invented the 'lips and tongue' logo too if the Stones hadn't got there first...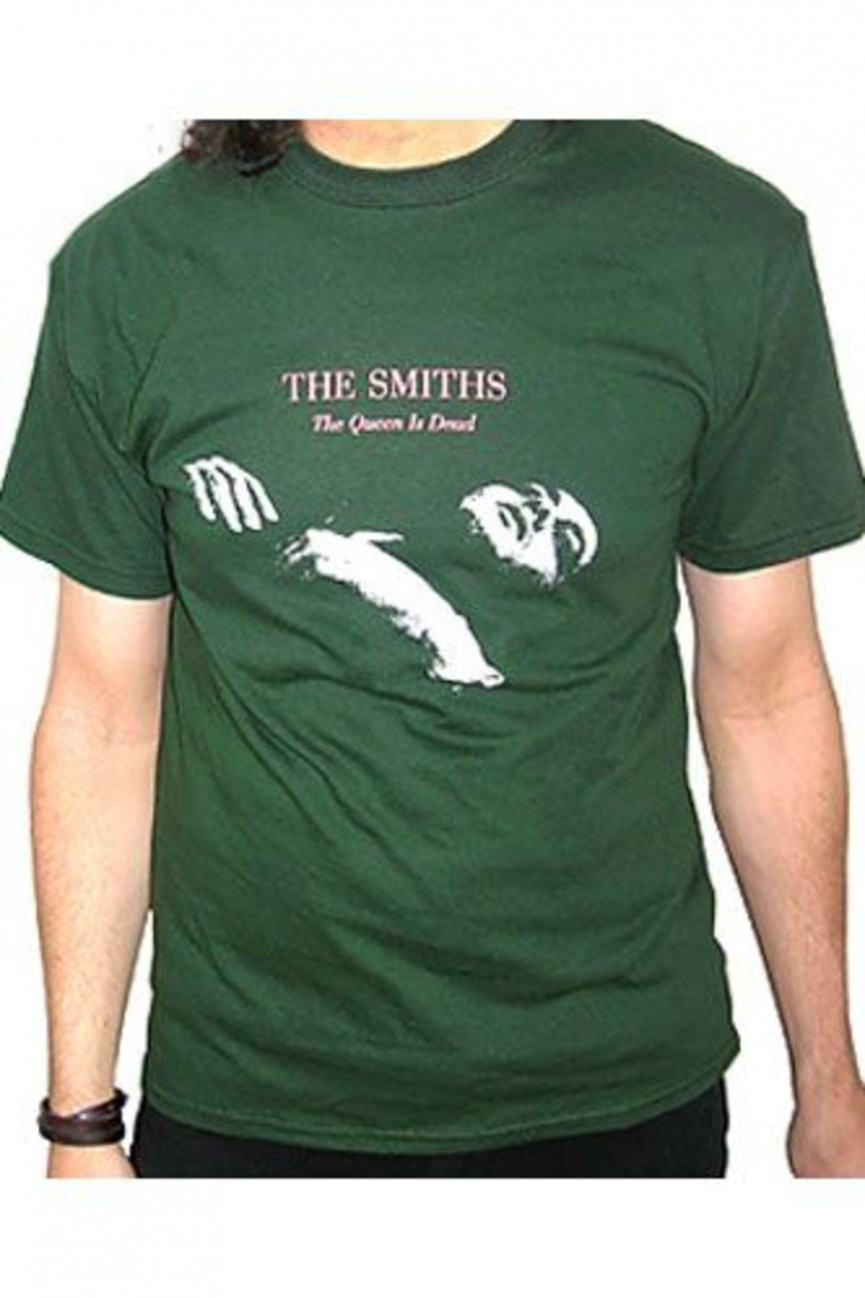 The Smiths
Arguably their most-loved album, the cover design, starring Alain Delon in the 1964 film L'Insoumis and created by Morrissey himself, translates perfectly to a t-shirt which you can use to proclaim your love for The Smiths.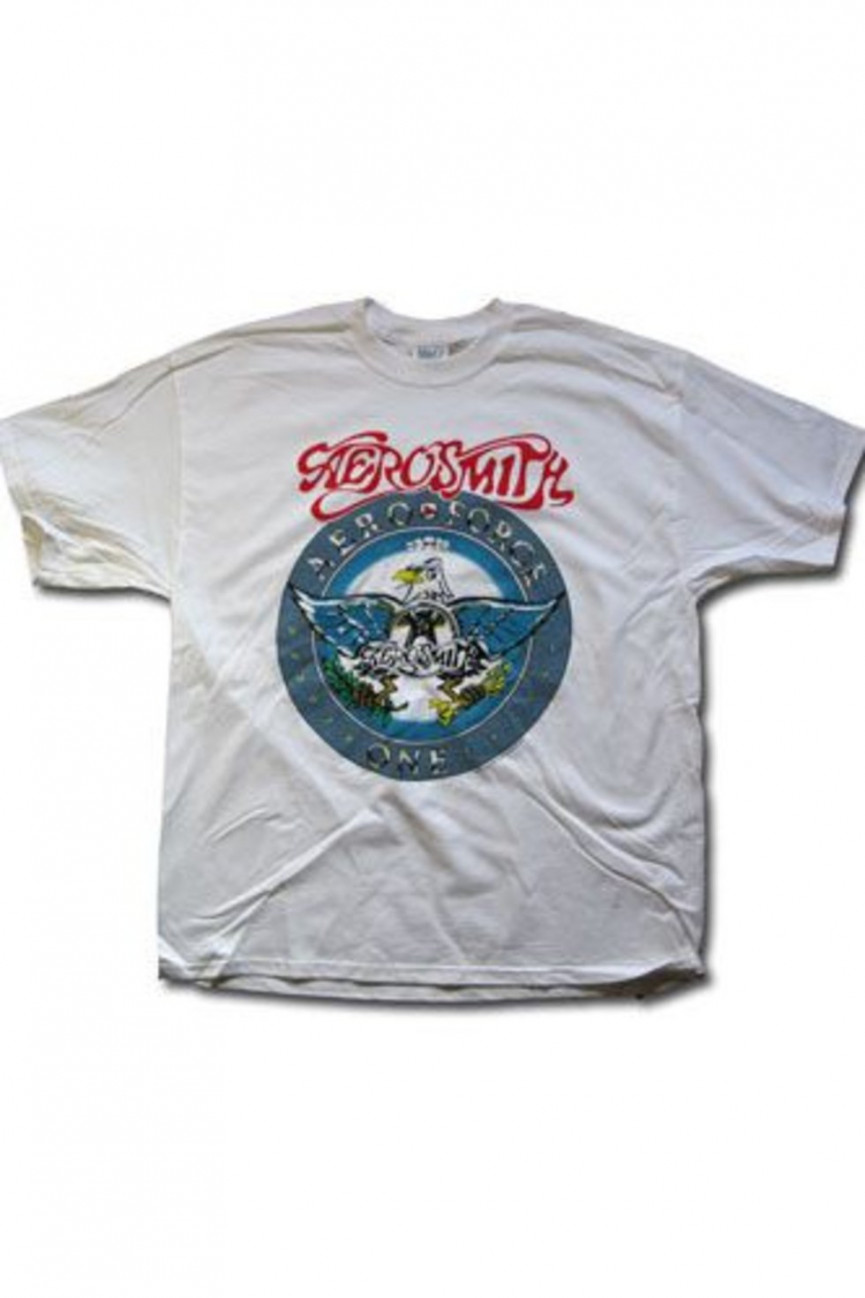 Aerosmith
While Steven Tyler and co are, of course, one of the greatest rock bands ever, this t-shirt was given truly iconic status after it was worn by Garth in Wayne's World. It will always be party time if you're wearing this one.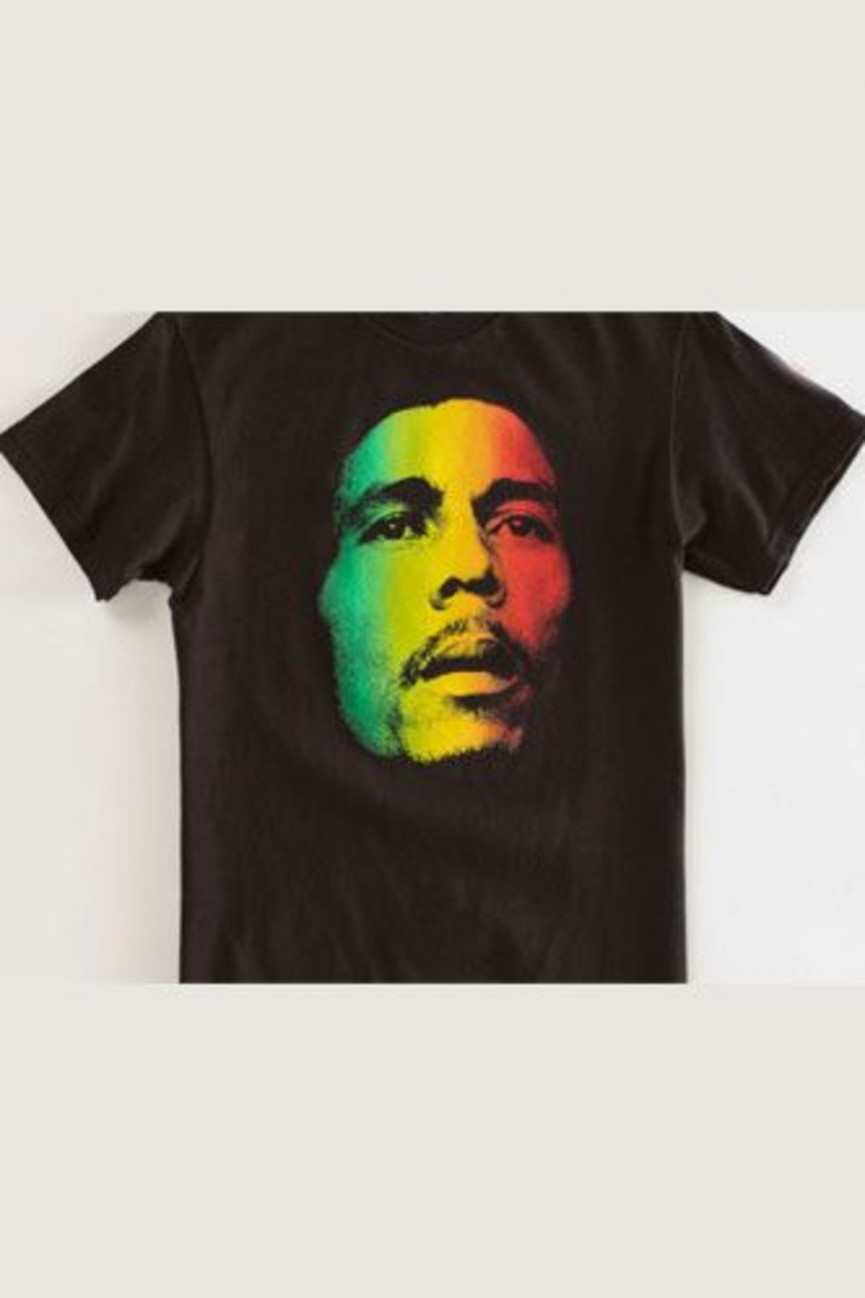 Bob Marley
Look up the word 'iconic' in the dictionary and you'll likely have a picture of good old Bob staring back at you, with the sound of one his countless hits running through your head. Put him on a t-shirt, and you have instant reggae vibes, peace and love.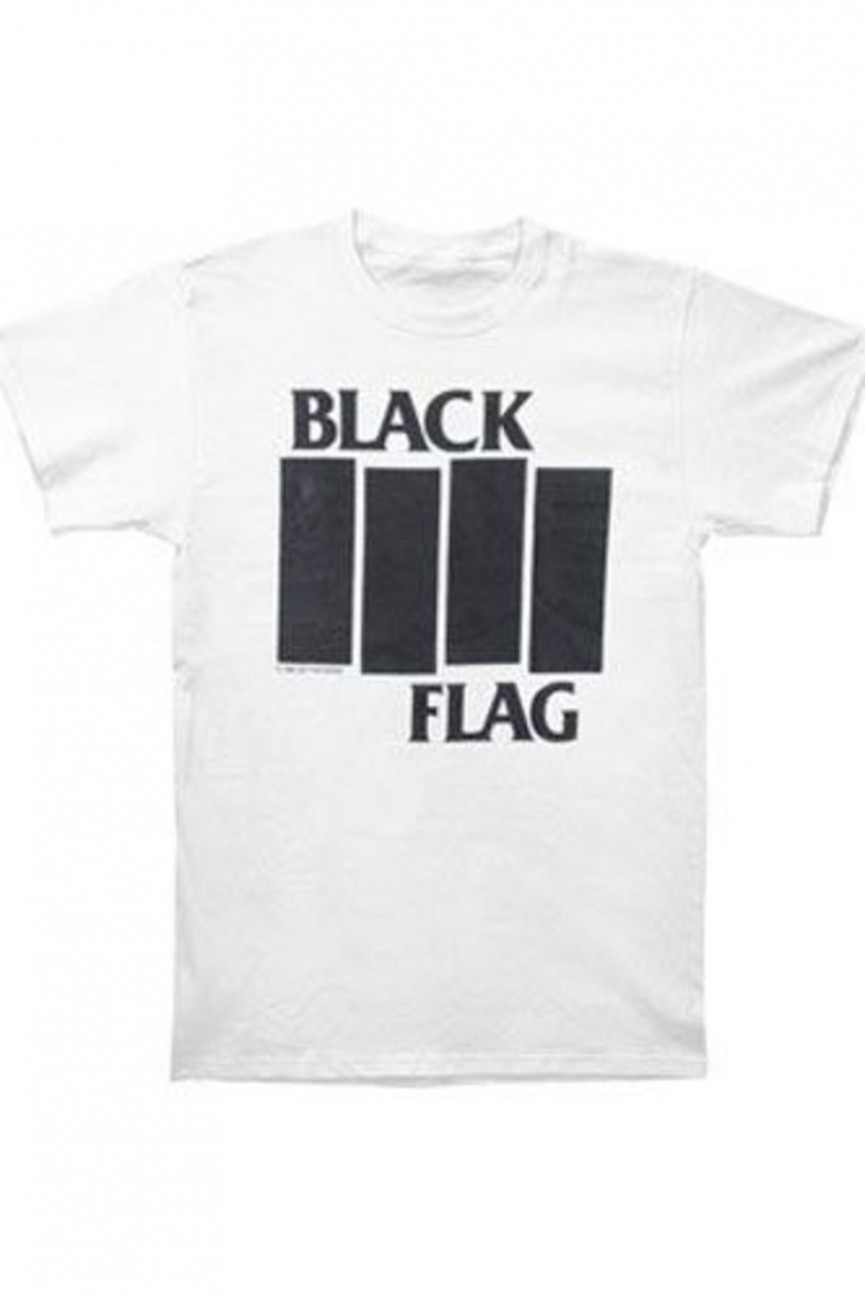 Black Flag
A classic punk t-shirt, this becomes more and more legendary with each passing year. Extra points for the fact that it's since been heavily parodied with versions featuring the likes of Justin Bieber and Lady Gaga.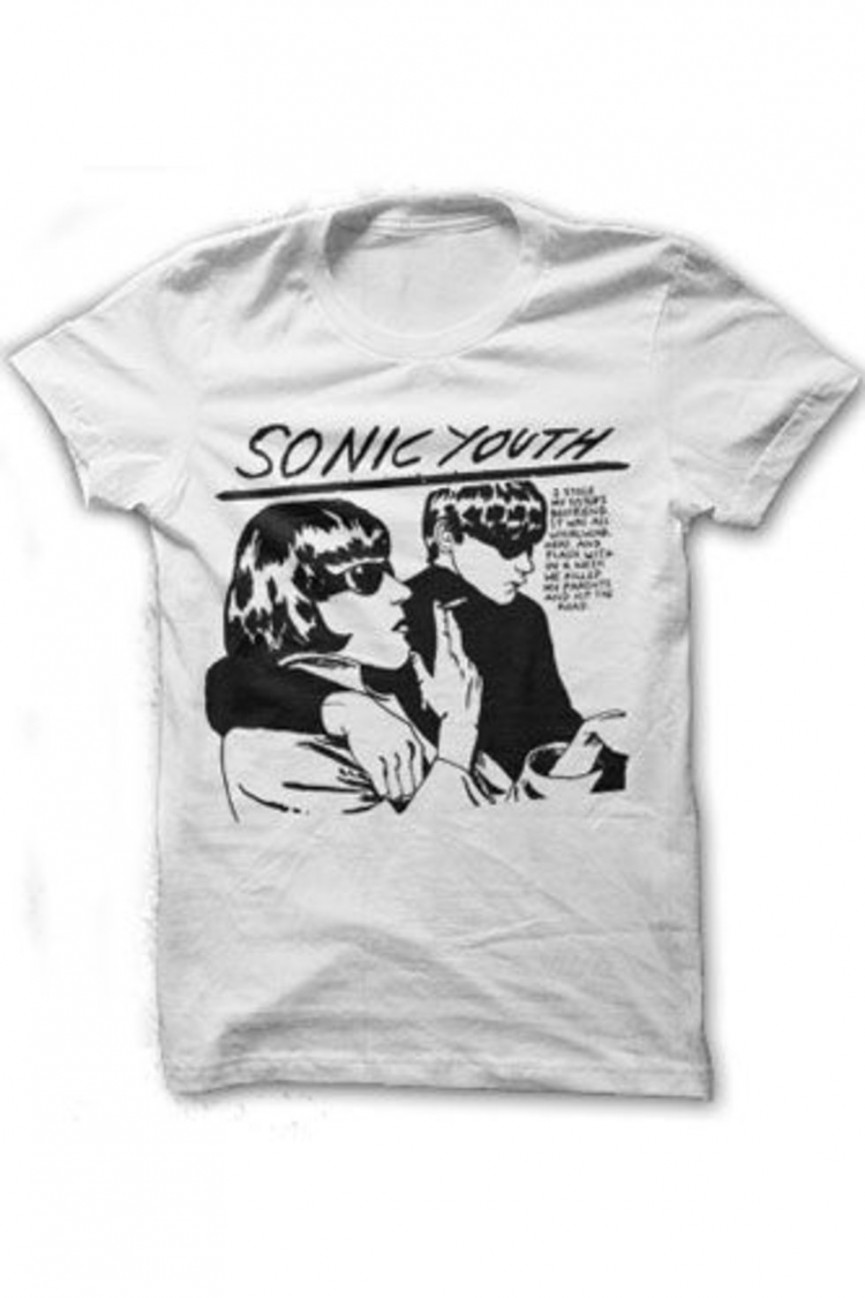 Sonic Youth
Not the most obvious image to become a cult classic - the cover of Sonic Youth's 1990 album Goo, featuring a Raymond Pettibon illustration based on a photo of Maureen Hindley and David Smith, key witnesses in the 1966 trials of Moors Murderers Ian Brady and Myra Hindley - but nonetheless, that's exactly what it is.