Does the mention of 'bike shop' conjure up an image of Lycra-clad stick-thin blokes scratching their mud-splattered chins over chains and punctures? You're way off the mark.
British cycle shops have taken a leaf out of North America's book and now offer far more than puncture repair kits and those funny little hats with the mini peaks at the front: they've become fully-fledged hangouts with epic coffee, hearty foods, and more. They've got all cool.
If you need proof, check out 23 of the UK's best, all there for you to pedal up to this weekend…
See our list of Best Folding Bikes for your Work Commute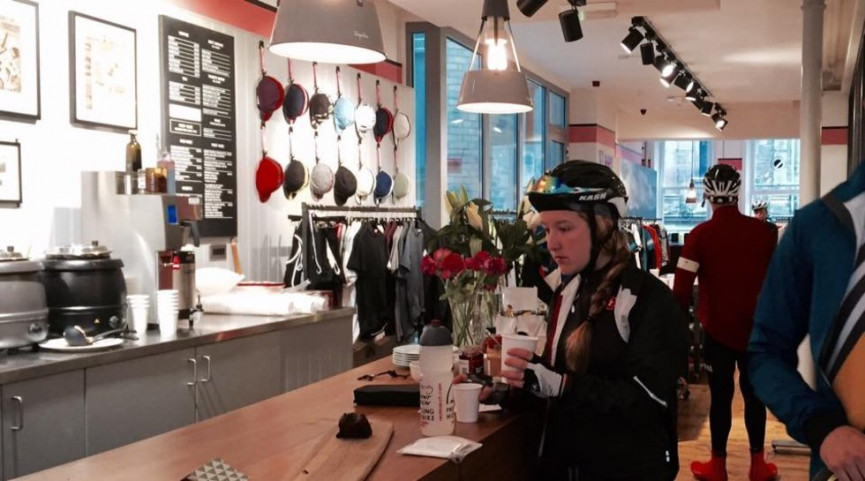 Dropouts Cycle Club, Bristol
With own-brand clothing that'd look at home at a noisy hardcore gig, Dropouts CC are the coolest kids on two wheels in the southwest. But they're not so cool that you can't hang out with them: every weekend they organise group rides that all levels can get involved in.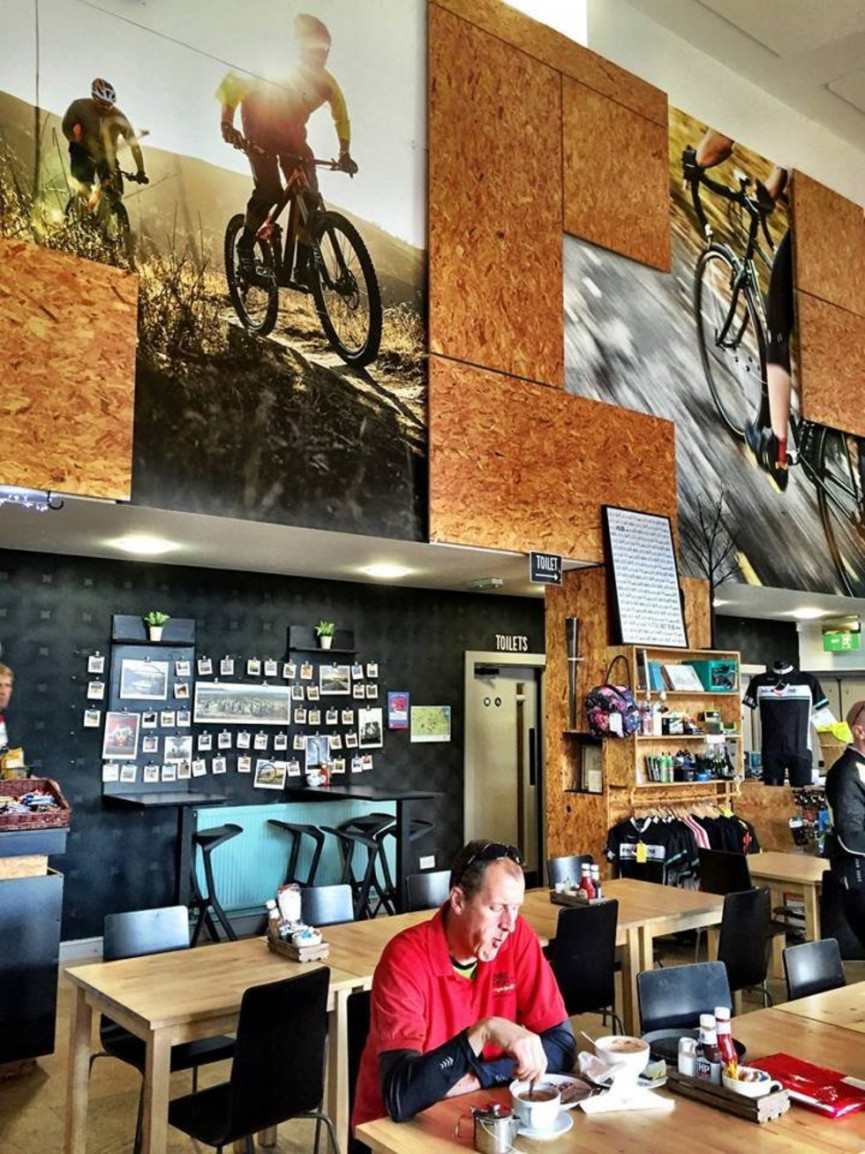 The Cycle Hub, Newcastle
Just downriver from the Gateshead Millennium Bridge, 'Hub can hire you a ride, take you on guided tours, teach you how to maintain your bike, and then stuff you full of homemade cake and local coffee before you pedal home.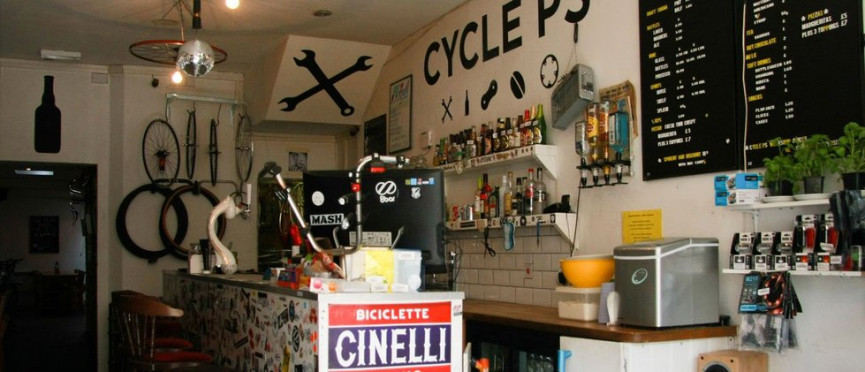 Cycle PS, Camberwell
This place is dangerous. With own blend coffee, beer on tap, stone baked pizzas, pool table and a bloomin' N64 hooked up, you'll totally forget you brought your two wheeler in for a full £95 service, and end up never leaving.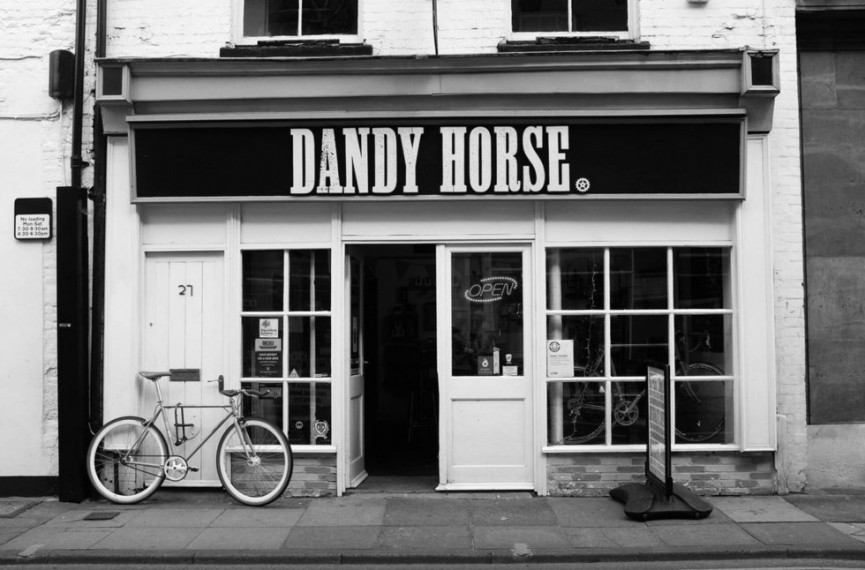 Dandy Horse, Norwich
Stocking Foffa Bikes, offering custom builds and making enough tea and cake to put your gran out of business, Dandy Horse has Norwich's pedal-powered needs wrapped up.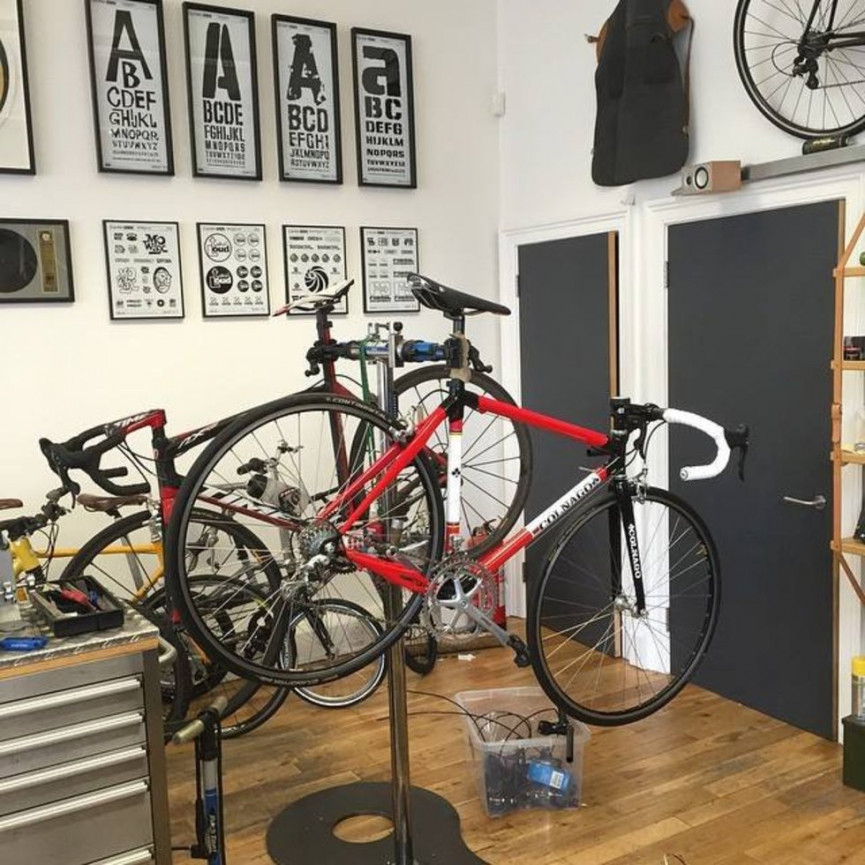 Gamma Transport Division, Edinburgh
They may sound like a top secret arm of UK motorway cops, but these bespoke bike-building masterminds are Scotland's artiest cycle shop. Eyeball the curated artwork on the walls as you drink coffee fresh from a 1960's espresso machine and let a pro put your chain back on.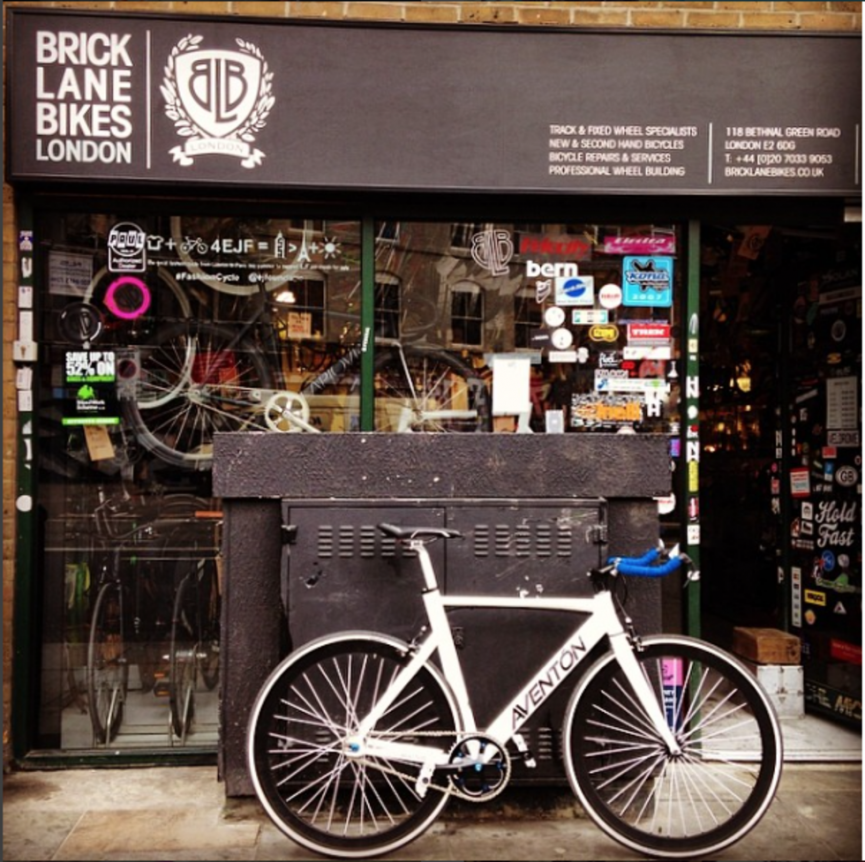 Brick Lane Bikes, Shoreditch
The East London Aladdin's cave of riding paraphernalia, hanging from the ceiling and walls, is enough to make even the most hardcore pedal lover go weak at the knees and teary in the eye.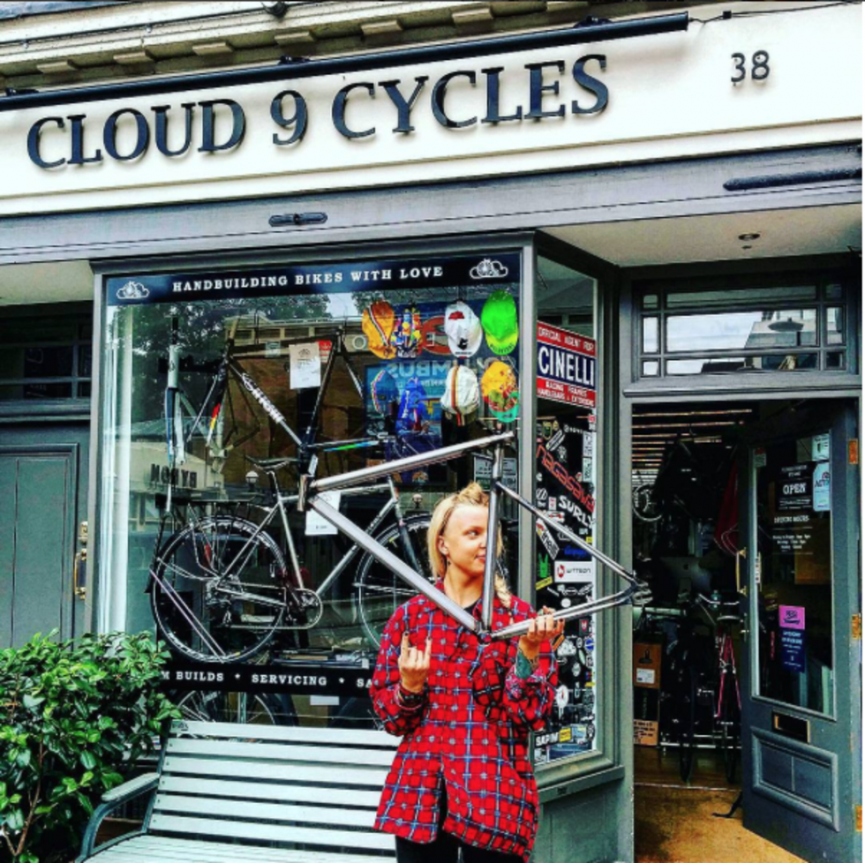 Cloud 9 Cycles, Fitzrovia
The handmade Street Racer that these guys make is a thing of dreams. OK, it'd set you back as much as £5,999, but head over to Cloud 9 just to have a look at it. It's essentially the bike we all dreamed of getting when we were six years old.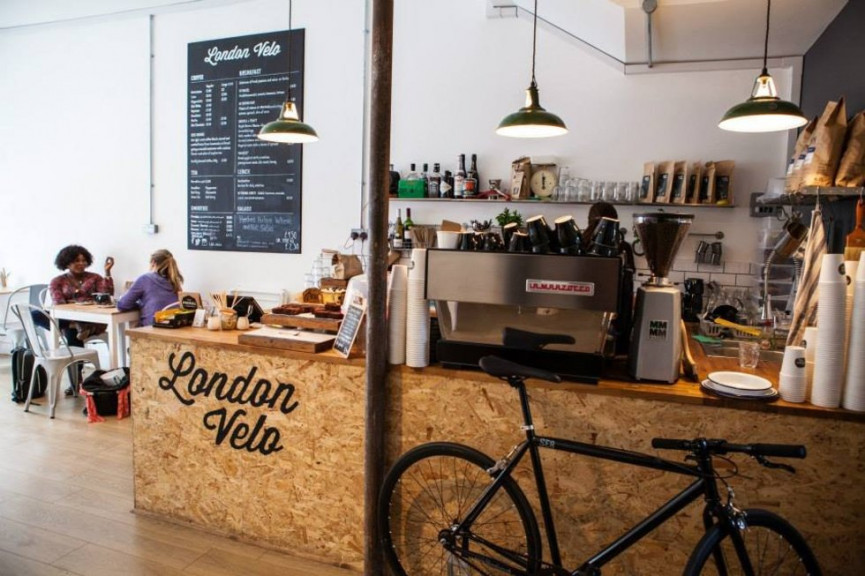 London Velo, Deptford
Big on breakfasts, coffee beans, brownies and bikes, LV believes that "A coffee and a bike ride are some of life's great pleasures." Get down there, have your ride fixed and see if you can find their ultra friendly shop dog, Maurice.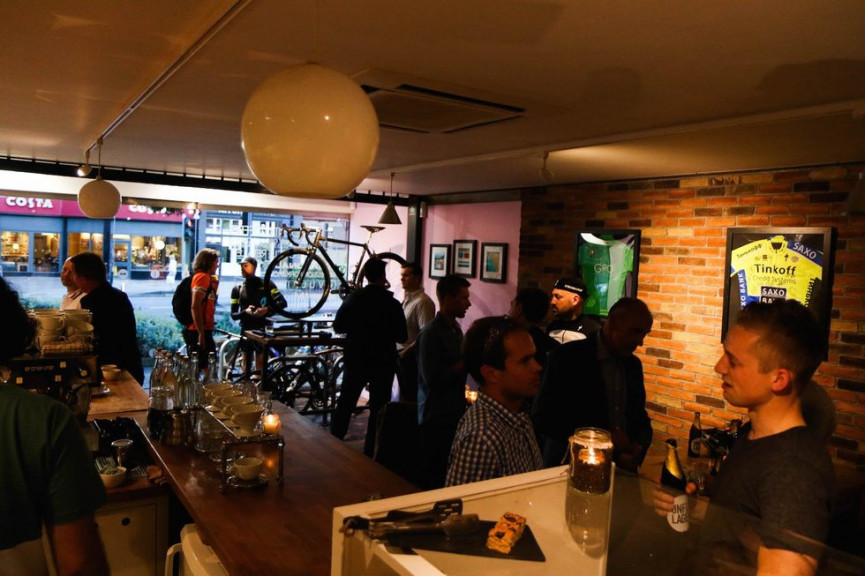 G!RO café, Esher
South west of London, this bike shop was named 'Best Coffee Shop For Cyclists' earlier this year, and is a regular stop off for riders heading back to The Big Smoke after a blast around the Surrey Hills.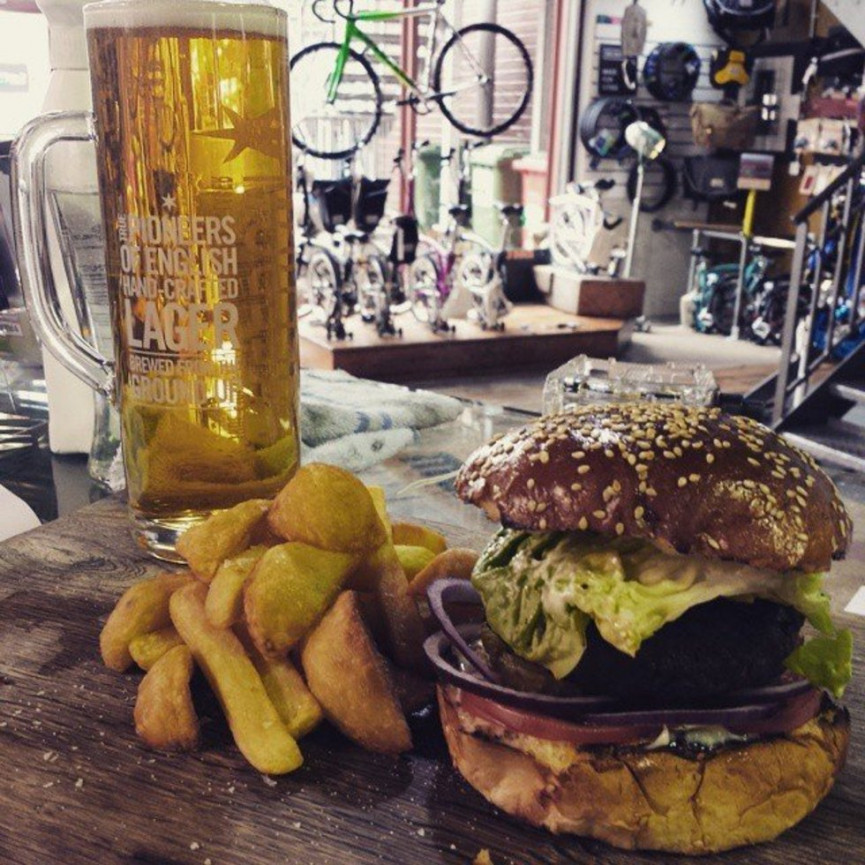 Mud Dock, Bristol
These guys have it all – 20 years of bike experience, tonnes of rides to drool over, an array of local South West craft beers, a giant burger to refuel your saddle-worn body on and a harbour view to gaze over. Meet you there, yeah?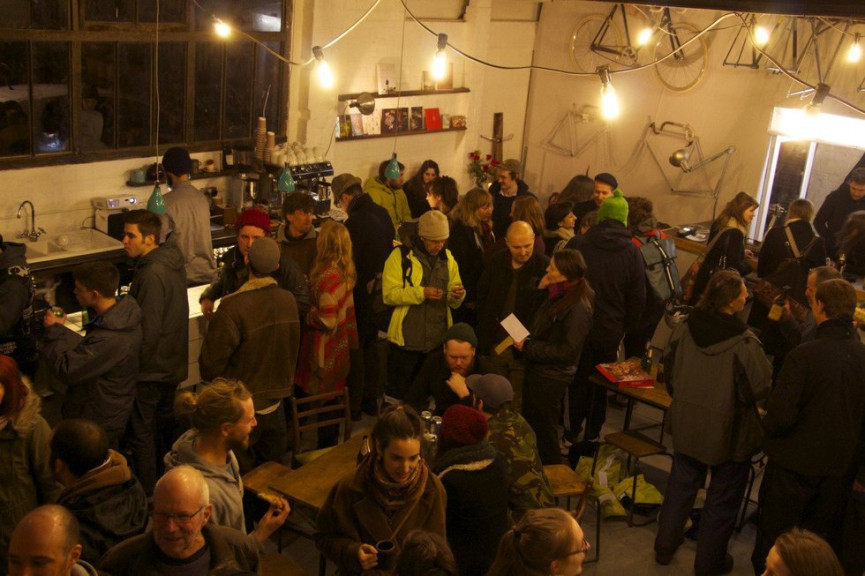 Mary Mary, Liverpool
"Bikes and bloody good coffee." Liverpool's primo bicycle culture stop off knows what they're doing.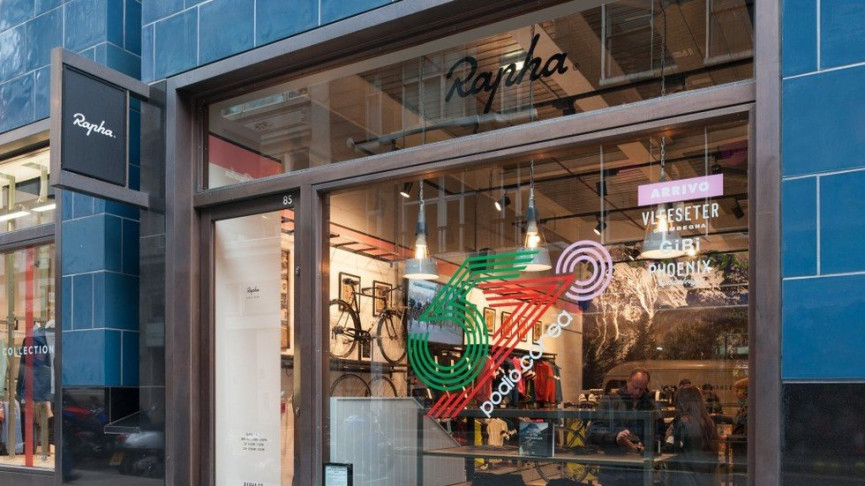 Rapha Cycle Club, Soho
If you're head over handlebars about all things bike, then this is a pilgrimage you've got to make. Get the skinny from the barista on the coffee beans in you guest espresso, then finger through rails of the world's finest cyclewear -the very same that has the backs of the champion rider in Team Sky.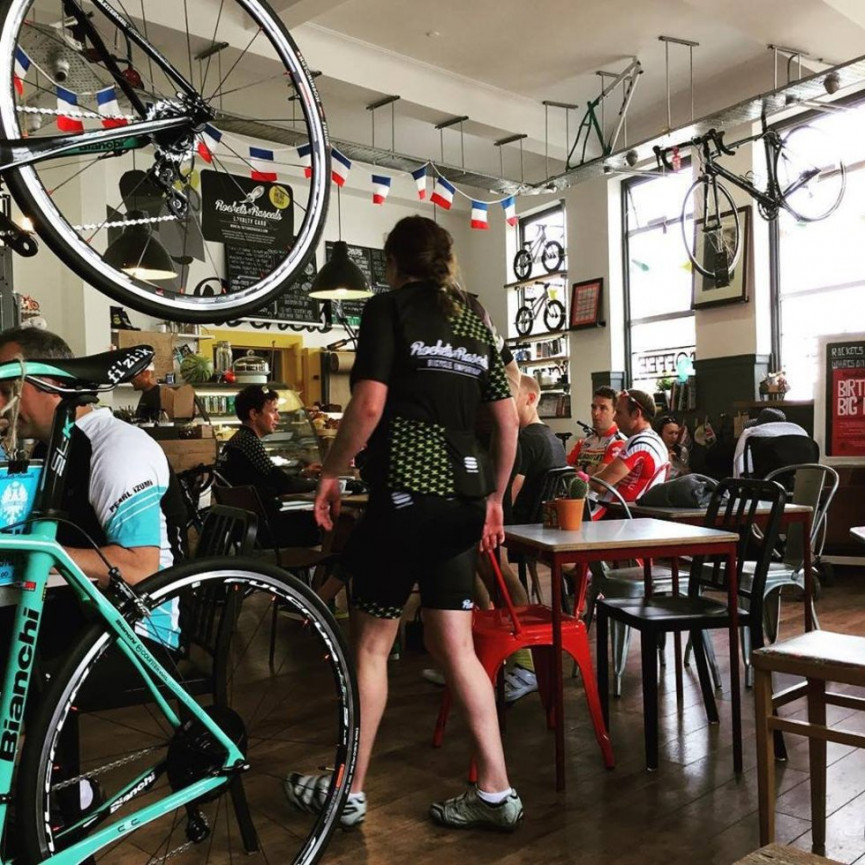 Rockets And Rascals, Poole
R&R is positioned perfectly for riders in need of a pre-journey caffeine fix and hearty breakfast before tackling the nearby Purbeck Hills. It's retail shop and workshop will sort you out with absolutely everything else too, meaning you've got no excuses for not going hard and fast.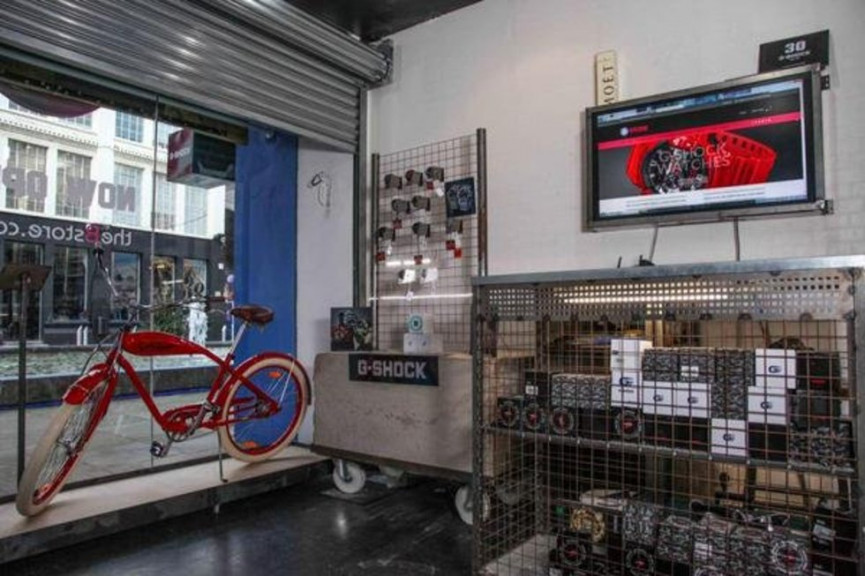 The B Store, Birmingham
If you're a Brummie, you may have started asking yourself why everyone is suddenly riding fixed gear bikes and rocking brand new digital watches. Answer: B Store, the only fixie retailer in the West Midlands, and it's largest stockist of limited edition G-Shock timepieces.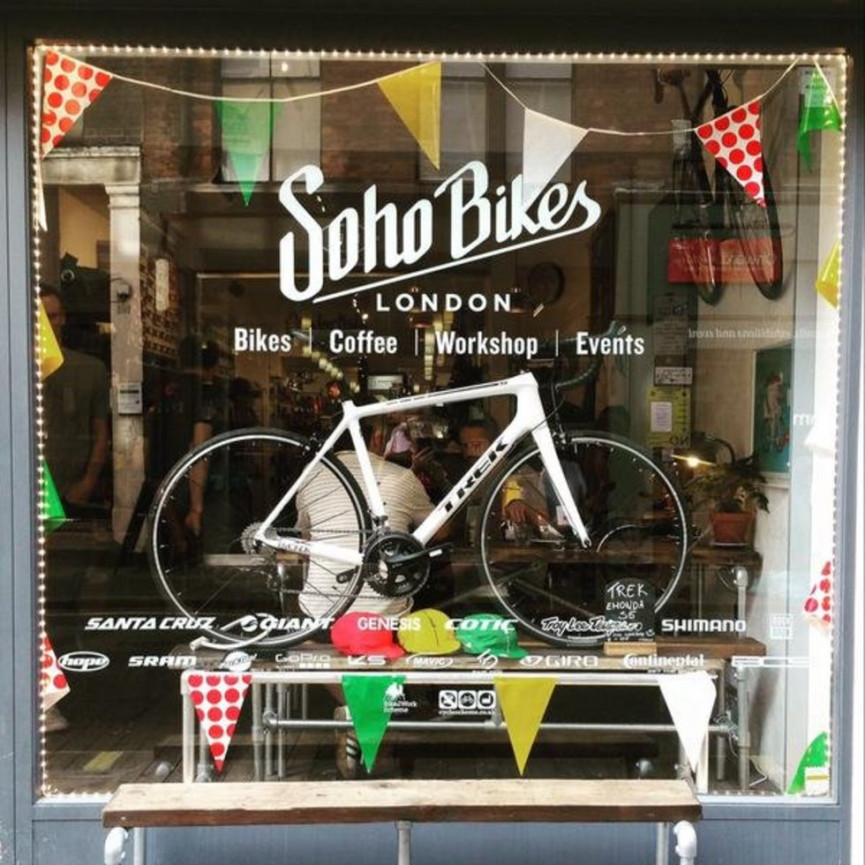 Soho Bikes, Soho
Founded by mountain bike hero Rob Warner and his two best mates, Soho Bikes is the go-to destination in Zone 1 for guys who want to ride hard and fast in the countryside. They carry big name performance brands such as Giant and Genesis, and make a mean flat white, too.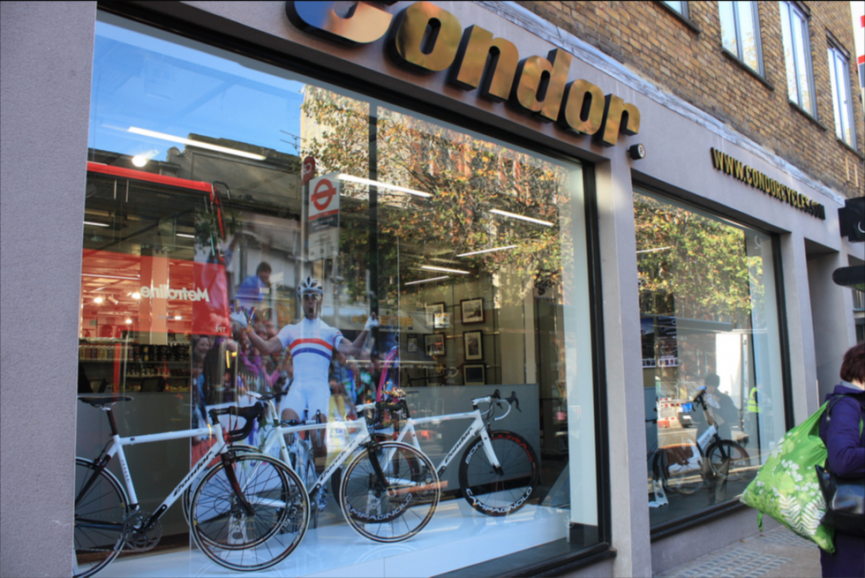 Condor Cycles, Holborn
Family-run for almost 70 years, it's safe to say legendary Condor know their bicycle biscuits. Their pro staff will use their expert knowledge to find your perfect bike no matter what budget you're playing with. That is, if you've not got lost in their endless rows of cycle accessories first.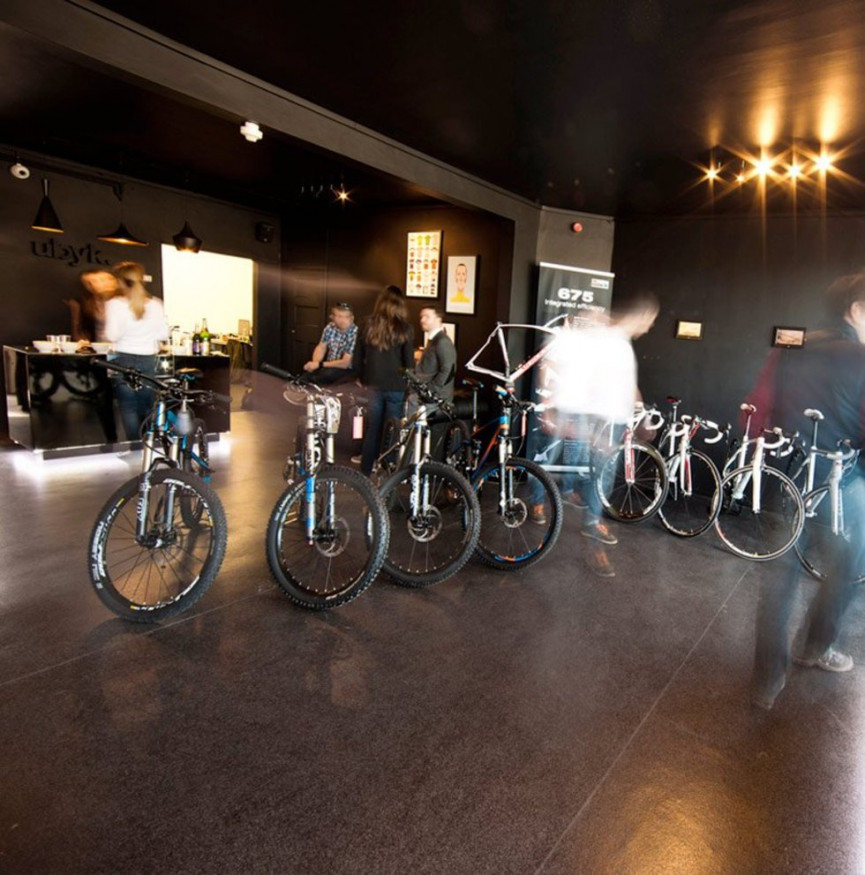 Ubyk, Oxford
The flagship store for this indie online retailer offers pretty much everything the wildest bikehead could dream of: repairs, bike fit consultations, fitness training, custom builds and, obviously, a strong cup of the black stuff.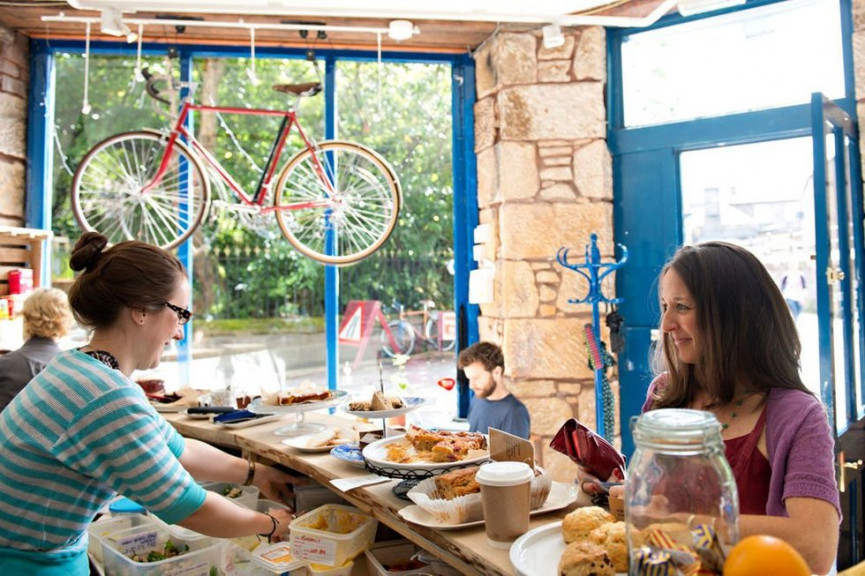 Velocity, Inverness
Can't quite bring yourself to let someone else perform surgery on your chain-driven pride and joy? Book a stand at Velocity and work one-on-one with a mechanic to learn how to fix it up yourself.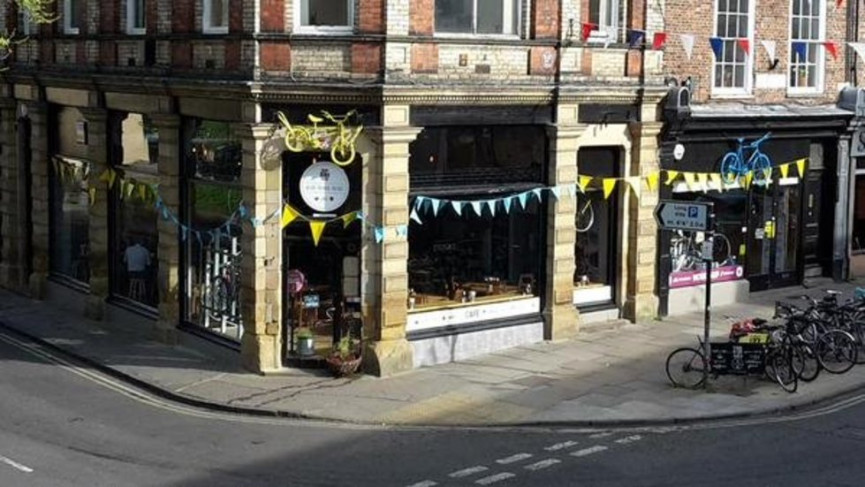 Your Bike Shed, York
We're told this workshop café does a mean pork pie with mushy peas, mint sauce and gravy. That's pretty much all it takes for us to really, really want to go there this weekend.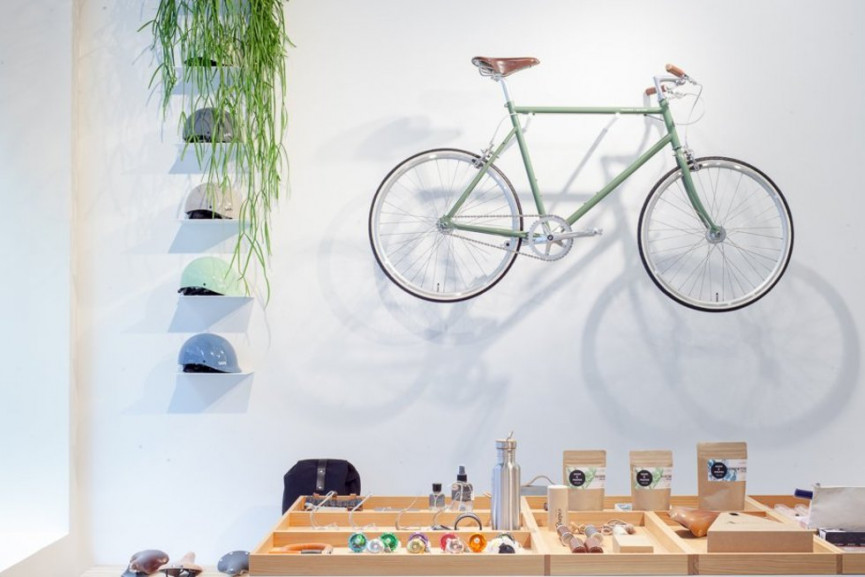 Tokyobike, Fitzrovia
This Japanese bike brand, born in 2002, is all about taking things a little slower, with an emphasis on comfort over speed. Both their London stores (the first being in Shoreditch) are so chilled out, with beautiful minimalist design, that you'll want to curl up and have a little kip in the corner.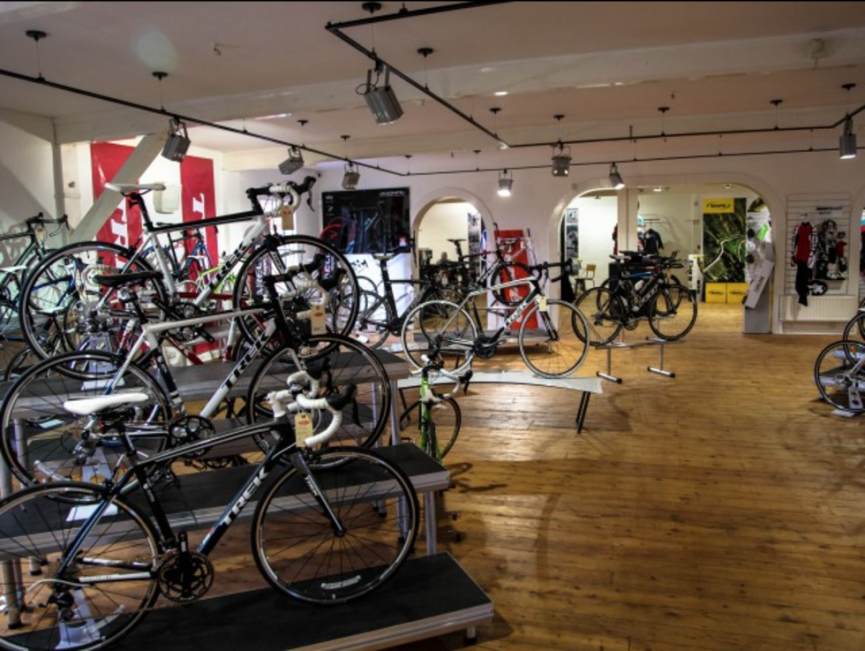 Stan's Cycles, Shrewsbury
Whoever Stan is, he's a lucky guy. With epic touring along the Severn, woodland trails and 'Little Switzerland' in the south of his home country Shropshire, he's got stacks of riding all around him. And his ace little shop is right in the heart of it all.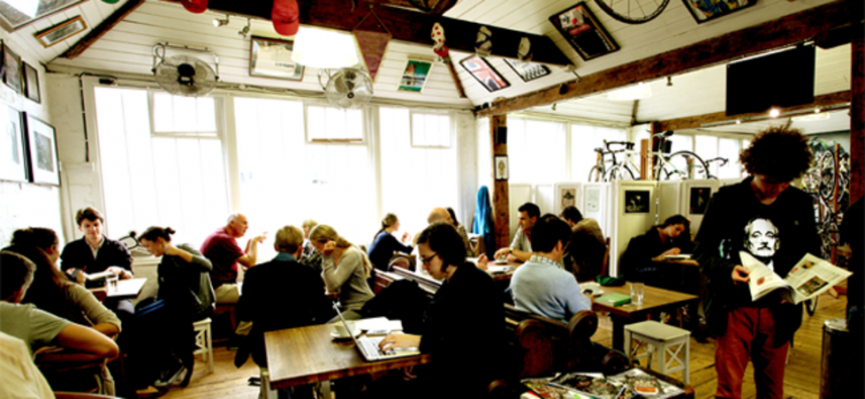 Zappi's Bike Café, Oxford
It doesn't look much from the outside, but ex-pro cyclist Flavio Zappi's casual coffee shop is the epicentre of Oxford's bike scene. It's combined forces with the Bike Zone shop beneath it, and is home to Zappi's very own cycling club. And, as the boss is Italian, you know the coffee's 'stupefacente'.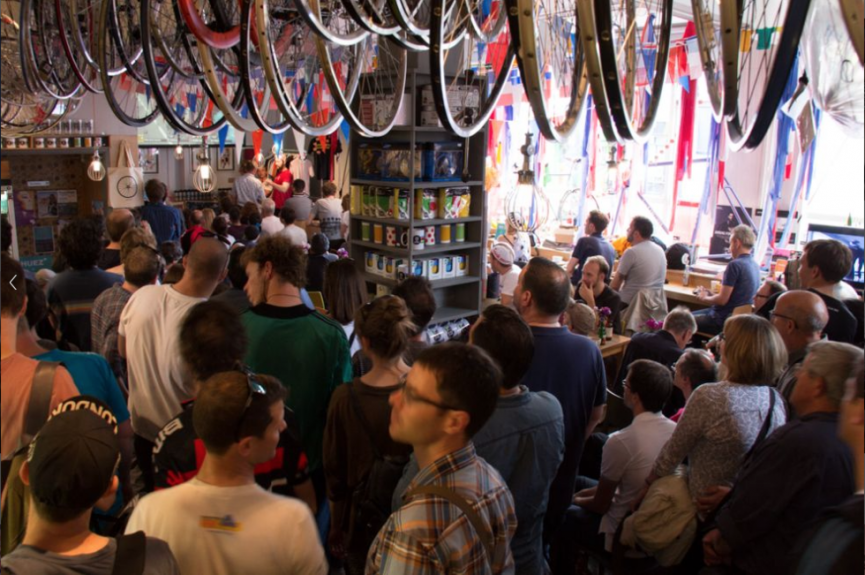 Look Mum No Hands!, Shoreditch
The very coolest of the capital's cycle cafes, getting a seat to sup on your expert-made flat white on any given Saturday is a bit of a mission here. Loved by London's riders and in-the-know East-enders, you're best off getting their early doors.