Few things beat a summer bike ride out in the country. But riding in the freezing rain, or on smoggy streets packed with cabbies and BMW drivers who think cycling should be punishable by death? They are certainly experiences, but not necessarily fun ones - which is why you need the best bike turbo trainer.
A turbo trainer lets you ride your bike indoors, without needing to go anywhere.
There's a lot more to turbo trainers than there used to be. Nowadays we strongly recommend buying a "smart" turbo trainer if you can afford one.
save £300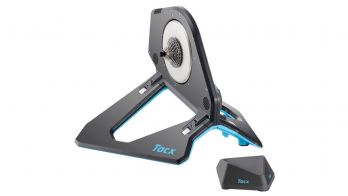 Tacx Neo 2
£899.99
The Tacx Neo might be the greatest turbo trainer series in the world. You can now get £300 off the second-to-newest model. And as many of the Neo 2T's added benefits are a bit of a mystery, we suggest you snap this one up.
Buy now at Wiggle
These let you use software like Zwift, Sufferfest and Trainerroad. They record your performance across the weeks and months, so you can track your progress. Others go further. You could call Zwift a massively multi-player online game as it lets you race in real time against other people in a rendered 3D world.
Bike training at home can be boring, and this is a great way to make it fun. But, hey, if you want to spend as little as possible you can buy a basic non-smart trainer instead.
Here's a selection of the best bike trainers you'll find online today. Upvote your personal favourite and submit your own suggestions below.
Read about the best running watches, which also track your rides outside, and you heart rate indoors
Plus, take a look at our best smart scales if you fancy measuring everything from muscle mass to your body's water percentage.
Best bike turbo trainer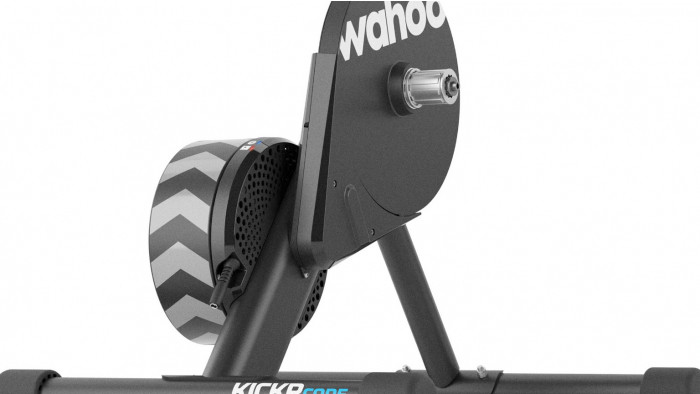 This Wahoo trainer is where bike trainers get very serious indeed. It's £300-400 less than Wahoo's top models, but gets you most of the most important aspects of them.
Max resistance of 1800W is incredibly high and the Kickr Core is quiet.
How is it different to the Neo 2? This one uses a real flywheel, the heavy metal wheel used in spin bikes and trainers to work against your strokes. The Neo 2 has a virtual one. Just bear in mind you need to supply your own cassette, the set of sprockets that make up half of the gear system.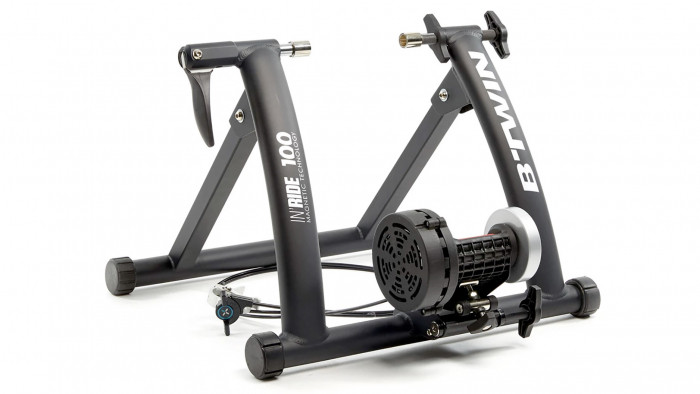 This is our pick of the basic turbo trainers. B'Twin is a Decathlon brand, known mostly in the cycling community for the superb value of its entry-level road bikes.
The In'Ride 100 is its basic turbo trainer. It is sturdy, reliable and can deal with 550 watts of pedal power. As such, this isn't the trainer for those who go on holidays to stretches of the Tour de France, but is a great place for beginners to start.
It's a non-smart trainer, but B'Twin also sells a great value pack of speed and cadence sensors for £35 that adds those missing smarts. Bear in mind these accessories won't add automatic resistance changes in platforms like Zwift.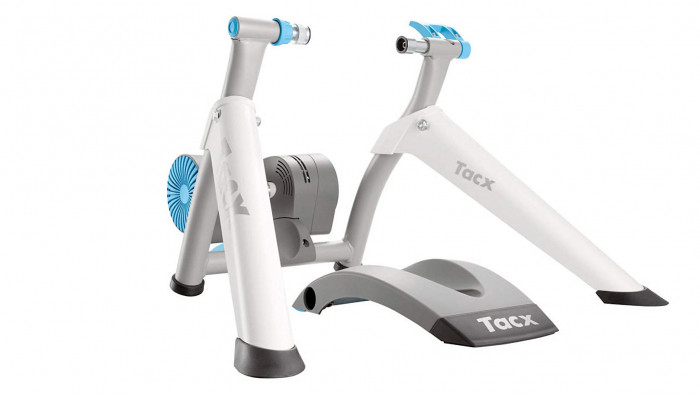 After the cheapest fully featured smart trainer around? You've found it. The Tacx Vortex Smart can be found online for £180, well under its original £400 cost.
Automatic resistance variation is the big feature here you don't get in cheaper trainers. Connect the Vortex Smart to your laptop or tablet, install a platform like Zwift or Sufferfest and it'll up the pressure when you start riding up a virtual hill. Max resistance is rated at 950 watts, enough for intermediate cyclists.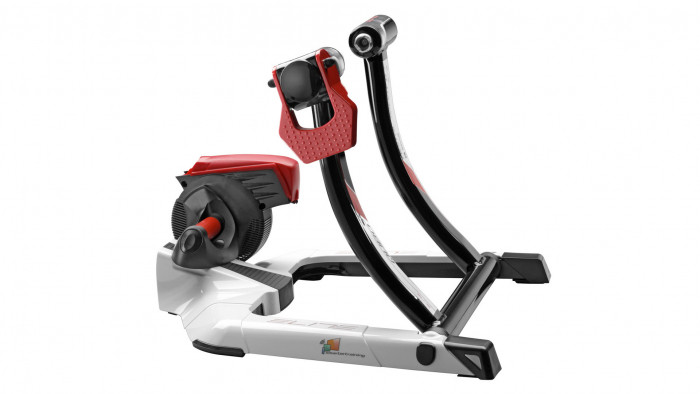 The Elite Qubo B+ Smart Digital was originally one of the cheapest turbo trainers that offered full integration with Zwift. Tacx has undercut it since, but this is still a great option if you want a lower-cost smart trainer.
It has 16 resistance levels, ANT+ and Bluetooth support, and a roller designed to reduce noise. You don't want your indoor sessions to sound like a small plane taking off.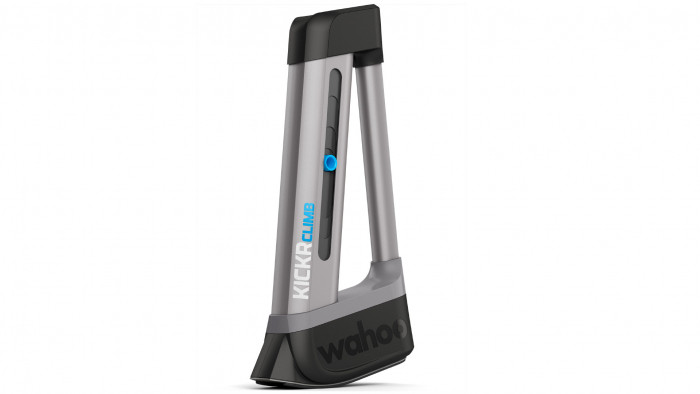 This isn't a trainer in itself, but is a great addition to a turbo trainer setup if you're willing to spend big. Mount your front wheel on the Kickr Climb and it moves your frame up and down, to physically simulate the incline of hills, and even (to a lesser extent) downhill sections.
It makes indoor rides more immersive. You don't have to rely on your imagination quite as much, as the incline brings your actual senses into the mix more.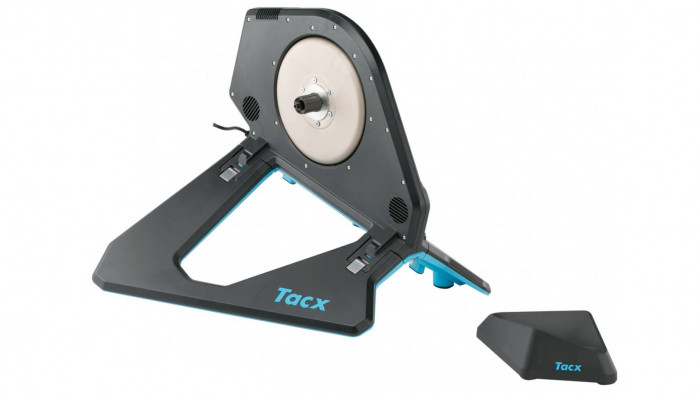 You could call the Tacx Neo 2 the ultimate bike trainer. It costs over £1000, but is ready for pro-level training.
This is a direct drive trainer. It replaces your back wheel rather than just providing a resistance surface on which your wheel rests. Its power accuracy is much better than any wheel-on kind, max resistance of 2200W is enough for any rider, anywhere. And it can emulate inclines up to 25%. Your average trainer claims to judge your power output within 10% tolerance, the Neo 2's is under 1%.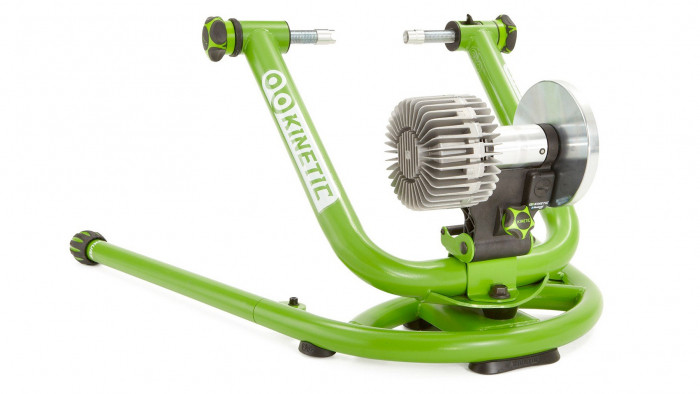 This trainer from Kinetic is most unusual. It has a rocking frame that lets the bike wobble a little, back and forth, as you ride. It means you still have to consider your balance while riding.
However, it's here on this list for another reason. That lateral give makes this trainer much easier on your knees, a huge benefit for those in injury recovery and people with dodgy joints.