ShortList is supported by you, our amazing readers. When you click through the links on our site and make a purchase we may earn a commission.
Learn more
Super Mario Bros Movie review round-up: this is what the critics think
The latest video game adaptation is here and it's got people talking.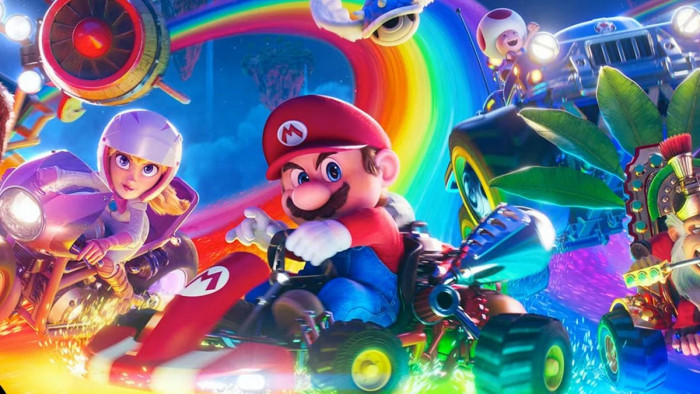 The new Super Mario Bros movie hits the big screen this week. This adaptation of the hit video game franchise is a very big deal for Nintendo. The games giant will have looked at the success of the two Sonic movies and will be hoping that its Italian plumber can bring in a similar audience.
Cast wise, it's packed with A-Listers. While it was a touch controversial to have Christ Pratt to voice Mario, he is a big, well-known star. And the rest of the voice cast more than match him, with Anya Taylor-Joy (Princess Peach), Charlie Day (Luigi) and Jack Black (Bowser) also starring.
The Super Mario Bros movie has screened to a number of critics and the full reviews are out!
The good news is: there is a lot of love for the movie, with critics praising how well it measures against the games and how it captures the feel of playing Mario. However, there are also some who aren't convinced by the film... at all.
ShortList has seen it - with a six-year-old next to us, no less. The movie does exactly what it needs to for a video game adaptation: it hurls many a throwback to the games - with no end of music cues and background Easter eggs - at the audience, while also forging its own rather enjoyable, if bumpy, story.
Here are what others are saying about the Super Mario Bros Movie...
--- Empire gave it two stars, noting (rather harshly, we feel): "Beautifully animated, and about as faithful and affectionate as a corporate cash-in is possible to get — but it still doesn't come close to the experience of actually playing the games."
GamesRadar is a little more affectionate in its three-star review, saying: "Every frame is stacked with cameos and references to wider Mario lore too, including a particularly elegant classic gameplay sequence that'll give you a nostalgia rush."
T3 is a fan, with its piece on the movie, noting: "Illumination Entertainment's animated take on Nintendo's famous plumbers is a perfect exercise in fan service."
The Guardian is grumpy, really grumpy. Its reviewer must have had a terrible day when they watched the film - and must have been in a screening sans cheering children - as its po-faced review howls: "This much-trailed, much-hyped new animated feature is tedious and flat in all senses, a disappointment to match the live-action version in 1993." Oof.
AV Club is far happier about the film, explaining in its B-Rating: "Perhaps the film's greatest asset is its clever reliance on the treasure trove of IP that Nintendo has to offer. Directors Aaron Horvath and Michael Jelenic (the duo behind Teen Titans Go!) string together Easter eggs and witty references in a quantity that rivals Steven Spielberg's 2018 adventure Ready Player One."
Variety is also filled with Mario joy, with its review saying: "The movie, as directed by Aaron Horvath and Michael Jelenic (from a script by Matthew Fogel), is a serious blast, with a spark of enchantment — that je ne sais quoi fusion of speed and trickery, magic and sophistication, and sheer play that…well, you feel it when you see it."
IndieWire is also (nearly) a fan, saying about the Mario movie: "Parents shouldn't expect a Pixar-level experience, but Matthew Fogel's script has as at least much narrative heft as the best Mario games. Kids' movies can be — and often are — so much worse. Nobody is reinventing the blue shell, but Horvath and Jelenic do an excellent job of recreating the Mushroom Kingdom from the recent video games while adding a decidedly cinematic flair."
Another good review is from The Wrap which notes: "Ultimately, the animated adventure is an exciting thrill ride through some of the most beloved realms in the gaming world. It's hard not to fall in love with a film so earnest and proud of its origins."
The Telegraph, which isn't afraid to give 1 stars to films that are almost certainly going to be a hit with audiences, has given another 1 star to a film that's almost certainly going to be a hit with audiences, skewering the movie with blistering passages of prose like the following: "The journey isn't an adventure so much as a CG walking tour of brand assets – items, environments, sound effects, music cues, and so on – drawn from 38 years of Mario games."
The BBC also isn't a fan, saying/sighing: "The Super Mario Bros Movie will probably make a fortune, because it is harmless and colourful enough to be almost adequate as an Easter holiday time-passer for small children."
The BBC is, of course, right. The Super Mario Bros movie is very much critic proof, with a projected $220 million set to be made from the movie.
Our advice: watch it with an excited - and always-smiling - six-year-old and the film will be an absolute blast. Just make sure no Guardian or Telegraph critics are in the same room.
Related Reviews and Shortlists